Tsunami Baby
1997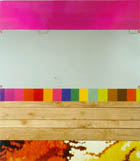 Abduction #37
(For L.L.)
1997










"Hi-Ho Hi-Ho"
1997

Patrick Thorne's recent show at I-20 was a bright surprise. In his big rectangular paintings, sections of faux brickface and pine paneling are abutted by strips of metallic, mirrored wallpaper and enlarged digital images, and are sometimes covered with glued-in-place oval or round throw rugs. Everything is arranged on the surface in a tight rectilinear style, a type of composition that the art historian Leo Steinberg once called the "flat-bed picture plane." Describing the composition of Robert Rauschenberg's notorious Bed (1955), a painting made of the artist's cot, quilt and pillow slathered with paint, Steinberg likened the plane image to the flatbed of a pick-up truck.

This way of working with the surface while remaining conscious of the rectangular boundary is a huge ingredient in successful modern painting, and Thorne deploys it well. His traditional arrangement of seemingly unconventional, off-the-shelf materials is given greater currency because he has a no-fault sense of general composition. There's no paint here, no brushwork and no canvas, but every other element of conventional painting is at work.

Strictly speaking, Thorne's paintings are veneered wood panels -- family-room-style paneling that's normally used to cover up unsightly basement blockface. Thorne teases the 2-D tendencies of the flat-bed picture plane, both with mirrored surfaces that capture and reflect the viewer's own image, and with the throw rugs that stick to the picture surface like trilobites, all tactile in the viewer's space. Five separate color-coordinated rugs are spread across a surface of white bathroom tile in Tsunami Baby, overlapping onto the bracketing water images in a swell of digital undertow.

The Seven Dwarves, censored `50s style with black bars across their eyes (as if to prevent some Disney copyright infraction?) present their freshly washed palms to a cross Snow White in Thorne's painting titled Hi-Ho Hi-Ho. Here, the cartoon floorboards abut against a strip of actual white paneling, a pictorial intersection which Thorne has casually braced with the enlarged thumbprint of a tossed brown ringed rug. Above the dwarves is a thought bubble that reads, "Oh, my. I like this. What is it? Boys, do you want some, too?" Is something sexually sinister about to take place on the carpet? How could it, with those fresh palms all in a row?

The kind of surrogate painting that mixes merchandise with motif has been popular for a while, but Patrick Thorne pushes veneer to its visual limit. Thorne's paintings seem so lively and clever precisely because they emphasize humor rather than theory.

Patrick Thorne at I-20, May 17 - June 30, 1997, 529 West 20th Street, New York, NY 10011.