© ArtNet Worldwide 1997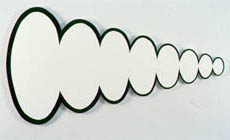 John Tremblay
Hail & Farewell
1997









Jakob Gasteiger
Untitled 27.11.1995
1995









Barbara Müller
Untitled
1997









Ingo Meller
Cobaltgrün dunkel . . .
1997

This was an unusually interesting summer show of abstract painting that featured the work of several contemporary European painters seldom seen in New York. Purposefully titled "Issues of Abstraction: Fenetre Jaune Cadmium," the show was presented in two parts and included the work of Rudolf de Crignis, Martin Eiter, Jakob Gasteiger, Ingo Meller, Barbara Muller, Michael Scott, John Tremblay and Markus Weggenmann. The two Americans in the show, Scott and Tremblay, have both shown individually at Sandra Gering Gallery.

Rudolf de Crignis, a Swiss artist living and working in both New York and Zurich, showed a 60-inch square blue monochrome that was cleanly painted on an even and uninflected surface. The color, combined with the painting's low hanging on the wall, made it seem slightly more ponderous than similar blue paintings that the artist had shown as part of the larger installation at Stark Gallery a few months before. This was the only uniformly colored painting in the show, softly glowing alone at one side. It may have been the most propositional painting included as well, uncertain of any issue outside of the visual phenomenon of looking at the painting, ruthlessly establishing an experience beyond inquisition.

John Tremblay's Hail & Farewell was an equally curious painting on shaped plywood, in which a shape similar to comic-strip thought bubbles is converted into an abstract painting. The cartoonish quality of this painting is not too dissimilar from certain passages in Nicholas Krushenick's paintings from the `60s, except that Tremblay's image is more isolated and actively engaged with the fictive space of the white wall. The black outline surrounding the round white areas grows thinner as the oval areas grow smaller, allowing the visual illusion of a rectangularly framed painting of equal proportion to appear to be receding along an imaginary diagonal leading into the white space of the wall. The painting appears 2D and 3D simultaneously, oval appears as ellipse and back again, in an exterior illusion, rather than the traditional interior illusion that is typical of figurative painting.

Jakob Gasteiger, whose work was recently highlighted in "Farbe" at the Bonn Kunstmuseum, showed a vertically raked painting, where thin, delicate ridges of yellow buzzed against the furrows of black backing color. Subtle modulations of Gasteiger's hand moving through the surface allowed for tonal gradation and nuance in the painted image, creating a simple but shifting field of color and surface. The work of this Austrian artist seems like a well tempered response to the glossy photo-smearing of the omnipresent Gerhard Richter.

Barbara Muller's paintings were painted with brush-sized broadsides of color, with underlying swatches of contrasting bands peeking through at the edges. They have an easy, lumbering quality and creamy surfaces that are pleasing to the eye. The fact that they are painted on stiff wood panels seems to make the luscious qualities of the paint film more apparent.

Ingo Meller, who like de Crignis has also shown at Stark Gallery, presented a painting casually cut from linen at uneven angle and placed right up against the wall. Here, tight streaks and short bursts of painted color punch out and against the fabric, creating an energized but somewhat wayward sense of space. Of all the work in the show I think Meller's has the most personality, because in some sense it has the most room for individuation from piece to piece, and its immediate execution lends it a feeling of freshness uncommon in a practice based to a large degree on tradition, even if it's a recent one.

I think this show made a clear case for the possibilities of abstract painting. It certainly helped make up for the widespread institutional slack in this area, and Margarete Roeder should be commended for putting such an international array of paintings together.

"Issues of Abstraction" at Margarete Roeder, 545 Broadway, New York, N.Y. 10012.

MICHAEL BRENNAN is a New York painter who writes on art.