Untitled
1997





Untitled
1997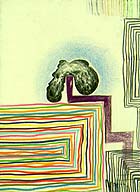 Untitled
1997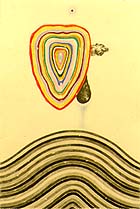 Untitled
1997
David Dupuis' drawings present a small world where rainbow architecture sinks into black and white waves under the weight of some fecal meteorite, where towers are erected in crayon woodgrain, and ominous genital phantasms rise like the sun. His work illustrates a human world, full of menace and decay, recreating the horrid beauty of biological life, complete with ooze and vapor. His drawing style is somewhat reminiscent of Louise Bourgeois', and his work contains some of the same cosmological manifestations found in Outsider Art. He sometimes uses the bottom edge of the paper as a floor to put things upon, not unlike the way small children draw family houses and cars from the paper's edge up.

Dupuis' use of seemingly innocent techniques and materials belies the more disturbing qualities of his work. Dupuis is not afraid to show you the things you fear or desire the most. Consequently his drawings have a candid beauty that somehow seems more complete. Formerly, his work consisted mainly of labyrinths, but now the labyrinths are just tremulous actors in a larger, seeping, fantastic world. The work has vague religious undertones, too. Some of the images depict ladders stretching upwards towards an empty sky. Many contain what appears to be some kind of celestial drain, while others remain slumped in sexual repose. I think the excitement of David Dupuis' work lies in the depths of his personal exploration. I shudder to anticipate what might be revealed next but I'm anxious to see it, to be there, because I know it will renew any mature sense of wonder.

David Dupuis, Oct. 18-Nov. 23, 1997, at White Columns, 154 Christopher St., New York, N.Y. 10014.

Michael Brennan is a New York painter who writes on art.