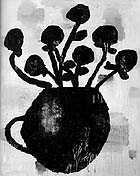 Flowers #6-97 (Large Version)
1997




Flowers #8-97
1997




Flowers #14-97 (Large Version)
1997




Flowers #15-97 (Large Version)
1997
How can an avant-garde artist paint flowers in a pot? Donald Baechler, one of the wittiest young "art brut" painters, does it by making them black. His recent New York exhibition at Tony Shafrazi featured more than 20 paintings of silhouetted flowers in vases on a chalky white ground. Baechler's trademark collaged surface is here constructed of an assortment of linens, cloths and fabrics that subtly imbue the canvases with a pre-industrial aura, a projection of the artist's studio -- which is no doubt a postmodernist enterprise, in fact -- in the guise of a craftsman's shop.

The flowers fan outwards from their containers, which are simple ovals or squares. The blossoms read as variously shaped blobs, awkward and evocative shapes standing in for tulips, roses, mums. The silhouettes are blotchy with manipulation, erasure and reworkings. They have real weight, these dark anti-blooms, like an inverted constellation of black holes.

The paintings have grand scale, the largest over eight feet tall, and are magnificent in their homely, unradiant quietude. This reserve gives your eye a chance to roam the surfaces. The centrality and frontality of Baechler's subjects unambiguously make the claim of figuration, even as their drawn and cutout quality renders them abstract. Baechler turns painting into Ur-drawing.

These flowers are elemental without being abstract, material and pictorial simultaneously. In the catalogue accompanying the show, Carter Ratcliff links the paintings to the American pastoral tradition of Emerson and Thoreau, Whitman and Hawthorne. The crudeness and deliberateness of Baechler's line, Ratcliff says, suggests that his pastoral is the time of childhood, but a particularly dysfunctional one that "shows the very idea of picture-making in a state of ruin."

These silhouettes, then, are icons of tradition, memorials to the past without ever being nostalgic. But more than that, their sooty surface is a reminder of just how great the distance is between contemporary culture and what it seeks to remember.

Donald Baechler, "Flowers," at Tony Shafrazi Gallery, 119 Wooster Street, Nov. 1-Dec. 6, 1997.

SAUL ANTON is a freelance critic and a Ph.D. candidate in comparative literature at the CUNY Graduate Center.