Gerhardt Richter
Seascape
1969
$2,532,500




On Kawara
May 1-7, 1971...
1971
$574,500




Cindy Sherman
Untitled #150
1985
$96,000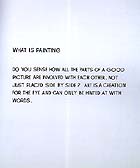 John Baldessari
What is Painting
1968
$233,500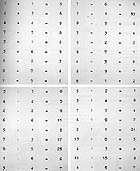 Sigmar Polke
Solutions I-IV
1967
$882,500




Bruce Nauman
Concrete Tape Recorder Piece
1968
$288,500




Julian Schnabel
Maria Callas No. 1
1982
$266,500



Peter Halley
Ideal Home
1984-85
$85,000
Christie's New York held its first big contemporary art sale on June 3 -- limited to works made since the Pop art period of the early 1960s -- and sold every damn lot. "A perfect game," said Christopher Burge at the post-sale press conference, resorting to the kind of sporting metaphor that appeals to headline writers. Indeed, the house took a gamble on the strength of the contemporary market, and won. The auction was the first 799 sold mixed-owner sale in the history of Christie's New York, Burge said. "So many bidders," he enthused. "More than I've ever seen at any sale of any kind."

The grand total for all 56 lots was $16,176,100, well above the presale estimate range of $8.7 million-$12 million. The 30 lots from the Herbig Collection -- an unusual (for the auction market) group of Conceptual and Minimal works assembled by the German scientist Jost Herbig (1938-95) and his wife Barbara in the 1960s and '70s -- sold for a total of $11,395,300, above the presale estimate of $6.1 million-$8.5 million.

What's more, Christie's rewrote the record books with this auction. Twelve new artist records at auction were set by the sale. Here's a list:

Gerhard Richter, Seascape (1969), $2,532,500.
Sigmar Polke, Solutions I-IV (1967), $882,500.
On Kawara, May 1-7 1971..., $574,500.
Blinky Palermo, Untitled (1967), $464,500.
Carl Andre, 4 x 25 Alstadt Rectangle (1967), $332,500.
Dan Flavin, The Nominal Three (to William of Ockham) (1963), $332,500.
Richard Tuttle, Letters (The 26 Series) (1966), $310,500.
Robert Smithson, Double Nonsite, California and Nevada (1968-69), $266,500.
John Baldessari, What Is Painting (1968), $233,500.
Walter De Maria, Eros Ion (1968), $200,500.
Cindy Sherman, Untitled #150 (1985), $96,000.
Dieter Rot, Snow (1963-69), $90,500.

If nothing else, these prices show that the market does respect, however belatedly, the judgment of critics, curators and other tastemakers who write the narrative of art history.

The star lot, Richter's Seascape, a cathode-ray-toned but nevertheless romanticist Photo-Realist painting of clouds and water, went to a telephone bidder for $2,532,500 (est. $800,000-$1,200,000). Richter's previous auction record was $965,000, set at Sotheby's in November 1995 for a blurry Photo-Realist painting of a barn. The price paid for Seascape yesterday suggests that Richter's Wolken (Fenster), a similar -- and larger -- four-panel painting of clouds that Christie's sold in November 1997 for $552,500 has now increased in value by over 400 percent in 18 months. Not bad.

The record-setting Polke, Solutions I-IV, is not one of the later "alchemical" experiments that have an understandable painterly appeal. Rather, it is a set of four panels of simple arithmetical calculations that have the wrong answers, viz. 1 + 1 =3. Some may call it Duchampian, but I say it's a joke! The work was apparently bought by Larry Gagosian, who gets the last laugh.

Similarly, two works by Polke's Dusseldorf pal, the late abstract painter Blinky Palermo -- though not the record-setting one -- are parodies of abstract painting. Red/Yellow and Blue/Green both look like vertical stained-canvas Color Field paintings. Actually, they are commercially purchased fabric that was sewed together and stretched. Made in 1968, the works each carried a presale estimate of $80,000-$120,000. They sold for $167,500 and $156,500, respectively.

Also in this vein is Bruce Nauman's Concrete Tape Recorder Piece (1968), which was knocked down for $288,500 (est. $150,000-$200,000). Consisting of a tape recorder with a tape loop of a woman screaming entombed inside a cast concrete block (the plug trails out the side of the block), the work was included in the pivotal 1969 Conceptual art exhibition, "When Attitude Becomes Form." It all too clearly illustrates the sadomasochism that underlies Minimalism, among other avant-garde movements.

Another interesting figure in the sale was Walter De Maria, the Flux-Minimalist who was one of a handful of artists who received the patronage of the Dia Foundation back in the 1970s and '80s but whose work since then seems to appear more frequently on the auction block than in museums or galleries (though his work is handled by Gagosian). Three De Maria works were in the sale, all from the Herbig Collection. The record-setter, Eros Iron, which sold for $200,500 (est. $100,000-$150,000), is a 100-inch-long piece of stainless steel stamped with the words "eros iron" -- a semi-mystical, semi-scientific reference that recalls the artist's Broken Kilometer and Lightning Field. Other De Maria lots included Dirt Box (1968), an oblong stainless steel box stamped on each face with either the word "land," "earth" or "dirt" that sold for $112,500 (est. $50,000-$70,000); and Ball Drop (1961-62), a six-foot-tall plywood box with a wood ball that can be dropped from one square opening to a second, that sold for $145,500 (est. $80,000-$120,000).

Another owner who had six works in the auction was Asher Edelman, the notorious '80s Wall Street financier who opened his own museum in Switzerland only to close it a few years ago and put its collection up for sale. The works all sold well enough, netting a total of $628,000 (at the hammer), despite their unsavory provenance. Among the lots was Maria Callas No. 1, a large 1982 abstraction on velvet by Julian Schnabel that went for $266,500 (est. $150,000-$200,000), and Ideal Home (1984-85), a basic Peter Halley painting from his show that year at International With Monument in the East Village that sold for $85,000 (est. $40,000-$60,000).

A final note. I hate to be a crank, but once again it seems that the art market's good fortune has come at a price to a public institution. The Herbig Collection had been on long-term loan since 1975 to the Neue Galerie in Kassel, where it formed the centerpiece of the museum's cutting-edge contemporary holdings. The museum did manage to acquire Herbig's works by Joseph Beuys for its collection. As for the rest, according to Neue Galerie curator Marianne Heinz writing in Painting Object Film Concept, the book published by Christie's in conjunction with the sale, "The loss of Herbig collection is a serious one -- such a loss is irreparable for any museum, since gaps can no longer be filled."

Illustrated results can be had by clicking on the "Current Sales Results" box on the ArtNet home page. Prices given here include the auction house commission of 15 percent on the first $50,000 and 10 percent on the remainder.


WALTER ROBINSON is editor of ArtNet Magazine.