George Catlin
Sioux War Council
ca. 1848
$937,500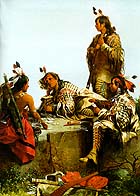 John Mix Stanley
Blackfeet Card Players
1869
(detail)
$1,652,500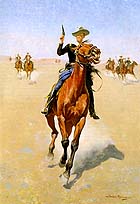 Frederic Remington
The Trooper
ca. 1891-1902
$2,532,500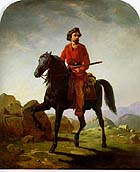 William T. Ranney
Kit Carson
1854
$1,212,500



Mary Cassatt
A Kiss for Baby Anne
1897
$1,762,500



Georgia O'Keeffe
Calla Lily with Red Roses
1926
$2,642,500



Childe Hassam
Flags...
1917
$7,922,500



Georgia O'Keeffe
Black Iris II...
1936
$1,102,500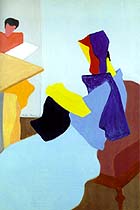 Milton Avery
The Seamstress
1944
$376,500




Jacob van Hulsdonck
Still Life with a Basket...
$530,500




Hubert Robert
The Temple of Philosophy
at Ermenonville
1798
$563,500




Anonymous
Interior of a Picture Gallery
ca. 1630
$1,982,500



Philips Wouwerman
Extensive River Landscape with Soldiers
$1,267,500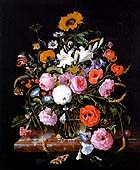 Jacob van Walscapelle
Still Life on a Marble Ledge
$1,267,500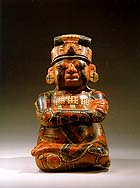 Mayan two-part figural vessel
Early Classic, ca. A.D. 250-450
$74,000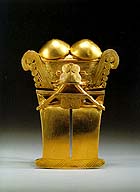 Large Darien gold pectoral
Cauca Valley
ca. A.D. 1-500
$66,300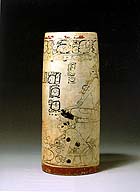 Mayan painted cylinder vase
Central Lowlands, Late Classic
ca. A.D. 550-950
$46,000



Early Mochica copper figure of
a warrior, Loma Negra
ca. 300-100 B.C.
$42,550



Wifredo Lam
La Mañana Verde
1943
$1,267,500



Joaquín Torres-García
Construccíon en
Blanco y Negro
1938
$442,500




Juan O'Gorman
Latifundio Época Colonial...
1975
$299,500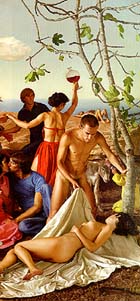 Claudio Bravo
The Bacchanal
1981
(detail)
$607,500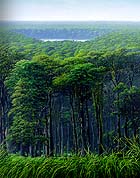 Tomás Sánchez
Meditador y laguna...
1995
$310,500
The $17-million sale of Andy Warhol's 1964 Orange Marilyn -- now widely thought to have gone to Conde Nast czar S.I. Newhouse -- wasn't the only record set in New York sales in May. Records were broken all over the place. Could the bull market be back? You decide.

In addition to the Impressionist, modern and contemporary sales spread through the month, both Christie's and Sotheby's held sales of Latin American art, sales of American art (Sotheby's included a special section devoted to "cowboy art") and sales of Old Masters. Sotheby's also held a sale of Pre-Columbian art. Below, your perennially underinformed correspondent files a brief report.

Sotheby's American, and "The American West," May 20
During the last 20 years, Texas businessman John F. Eulich assembled a collection of 44 works of Western art, ranging from Bierstadt, Moran and Catlin to N.C. Wyeth. Now he's building a new office and the collection doesn't fit, so off to the auction block it went, at Sotheby's on May 20, the first major Western art collection of its type to be sold. It brought a total of over $25 million, a stunning success that is a record for a single-owner sale (surpassing the $19-million total for the 1995 sale of the IBM collection). All 44 works sold, with 33 works going over their high estimates.

Top lot was Frederick Remington's The Trooper (ca. 1891-1902), which sold for $2,532,500 (est. $2 million-$3 million). Representing Remington's ideal hero of the American West, a U.S. Army cavalryman, the painting was first exhibited as a much larger, multi-figure composition that, after it met with faint praise and remained unsold, was cut down and simplified by Remington around 1902. Another Remington in the Eulich collection, The Apaches! (1904), sold for $2,422,500 (est. $1.5 million-$2 million).

The sale also set records for an incredible 26 artists in the collection. Leading the way was John Mix Stanley, whose Blackfeet Card Players (1869), sold for $1,652,500 (est. $750,000-$1 million), well above his previous auction record of $57,500. Many of Stanley's Indian paintings were destroyed by two fires in 1865, the first at the Smithsonian Institution and the next at P.T. Barnum's American Museum in New York. This work was done in the artist's Detroit studio, 14 years after his last trip to the west in 1855.

William T. Ranney's 1854 portrait of the legendary cowboy scout Kit Carson, posing on horseback in red buckskin, sold for $1,212,500 (est. $800,000-$1.2 million), a record for the artist. George Catlin's Sioux War Council (ca. 1848), a dynamic scene showing an entire village in conference, sold for $937,500 (est. $500,000-$700,000), another record.

But Sotheby's sold more than just Western art on May 20 -- the house also offered a broad selection of American art that was, shall we say, oriented more towards Europe. Top lot in this category was Georgia O'Keeffe's Calla Lily with Red Roses (1926), which sold for $2,642,500 (est. $2.5 million-$3.5 million). It was sold by Linda Ronstadt.

Other top lots included Mary Cassatt's 1897 pastel, A Kiss for Baby Anne, which went for $1,762,500 (est. $800,000-$1,200,000). A 1911 painting of young woman with a parasol in a luxuriant garden, White Lilies, by the American Impressionist Frederick C. Frieseke sold for $1,652,500 (est. $750,000-$1 million), an auction record for the artist. The total for the various-owner American sale was over $17.5 million, adding up to a grand total of $42,564,275, the second highest ever for an auction of American art.

Christie's American, May 21
No sooner had Sotheby's sold $42.6 million in American art than Christie's did its bit the very next day and sold $42.2 million worth. Christie's May 21 sale of American art totaled $42,396,200, a house record for American art. The 78-painting collection of the Wall Street bigfoot and sportsman Thomas Mellon Evans sold for a record $25,347,150, the highest auction total ever for a single-collection of American paintings.

Highlight of the Evans collection, and top lot in the sale, was Childe Hassam's Flags, Afternoon on the Avenue (1917), which sold for $7,922,500, over double its presale estimate and an auction record for the artist. A second Hassam, The Quai St. Michel (ca. 1889), sold for $3,027,500 (est. $1.2 million-$1.8 million).

Works by Winslow Homer, The Bird Catchers (1965), Grace Hoops (1872) and the Strawberry Bed, each soared above their presale estimates to sell for $1,432,500, $1,432,500 and $706,500, respectively. A painting by the modernist artist Georgia O'Keeffe, Black Iris II (1936), sold for $1,102,500 (est. $2 million-$3 million).

The sale also set or matched auction records for George de Forest Bush ($486,500), Edward Henry Potthast ($464,500), Milton Avery ($376,500), Edward Redfield ($178,500), Frank Tenney Johnson ($134,500) and William Stanley Haseltine ($96,000).

Sotheby's Old Masters, May 21
"The market for Old Master paintings is healthy," said Sotheby's expert George Wachter, who noted a reemergence of Italian dealers in the mid-range bidding. The sale totaled almost $9.6 million for 348 lots offered, of which 242 sold (for a percentage by lot of almost 70 percent).

None of the works sold for seven figures, however. Top lot was Neapolitan painter Francesco Solimena's 12-foot-wide Venus with Iapis Curing Aeneas, showing Aeneas' mother Venus bringing herbs to cure the wounded soldier, which sold for $838,500 (est. $450,000-$650,000). A charming pair of Hubert Robert paintings of arcadian ruins, The Pyramid of Maupertuis and The Temple of Philosophy at Ermenonville (1798), sold for $563,500 (est. $400,000-$600,000).

Jacob van Hulsdonck's 17th-century Still Life with a Basket of Fruit on a Fruit-Strewn Table with Two Butterflies and a Beetle, showing a fruit-filled wicker basket resting on a sloping wooden table, sold for $530,500 (est. $400,000-$600,000).

Christie's Old Masters, May 22
Christie's did rather better with its Old Master sale the following day. Of 178 lots offered, 148 sold (or 83 percent by lot) for a grand total of $19.9 million, exceeding the presale estimate of $11 million-$16 million. The sale included works from the Thomas Mellon Evans Collection, which totaled almost $9.5 million.

Dutch and Flemish 17th-century paintings continue to set record prices, according to Anthony Crichton-Stuart, head of Old Masters at Christie's. The star lot was an anonymous Interior of a Picture Gallery, which sold for $1,982,500, well above the presale estimate of $250,000-$350,000.

Auction records were set for Jacob van Walscapelle, whose Still Life on a Marble Ledge sold for $1,267,500 (est. $300,000-$500,000), and Philips Wouwerman, whose Extensive River Landscape with Soldiers went for $1,267,500 (est. $500,000-$700,000).

Other top lots included a photographic, if distressed, Canaletto view of the Grand Canal in Venice that sold for $1,102,500 (est. $1 million-$1.5 million); a tiny Rubens sketch for The Martyrdom of Saint Paul that sold for $717,500 (est. $300,000-$500,000), and a Tiepolo modello of Apollo Receiving Homage from the Muses that sold for $684,500 (est. $250,000-$350,000).

Sotheby's Pre-Columbian, May 27
Sotheby's daytime sale of Pre-Columbian art was shoe-horned into the upstairs reception area, which made it difficult to see the works as well as who was buying them. Still, it was gratifying to witness so many dealers active at the auction. "It's like the old days," said one Sotheby's official.

The sale total of over $1.7 million was tallied on 462 lots offered, of which 343 sold (about 74 percent by lot). That's a lot of material. Even though a good percentage sold for strong prices, what was absent was the unusual or special item, which was reflected in the fact that the sale's top price (see below) was only $74,000. "I haven't seen a sale in memory without something over $100,000," said New York dealer Spencer Throckmorton, who bought the work.

The aforementioned top lot was a Mayan two-part figural vessel from around A.D. 250-450 that was estimated to go for $30,000-$40,000. Only nine inches tall, the seated figure with crossed legs and arms wears a bird's head headband and ear spools, and is painted in deep and rich orange, black and cream.

Another star lot was a large Darien gold pectoral from the Cauca Valley in Colombia, ca. A.D. 1-500, that went for $66,300 (est. $60,000-$90,000). The six-inch-tall, hammered gold pendant is a highly abstracted shamanistic figure -- note the bat-like nose and the small horizontally bisected round eyes, for instance. The prominent double mushroom-cap headdress clearly refers to the use of hallucinogenic mushrooms.

Two painted cylinder vases were among the top ten. A Mayan example from ca. A.D. 550, just over 10 inches tall and featuring a codex-style painting of the seated maize god Lord Hunahpu, sold for 54,625 (est. $20,000-$30,000). A slightly later Mayan polychrome cylinder vase, painted with an Underworld scene featuring the Headband Twins and the seated Water-lily Jaguar in dark orange, pink, cream and tan, sold for $46,000 (est. $40,000-$60,000).

An early Mochica copper figure of a warrior, ca. 300-100 B.C., measuring over 17 inches tall, sold for $42,550 (est. $30,000-$40,000). The richly oxidized figure wears a turban with two crescent plumes and a tunic covered with circular dangles, and carries a long spear and a circular shield.

Sotheby's Latin American, May 27
Sotheby's evening sale of Latin American art on May 27 seemed rather becalmed, despite a respectable total of over $5.5 million for 71 lots offered. Only 45 sold (that's 61 percent by lot), due in part to "a noticeable lack of Mexican buyers, traditionally the strongest supporters of the market," according to Sotheby's Latin American chief Isabella Hutchinson.

Two of the sale's more interesting works, both early paintings by Diego Rivera, were withdrawn at the last minute. One was a large Portrait de Madame L'hote (1917), done in a synthetic Cubist style with what looks like enamel house paint (!), estimated to sell for $500,000-$700,000. The other was a very neat (with no canvas showing through) Cezanniste Paysage pres de Paris (1918) -- notice the studious painter going backwards in time in his historical explorations -- estimated at $400,000-$600,000.

The sale's top lot didn't do too bad, though. Wifredo Lam's La Mañana Verde (1943), a large figure of a winged female spirit in a canefield that is called a "sister painting" to the famous Lam work in the Museum of Modern Art, sold for $1,267,500 (est. $1,200,000-$1,800,000) to the Fundacion Costantini in Argentina. Lam's auction record is $1,322,500, only a bit more; La Mañana Verde sold in 1994 for $965,000.

Some anonymous collector got a bargain when he bought Joaquín Torres-García's Construccíon en Blanco y Negro (1938), one of the works from the Rolf and Margit Weinberg Collection, for $442,500 (est. $400,000-$600,000). The singular painting drawing equally from Inca stonework and Leger's Cubism, and presaging the later pictographic works for which Torres-Garcia is best known.

Juan O'Gorman's pristine egg tempera painting showing the sweep of Mexico's architectural past, titled Latifundio Época Colonial y Feudal de Mexico (1975), sold for $299,500 (est. $250,000-$300,000). Born in Mexico and trained as an architect (he built a house for Diego Rivera), O'Gorman made relatively few small easel paintings. This price is an auction record for the artist.

Ten other auction records for artists were also set in the sale. These include Benjamin Canas ($200,500), Ignacio Iturria ($101,500), Alfonso Michel ($90,500), Raymong Quinsac Monvoisin ($68,500), Alejandro Otero ($63,000), Santiago Carbonell ($51,750), Fernando Canovas ($33,350), Julio Alpuy ($33,350) and Manuel Rendon ($32,200).

Christie's Latin American, May 28
The Latin American market continues to grow, said Christie's v.p. Fernando Gutierrez, who said the May 28 evening sale had posted the second highest total of any Latin American evening sale. That was over $9.6 million for 86 lots, of which 55 sold (that's 71 percent -- not all that high).

Star lot was the stark composition of Surreal "Afro-Cuban" figures, Los invitados (1966), by Wifredo Lam, which sold for $827,500 (est. $800,000-$1 million). Another top lot was Rufino Tamayo's charming picture of three guitarists, Músicos (1934), which went for $827,500 (est. $500,000-$700,000).

The sale set auction records for several artists. A large figure composition by the Chilean realist Claudio Bravo, The Bacchanal (1981), which the artist has referred to as a "cocktail" that combines antique, Renaissance and contemporary sources in "an homage to life in all its plenitude," sold for a record $607,500 (est. $500,000-$700,000).

Emilio Pettoruti's El Morocho Maula (1953), a neo-Cubist painting of a harlequin playing a kind of banjo, sold for $497,500 (est. $500,000-$700,000), a record for the artist. A native of Buenos Aires, Pettoruti (1892-1971) was influenced by the Futurists in Florence before returning to Argentina, where he made the harlequin motif a specialty.

A record for a work by the Havana-trained contemporary realist Tomas Sanchez (who now lives in Florida) was set when his painting of a tropical jungle, Meditador y laguna escondida en el bosque (1995), sold for $310,500 (est. $220,000-$260,000). Among the other artists who saw new auction records from this sale are Carlos Merida ($112,500), Ana Mercedes Hoyos ($79,500), Sergio Camargo ($51,750) and Jose Bedia ($43,700).

WALTER ROBINSON is editor of ArtNet Magazine.