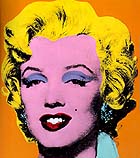 Andy Warhol
Orange Marilyn
1964
$17,327,500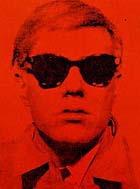 Andy Warhol
Self Portrait
1963
(detail)
$376,500




Lucian Freud
Large Interior W11 (after Watteau)
1981-83
$5,832,500



Robert Motherwell
Elegy to the Spanish Republic #134
1974
$860,500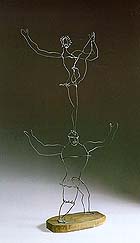 Alexander Calder
Acrobats
ca. 1929
$794,500




Jean Michel Basquiat
Unbreakable
1987
$596,500




Anselm Kiefer
Midguard
1983-85
$497,500




Damien Hirst
The Asthmatic Escaped I
1992
$211,500



Robert Gober
Untitled Candle
1991
$107,000
Once again Andy Warhol has brought new glamour to the contemporary art market, as his 1964 Orange Marilyn sold for $17,327,500 at Sotheby's contemporary auction last night, well above its presale estimate of $4 million-$6 million. The price is over four times the $4 million auction record for a Warhol, paid at the height of the auction boom at Christie's in May 1989 for Shot Red Marilyn (1964) -- so called because it was one of three pictures shot in Warhol's studio by radical feminist Dorothy Podber in 1964.

Orange Marilyn -- one of five color-coded versions of the 40 x 40 in. picture made by the artist -- is now the most expensive Pop art work sold at auction (beating out the $17 million paid for Jasper Johns' False Start at Sotheby's in 1989), and the third highest priced work made since 1945 (after Picasso's $29-million Women of Algiers and de Kooning's $20.7-million Interchange).

The buyer of the trophy is anonymous, so far. Word on the floor was that interested bidders included the Museum of Modern Art, the Warhol Museum in Pittsburgh, the Tate Gallery in London, Las Vegas casino king Steve Wynn and Conde Nast chief S. I. Newhouse.

The work's astonishing market cachet is due in part to the fact that it has resided in German museums for the last 30 years, first at the Landesmuseum in Darmstadt (1970-81) and then the Frankfurt Museum fur Moderne Kunst (1981-97). Orange Marilyn was sold by heirs of Karl Stroher, who had bought the painting in 1968 from famed Pop art collector Leon Kraushar. "The painting is in extraordinarily fresh and pristine condition," said Sotheby's, "for it has rarely traveled, and since 1970 has been stored in a museum."

The record price is a "shot in the arm" for the auction house, as Sotheby's president Diana Brooks told the assembled press corps after the sale. "In our darkest hour Tobias Meyer came to us," she said, in reference to Sotheby's 20th-century chief who conducted the auction, "and laid out an incredible marketing scheme to get this picture." It seems that figuratively speaking, the work was ripped off the wall of a European museum to restore the languishing fortunes of Sotheby's contemporary department, overshadowed in the last few seasons by Christie's.

The record price came relatively early in the auction and carried over to the entire sale, which totaled $35,690,650, with 45 of the 56 lots sold (80 percent by lot), against a presale estimate of $17 million-$25.5 million. The figure represented the highest contemporary art sale since 1990 for Sotheby's.

The sale contained two other Warhol lots, which both soared above their high estimates. A set of six flowers paintings from 1964, Untitled (Flowers), went for $910,000 (est. $550,000-$650,000), and a classic 1963 Warhol self-portrait, showing the artist in beatnik guise, wearing sunglasses and trench coat, sold for $376,500 (est. $200,000-$250,000).

The other great painting of the sale was Lucian Freud's Large Interior W11 (after Watteau) (1981-83), which sold for $5,832,500 (est. $2.5 million-$3.5 million), well above the British realist's previous auction record of $1.5 million. The somber rendering of five figures in a bare London flat has been widely exhibited, including in the Metropolitan Museum's 1993-94 Freud show. News of the painting's auction in New York had occasioned some complaints in England that the work was part of the national patrimony and shouldn't have been allowed out of the country. In the end, the painting was bought by New York dealer Lucy Mitchell-Inness for an anonymous U.S. collector.

In his remarks following the sale, Meyer noted that the market has a lot of activity in the $500,000 to $1 million range, which helped explain the sale of Robert Motherwell's emblematic Abstract Expressionist painting, Elegy to the Spanish Republic #134, for $860,500 (est. $400,000-$500,000). "It would have been difficult to sell two years ago," he noted. The same painting was knocked down at Christie's New York in 1989 for only slightly more, $880,000, while another version of the work sold that year at Sotheby's for $1.1 million, the auction record for a work by the artist.

Top sculpture in the sale was Alexander Calder's Acrobats, which went for $794,500 (est. $100,000-$150,000). The charming work was originally purchased in 1929 from the Neumann-Nierendorf Gallery in Berlin for 350 DM. It was sold last night by the son of the original owner. "There's some poetry in that," said Meyer.

Jean-Michel Basquiat's painting Unbreakable went for $596,500 (est. $300,000-$400,000) -- and yes, it did break the artist's previous auction record of $580,000, set in London just last December. The painting's provenance seems good, since it was included in an exhibition at Yvon Lambert Gallery in Paris in 1988, the year of the artist's death.

Anselm Kiefer's brooding, post-apocalyptic landscape, Midgard (1983-85), sold for $497,500 (est. $450,000-$550,000), somewhat under the artist's auction record of $776,315. The work was exhibited at the Fuji TV Gallery in Tokyo and was sold by a Japanese owner.

Damien Hirst's The Asthmatic Escaped I (1992), a large steel and glass enclosure containing a camera on a tripod and a pile of folded clothes (shirt, pants and sneakers), sold to British dealer Jay Jopling for $211,500 (est. $200,000-$250,000). The title refers to British painter Francis Bacon, who was asthmatic, often painted cages in his own work, and died in 1992. The British bad boy's Medicine Chest sold at Christie's London just last month for $316,000.

Robert Gober's Untitled Candle (1991), an 8-inch-tall sculpture made of wax, string and human hair, went for $107,000 (est. $50,000-$70,000). Does this phallic candle commemorate the flickering brevity of sexual life? Since it is one of an edition of seven, the work is actually worth almost $750,000, well above the artist's auction record of some $204,000.

Brice Marden's unassuming 2 Part Study (1966) went for $475,500 (est. $250,000-$350,000). This small work (each panel is 26 x 14, placed two inches apart) is a monochrome, institutional green with a half-inch space at the bottom full of drips that are, as Sotheby's noted, reminiscent of Jackson Pollock. The work also is said to reflect the artist's interest in medieval panel painting.

Besides the Orange Marilyn and the Lucian Freud, the sale set new records for Carl Andre, Martin Puryear and Mike Kelly. Andre's Zinc-Copper Plain (1969), a 36-unit square of alternating zinc and copper plates that was part of the artist's 1970 exhibition at the Guggenheim (the lot is accompanied by a certificate signed by the artist and dated 20 June 1980), sold for $310,000 (est. $150,000-$200,000). Puryear's NA (1979), an open, ring-like form of polychromed Ponderosa pine and basswood, sold for $277,500 (est. $70,000-$90,000). And Kelly's Wood Nymph (1988) a rather wan, eight-foot-tall felt hanging that the auction house likened to Matisse's late cut-outs, went for $32,200 (est. $25,000-$35,000).

Prices include the auction house commission, 15 percent of the first $50,000 and 10 percent of the remainder. Estimates do not include commissions. Complete, illustrated results of the auction can be accessed through the ArtNet auction database.

WALTER ROBINSON is editor of ArtNet Magazine.