Imogen Cunningham
Magnolia Blossom
1925




Unknown Photographer
Calamity Jane
ca. 1868-78





George E. Trager
The Battle of Wounded Knee
1891




Constantin Brancusi
Portrait of Mademoiselle Pogany II
ca. 1927





Man Ray
Solarized Nude
1931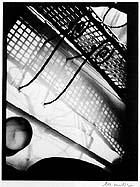 Lee Miller
Untitled
ca. 1931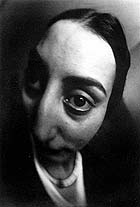 André Kertész
Distortion
1930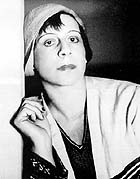 Florence Henri
Self Portrait
ca. 1930




Germaine Krull
Eiffel Tower Detail
ca. 1928





Maurice Tabard
Gare Montparnasse
ca. 1930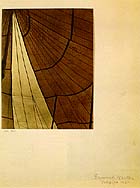 Edward Weston
Circus Tent
1924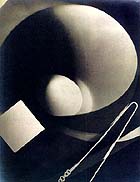 Man Ray
Champs Delicieux: Album de Photographies
1922




Edward Weston
Shells
1927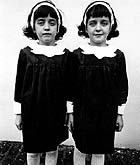 Diane Arbus
Identical Twins, Roselle, N.J.
1967




Johnson of Scranton
View of the Delaware ...
ca. 1860-71



Anonymous Photographer
Selected Views of Sri Lanka
ca. 1900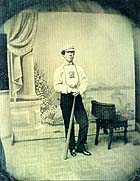 Anonymous American Photographer
Full-length portrait of a baseball player...
early 1860's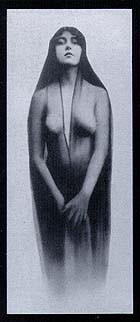 Anonymous American Photographer
Kaloma
1914




Yasumasa Morimura
Dublonnage (Portrait A)
1988



Thomas Eakins
Study for the The Swimming Hole
1883






Pierre Dubreuil
Un Geste
1910





Edward S. Curtis
Cañon de Chelly, Arizona -- Navaho
1904



Daguerreian Unknown
Tom Thumb and His Mother...
ca. 1855





Lee Miller
Nude, Paris
1930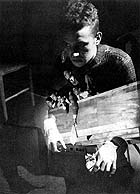 Maurice TabardUntitled (Boy Holding Box of Men)
1928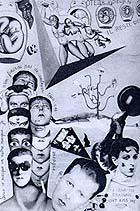 Claude Cahun
Aveux Non Avenus
1930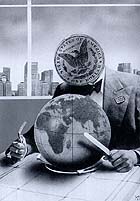 Alexander Zhitomirsky
Big Appetite
1947




Robert Mapplethorpe
Richard
1978




Richard Avedon
Nastassja Kinski and the Serpent
1981
New York's spring auction season began in earnest this week with back-to-back sales of photography at Swann Galleries and Phillips on Apr. 6, Sotheby's on Apr. 7 and Christie's on Apr. 8.

According to the auction houses, things went swimmingly. Christie's hit a worldwide high for a photo sale, totaling $4.6 million for 333 lots sold (of 416 offered, about 80 percent). Sotheby's total was $3.4 million, with 378 of 457 items selling (about 83 percent), a sum that is a record for a Sotheby's various-owner photo sale.

At Phillips, which was holding its first photo auction in over ten years, 85 of 89 lots sold for a total of $993,000. The huge sale at Swann Galleries, with over 500 lots offered and 423 sold, totaled over $1.2 million -- Swann's first million-dollar photo auction.

The buy-in rates were encouragingly low -- usually it's around 30 percent. Since the auctions were largely attended by dealers, the results must signal an expanding market.

As for your hard-working correspondent, imagine sitting through two day-long auctions of more than 400 lots, most selling for a few thousand dollars, as they are bid up in increments of $250 or so. It wasn't no picnic. As photo collector W.M. Hunt told me, "It's a little like watching OTB results for races you didn't bet on !"

The prices given here include the auction house commission, a charge of 15 percent of the sale price for the first $50,000 and 10 percent on the remainder.

Swann Galleries, Apr. 6
The three days of photo sales began at Swann Galleries, which as always offered a broad selection of interesting (and often lower priced) material. Top lot was right up there, though: $211,500 for a signed, vintage 1925 print of Imogen Cunningham's Magnolia Blossom -- a world auction record for the photographer.

Among Swann's 19th-century material, top lot was the family photo album of Calamity Jane, which sold for $21,850 (est. $12,000-$16,000). This amazing property contains 14 sixth-plate tintypes from 1868-78, including pictures of Jane as a young woman, another of her posing with her sisters, and portraits of her father and mother. Jane originally gave the album to James Fergus, a 19th-century Montanaian who apparently helped out Jane and her siblings when they were street urchins. Soon after it became the property of Red Matthews, who kept a private museum of the West in Billings.

Among the other remarkable lots was a group of three photographs by George Trager of frozen bodies in the snow after the 1891 Battle of Wounded Knee, the massacre that marked the end of the Indian wars. The lot sold for $6,670 ($2,000-$3,000). A silver print from ca. 1927 by Constantin Brancusi of his highly polished bronze Portrait of Mademoiselle Pogany II was bought for $8,050 (est. $8,000-$12,000).

A run of 68 consecutive issues of the pioneering photo-mag Aperture, volumes 1 through 18, sold for $7,475 (est. $4,500-$5,500).

Phillips, Apr. 6
In distinct contrast to the other three houses, which presented all-but-endless sales during the day, Phillips scheduled its sale for 6:30 in the evening and featured a scant 89 lots from the collection assembled by Maurice Verneuil in Paris between 1928 and 1935. Born in 1869, Verneuil studied architecture, worked as a designer and illustrator, published books (like Encyclopedie artistique et documentaire de la plante) and took his own photographs in Java and Cambodia in the 1920s.

He also began to collect photos by some of the more adventurous artists of the time, including Florence Henri, André Kertész, Man Ray and Lee Miller. At his death in 1942 in Switzerland, the collection became the possession of his family, "where it remained, locked away in a drawer, until now," in the words of the catalogue.

All but four of the 89 lots sold for a total of $993,330. Top lot was a 1931 silver print of Man Ray's famous Solarized Nude, which was knocked down for $156,500 (est. $60,000-$80,000). The recent scandal about forged Man Ray photographs obviously failed to infect the confidence in this particular print! Man Ray's lovely (and more straightforward) Portrait of Lee Miller, ca. 1930, sold for $85,000 (est. $20,000-$25,000).

Another top lot was Lee Miller's untitled composition from ca. 1931 of a wrought iron shelf and its shadow; it sold for $145,500 (est. $15,000-$20,000), an auction record for the artist. A second untitled Lee Miller photo from the same year, showing an ominously shadowed sidewalk underpass, sold for $68,500 (est. $15,000-$20,000).

A fantastic portrait from ca. 1930 by André Kertész, titled Distortion, sold for $16,200 (est. $7,000-$9,000). Another great portrait, Self Portrait by Florence Henri, showing the chic photographer gazing dispassionately into the camera lens, went for $12,650 (est. $8,000-$10,000). An Henri Still Life Composition #10 sold for $19,550.

The auction also set new records for photos by Maurice Tabard and Germaine Krull. A Tabard study of shadows -- obviously, Vernuil liked shadows -- sold for $46,000 (est. $5,000-$7,000). Krull's Eiffel Tower Detail, ca. 1928, went for $36,000 (est. $6,000-$8,000).

Sotheby's Apr. 8
Sotheby's top lot was Edward Weston's Circus Tent (1924), which sold for $266,500 (presale est. $100,000-$150,000), a record auction price for a Weston. The elegant platinum-palladium print, signed and dated in pencil and numbered 9/50, shows an image taken in Mexico City, an abstract composition of the inside of a circus tent, looking up, with the ribs of the tent spread out like the wings of a butterfly. The auction house declined to identify the buyer, but it appeared to be Dale Stulz, a former Sotheby's auctioneer who is now an appraiser in California.

Man Ray's album of 12 rayographs from 1922, with a preface by Tristan Tzara and a 1931 dedication to Lee Miller by the photographer, went for $244,500 (est. $100,000-$150,000) to Howard Greenberg Gallery.

The third and fourth highest-priced lots went to New York dealer Edwynn Houk. A 1927 print of Weston's classic Shells sold for $101,500 (est. $70,000-$100,000) and a print of Diane Arbus's 1967 Twins -- that had belonged to her psychiatrist! -- went for $74,000 (est. $60,000-$90,000).

A rare group of 32 large-format albumen railroad pictures from the Civil War era, showing views along the tracks through northeastern Pennsylvania that were used to transport coal to New York, was purchased by an anonymous dealer for $66,300 (est. $20,000-$30,000). Each photograph is on a gilt bordered mount inscribed Johnson, Photographer, Scranton. Though no first name is given for the photographer, the pictures were most likely made by Thomas H. Johnson, who operated a photo studio in Scranton at that time. They were sold to benefit the Delaware & Hudson Canal Historical Society.

Sotheby's sale began with several lots containing quantities of 19th-century photographs, presumably lured to the market from historical archives of one kind or another. An anonymous album of 50 photos from China, each about 8 x 10 in. with gilt edges, dating from the 1890s went for a modest $3,450 (est. $2,000-$3,000). The next lot, an album containing some 168 4 x 5 in. platinum prints of Sri Lanka, including images of snake charmers and elephant handlers as well as tea-plantation and village scenes, sold for an even more miserly $1,380 (est. $2,000-$3,000).

But an album of 42 photographs by Felice Beato, who accompanied two U.S. gunboats into battle on the Han River in Korea in June 1871, sold for $$32,200 (est. $3,000-$5,000). Each photograph measures about 7 x 11 in. Other albums included a collection of 122 views of Mayan sites from 1892-95 that sold for $33,350 (est. $4,000-$6,000); one of 73 albumen prints from an 1880 British incursion into Afghanistan for $16,100 (est. $5,000-$8,000); a group of 182 photographs showing the construction of the Washington Aqueduct in 1858-59 that sold for $21,850 (est. $10,000-$20,000); and an album of 100 photographs taken during 1905-10 in Alaska and the Yukon (showing gold mining operations, dogsled teams, mammoth tusks and the like) that sold for $5,452 (est. $2,000-$3,000).

Daguerreotypes frequently sell in groups as well. A lot of approximately 227 portraits of women, for instance, went for $8,050 (est. $5,000-$7,000) and a lot consisting of some 155 portraits of children (96 daguerreotypes, 47 ambrotypes and 12 tintypes) sold for $13,800 (est. $2,500-$3,500). A group of nine daguerreotype post-mortem studies of children from the 1840s and '50s went for $8,625 (est. $4,000-$6,000).

As summer approaches, I couldn't help noticing the tintype of a baseball player that sold for $34,500, at the low end of its estimate ($30,000-$50,000). Measuring about 8 x 6 in., the photograph may depict James Creighton, a Brooklyn native whose short career ended in 1862 when he hit a home run, circled the bases and then collapsed - his swing had ruptured his bladder, and he died four days later at age 21. Shades of Malamud's The Natural!

Later in the sale, a 1941 W. Eugene Smith photo of a Joltin' Joe Dimaggio standing with bat at the plate, apparently taken from over the umpire's shoulder, sold for $13,800 (est. $3,000-$5,000). It was originally done for Life magazine. Even better was a Time magazine picture by Gjon Mili (1904-1984), a shot of heavyweight champion Joe Louis just after he had been knocked flat on the canvas by Jersey Joe Walcott in a controversial 1947 match at Madison Square garden (that Louis went on to win in a decision), that sold for $8,050 (est. $2,000-$3,000).

A hand-tinted photograph of Josephine Marcus Earp, the one-time wife of lawman Wyatt Earp, sold for $2,875 (est. $3,000-$4,000). The anonymous picture, taken in 1914 and titled Kaloma, shows a siren-like figure dressed in a sheer gown with a plunging neckline.

An oddity in the sale was a mammoth 92 x 117 in., sepia-toned photographic mural of Yosemite Valley by Ansel Adams, one of a series made in the 1950s for the lobby of the American Trust Company bank in San Francisco (a similar picture was used on a Hills Brothers coffee can in 1970). Despite its unusual format - the picture is mounted to homosote board with wheat paste and framed with a rustic wood border -- it sold for $24,150 (est. $10,000-$20,000).

Another interesting result was the $44,850 (est. $20,000-$40,000) realized for what was essentially a commercial project, Margaret Bourke-White's group of 10 mural studies depicting aluminum manufacture for Alcoa's exhibit at the 1934 Century of Progress Exhibition in Chicago. The warm-toned photographs are in various sizes up to about 13 x 9 in.; four are circular, four are quarter-circles and two are rectangles.

Very little by contemporary artists who use photography finds its way into these sales, and then only at the tail end. One example was a bizarre 1988 self-portrait by Yasumasa Morimura called Dublonnage (Portrait A), showing the artist in a tuxedo, blonde wig and heavy blue eye shadow, cradling his head in a crescent-shaped salver with sliced mushrooms, carrots, tomatoes and other salad ingredients. A 46 x 47 in. chromogenic print mounted to aluminum, in an edition of 10, it sold for $6,900 (est. $2,000-$3,000). A pair of color photos by Jack Pierson, each measuring ca. 30 x 20 in., and one showing a pair of dressed men embracing in bed, sold for $2,300 (est. $2,000-$3,000).

Christie's Apr. 9
One would have to say that Christie's had the more interesting material (and the more comfortable chairs!). The top two lots at Christie's came early in the sale, when a pair of photographic studies by Thomas Eakins for The Swimming Hole (ca. 1883) came up, one after the other. The first went for $178,500 (est. $10,000-$15,000), an auction record for an Eakins photograph, and the second for $145,500 (est. $8,000-$10,000). Both were bought by the Fraenkel Gallery from San Francisco and Charles Isaacs, a dealer from Malvern, Pa. The photos were sold to benefit the Charles Bregler Art Scholarship Trust at the Pennsylvania Academy of Fine Arts.

Also offered was a group of five photographs by the little-known early modernist Pierre Dubreuil (1872-1944), a French-born photographer whose compositions are sophisticated and witty. He was associated first with the Linked Ring in London in the early 1900s and later with the modernist movement, sending Alfred Stieglitz a group of his photos in 1910.

The catalogue waxes effusive over the rediscovery of Dubreuil by collector Tom Jacobson, to whom these lots belonged, and the market seemed to agree. Elephantaisie (1908), which pairs a sculpture of an elephant the foreground with a distant view of the Eiffel Tower, went for $134,500 (est. $80,000-$100,000) to an unidentified U.S. buyer, a record auction price for a photo by the artist. Other Dubreuil photographs included Le Premier Round (ca. 1932), a picture of a boxer (of uncertain gender) with gloves lifted to the face, which sold for $112,500 (est. $60,000-$80,000); and Un Geste, a 1910 platinum print showing the painter Edmund Jamois at work, that sold for $40,250 (est. $15,000-$20,000).

Top price paid for a daguerreotype was $134,500 for a set of 10 panoramic views of San Francisco, ca. 1851, done during the Gold Rush (est. $20,000-$30,000), bought by Matthew Isenburg. A daguerreotype from ca. 1855, picturing Tom Thumb and his Mother, went for $17,250 (est. $10,000-$15,000).

A Moholy-Nagy Fotogramm, 1922, also sold for an auction record for the artist at $123,500 (est. $90,000-$120,000) to a private U.S. buyer.

The sale contained several lots by Edward S. Curtis, the Pictorialist photographer who did more than anyone to romanticize the image of the American Indian, publishing 20 volumes of pictures between 1907 and 1934. Included here were the first 12 portfolios as well as a 12-volume encyclopedia originally owned by Henry Lewis, founder of the International Silver Company and an original subscriber to the set of large-format photogravures.

Top price for the Lewis material came for the set of 12 bound text volumes of the North American Indian, containing almost 1,000 smaller-format photogravures, which sold for $74,000 (est. $25,000-$35,000). Curtis' Portfolio 6, including 34 of the 36 16 x 11 in photogravures, went for $68,500 (est. $40,000-$60,000).

Among the individual Curtis photos, a 1904 orotone photograph of Navaho riders in the Canon de Chelly in Arizona went for $23,000 (est. $14,000-$18,000).

Several photographs by Eugene Atget owned by Dr. David J. Weber, who began collecting in 1979, sold in excess of their estimates. Top lot was an image of the gated front of the Cabaret de la Croix d'Or, a gold-toned albumen print from 1900, that sold for $36,800 (est. $15,000-$20,000).

Surrealist photos included Lee Miller's Nude, Paris (1930), a very abstract-looking 7 x 9 in. golden-gray print that sold for $90,500 (est. $25,000-$35,000). A more bargain-priced Surrealist lot was Maurice Tabard's gelatin silver print from 1928, called Boy Holding Box of Men. It sold for $8,625 (est. $7,000-$9,000). A limited edition book from 1930, titled Aveux Non Avenus, containing 10 heliogravures after photomontages by the lesbian avant-gardist Claude Cahun, sold for $3,450 (est. $1,000-$1,500).

Among the various other material was an incredible Edward Steichen view from ca. 1917 (he was a colonel in the Army Signal Corps, and oversaw aerial photography). Aerial View of Bombed Village, a gelatin silver print about 14 x 19 in., sold for $4,025 (est. $2,500-$3,500). A very young nude portrait of Yul Brynner with hair by George Platt-Lynes from 1942, in a lot that included two prints, went for $3,680 (est. $3,000-$4,000). A fantastic anti-American photocollage by the Soviet photographer Alexander Zhitomirsky, Big Appetite (1947) sold for $3,450 (est. $6,000-$8,000).

The scant selection of contemporary works at the end of Christie's sale included a David Levinthal large color Polacolor II print from 1987 of a toy soldier (from his "Wild West" series) that went for $2,300 (est. $2,500-$3,500) and a 1989 Cibachrome by Nan Goldin of Cookie Mueller at her husband Vittorio's casket that sold for $1,380 (est. $1,200-$1,800). A Hiroshi Sugimoto 1978 silver print of a movie screen, U.A. Walker, N.Y., went for $6,900 (est. $4,000-$6,000).

Another apparent result of the sales was the Mapplethorpe market seeking a new, lower level. Both houses offered several Mapplethorpe lots, many of which were passed. Highlight at Sotheby's was the unique diptych Richard (1978), a gruesome pair of images depicting what could be described as bound and crucified male genitalia, that was arguably one of the more harrowing images in the 1988 Whitney Museum Mapplethorpe retrospective. It failed to reach its reserve (est. $10,000-$20,000).

Mapplethorpe's flower prints still do well. At Sotheby's his 1987 Hyacinth, an oversized photogravure on wove paper, signed and numbered 13/27, went for $17,250 (est. $9,000-$12,000). At Christie's a beautiful color Cypipredium Orchid (1982), with a pale apple green background, sold for $36,800 (est. $10,000-$15,000). A few of the passed works (at both houses) were estate-issued prints stamped with a facsimile signature and signed by estate executor Michael Ward Stout, a lawyer.

Finally, prints of Richard Avedon's famous (and ubiquitous) 1981 29 x 44 in photograph of Natassja Kinski with a snake were in both sales. At Christie's, number 42/200, sold for $14,950 (est. $5,000-$7,000). At Sotheby's, number 21/200 sold for $12,650 (est. $6,000-$8,000).

WALTER ROBINSON is editor of ArtNet Magazine.