Frank Thiel
Stadt 2/32/A (Berlin)
1998
(detail)
at Galerie Haas & Fuchs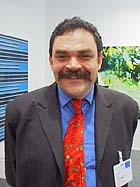 French dealer Brice Fauché
of Sollertis





Frank Thiel
Stadt 2/32/A (Berlin)
1998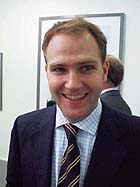 Michael Fuchs of
Galerie Haas & Fuchs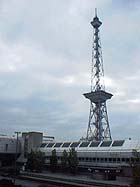 Berlin Messe exhibition hall
and radio tower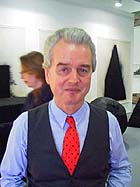 Düsseldorf dealer
Hans Mayer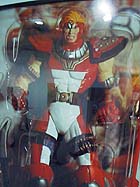 Robert Longo's
new work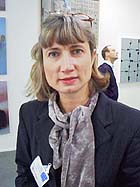 Anne de Villepoix




Valérie Jouve
Untitled #50
1998
at Galerie Anne de Villepoix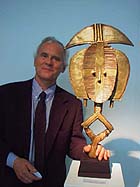 Düsseldorf dealer Henrikus Simonis
with Bakota relic





Susana Solano
Lalibela
1997
at Galería Senda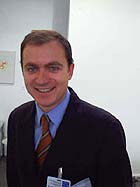 Galería Senda's
Carlos Durán Basté




Artist Joulia Straussowa
at the Berlin gallery
Hohenthal und Bergen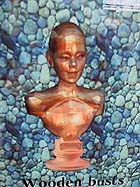 One of Straussowa's
royal personages
"Modern art is finished!" exclaimed French dealer Brice Fauché with a gleam in his eye. "Now it is contemporary art only!" He is standing in the middle of the Berlin Art Forum, where he has decorated the booth for his Paris gallery, Sollertis, with works by Roland Fischer, François Morellet and Jacques Villeglé. Art Forum, with 146 galleries from 22 countries, is arguably the world's leading art fair dedicated single-mindedly to contemporary art.

And, indeed, the quality of the new art on view is truly "ausgezeichnet," or excellent. As the vernissage got underway on the afternoon of Sept. 30, it became clear that the avant-garde in Berlin is definitely giving New York a run for its money. The constructive energy of the new German capital, famously making itself over in a broad-based post-reunification spurt of growth, is very much a factor in the ambiance of the art fair itself.

"It's the youngest city in the world," said Michael Fuchs of Galerie Haas & Fuchs. His booth at the fair is devoted to huge color photos of Berlin under construction by the 32-year-old artist Frank Thiel. Thiel's images are among several here that seem emblematic of the spirit of the fair.

Art Forum Berlin opens to the public Oct. 1-4, 1998, at the Berlin Messe, the spacious and modern exhibition center in the western part of the city. The fair takes place in a series of linked halls that form a rectangle surrounding the landmark Berlin Radio Tower, a 150-meter-tall, Eiffel Tower-like structure built in 1924 by Heinrich Straumer. The fair building proper is an exhibit in itself, a futuristic metal-sheathed structure erected in 1979, and looks to me like a starship at rest.

This time around is the third installment of Art Forum Berlin. The company that runs the fair, European Galleries Projektgesellschaft GmbH, is a profit-making organization, though its shareholders are the people of Berlin (plus a few, smaller private shareholders). At this early stage the organization is focusing on expanding and improving its operations, according to Jochen Martin, the fair's general manager.

The cost of a booth at the fair ranges from 2,500 DM for a small space and 32,000 DM for a large one. (A mark is worth a little more than two-thirds of a dollar.) The fair doesn't reveal its overall budget, though an informed source put it between 3 million and 4 million DM.

But how to take it all in? Impressionistically, of course. Bear with us -- we're doing this on the fly, typing up reports on a laptop and e-mailing text and digital pictures back to the main office in New York, which then posts the stories online. In the coming days we hope to supply a series of reports on the fair and its art. With any luck, we'll also be able to venture out into the city, which boasts a cultural scene that even New York City might envy.

In that vein, by the way, note that "Sensations: Young British Artists from the Saatchi Collection" has just opened at the Hamburger Banhof. The new Berlin Biennial, an even more contemporary art show, has been inaugurated at three different alternative-space-like venues, the Akademie der Künste, Postfuhramt and Kunst-Werke Berlin. Also at the Akademie der Kunste is "Nonchalance," an exhibition of Swiss contemporary art (floating soap bubbles from a work by Christian Marclay filled the air around the Biennial opening there). There are shows by Katharina Sieverding at the Deutsche Guggenheim Berlin, by Martha Rosler at the INIT Kunsthalle and "The Power of Age -- Strategies of Mastery" at the Kronprinzenpalais.

But first, back to Art Forum Berlin. A quick tour of the premises during the press preview found most of the dealers fresh and ready to go -- though of course no sales had yet been registered! At the booth of veteran Düsseldorf dealer Hans Mayer, huge new photographs by Robert Longo caught my eye. On the outer wall of Mayer's booth were a pair of garishly colored images of action figures, surely a hero and a villain from the world of adolescent drama that Longo has made his empire. They speak of power, intensity, hormones! These photos, in editions of two, are $28,000 each.

On view at Galerie Anne de Villepoix are examples of the large, scenic photographs by Walter Niedermayr that show tiny figures in vast landscapes. They remind me of David Friedrich's painting, The Source of the Rhine. Anne drew my attention to a photograph by the 32-year-old Paris photographer Valérie Jouve of a distraught bottle blonde standing in front of a building wearing an ill-fitting magenta wrap. "The artist asks people to pose in the street," said de Villepoix. She expects to sell all three works in the edition for 5,900 DM each.

At the press conference earlier in the day, fair officials had bragged about including in Art Forum Berlin a booth for the Düsseldorf-based Galerie Simonis, which for 20 years has handled African art -- after Art Cologne had declined to invite him. Simonis is one of the very few non-contemporary, "specialist" galleries exhibiting. Simonis himself showed me an early 20th-century Bakota relic from Gabon made of copper and brass. When young men would leave their homes to start a new village they would take this relic along with the skulls of their ancestors to maintain a link to their past. The price is 54,000 DM.

At Galería Senda from Barcelona, Carlos Durán Basté pointed out the new -- and heretofore unexhibited -- abstract drawings by Spanish Minimalist Susana Solano. Apparently, the artist draws on her body with ink and then transfers the rather abstract image to paper. These drawings represent a new figural element in her work, according to Basté, and will be included in a retrospective of her work planned for later this year at MACBA in Barcelona. The large sculpture on view, made of steel, iron and lead and titled Lalibela, is provocatively female, in an abstract way. It's priced at 135,000 DM.

An artist was on duty at the booth of the Berlin gallery Hohenthal und Bergen. As I paused to examine a pair of large digitally enhanced photographs, one apparently printed on patterned and mirrored mylar, the artist Joulia Straussowa undertook to explain to me what she called the "virtual kingdom of beauty." It involves stereoscopic glasses, images of ancient sculptures, images of today's royals and actual computer-fabricated sculptures -- all projected into a virtual environment -- or something. Illustrated here is a close-up of one of the virtual royal personages.

One last note for today -- Art Forum Berlin has inaugurated a new, 40,000 DM prize "to contribute to the international debate on art." The prize is named after turn-of-the-century art dealer Paul Cassirer, who back in 1898 opened one of the first private galleries with an interior designed by Henri van de Velde. The inaugural Paul Cassirer Art Prize is jointly awarded to the Italian artist (and current Berlin resident) Monica Bonvicini and the British artist Liam Gillick, who split the prize.

The pair were also given a small booth in which to execute a project. On the wall are a pair of letters, each from one to the other, saying almost the same thing, e.g., "Have you heard we won the prize and are supposed to do an installation? Got any ideas for what we should do?" In the end Bonvicini built a large, unfinished sheet-rock box, all but filling the booth, while Gillick hung a kind of Minimalist metal screen from the ceiling. It looks like art.


WALTER ROBINSON is editor of ArtNet Magazine.



Project by Monica Bonvicini
and Liam Gillick

Monica Bonvicini