Victoria Civera
at Soledad Lorenzo










Pedro Mora
at Soledad Lorenzo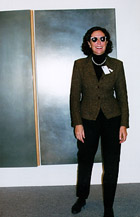 Madrid dealer
Oliva Arauna










José Herrera
at Oliva Arauna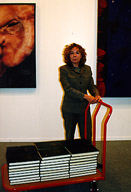 Elba Benítez's booth









Carolee Schneemann
at Elga Wimmer









The two directors of
Gallery Espacio Mínimo

arco notebook

by Elga Wimmer

What distinguished this year's ARCO (short for Arte Contemporáneo) was its strong emphasis on new art from Latin America. ARCO `97 presented relatively little secondary-market pieces, and also was thankfully short on more commercial efforts that appeal largely to decorators. Among the 215 galleries in attendance were several from the U.S., including George Adams, David Beitzel, Sandra Gering, Christopher Grimes, Marlborough, PaceWildenstein, Carla Stellweg and my own gallery, Elga Wimmer.

To accompany this year's fair and keep everyone interested, ARCO's powerhouse organizer Rosina Gómez-Baeza put together a number of lectures and presentations on the art of Latin America. Luminaries like Robert Storr, Catherine Lampert, Mary Jane Jacob, Berta Sichel and Coco Fusco held forth on such topics as "The Role of the Museum in the Year 2000" and "Photography by Latin American Artists."

As far as the exhibitors were concerned, the prevailing force definitely resided in the hands of women, especially among the galleries from Madrid. A notable showing was made by Victoria Civera at Soledad Lorenzo Gallery. In one of Civera's sculptures, the heel of a giant woman's shoe is replaced by a woman's body in a feminine 1990s version of British Pop kinkster Allen Jones. Also of note at Lorenzo were Pedro Mora's elegant tile sculptures.

Oliva Arauna also predominantly showed sculpture. Alfredo Romano's "cages" containing neatly stacked linen sheets stood out, as did José Herrera's sleek, mummylike forms leaning simply against the wall. Juana de Aizpuru (who was one of the original founders of ARCO), exhibited the "History of Sex" series by Andres Serrano, which needs no introduction here. Marta Cervera showed sculpture by Fernando Sánchez Castillo that evoked a futuristic movie theater, along with surrealist photography by Juan Pablo Ballester and abstract portrait paintings by Victoria Gil. Elba Benítez represented Francesc Torres with a piece consisting of a trolley with books stacked on top with the suggestive title Where does it go? (Profane question without an academic answer).

In the "Cutting Edge" section, Sandra Gering showed paintings by Elena del Rivero and Peter Halley and installations by the X-Art Foundation and Taro Chiezo. For my own part, in my booth I focused on younger Spanish artists such as Victoria Civera, Txuspo Poyo and Olga Adelantado as well as introducing works by Mariko Mori, Carolee Schneemann and Ricardo Zulueta to the Spanish art scene.

Another fresh and innovative art gallery was Espacio Mínimo from Murcia, a tiny place near Alicante, a town otherwise known mainly for its delicious fruit and vegetables. Since not many art lovers travel through Murcia, gallery owner Jose Martinez Calvo attends most international art fairs. He represents several interesting artists, including Lidó Rico and Miguel Angel Gaueca.

Sill innovative after all these years was the Argentine Ruth Benzacar, who showed Pablo Siquier's map-like installations and Liliana Porter's whimsical and elegant paintings that include portraits of cartoon characters like Minnie Mouse. Benzacar's endless energy and curiosity led to a budding friendship between this delightful "grande dame of the arts" and many of the younger artists and galleries.

One of São Paulo's best galleries, Galería Camargo Vilaça, owned by Marcantonio Vilaça and Meneghel Ferraz de Carmargo, presented pieces by Doris Salcedo and Valeska Soares. Also on view was a work by Jac Leirner, who will represent Brazil at the Venice Biennale. Her sculpture was an extensive stack of envelopes found in airplanes and arranged by size.

Last but not least I would like to mention the fiestas, parties and openings organized to entertain ARCO exhibitors and guests "after hours" (meaning, in Spain, extending into the early morning hours), i.e. mixing business and pleasure at such events as an opening reception until midnight at the Centro Reina Sofía.

The yearly party hosted by Lapiz, Spain's best contemporary art magazine, took place at the Circulo de Bellas Artes. Other notable receptions were put on at the Argentinian and Brazilian embassy. Numerous parties were also held at local bars, such as the splendid 100-year-old "El Coq" and restaurants such as "La Parra," which combines Andalusian specialties with international touches perfected by the owner Tessa who is from Sevilla and London.

After ARCO, Spanish art lovers can look to the new Guadalajara art fair, which will be held for the second time this September in Guadalajara, Mexico. The Guadalajara fair "threatens" to be as much fun and active as ARCO, but the latter still steals the show!


ELGA WIMMER is a gallery owner in New York City.