The crowd
Among the Old Masters.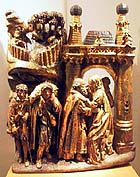 Joachim and Anna at the Golden Gate
16th century
at Jan Dirven, Antwerp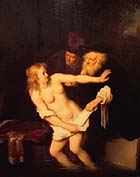 Salomon Koninck
Susanna and the Elders
1649
(detail)
at Noortman Maastricht

Eye cup
ca. 520 BC
at Royal Athena, New York

Roman pale blue glass beaker, 4th century AD, at Royal Athena
In situ at Steinitz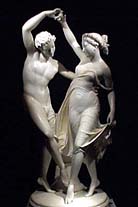 Giovanni Maria Benzoni
Flora and Zephyr
19th century
at Robert Bowman, London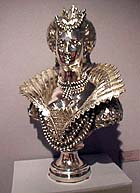 Mathurin Moreau
La Reine Margot
19th century
at Kunst en Antiekgalerie "Het Loo," Apeldoorn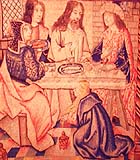 Christ at Supper with Simon the Pharisee
tapestry, ca. 1510-1520
at Galerie Chevalier, Paris

Pewter lunch pail at Beekhuizen, 18th century, Amsterdam
Jan Sluijters
Nude avec cheveux rouge
ca.1910
at Galerie Mia Joosten, Amsterdam
Broodthaers at Keitelman
Schoonhoven at Tegenbosch
What was that unruly crowd of well-dressed people doing at the Maastricht Congress and Exhibition Center (MECC) just before 3 p.m. on March 12? Anxiously awaiting entry to the gala preview of the world's greatest art and antiques fair, that's what -- TEFAF Maastricht, which opens to the public Mar. 13-21, 1999.

Maastricht is justly famous for the irresistibly high quality of its offerings -- what the Dutch might call a "shatkamer," or treasure trove. A total of 184 dealers from 12 countries have convened in this small town (pop. 120,000), which bills itself as the sunniest city in the Netherlands (it's the southernmost). Sunny in Holland can still be fairly overcast, but this time around old Sol came out and gave the event a true feeling of spring.

The art fair takes place in a huge hall that is clearly organized into four quarters -- one-fourth Old Masters, one-half antiques and fine arts, and one-fourth 20th century, with smaller groupings dedicated to antiquities, manuscripts and jewelry. Also present are dealers in armor, clocks, coins, garden statuary, icons, pre-Columbian, rare books, silver, snuff bottles and tribal art.

Booth walls are covered with elegant red, black, green or beige velvet, and the MECC's arching, girdered roof is hidden by a gauze ceiling. The wide corridors, given names like "Fifth Avenue" and "Champs Elysées," are dotted with round tables (holding ashtrays), banks of fresh flowers and, most importantly, fair floor plans mounted on stands.

The Old Masters on view are breathtaking, for their conceptual inventiveness as well as for their spiritual intensity (more on this later!), and because they're available for purchase (more on this too). No surprise, since leading Old Master dealers are in attendance, including Agnew's, Artemis, Colnaghi, Simon Dickinson, Richard Green and Johnny van Haeften from London, Didier Aaron, De Jonckheere and Haboldt from Paris, and French & Co., Otto Naumann and Blumka from New York.

Polychrome wood figures from the early Renaissance look particularly good today, as the 20th century draws to a spirited close. Antwerp dealer Jan Dirven, who specializes in Renaissance and Medieval sculpture, ivories and enamels, has a large polychrome 16th-century bas relief scene of the Virgin Mary's supposed mother and father at the entrance to his booth. The carved walnut narrative shows Joachim and Anna embracing at Jerusalem's Golden Gate, while two of Joachim's sheperds look on. Done in the early 16th century by a Flemish artist working in Spain, the sculpture is priced at Dfl 165,000 (one Holland Florin, or guilder, is equivalent to about 50 cents).

One of the not-to-be-missed booths belongs to Robert Noortman, the local dealer who launched TEFAF Maastricht back in 1975. Noortman presents a mix that seems unusual to a New Yorker -- a range of works that goes from Old Masters to Impressionist and modern. Among the pictures in his booth are a lustrous small painting of Susanna and the Elders by Salomon Koninck, thought to be by Rembrandt until a 1974 cleaning revealed the Koninck signature and the date 1649 (it's Dfl 550,000) and a charming 1961 painting by Kees van Dongen of two "mannequins" seen from behind (it sold opening night). Perhaps the mix isn't so unusal after all!.

Among the dealers in ancient art and antiquities is Royal Athena from New York. Jerome Eisenberg has packed his booth with objects, including several examples of black figure Greek pottery. The large "eye cup" shown here features a helmeted warrior and leaping steed along with the two painted eyes, designed to ward off attack while the drinker lifts up the bowl to quaff. It dates from ca. 520 BC and can be yours for Dfl 111,900.

The star item at Royal Athena is a large Cycladic marble female head from ca. 2,700 BC, said to be only the second of this size to come on the market in the last 40 years. It's price? $375,000. More to my taste is an object at the other end of the range, a Roman pale blue glass beaker with spiral ribbing from the 4th century AD -- only Dfl 3,600.

Perhaps the most celebrated dealer in the fine art and antiques section is Bernard Baruch Steinitz from Paris, who now is in business with his son Benjamin. As is his specialty, Steinitz has completely transformed his booth with the installation of four separate period rooms, complete with carved boiserie panels, ranging from Louis XIV to XVI. Steinitz wouldn't cite a price offhand. Installation of a period room, he said, requires consultation with the client's architect and a lot of professional attention.

London dealer Robert Bowman has brought a selection of statuary to the fair, including a 1910 bronze of a leaping horse made by the Romanian artist Constantin Cristesco. Other works in the Bowman booth range from the life-size, 19th-century white marble by Giovanni Maria Benzoni of Flora and Zephyr that seemed so appropriate to the spring weather (price on request) to smaller works in bronze by Antoine-Louis Barye, like a three-inch-tall figure of a rearing goat (£1,800).

At the gallery Kunst en Antiekgalerie "Het Loo" from Apeldoorn, south of Amsterdam, is an astonishingly modern-looking silver-plated bronze bust of La Reine Margot made by the 19th-century French sculptor Mathurin Moreau. Queen Margot was married to Henri IV, and had a remarkable -- and scandalous -- life that was chronicled in a recent movie starring Isabelle Adjani.

Specialty items are easy to find at TEFAF Maastricht. The dealer Jan Beekhuizen from Amsterdam is presenting a wide selection of pewter jugs, tankards, plates and similar items of French, Dutch, Flemish, German and Swiss manufacture. In the Dutch fashion, Beekhuizen prefers the unpolished gray patina, a sublime tone -- originally the pewter would have been shiny, like "poor man's silver." Among the offerings: an 18th-century lunch pail made in the French town of Avrolles in France, for Dfl 2,500.

Two of the few booths at Maastricht devoted to tapestries are Galerie Chevalier and Blondeel-Deroyan, both from Paris. Chevalier has a forceful and simple example, measuring about 3 feet 4 inches square and showing Christ at Supper with Simon the Pharisee. Mary Magdalen is depicted on her knees, anointing Jesus' feet with oil. The wool and silk tapestry dates from ca. 1510 and is priced at 300,000 Francs.

TEFAF Maastricht is trying to strengthen its modern section, and the 20th-century dealers who showed up are doing their best. Xavier Hufkens from Brussels is at Maastricht for the first time, presenting works by Stella, Mapplethorpe, Barry Flanagan and Louise Bourgeois, among others. What caught my eye was Malcolm Morley's very detailed, 3-D watercolor construction of a masted schooner and a blue whale, called Belen with Whale (1992). It's $60,000.

At Galerie Mia Joosten from Amsterdam are several paintings by Jan Sluijters, a Netherlands modernist who is little known outside of his own country. Nude avec cheveux rouge (ca. 1910) is Dfl 175,000. Galerie Lambert Tegenbosch from Heusden in the Netherlands had several works by the famous Dutch Minimalist, J.J. Schoonhoven (1924-1994). He is perhaps best known for gridded, geometrical low reliefs in all white. Two large works at Tegenbosch, priced at ca. Dfl 125,000, had red dots; several smaller ones were still available at Dfl 50,000.

At the booth of Maurice Keitelman from Brussels, the dealer Avi Keitelman (Maurice is his uncle) had a range of material on display, from a delicate set of clear glass shapes by Tony Cragg to a ca. 1867 Felicien Rops picture of a woman hiding her steely visage behind a mask of her own (sweeter) face, colloquially titled The Old Story. "It's the essence of Symbolism," Keitelman said. The booth also featured a delicate, birdlike mobile by Alexander Calder, some Schwitters collages and two large bowls of eggshells made in 1968 by Marcel Broodthaers. It's asking price was $175,000, and it sold at the fair.

Among the other works that caught my eye was a great Paul Delvaux drawing from 1943 of his classic Les Deux Amies -- two nude women embracing -- at Kunsthandel Frans Jacobs from Amsterdam. And Galerie Pierre Levy from Paris had a classic Marie Laurencin picture of a girl playing the banjo, done in 1938.

Several modern dealers crossed over from London, including Annely Juda, Marlborough, Waddington and Mayor. Mayor Gallery features several collages by Max Ernst, photographs by Brancusi and some rather lascivious pen drawings from 1975 by Claes Oldenburg of a nude girl masturbating with a ping-pong paddle. They seem to be proposals for a monument in Whitehall -- wonder why it wasn't realized?

At Waddington are two striking small paintings of Marilyn Monroe by Peter Blake (of Sargent Pepper fame), as well as a wall of Henry Moore's conscientious drawings of sheep from 1972. Waddington also has works by Picasso, de Chirico, Dubuffet and a 1951 Picabia called Monday that is priced at £50,000.

This is a good place to stop for today -- since Artnet Magazine's live report from Maastricht continues, on Monday.


WALTER ROBINSON is editor of Artnet Magazine.