View of the Cologne Dom
across the Rhine









Art Cologne








Köln Messe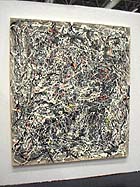 Art & Language
Portrait of V. I. Lenin
in the Style of
Jackson Pollock V
1980
at Lisson Gallery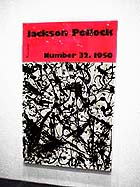 Peter Zimmerman
Untitled (Jackson Pollock)
1998
at Galerie Michael Janssen








Dirk Skreber
Untitled
1998
at Luis Campaña








Dirk Skreber
Untitled
1998
(detail)








Tony Cragg
Spyrogyrea
1995-1996
at Buchmann Galerie









Robert Indiana
Love
1996-98
at Hans Meyer









Not Vital
installation view
at Gian Enzo Sperone








HA Schult and "trash people"
at Galerie Incontro








Wolfgang Winter and
Berthold Hörbelt
Crate House
at Galerie Voges + Deisen









Felix Droese
The Animal at the Threshold
1998
at Galerie Klein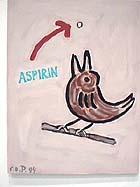 C.O. Paeffgen
Aspirin
1994
at Galerie Dieter Wilbrand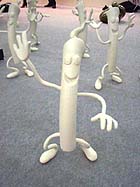 Elke Baulig
Untitled
1998
at Otto Schweins








Sylvie Fleury
Gucci Shoes
1998
at Art & Public









Louise Bourgeois
Torso
1996
at Karsten Greve









Reiner Ruthenbeck
Arche Noah II
1984
at Jablonka








Peter Halley
Rectangular Prison with Smokestack
1987
at Jablonka









Elisabeth Ensenberger
Living in a Perfect World
1998
at Galerie Michael Zink








Yoshitomo Nara
Head
1998
at Zink








Takashi Murakami
Miss KO2
1998
at Marianne Boesky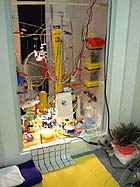 Sarah Sze
Untitled
1998
at Boesky








David Shirgley
Untitled
1998
at Stephen Friedman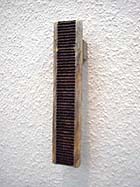 Roger Ackling
Japan 1996
at Thomas von Lintel









Stephan Altenberger
Untitled
1998
at Peter Kilchmann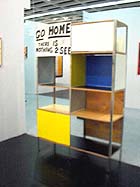 Martin Boyce
Now I've Got Worry
1998
at Lotta Hammer








Florian Merkel
Recht
1998
at Wohnmaschine









Blue sky by
Anton Henning.
The Rhine flows swift and full and threatens to overflow, just a few blocks away from the red-brick Köln Messegelände, or Exhibition Center, where the 32nd installment of Art Cologne has gotten under way, Nov. 8-15, 1998. It is indeed an event for bilderliebe, or image lovers!

Europe's oldest art fair is a predominately German venture, originally founded to bring together an art scene spread across a country famous for its many local exhibition centers and art associations. And with some 16 million people within 100 kilometers of the city, Art Cologne is central for art collectors from Germany, Belgium and the Netherlands.

Of Art Cologne's 262 galleries from 21 countries, a total of 161 are based in Germany. Nine are from Austria and 12 are from Switzerland. The tally includes Italy (19), Great Britain (10), the Netherlands (10), France (9), Belgium (7) and Spain (6).

A scant six galleries are participating from the U.S. Several of these are included in the special "promotion program for young artists," a group of 21 subsidized stands featuring "emerging artists." Among these are AC Project Room, Marianne Boesky, Gavin Brown's Enterprise and Friedrich Petzel. The modest American presence is further explained by the fact that Art Cologne is contemporaneous with the November art auctions in New York.

Gallery stalls are spread throughout two U-shaped floors of a vast and airy exhibition hall. Generally speaking, the high-end galleries where collectors seek $100,000 masterworks are upstairs, while younger dealers offer their less expensive, cutting-edge wares in the "bargain basement."

The booths have clean contemporary lines, with white walls and light gray carpet. Still, with such a quantity of exhibitors, navigating the fair can require frequent reference to the handy hallenplan, or map.

Art Cologne is still considered overly large, and word is that 100 galleries were turned away this year. Much insider gossip is devoted to the politics of participant selection. Rejected dealers have been known to sue for entry, some successfully.

What's more, Art Cologne casts an uneasy eye on its major competition. There's the Basel art fair, of course, which is more international and, truth be told, still considered number one, particularly in terms of classically modern art. And there's the upstart Art Forum Berlin, smaller and newer and organized in part out of dissatisfaction with Cologne. "They pad their attendance figures," claimed one Art Cologne organizer.

Art Cologne is operated by the private Federal Association of German Galleries (BVDG), which declines to release overall budget figures. The fair does make a profit, however confidential the amount. Stands go for between DM 5,000 and DM 37,500, and perhaps 70,000 visitors pay a daily admission fee of DM 20 (DM 10 for evening admission, and DM 13 for students). (A mark is about two-thirds of a dollar.)

But enough facts. What of the art? Needless to say, the fair presents an unparalleled opportunity to discover interesting new artists as well as an impressive selection of contemporary blue chips.

Pollock, or not
One highlight is the two or three works on view that made witty political or postmodernist references to the work of Jackson Pollock, perhaps mindful of the retrospective newly opened at the Museum of Modern Art in New York.

On view at the booth of Lisson Gallery, London, is Portrait of V.I. Lenin in the Style of Jackson Pollock V (1980) by Art & Language (Mel Ramsden and Michael Baldwin), the infamous iconoclasts who were the "yBa" of the Conceptual era. Many visitors to the fair are confusing the painting with the real thing. A close look at the splattery skein of black, gray and pink paint reveals the classic propaganda profile of Lenin.

Most works from this series, which was never shown in New York, were sold after they were first exhibited. This one is priced at £35,000. New work by Art & Language -- chairs, tables and other furniture constructed out of 29.5 by 42.5 cm paintings of books of text -- goes on view at Lisson next May. A major Art & Language retrospective is also in the works, scheduled to start at the Tapies Foundation in Barcelona.

Right next door at Galerie Michael Janssen, Cologne, is a large work by another Pollock-ophile. Peter Zimmerman's Untitled (Jackson Pollock) (1998) is a reproduction of the cover of a book about the heroic American painter, given a satisfyingly shiny surface by a coat of resin. The painting can be yours for DM 20,000. Zimmerman has been making works based on book-cover images for a decade, Janssen said.

At Luis Campaña, Cologne, is an untitled 1998 gold and white stripe painting by 36-year-old Düsseldorf artist Dirk Skreber, an artist who makes figurative works as well as abstract ones, and who has been known to play with otherwise pious painting motifs. This particular work, priced at DM 10,000, features one stripe that is actually a strip of packing tape. Other stripes are surrounded by impertinent scribbles. The whole thing is overlaid with Pollock-like random marks that look as much like splatters on a windshield as an epic of Abstract Expressionism.

Cologne sculpture
A special section of the fair devoted to sculpture -- 36 booths -- encouraged several artists (or their dealers) to make the kind of ambitious, large-scale installations that are always impressive.

Monika Sprüth is featuring a severe installation of two benches by Jenny Holzer inscribed with her trademark maxims. "Always Polite to Officers," says one. Among the other displays are Donald Judd at Waddington, John Chamberlain at Karsten Greve, François Morellet at Art Affairs, Amsterdam, Michael Venezia at Galerie Heike Curtze, Vienna, and David Nash at Annely Juda.

On view at Buchmann Galerie, Cologne, is an impressive work by Tony Cragg called Spyrogyrea (1995-96), a spiral armature holding some 740 sandblasted bottles, for DM 280,000. And Hans Meyer has a 12-foot-tall Robert Indiana Love sculpture (1966-98) in red, blue and green aluminum. Price: DM 600,000. "It's the last of three," said Meyer. The others are in Tokyo and Holland.

Gian Enzo Sperone has new marble sculptures by Not Vital. Several of the works portray busts of the artist atop 12-foot-tall poles. There's Self Portrait as an Idiot, Self Portrait with Six Ears, Double Headed, Sitting on My Face, and so on. The artist himself was in the booth, looking somber and not at all like the troublemaker suggested by his work. The sculptures are in editions of two, priced at $40,000 each.

There was always a crowd around the mirror-lined booth of Galerie Incontro, Eitorf, where the flamboyant artist HA Schult sits in front of a phalanx of his "trash people," life-size figures constructed out of, well, resin-impregnated trash. Schult said he plans to take his trash army of 1,000 people on a global tour with stops in Paris, New York, St. Petersburg and Peking. "After this trip Schult will be the most famous German artist!" exclaimed Schult. Collectors who get in on the ground floor at Art Cologne can purchase a work for DM 6,000.

At Galerie Voges + Deisen, Frankfurt, is a "crate house" by the team of Wolfgang Winter and Berthold Hörbelt. The brown and green crates, used in Germany to hold water bottles, are arranged in a checkerboard pattern to form a house-like structure, topped by a roof and complete with a plastic-covered carpet on the floor. "They're about atmosphere and light," said Ulrich Voges.

This particular installment is made of 378 crates which can be returned after the fair for a DM 3 deposit each. Fortunately, the work was sold for DM 40,000 to a private collector, who will site it in a garden for use as a gazebo. Winter and Hörbelt have installed their crate houses at the 1997 Sculpture Project in Münster and in front of the Bonn Kunsthalle. The works are priced according to the number of crates that are used; the largest uses 3,000 crates and is priced at DM 220,000.

The emblematic image
The search for a suitable "keynote" image for this report led to the booth of Galerie Klein of Bad Münstereifel-Mutscheid. There is a massive sculpture of a bull by the 48-year-old Düsseldorf artist Felix Droese, a former student of Joseph Beuys whose work here is made, appropriately enough, from giant oak timbers. Called The Animal at the Threshold, the work is a reference to the coming millennium, but suggests "Germany" as well, somehow, perhaps because of the agrarian reference, perhaps because of the country's recent reunification. The sculpture is priced at DM 400,000, but bargain hunters can purchase Hanes-brand T-shirts with the image silk-screened onto the front, signed by the artist, for DM 50.

Another possible emblem for the fair -- after a long day of looking, surely -- hangs on the outside wall of the booth of Galerie Dieter Wilbrand, Cologne. C.O. Paeffgen's 1994 Aspirin shows a bluebird finding not a worm, but rather a bit of headache relief. This painting is priced at DM 38,000.

The winning selection, however, was found at Cologne dealer Otto Schweins', where a group of seven polyurethane figures by the 30-year-old Cologne artist Elke Baulig seemed to personify a cheery approach to the art business. Baulig's untitled sculptures are actually 3-D fabrications of a computer-animated dancing candle character, made at a factory that usually turns out bathtubs. These happy little guys are DM 4,500 each.

Blue chip?
Upstairs are the fair's contemporary blue chips, things so new and sharp that they take your breath away. At Pierre Huber's Art & Public, Geneva, is a row of brand new silvery bronze editions by Sylvie Fleury. There's a Grace Kelly handbag, a vanity case, a Nike shoe, a bottle of Evian, a bottle of Chanel fragrance. But most popular with the collectors is the pair of Gucci shoes. Several of the edition of 8 have sold, at a price of $15,000 each.

At Karsten Greve are several works by Louise Bourgeois, including the abject bit of stuffed knittery called Torso (1996), which was featured in the recent Whitney Biennial. It can be yours for DM 380,000.

At Jablonka Galerie, Cologne, is a classic Minimalist negation by Reiner Ruthenbeck. Called Arche Noah II (1984), it consists of 10 open, black umbrellas in a room. The price is DM 200,000. Ruthenbeck lives near Düsseldorf and is a professor at the academy in Munster. Jablonka also has brought a row of bronze Duchampian Bachelors by Sherrie Levine, and a tiny portrait of a sultry-eyed brunette that is perhaps the only truly erotic painting Alex Katz ever made.

Hanging on the outside wall of Jablonka's booth is a classic Peter Halley cell painting, called Rectangular Prison with Smokestack (1987). Complete with Day Glo orange and Roll-a-tex texturing, the painting is priced at $130,000. After several years of keeping a low profile in New York, Halley has scheduled a show at Anthony Grant's new gallery on 57th Street, Jablonka said.

Among the return galleries at Art Cologne is Marlborough, back after a 12-year absence. One highlight of the booth is a striking 290 cm tall painting by Clyfford Still from 1964. You don't see many of those on the market. It's priced at DM 3,000,000.

Cute as a cartoon
The spirit of young art in Germany, one could argue, has turned away from the abject in favor of a certain kind of charm. At the five-year-old Galerie Michael Zink, Regensberg, for instance, is a sculpture consisting of three tricycles and a swing -- covered with fuzzy, blue-dyed, knit mohair "sweaters" -- by Elisabeth Ensenberger. Called Living in a Perfect World, the piece is priced at DM 9,000.

Zink also has a selection of pieces by Yoshitomo Nara, a 39-year-old Japanese artist who splits his time between Japan and Cologne. A row of little busts of a charming cartoon mouse line the outside wall of the booth. Several are sold on the fair's first day, at DM 7,900. Zink also has a bust of a cartoon dog and a painting of an angry little girl by Nara.

A first-time exhibitor at Art Cologne, the New York dealer Marianne Boesky said she is making new contacts and expected new business. "Every German city has its own Kunstverein," she noted, "and the curators are all here, looking." A succulently kinky nude by Lisa Yuskavage and a life-size sculpture of Miss KO2 by Takashi Murakami are "garnering a lot of attention," she said. Murakami shows at Boesky's New York gallery in January.

Boesky reports much interest as well in the playful installation work of 28-year-old Sarah Sze. Though included in the current Berlin Biennale, Sze has in fact never had a solo show (she has one in May at Boesky). Her installation, a shower "stall" holding a kinetic collection of household ephemera (a fan, plastic clothespins, a thermometer, Styrofoam peanuts, washcloths, potted houseplants), is priced at $9,000. Perhaps more importantly, her schedule is completely booked for the next 18 months.

At Stephen Friedman, a Canadian who opened his London gallery in 1995 and who is at the Cologne Art Fair for the first time, is a wall of works by the 30-year-old artist David Shrigley. Shrigley is quickly gaining attention for his playful, cartoon-like drawings, photographs and sculptures. One photo, for instance, shows a "notice" posted on a lamppost that warns readers that a man "in one of the windows above" is making a "wee model of you" that he uses in "weird games." Shrigley installs his works salon style, and requires collectors to buy a minimum of five pieces and create their own little installation. His prices are still low, ranging from £200-£400 each. "Most people buy ten," says Friedman, who worked for Christie's London before going out on his own.

Other notables
Munich dealer Thomas von Lintel features abstract painting by a number of younger artists from New York that look very fresh here. There's a group of bright yellow, impastoed works by John Zinsser, a dramatic brushstroke painting by James Nares and a color abstraction by Stephen Ellis.

Less familiar to a visitor from New York are the works by Roger Ackling, who is a contemporary of Richard Long and Hamish Fulton (true, he did show at P.P.O.W. in 1995). Ackling finds small pieces of worn lumber that have been washed up on the beach, and burns a Minimalist stripe pattern into the grayed wood with a magnifying glass right on the spot. A piece like Japan 1996 -- its title indicating the place and date of its making -- goes for DM 6,000, or about $3,300.

What art lover doesn't cherish the notion of "artificial worlds?" At the booth of the five-year-old Galerie Peter Kilchmann, Zurich, are large, simple photos by the Swiss artist Stefan Altenberger. They show blue-toned theatrical smoke against a pitch-black background, and take the notion of Alfred Stieglitz's Equivalents -- classic photos of clouds that were meant to stand in for emotional states -- to a distinctly postmodernist place. Altenberger's unique prints come in various sizes, and in black or red as well as blue. These here are priced at DM 5,500.

Lotta Hammer opened her gallery in London less than three years ago. One work she has brought to Art Cologne is a curious sculpture of uncertain utility by Glasgow artist Martin Boyce. Boyce has crafted a do-it-yourself version of the famous Eames shelving unit. Titled Now I've Got Worry, the work features a hand-lettered panel that reads, "Go Home There is Nothing 2 See." It can be assembled in a variety of configurations and is priced at DM 10,300. Boyce also makes protest placards -- COAL NOT DOLE, for instance -- that reflect a similar fascination with "sculptural" manifestations of mass culture.

"It's been the best fair for me," said Friedrich Loock of Wohnmaschine, the avant-garde gallery from Berlin. One of his artists is Florian Merkel, who is best known for hand-tinted narrative photographs but who has recently begun making large figures out of colored plexiglass cut with a laser and put together like inlay. They have religious themes: Recht (justice, or right) (1998) is priced at DM 9,5000.

Half of the Wohnmaschine booth is devoted to the "emerging" artist Anton Henning, who has set up a couch and t.v. in the space, and lined the walls with sets of five to seven small paintings he calls "films." Depicting blue skies (very popular in overcast Cologne), bouquets or self-portraits of Henning smoking a cigarette, several of these series have sold at DM 15,000 each. On the outside wall is a large photograph of a mock rock band, with the hairy, behatted Henning posing for all three musicians. This amusing image has proven popular with local newspapers, and been reproduced several times. "ZZ Top it ain't," demurred Paul Bloodgood of AC Project Room, whose stall was across the aisle.

Well, dear reader, if you have made it this far, you deserve a prize. Instead, all you get is scant mention of a show of new art from New York at the Museum Ludwig, across the Rhine from the fair. Amusingly titled "I Love New York," the exhibition is an interesting grab-bag of works by artists known (Laurie Anderson, Dan Graham, Mariko Mori, Jessica Stockholder) and not-so-known. It features in its advertising an image from a Cheryl Donegan video of a girl in her underwear with an "I Love N.Y." plastic bag on her head -- a brave move, or perhaps a naïve one.

The show in general has not been well received in Cologne. One local critic called the curator, Jochen Poetter, "Columbus" because "he thinks he discovered America."

Some of the standouts: Piotr Uklanski's "disco stairs," Anna Gaskell's video installation (again, nightmarish images of girls with their heads in bags, here formed by pulled-up, bright red skirts), Thom Merrick's giant inflated plastic dinosaur and Aki Fujiyoshi's comic TV detective investigation of her own life. And the painter Stephen Keene is also there, right on the spot in his little studio, madly painting hundreds of tourist scenes on cardboard to sell next weekend to museum visitors for DM 3 each. Limit two to a customer!


WALTER ROBINSON is editor of ArtNet Magazine.