Outfit by Courrèges





Ben
en Art toutes les directions
sont bonnes
1998
at Daniel Templon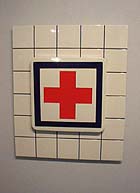 Jean-Pierre Raynaud
Poste de Secours
1988
at Templon






Oleg Kulik
Family of the Future
1998
at Rabouan-Moussion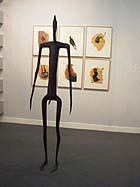 Antony Gormley
Insider
1998
at Xavier Hufkens






Martin Kersels





Jeff Koons
Puppy
1998
at JGM





Luciano Castelli
Astarte
1998
at Baudoin Lebon





Pablo Picasso
Figure
1931
at Galerie Gmurzynska





Francis Picabia
Baigneuse
1925
at Galerie Beaubourg





Arman
One Day in Amsterdam
1984
and (on right)
Fey Louis XV,
1985
at Galerie Beaubourg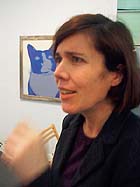 Brussels dealer
Sabine Wachters






Bill Woodrow
Money Head
1995
at Wachters
FIAC (Foire International d'Art Contemporain) , the 25-year-old contemporary and modern art fair in Paris from Oct. 7-12, 1998, is undeniably French -- and not just because Courrèges did the bright orange uniforms of the young women staffing the exposition.

What makes French art French? It's not a question that dealers at the fair take too seriously. Daniel Templon just laughed and gestured to the painting over his head by Ben, that most French of French artists. "En Art tout les directions sont bonnes," it said, in his hallmark cursive script. The painting is from 1998 and is priced at $11,000.

Templon had several works in his booth that seemed, well, French. Among them was an enameled aluminum red-cross emblem by Jean-Pierre Raynaud. Called Poste de Secours (1988), it was priced at 140,000F or $25,000 (there are a little more than five francs to the dollar). In this case, it is the artist's incommensurable semiotics of tiling and logo that one might associate with "Frenchness."

For the art journalist, FIAC is perhaps best for its "news" -- first-hand evidence of new shows, new artists, new works. Also on view in Templon's booth, for instance, is a large 1993 painting by Philip Pearlstein, from the series in which the artist posed nudes (here a male and female model) with impressive works of folk art. It turns out that Pearlstein will have his first solo exhibition at a French gallery at Templon, opening on Oct. 24.

Almost 140 galleries of contemporary and modern art are participating in FIAC. Of these, 25 classify themselves as "historical" and 30 as "avant-garde." 66 of the galleries are French, and 16 are from Austria, as part of a special concentration on Austrian art (more on this in a future report). FIAC is laid out in a sprawling horizontal grid with six aisles. It's in a complex of tent-like pavilions known as the Espace Eiffel-Branly, down the road from the famous tower.

Such a huge number of exhibitors guarantees that there will be something for every taste. Indeed, FIAC is crowded, rather more so than last week's Berlin Art Forum. But the quantity is a challenge for the intrepid reporter charged with giving a respectable account of the fair. Like most visitors, I prefer to wander! Here goes:

At Galerie J. Rabouan-Moussion, Paris dealer Jacqueline Rabouan and her daughter Caroline Moussion are featuring works by four artists who happen to be representing their home countries at the São Paolo Bienal, which opened last month. Among these is our old friend Oleg Kulik, the Russian artist who so memorably confined himself to a cage for three weeks last season at Deitch Projects in New York.

Among the works by Kulik are photographs, drawings, a videotape and CD-ROM from the series he calls "Family of the Future" Generally speaking, they show the artist and his dog in a . . . loving relationship. Larger color photos, in an edition of 20, are 19,000F. A set of three, smaller black-and-white photos in an edition of 10 costs 3,000F.

Other São Paolo reps at Rabouan-Moussion are Esko Männikkö, whose striking panoramic photographs of Texas homesteads are in the Finnish Pavilion; Pierrick Sorin, a video artist who combines images of faces from every ethnicity into portraits of surreal futurism, and who is France's entry in the Bienal; and Rochelle Costi of Brazil, whose large color photos detail Pop possessions in domestic interiors.

At the booth of Galerie Xavier Hufkens from Brussels is a new sculpture, using deep violet glass and stuffed socks by Louise Bourgeois, as well as several small drawings of the word "Thanks" by New York artist Allan McCollum. Several of these works have sold (for $280) not only because of their reasonable price, I presume, but because of their pleasant sentiment -- so rare in avant-garde art! A collector can commission a Thanks piece with that special someone's name custom-added, for $560.

Among the things in Hufkens' booth is a rusted steel figure by Antony Gormley, who ordinarily is known for classicist sculptures based on his own body. Called Insider (1998), the work here is skinny and otherworldly, and is apparently based on a systematic reduction of the artist's body measurements. It looks like tribal art, and is priced at £42,000. Hufkens hopes to show this series at his Brussels gallery in January.

Another discovery at Hufkens are photographs by Gert Verhoeven, a 33-year-old artist who lives in Belgium. Verhoeven's work -- odd color photos written on with marker --are called auto-mio and focus on psychology. His work is currently part of a show at the Drawing Center in New York. These photos are priced at $2,500 for an edition of three.

Spotted at H&R Projects of Brussels, a large-format photograph by Vanessa Beecroft showing several models -- one nude and crouching -- from her performance Show at the Guggenheim Museum earlier this year. Asked its price, Ghislaine Hussenot wryly noted, "It's $6,000, but it's sold!" These latter-day odalisques have appeal!

An artist was on hand at the booth of Galerie Georges-Philippe & Natalie Vallois -- Martin Kersels, the Los Angeleno whose photos and films make much of his large size (in one series of photos, some of which are on view, Kersels is shown throwing his friends into the air). Kersels will have a show at Vallois in February. Georges-Philippe & Natalie are second-generation dealers, Kersels noted, explaining that their parents have an incredible Art Deco furniture gallery right down the road on the Rue de Seine.

At JGM from Paris -- JGM stands for Jean-Gabriel Mitterand -- visitors are surrounded by sculptures by Niki de Saint-Phalle and Jean Tinguely. But what caught my eye was a good-sized, white porcelain vase in the shape of a terrier puppy -- unquestionably a work by Jeff Koons -- on the booth's small desk. Filled with a bouquet of flowers, Mitterand pointed out, it pays homage to the huge puppy flower-sculpture Koons installed outside the Guggenheim Bilbao. The vase dates from this year, and is in an edition of 3,000. It's price? 7,200F.

Among the works on view at Baudoin Lebon, who founded his Paris gallery in 1976, are exciting new glass sculptures by the former 1980s "Neue Wilden" artist Luciano Castelli. These sexually suggestive, black-and-white biomorphs in Murano glass were made by the artist this summer in Venice. Seven works exist in editions of six, and are priced at 35,000F.

Several galleries specializing in blue-chip moderns have booths at the fair. Among them are London's Mayor Galllery, which is presenting a selection of works by Max Ernst and Picasso. Microbes, a series of tiny, semi-abstract pieces that Ernst made in the '40s using what looks to be techniques more familiar to monotypes, are priced in the $10,000-$35,000 range, and seem to be moving quite well.

Galerie Gmurzynska, which opened its Cologne gallery in 1965, and operates a gallery in the Swiss town of Zoug as well, has given its booth the theme of "Exposition Internationale Paris 1937." This truly astounding collection of works features a room full of Russian Constructivist and Suprematist collages, photos and drawings; a wall of Picasso drawings for Guernica (these turn out to be from a rare 1990 Abrams facsimile edition, and are not for sale); and a room dedicated to drawings and gouaches by Sonia and Robert Delaunay, who designed the part Orphicist, part Art Deco, 1937 French pavilion. Imagine proposing a colorful rainbow proscenium for a loading dock!

One of the Gmurzynska showpieces, a jewel-like Suprematist relief by Ilya Chasnik, had a red dot. Many French dealers, once a work is sold, are disinclined to reveal the price. Such was the case here, though a similar Chasnik relief (though somewhat more difficult in design) is priced at DM 130,000.

Another Gmurzynska gem is a 1931 Figure by Picasso from his Surrealist period. Almost monochromatically pale gray-blue and resembling a painting of a sculpture, the restrained image is almost certainly of Olga, the artist's first wife. Picasso left her for the 17-year-old Marie-Therese. The painting is priced at $850,000.

More than 20 paintings by Francis Picabia line the walls of the booth of Galerie Beaubourg from Vence. This impressive collection includes everything from a 1913 Cubist dancer (priced at 3,500,000F) to a 1943 Portrait d'Yvonne Printemps (500,000F). There are also a pair of nudes from the 1940s. But my favorite is the fantastically Surrealist, Andre Masson-like Baigneuse (1925-26), which is priced at 2,000,000F.

Three days into the fair, the Picabias were all available. Not so with one of Galerie Beauborg's other attractions -- bronzes by Arman. A suite of busted furniture (two armchairs, complete with loose springs, and a smashed-up chest) dating from 1984-85 sold for 120,000F (for the chairs, each) and 400,000F (for the chest). Also marked sold: Arman's Stratégie Ouverte, 1995, an exploded, hinged bust, for 200,000F.

A large carved stone head by the British sculptor Bill Woodrow dominates the booth of Sabine Wachters Fine Arts from Brussels. Embedded with oversized bronze pennies, the piece is called Money Head (1995). It had been sold at the fair, but the otherwise charming Ms. Wachters declined to reveal the price.

She did refer me to another large, collaborative sculpture by Woodrow and Richard Deacon, however, which is priced at 210,000F -- and "is in the same range." This sculpture, called Thought It Was a Duck You Can't Judge a Book (1993), includes a section of parquet floor set on its side on top of a table, with a gold painted axe wedged into its back side.

In addition to all the excitement of the fair -- there's much more than can be indicated in this short report -- it goes without saying that the great museums of Paris beckon. Elsewhere in the city is "Millet to Van Gogh" at the Musée d'Orsay, exhibitions by Christian Boltanski and Gabriel Orozco at the Musée d'Art Moderne de la Ville de Paris, "Gustav Moreau (1826-1898)" at the Grand Palais, "L'Ecole de Londres: de Bacon à Bevan" at the Foundation Dina Vierny Musée Maillol and "Issey Miyake Making Things" at the Fondation Cartier.

And I hear an artist has installed his paintings in the monkey cages at the local zoo. Perhaps a report is in order, once we're done with FIAC. Stay tuned.


WALTER ROBINSON is editor of ArtNet Magazine.