Hans Daucher
Page with the
Armorial Shield of
the Dukes of Saxony
ca. 1520
at Julius Böhler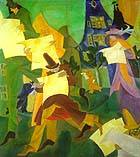 Lyonel Feininger
Newspaper Readers II
1916
at Achim Moeller
Fine Art




Willi Baumeister
Figure with Raised Hand
1936
at Galerie Schlichtenmaier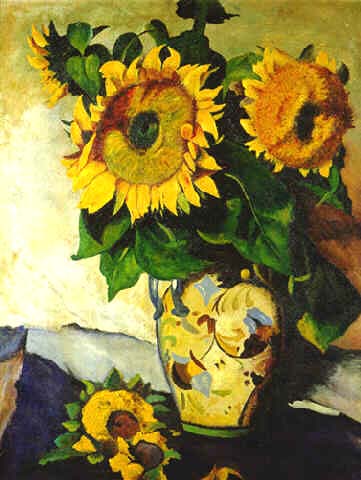 Heinrich Nauen
Sunflowers in Painted Vase
with Double-Handle
at Galerie Gregor Nusser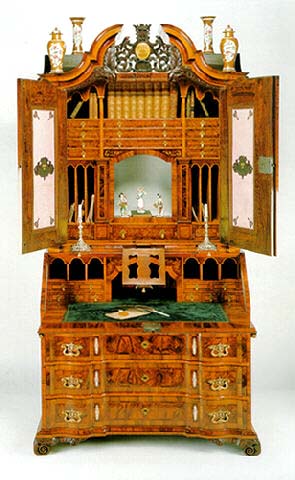 Braunschweig Bureau Cabinet
ca. 1730-35
at Senger Bamberg Kunsthandel
There's something new about the 43rd Art Fair Munich, which opened this Saturday, Oct. 24, and runs until Nov. 1, 1998. As a rule, the fair is devoted to top-notch antiques and decorative arts. But this year the fair has introduced a special section focusing on German Expressionism and 20th-century art. Among the 19 galleries in this special area are Achim Moeller Fine Art from New York, Galerie Schlichtenmaier from Grafenau, Galerie Thomas from Munich and Gemäldegalerie Utermann from Dortmund. Works by modernists like Ernst Ludwig Kirchner and Alexej von Jawlensky now are included with items ranging from the Renaissance to Biedermeier.

A total of 115 art and antique dealers are exhibiting. Munich interior designer Michael Maurer has crafted an unobtrusive look for the layout of the 115 booths at the München Riem fairgrounds.

At Moeller is "Precision of Fantasy," a show of paintings, drawings, watercolors and prints -- and 40 carved and painted wooden toys -- by Lyonel Feininger, whose work will be the subject of a retrospective at the Munich Haus der Kunst, Nov. 1, 1998-Jan. 24, 1999. Moeller also has a second, smaller booth of 19th- and 20th-century material by Menzel, Degas, Jawlensky and Léger, among other artists.

Galerie Schlichtenmaier from Grafenau specializes in 20th-century abstraction and figurative art. At the Munich fair, Harry Schlichtenmaier has installed a solo show of paintings dating from 1923 to '53 by Willi Baumeister. The booth also includes works by Lovis Corinth and Adolf Hoelzl. Schlichtenmaier reports a number of sales, including three glass windows by Karl Kasper.

Galerie G. Nusser from Munich has brought Impressionist paintings and works of art from the 18th-and 19th-centuries. Nusser reports that he has sold two early works from the Paris years of Jacob Friedrich Hackert and a painting of flowers by Heinrich Nauen. Other works on view in Munich include Eugene Boudin's Deauville Harbor (1875) and Wilhelm Leibl's Bankiersgattin.

The Munich gallery of Julius Böhler features a wonderful selection of Renaissance and Baroque sculpture and decorative arts, while Senger Bamberg Antiques from Bamberg, Germany, has brought a $1.3 million cupboard to the fair, as well as a reconstructed room of a castle.

Several joint stands have been developed for the fair by specialist dealers working in collaboration. The largest such ensemble, first presented in 1995, features furniture from Otto von Mitzlaff, art from Daxer & Marschall, porcelain from Daniela Kumpf and antiques from Jörn Günther.

Other collaborations include Peter Heinrich (paintings and silver) and Heinz Josef Esch (furniture and sculpture), and Dr. Helmut Philipp Riedl (Old Masters) and Thomas Schneider (paintings of the Munich and Düsseldorf school).

It's impossible in a brief article to do more than touch on the large number of exhibitors. But visitors should be sure to take a look at the booths of C. Bednarczyk of Vienna, a specialist in porcelain and Old Masters; Albrecht Neuhaus Kunsthandel from Würzburg, known for its exceptional selection of antiques; and Heide Hübner Kunsthandel, also from Würzburg, which specializes in Old Masters.


WALTER ROBINSON is editor of ArtNet Magazine.