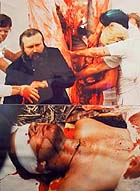 Hermann Nitsch
photos from
Three Days, Three Nights
1984
at Galerie Julius Hummel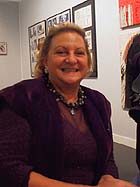 Ursula Krinzinger





Erwin Wurm
One Minute Sculpture
1997-98
at Krinzinger





Erwin Wurm
Sans Titre
1998
at Krinzinger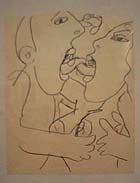 One of Otto Muehl's prison drawings,
at Galerie Grita Insam






Kurt Kren
Film still from
Otto Muehl's
Leda Mit dem Schwan
1964
at Galerie Julius Hummel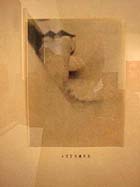 Man Ray
Autumn
1929
at Hummel





Nächst St. Stephan's booth,
with works
by Herbert Brandl (right)
and Imi Knoebel





Brigitte Kowanz
Lumen
1997
at Lisi Hämmerle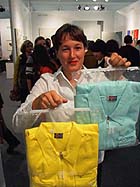 Judith Reichart with
coveralls by Flora Neuwirth






Roman Uranyek of Irwin
with Transnacionala
at Galerie Grita Insam





A Transnacionala passport





Alfred Hrdlicka
Gladiator
1990
at Ernst Hilger





Oliver Dorfer
Spindle Factory
1998
Ernst Hilger





Annerose Riedl
Die Nachbarin
1997
at Galerie Lang Wien
Thirty years ago the bloody high jinks of the Vienna actionists -- Hermann Nitsch, Otto Muehl, Günter Brus and Rudolph Schwarzkogler -- were viewed as little more than Grand Guignol posturing. Or at least so it seemed to a New York-centric art world, overcome by the triumph of Minimalist cool.

How wrong can you be?

Today we see the Austrian esthetic has seeped across the globe to touch the avant-garde everywhere. Los Angeles has the drunken "Captain Bob" gross-out performances of Mike Kelley and Paul McCarthy. London boasts the fly-specked cow heads of Damien Hirst. New York can claim Cindy Sherman's garbage-disposal self-portraits and Kiki Smith's matter-of-fact female body art.

Even the show of contemporary art from China currently on view at P.S.1 in Queens features blood-red color photos of a Chinese performer wrapped in bandages.

The gallery scene in Austria today is quite healthy, as witness the 16 galleries from Vienna and other Austrian cities that form a special concentration of booths at FIAC (Foire International d'Art Contemporain), the famous Paris art fair whose current manifestation is on view Oct. 7-12, 1998.

Indeed, the first art-thing many visitors to FIAC encountered was a brochure handed out by animal rights activists -- including an endorsement by Brigitte Bardot -- protesting against Nitsch's famous Orgies Mysteries Theater, which involves the ritualized slaughter of food animals. Nitsch's latest installment, a six-day festival held at his castle in Prinzendorf on Aug.3-9, 1998, was the subject of scandalized reports in over 800 foreign media outlets.

The Austrian section of FIAC is organized by Ursula Krinzinger, the tireless Viennese dealer who founded her gallery in 1971 -- and who represents Nitsch and the rest of the Vienna school. About the protests, she says, "They were foolish. Nitsch shows how animals are murdered every day for meat -- this is only one part of his work, of course." Nitsch's ceremonial performances, which involve simulated crucifixions and baptisms with blood, have attracted young people for generations who wish to push their limits. Several of the artist's works were on view in the Austrian section of FIAC, from videotapes to photographs and portfolios to the more rare, painting-like relics. The prices range from $2,500 for a single photo to $22,000 for portfolios from the '60s, which include an actual relic of a performance. Larger paintings from the '70s -- museum pieces, Krinzinger called them -- can cost as much as 600,000F (about $115,000).

Also on view in Krinzinger's booth are the comical, neo-Fluxus photographs by the Austrian artist Erwin Wurm called One Minute Sculpture. Often showing a person performing a deadpan enactment of a ridiculous "sculptural" trope -- balancing balls on his or her feet, for instance -- they are very popular with collectors. A museum bought an entire set of 48 works, Krinzinger said. Smaller color photos from this series, in an edition of three, go for 7,000F.

One of the Vienna actionists, Otto Muehl, recently finished a seven-year jail term. He had been convicted of child abuse, basically, following the breakup of his free-sex, anti-family commune a decade or so ago. Miryam Charim of the Vienna gallery Charim Klocker told me how Muehl was able surreptitiously to make, small drawings of nude women, dogs and images for Christmas cards and use them for barter in prison. Charim assembled 75 of these drawings, which she intends to sell as a group for 500,000 Austrian schillings (about $50,000).

Charim also said that the 70-year-old Muehl now suffers from Parkinson's disease. He was an authoritarian leader of his commune, she said, and did encourage the children to "live their sexuality." Still, Charim maintains that Muehl was railroaded, and points out that he served his entire sentence, a fate reserved for the most impolitic of prisoners.

At the booth of Vienna's Galerie Julius Hummel was a display of photographic film stills made in 1997 by the independent filmmaker Kurt Kren, who documented several of the actions of Gunter Brus and Otto Muehl in the 1960s. Kren, who died at age 69 earlier this year, spent several impoverished years in the U.S. (even working for a time as a guard at the Houston MFA) before returning to Austria.

Thirty years later, Kren's images have a richly erotic wildness that seems very 1960s. An image titled Leda Mit dem Schwan from a '64 action is 14,000F (in an edition of 10). The gallery also has available a videotape of seven actions from the '60s by Brus and Muehl for 750F.

Also on view in the Hummel booth were a set of vintage 1929 photos by Man Ray called The Four Seasons. They were originally made to accompany a hand-made book of poems by Louis Aragon, and are what would today be called hard-core close-ups of the sex act -- though the passage of time has rendered these images almost poetic. For some Surrealist reason, "winter" is intercourse from the rear, "autumn" is oral sex, and "spring" and "summer" are two more missionary views. The set, which includes the original book of poetry, is 95,000F.

Not all Viennese galleries deal in the actionists, of course. Nächst St. Stephen, directed by Rosemarie Schwarzwälder, features abstract painting by several Viennese artists, including the green, brushy landscape inspired abstractions of Herbert Brandl. A large untitled painting, some 10 feet long, is 175,000F, while a smaller work is 50,000F. Also on view: a large red monochrome with a raked impasto paint surface by Jakob Gasteiger and a lyrical, pseudo-neo-plasticist canvas by Ernst Caramelle. All three of these artists, incidentally, were born in the 1950s.

Nächst St. Stephan's booth also has several of James Welling's dark architectural photographs, and one of the large, brightly colored neo-plasticist aluminum constructions by Imi Knoebel that can be found in several other booths at the fair.

Lisi Hämmerle, an Austrian dealer whose gallery is in Bregenz, handles younger, more contemporary art. Among the works in her booth are large color photos and a videotape made out the train window during a trip from Naples to Rome by Siegrun Appelt. One picture, showing a blur of trees rushing by with a more static house in the distance, is priced at 18,000F. A fluorescent tube light sculpture by Brigitte Kowanz, which spells out the word "lumen" in Morse Code, is 49,000F.

Hämmerle's booth also featured moderne-style, interlocking furniture ensembles -- stools and benches that have columnar, chrome legs -- by Flora Neuwirth. She always uses the same four colors: pastel green, blue, pink and bright yellow. These works have been selling well, according to Hämmerle director Judith Reichart. A set of four stools is 8,750F. Neuwirth also makes coveralls in her trademark pastels -- a pair goes for 1,300F.

Neuwirth echoed other dealers at the fair when she said that the French art audience seems to favor "esthetic" pictures. "They're still looking at art through a David Hamilton filter," she said, in reference to the photographer popular for his soft-focus pictures of nude young women.

At Galerie Insam's booth was an installation of the five-man, Slovenian (former Yugoslavian) artist team collectively known as Irwin. The installation, which is a kind of imaginary passport office called Transnacionala, includes a desk with typewriter and camera, a wall with paintings and photos, a model train and video set-up. The entire thing has been sold to the Vienna Museum for 20th Century Art for 60,000DM.

Irwin member Roman Uranyek was on the scene, and he told me that the work was an "artistic answer to the situation after the collapse of communism," during which a huge "nation of refugees" was constituted. Transnacionala is designed to create official-looking mock "passports," which can be purchased for the very reasonable price of 250F.

No discussion of Austrian art would be complete without mentioning the dean of Austrian sculpture, the 70-year-old Alfred Hrdlicka. The art dealer Ernst Hilger, who founded his Vienna gallery in 1971 and opened a Paris branch just this year, featured Hrdlicka's Gladiator (1990) at the entrance to his booth. Gnarledly expressive and tres echt, the work is one of five bronze casts from a carved marble original that's now in the Vienna City Museum.

Also in Hilger's booth is a sand-formed, black-patinated bronze floor sculpture by Oliver Dorfer, a 38-year-old artist who lives in Linz and also makes paintings. Called Spindle Factory (1998), this work is glumly comical in its invocation of insectoid auto-part intercourse. It's priced at 60,000F.

Galerie Lang Wien brought to FIAC two carved and painted Lindenwood sculptures by Annerose Riedl. The 49-year-old artist (the wife of painter Allois Reidl) began working in earnest about five years ago, after her son had grown, and her father -- a woodcarver -- gave her a trove of the valuable wood. Her figure carvings have some of the primal energy of Gauguin's sculpture. Die Nachbarin, or The Neighbor (1997), stands about 75 centimeters tall and is priced at 15,500F.

Time is too short at FIAC, and there is much too much to see. Not to mention, the sun's shining outside on the city of Paris.


WALTER ROBINSON is editor of ArtNet Magazine.