Paul Cézanne
L'Estaque vu a Travers les Pins
ca. 1882-83
$11,000,000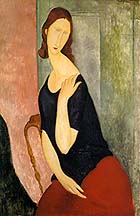 Amedeo Modigliani
Portrait de Jeanne Hebuterne
1919
$13,750,000






Claude Monet
Le Bassin aux Nympheas
1917-19
$9.9 million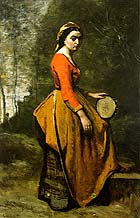 Jean-Baptiste Camille Corot
La Bohemienne au
Tambour Basque
ca. 1850-60
bought in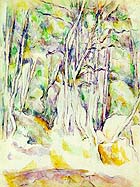 Paul Cézanne
Cistern in the Park
at Chateau Noir
ca. 1900-04
bought in





Constantin Brancusi
La Muse
1953
bought in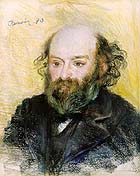 Pierre-Auguste Renoir
Portrait de Cézanne
1880
$2,752,500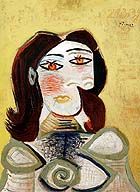 Pablo Picasso
Buste de Femme
1939
$2,000,000
It was a far from brilliant auction at Sotheby's on Nov. 16, 1998, as the house asked too much for too little and got hammered. With the resurgence of the stock market, the auction house may have felt that the art market would sustain Japanese-style prices. It did not. Many dealers took the development as a healthy sign, however, smiling in the face of Sotheby's hubris, relieved that the large auctioneer would not have everything its own way.

The sale started early -- 6:30 instead of 7:00 -- and the room was packed and overheated. Early bidding was brisk as ladies fanned themselves in the sultry atmosphere. But fanning for temperature control does not constitute a bid, and the first lot had to be re-offered. (After being mistakenly sold for $260,000, the work -- a bronze horse by Degas -- was knocked down for $220,000.) It was an omen. The auctioneer, Henry Wyndham, would have to work twice as hard.

The sale did not catch fire till lot 13, when the large Cézanne landscape from the Reader's Digest Collection came up. After an early flurry, bidding proceeded in a slow hushed silence as the two parties drew blood, then adrenaline from one another in $500,000 increments. It sold for $11 million ($10 million at the hammer), right in the middle of its $9 million-$12 million presale estimate.

The next high point came at lot 25, the first of the Modigliani portraits of his wife Jeanne Heburterne. The painting sold for $13,750,000 (over $15 million, including the buyer's premium). This has to be a record for a fully dressed model -- only naked gals used to go for $10 million or above. The second Heburterne portrait brought $9 million at the hammer, at the low end of its $9 million-$12 million presale estimate. Both prices, however, are very strong.

There were isolated pockets of freshness where quality paid. Monet's Paysage dans l'ile Saint Martin (1881), sold for $5.9 million (with premium), which is an excellent price. Monet's water lily picture from 1917-19, Bassin aux Nympheas, only brought $9.9 million. The price is low for such a lush picture, but it was a bit unfinished and stamp signed -- and people are picky.

All four of the Reader's Digest Bonnards did extraordinarily well in light of estimates that were already very high. The best of these was lot 33, a still life of a basket of fruit, that sold for $2.3 million, about twice its presale high estimate of $1.2 million. The Giacometti group of figures, La Foret, went for a very pricey $7.4 million. Two saccharine Raoul Dufys went through the comparative roof at $100,000 and $60,000, respectively, which I guess is chump change by today's prices.

And that was the end of the Reader's Digest Collection, paid for by the vast income from that odd little magazine people read at the dentist's. Then the real fun began.

In the second half of the sale, which consisted of 41 lots, 23 were passed by a cautious, frugal, discerning and suspicious audience. Let's go to the videotape!

Lot 2, a study of a gypsy with a tambourine by Corot, was bought in over an estimate of $1.5 million to $2 million. (Too much money, TMM.) A lovely Pissarro of a coastal garden, estimated at $1 million-$1.5 million, was next. TMM. The two Cézannes, the Bridge at Pontoise (est. $8 million-$10 million) and the late watercolor Cistern in the Park at Chateau Noir (est. $1,800,000-$2,500,000), failed. TMM.

The remarkable polished bronze Brancusi La Muse did not sell over an estimate of $8 million to $10 million. TMM. The Monets and Renoir's pinky nudes went south. Two Renoir exceptions were his 1880 picture of an empathic little girl, Mademoiselle Grimpel au ruban bleu, which sold for $5.4 million (est. $4,000,000-$6,000,000), making it an exceedingly expensive picture, and the fascinating 1880 Portrait of Cézanne, which went for $2,752,500 (est. $2.5 million-$3.5 million).

A notably ironic moment occurred as the Picasso Dora Maar, Buste de Femme, illustrated along with a photograph of Dora Maar and bearing an uncanny resemblance both in the photo and the painting to Monica Lewinsky sold for $2,000,000. It was offered as lot 69. Was that Bill on the phone?

In all, 58 percent of the lots offered failed to exceed the low estimate. 25 percent of the lots bettered the low but not the high estimate. And 17 percent exceeded the high estimate. 26 lots, or 33.5 percent, were passed. Not a nightmarish outcome, all things considered, and it gave Christie's a chance to phone up the cosignors, lower the reserves and make a more presentable showing on Wednesday.


STEWART WALTZER writes on the art market.