Vincent van Gogh
Portrait de l'artiste sans barbe
1889
$71.5 million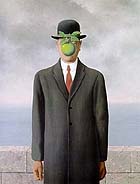 René Magritte
Le fils de l'homme
1964
$4.9 million





Francis Bacon
Portrait of George Dyer
1967
$1.9 million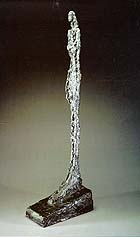 Alberto Giacometti
Femme de Venise IX
ca. 1957
$2 million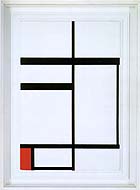 Piet Mondrian
Composition with Red,
Black and White
1931
$2.4 million
Ladies and Gents! Tonight's main event is a heavyweight bout. In this corner, with a face that not only a brudder could love, weighing in at over $65 million ($71.5 million with premium), is Vincent "If you think Mike Tyson likes ears are you gonna be surprised" van Gogh. Let's come out bidding!

Keep those increments between $500,000 and $1 million. I don't wanna see no low bids. Don't try to split the bids and don't dawdle forever on the telephone. Okay?

Well … no. Vincent van Gogh's Portrait de l'artiste sans barbe (1889) is now the third most expensive painting ever to be sold at auction. It is eclipsed only by van Gogh's Portrait of Dr. Gachet and Renoir's Au Moulin de la Galette. We have not seen this kind of nasty spending since the days of Moreshita and Kamayama. I sure hope we are not going to see it again.

For your information, the last van Gogh self-portrait sold in the same sale as Dr. Gachet, at Christie's New York on May 15, 1990, a few months before the stunning collapse of the art market. The work was bought by the Metropolitan Museum in a display of shoulder flexing by that Grand Acquisitor for $26,500,000 at the hammer. Last night's episode leaves the museum looking wise, a term which seems oxymoronic when linked to the normal practice of any museum.

Ryeo Saito, the record-setting buyer of Dr. Gachet, has died. But not before his purchase of Gachet caused long-term consternation to his family, his business and his country. Gachet has been sold, is rumored to be up for sale, is not for sale, at any amount , for $40 million, has turned down an offer of $53 million by Steve Wynn, is hidden in the Lost Dutchman Mine. Whatever! Its karmic aura has changed overnight. They may get they're money out.

Are we back in the age of miracles or what?

Incidentally Christie's estimated this self-portrait at $20 million, deducing that this is what a rational entity might pay for it, given that golden age of money was over, and that this painting was a lot smaller than the one the Met bought. However, this night was like no other and we need to say something about the rest of the beauties that hit the block.

Magritte? Gee, they never used to cost that much. The Torczyner pictures constituted the first 17 lots of the sale. 16 Magrittes and the denoument Francis Bacon. Magritte has always been an easy painter, a kind of a tele-tubby of art. Everyone likes the work. These were fresh, hidden from the market and brought prices that no one thought possible. What does it mean to pay too much?

Lots 318 to 327 were from the Jacques Koerfer estate, which Christie's has been selling in small units for some months. These included the Cézanne that went for $10.5 million as well as the van Gogh. Also the Giacometti Femme de Venise IX, ($2 million), the Mondrian ($2.4 million), the Miró ($2.1 million) and the Leger ($5.5 million). Not all the work exceeded the high estimates, but then the estimates were set high to begin with.

The second half of the sale consisted of the usual "Various Properties" and behaved more consistently with our present understanding of the market. Works sold to lone bidders at or near the reserve. Someone had been handy with a telephone making sure that the reserves were plausible, and that Christie's juggernaut was not slowed by myriad buy-ins crushed beneath the wheels.

The murmuring at last weekend's viewing focused on the marginality of the collection. The material didn't look so great. Yet this sale succeeded beyond anyone's imagination, well maybe not Patty Hambrecht's. God smiled? Christie's ju-ju more powerful than Sotheby's? One thing is certain, these prices will enhance the confusion about how art is valued when sales in the industry as a whole are still not that self-assured. See Sotheby's Nov. 16, 1998. Nor is it an unalloyed blessing to watch $65 million being spent on a painting, no mater how rare, or how unique.


STEWART WALTZER writes on the art market.