Vincent van Gogh
Harvest in Provence (detail)
1888
$14.7 million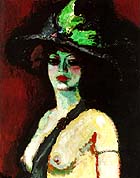 Kees van Dongen
Femme au grand chapeau
1906
$3.68 million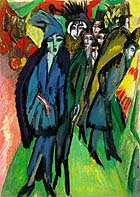 Ernst-Ludwig Kirchner
Street Scene
1913
$3.3 million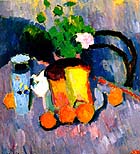 Alexej von Jawlensky
Still Life with Cake
1905
$2 million








Heinrich Campendonk
The Balcony
1913
$1.6 million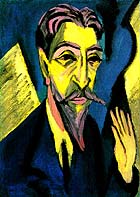 Ernst-Ludwig Kirchner
Portrait of Graf
1914





Hermann Max Pechstein
Two Girls
1909
$1.4 million




Wassily Kandinsky
Dunaberg
1909
$2.72 million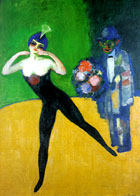 Kees van Dongen
The Dancer and the Clown
c. 1907-10
$1.72 million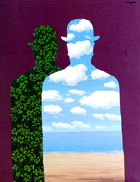 Rene Magritte
Le Belle Societe
1965-66
$1.54 million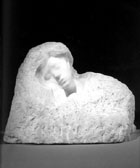 Auguste Rodin
Le Sommeil
1911-12
$911,629




Edgar Degas
Le Tub
1886/1919-21
$875,263


Sotheby's thoroughly trounced arch-rival Christie's in the big London evening sales on June 23 and 24, $58.29 million to $22.36 million, leaving the embattled auction house grinning from ear to ear. (Prices in pounds have been converted to dollars using the rate of £1 =$1.65.)

Powered by a $20.3-million stash of 19 German Expressionist works from the collection of Canadian collector Charles Tabachnick and a long-off-the market van Gogh watercolor that made a record (for a van Gogh work on paper) $14.7 million (unpublished estimate in the region of $13.36 million), Sotheby's June 24th sale registered its best European-based tally since April 1990's £37 million ($60.3 million) sale.

Only five of the 46 lots offered failed to find buyers, for a svelte 11 percent buy-in rate by lot.

The mystery buyer of the van Gogh, Harvest in Provence (1888) -- the oil of the same subject is in the van Gogh Museum in Amsterdam and was considered by the artist to be his best work during his feverish Arles period -- bid by telephone manned by Sotheby's president and c.e.o. Diana D. Brooks. One might assume the buyer is American, but Sotheby's was mum on the subject. The auction house was said to be outraged after scribe Godfrey Barker reported in the London Daily Telegraph that the invisible phone-person was the lone bidder for the lot. Auctioneer Simon de Pury (chairman of Sotheby's Europe) opened the bidding at £6.5 million ($10.8 million) and subsequently recognized telephone bids taken by Melanie Clore, head of Sotheby's London Impressionist and modern department, at £7.5 million ($12.5 million), and by Tetsuji Shibayama of their Tokyo office at £7.8 million ($13 million). Brooks then took the winning bid of £8 million ($13.3 million). The van Gogh was not "guaranteed" (that is, the auction house did not assure the consignor a specific minimum price for the lot no matter what the bidding) as was widely -- but incorrectly -- rumored in the trade.

Apart from the telephone monopoly on the bidding, there was zero interest for the van Gogh cover lot in the salesroom. Though historic and large-scale, the flat-toned watercolor had few fans. "It's large, it's colored, but it's not any good," opined one connoisseur, who said he was shocked by Pury's huge opening bid. The picture, consigned by the family trust of the late Mrs. J.B.A. Kessler, was acquired from LeFevre Gallery in London in 1930 for £3,000 and had not been exhibited in almost 50 years. Fortunately, someone thought enough of it to save Sotheby's from a high-profile failure.

But the evening's real excitement and tire-screeching horsepower was reserved for the Tabachnick group, led by Kees Van Dongen's sultry nude, Femme au grand chapeau (1906), that fetched a record $3.68 million (est. $1.67 million-$2.5 million). Like a number of the 19 works, it was acquired from Paris dealer Daniel Malingue in the late 1970s.

It was one of six records set and seemingly proved Sotheby's loud point that German Expressionist pictures would attract the international market and should be offered in the Impresssionist/Modern arena and not be segregated and regionalized as they are at Christie's, which offers them in its annual October London sale of German and Austrian works. "It's a vindication of our strategy," commented department head Melanie Clore.

Other Tabachnick stars included Ernst-Ludwig Kirchner's double-sided Street Scene from 1913 that made a record $3.3 million (est. $2.1 million-$2.6 million), Alexej von Jawlensky's ever so decorative Still Life with Cake from 1905 that made a record $2 million (est. $417,500-$584,500) and Hermann Max Pechstein's double-sided Two Girls from 1914 that made a record $1.4 million (est. $501,000-$668,000). For investment buffs, the Jawlensky had sold in 1963 by dealer Jan Krugier in Geneva for just $28,000.

Even the lesser-known (especially to American taste), The Balcony, Heinrich Campendonk's stunning 1913 expressionist extravaganza with Cubist overtones, vaulted to a record $1.6 million (est. $417,500-$584,500).

As an art historical (and marketing) note, sometime after 1968 the Kirchner canvas was restretched to make the verso image of the promenading prostitutes become the recto (front) and an inventory number that once occupied its lower right hand corner was removed. Portrait of Graf, the original front image was given a back seat to the sexier scene. Anyway, it worked like a German-Expressionist charm and the picture was the subject of a fierce phone-bidding battle.

Even with three of the 19 lots failing to find buyers, the Tabachnick trove zoomed past its $13.36-million estimate (combined with the various owners, the estimate for the evening was pegged at $38.4 million-$53.4 million). Those results were doubly satisfying for Sotheby's and the German Expressionist market, since a number of the over-estimate Tabachnick lots had failed to sell when first offered at Sotheby's New York in November 1988. The record-breaking Jawlensky still life fizzled at $725,000 and the record $1.4-million Pechstein was bought in at $115,000. Anita, the $1.4-million Van Dongen, died at $600,000 and the $829,155 Kirchner, Nudes Standing by Stove, failed at $750,000. Hey, that's progress.

Among the top-rank of various-owner winners, Ferme en Normandie, Ete, Paul Cezanne's 1882 landscape, capped with a great Victor Chocquet provenance, brought $5.1 million (est. $3 million-$4.1 million) and disappeared to another anonymous telephone bidder.

As for Christie's sale on June 23, there's little to report other than its overall mediocrity. The tepid $22.3 million, 54-lot sale (est. $23.2 million-$32 million) was in shocking contrast to Christie's May fireworks in New York with the Loeb estate material. But that said, the sale still did surprisingly well, considering the material offered and once again illustrating the snoozing strength of the market. Only 12 of the 54 lots failed to find buyers for a 22 percent buy-in rate.

Only four pictures sold for over a million dollars (a sorry state in this pricey field), with the cover lot, Dunaberg, Wassily Kandinsky's small but power-packed 1909 landscape, fetching $2.72 million (est. $825,000-$1.15 million).

With the gawdily colored The Dancer and the Clown, Van Dongen proved his mettle with another anonymous telephone bidder grabbing it for $1.72 million (est. $1.65 million-$2.47 million). Actually, it was auctioneer Christopher Burge's last-second rescue that saved the Van Dongen from the buy-in bin, after he accepted a tardy telephone bid just after his hammer came down. "In time," said the quick-thinking Burge.

La Belle Societe, a large and late (1965-66) Rene Magritte, featuring double views of his bowler-hatted figure, sold for $1.54 million (est. $990,000-$1.3 million) to Belgian dealer Bounameuax, who bid on behalf of CPH, a small regional bank near the hometown of the artist's birthplace.

The langorous and downright sleepy visage in white marble of Auguste Rodin's Le Sommeil, carved in 1911-12, caught the market's fancy and sold to London dealer Ivor Brakha for $911,629 (est. $200,000-$300,000). Brakha also nabbed Linear Construction in Space No. 1 (Variation), Naum Gabo's perspex with nylon monofilament sculpture from 1950 for $301,950 (est. $140,000-$200,000). London dealer Leslie Waddington was the tenacious underbidder.

Another strong performer was the extraordinary and round Edgar Degas posthumous bronze, Le Tub, which sold to a London dealer for $875,263 (est. $495,000-$660,000).

Sentiment of the minor-league evening was summed up in the first ten minutes of the sale with a tame entry in colored crayon and charcoal on paper by Henri de Toulouse-Lautrec. Au Cirque: Ecuyere de haute-ecole, featuring a costumed rider on a bowing circus horse, fizzled at $528,000 (est. $830,000-$1.2 million). The names were there, but practically everything else was missing.

JUDD TULLY covers the international art market for a variety of publications, ranging from Art & Auction to The Washington Post.