Rachel Whiteread,
Untitled
(Double Amber Bed),1991










Matthew Barney,
Transexualis
(Decline), 1991










Kiki Smith,
Pee Body, 1992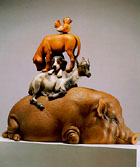 Jeff Koons,
Stacked, 1988










Robert Gober,
Untitled, 1990











Wayne Thiebaud,
San Francisco Freeway, 1980,













Jean-Michel Basquiat,
Untitled, 1982









Joel Shapiro
Untitled, 1982-83,









Eric Fischl,
On the Stairs
of the Temple, 1989









Howard Hodgkin,
First Portrait
of Terence McInerney, 1989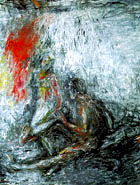 Susan Rothenberg,
Red Blush, 1984-85








the new blue chips

by Judd Tully


In a watershed of sorts for the younger end of the contemporary art market, property from the collection of Boston Children's Heart Foundation, Children's Hospital, went (collectively) through the roof at Sotheby's New York on May 6 and 7, tallying a whopping $4.36 million for the 111 lots offered, more than $700,000 above the high estimate.

Despite the lofty-sounding institutional pedigree, all of the works, ranging from a Matthew Barney refrigerated (unassembled) installation with video monitors to an amber-colored cast-rubber mattress by Rachel Whiteread, were acquired in the primary market over the past decade by the now incarcerated Boston cardiologist, Dr. Bernado Nadal-Ginard, who was convicted in U.S. District Court in 1994 of embezzling funds from the aforementioned foundation.

Prices realized, such as the record $343,500 for Barney's Transexualis (Decline) from 1991 (est. $100,000-$150,000), $167,500 for Whiteread's Untitled (Double Amber Bed) also from 1991 (est. $30,000-$40,000) and $233,500 for Kiki Smith's crouching Pee Body from 1992 (est. $60,000-$80,000) not only set individual artist records at auction but elevated these young stars (and other contenders, such as Robert Gober, Jeff Koons, Barbara Kruger and Cindy Sherman) to serious blue-chip terrain.

It also demonstrated the extraordinary buying and client-reaching power of London dealer Anthony D'Offay, who acquired the record-setting trio of lots. It is no wonder that the Turner Prize-winning sculptor Whiteread recently left Karsten Schubert, her longtime London dealer, for D'Offay, arguably the most powerful contemporary art dealer in the world at the moment.

The court-ordained liquidation of the Nadal-Ginard collection was engineered with elegant elan by Tobias Meyer, Sotheby's new head of contemporary art. Meyer was promoted and moved to New York from London last year, following the forced departure of contemporary art department head Robert Monk (who does deserve credit for initially organizing and marketing the Nadal-Ginard material). Meyer's youth (he's 34), German origins and relative unfamiliarity with American contemporary art and collectors made him seem an unlikely choice to strengthen Sotheby's dismal grip on the New York contemporary market. But Meyer had a plan and cleverly placed 11 of the strongest Nadal-Ginard lots in the front end of the evening sale on May 6, pointedly breaking with the traditional practice of beginning with modestly priced Sam Francis watercolors and small-scale Alexander Calder mobiles.

The records kept falling with Stacked (1988), Jeff Koons' vertical group of polychromed wood animals, carved in a litter (edition ) of three, which sold to an anonymous telephone bidder for $250,000 (est. $125,000-$175,000). Similarly, Robert Gober's wax human trunk from 1990, Untitled, brought $189,500 (est. $125,000-$175,000), selling to Zurich dealer Ivan Wirth of Galerie Hauser & Wirth. While not a record, Bruce Nauman's aluminum and wire Large Butt To Butt (1989) went to SoHo dealer David Zwirner for a huge $299,500 (est. $150,000-$200,000).

So, in one fell swoop, Meyer stirred up the pot and created a novelty for collectors with money to burn but who are still finicky about their choices. It worked like a charm. The evening also marked his New York debut as auctioneer, further proving his mettle. He steered the relatively small, 43-lot sale with confidence and due speed, in sharp contrast to the flowery and over-blown style of Simon du Pury, chairman of Sotheby's Europe. Meyer managed to keep the momentum going, even when the million-dollar lot, Theatre de la Rue, the CBS-owned Jean Dubuffet painting and cover lot, bombed at $650,000. It's a good sign.

Only seven of the 43 lots offered in Sotheby's evening sale failed to find buyers, for a respectable $15.2 million total, modestly nestled between the pre-sale estimates of $14 million-$17.9 million. The hefty and over-estimate $1.9 million result from the Nadal-Ginard offerings rescued an otherwise mediocre sale. Of the million-dollar-plus sellers, Franz Kline's buzzing Crosstown abstraction from 1955, another CBS entry, made $2.2 million (est. $1.2 million-$1.5 million), selling to Manhattan real estate maven Harry Macklowe. (Then-CBS president Frank Stanton had bought the Kline from the Sidney Janis Gallery in 1964 for a then-pricey $18,000).

San Francisco dealer John Berggruen was also a big player, scooping up Wayne Thiebaud's San Francisco Freeway (1980) for $332,500 (est. $400,000-$500,000), Mark Rothko's fiery red No. 19 (1960) for $2.2 million (est. $1.8 million-$2.2 million) and Richard Diebenkorn's light dazzling Ocean Park, #88 from 1975 for $1.26 million (est. $1 million-$1.2 million). Larry Gagosian was a last-minute underbidder. All three purchases hailed from the guaranteed collection of the late ski resort developer William C. Janss. Sotheby's gamble in guaranteeing a secret minimum price for the group of 14 works no matter how they performed, apparently paid off. Janss realized $4.27 million.

Dealer participation was strong throughout the sale as evidenced by Morris Louis' Beta Phi from 1961-62, bought by Michael Werner for $195,000 (est. $250,000-$350,000) and Jean Michel Basquiat's mural-sized Italian canvas from 1982, bought by Zurich dealer Bruno Bischofberger for $310,500 (est. $250,000-$350,000).

Sotheby's Part II day sale on May 7 was in two separate catalogues. The first contained 100 more Nadal-Ginard lots, which brought $2.44 million, just beating its high estimate. The second featured 173 additional lots, and realized $4.27 million, with a 21 percent buy-in rate. Again, huge amounts were bid for important Nadal-Ginard pieces by the best of the 1980s and early `90s-bred artists. Christopher Wool's Untitled (P126) from 1990 fetched $66,300 (est. $15,000-$20,000). "Hyp-ocr-ite," the one-word message painted on the aluminum support, proved a remarkable metaphor for the material, tainted but fabulous. Veteran observers may recall a similar situation at Sotheby's in 1987, when a forced sale of American paintings owned by the then-incarcerated (for tax evasion) art dealer Andrew Crispo brought $12.5 million.

The hit parade continued with Barbara Kruger's Untitled (Your Gaze Hits The Side of My Face) (1981) selling for $70,700 (est. $10,000-$15,000) and Felix Gonzalez-Torres' Untitled stack of offset prints from 1981 fetching $40,250 (est. $15,000-$20,000). S & M-ish color photographs by Cindy Sherman drew great interest, such as her masked and spread-leg Untitled #264 from 1992, which made a racy $55,200 (est. $18,000-$22,000).

Though dollar totals were $8-million higher at Christie's evening sale of May 7 (totaling $23.3 million, compared to a $24.1 million-$33.4 million estimate and 17 percent buy-in rate) and an Andy Warhol soup can zoomed to $3.52 million (est. $1.5 million-$2.5 million), it couldn't have been a duller evening with many a retread (paintings and sculpture branded with recent auction history) clogging the traditional sale. By contrast, Sotheby's was a carnival.

The Warhol, Big Torn Campbell's Soup Can (Pepper Pot) (1962) is worth fawning over, being one of only two still in private hands and bearing the hand-painted mark of the bewigged genius before he switched to the more mechanical silk-screen method. It went to an anonymous telephone bidder. Auction mavens may recall the painting was the focus of a noisy dispute last year between Larry Gagosian and French dealer Marc Blondeau, when it was damaged either in storage or transit between New York and Paris. Reliable art-world sources say the new owner received an $800,000 insurance claim and went on to consign the picture for pure profit. It's a mad world.

The most exciting moment in that overbaked sale, however, was the record set for Wayne Thiebaud's delightful and pastry-rich Bakery Counter (1962). It went for a record $1.7 million (est. $650,000-$850,000) to savvy St. Louis collector Barney Ebsworth. New York dealer Allan Stone first sold it in 1962 for $3,000.

Other impressive prices included Joel Shapiro's untitled three-figure sculpture (1982) from the Douglas Cramer collection, which sold for $607,500 (presale est. $300,000-$400,000). An Eric Fischl scene from India called On the Stairs of the Temple (1989) went for $508,500 (est. $150,000-$200,000). Howard Hodgkin's blue-dotted First Portrait of Terence McInerney (1981), that went for $354,500 (presale est. $250,000-$300,000). A busy Susan Rothenberg painting showing a two figures, Red Blush (1984-85), sold for $332,500 (est. $120,000-$180,000).

JUDD TULLY covers the international art market for a variety of publications, including Art & Auction and The Washington Post.