André Kertész,
Mondrian's Pipe and
Glasses, Paris, 1926
$376,500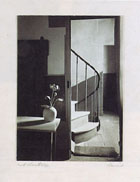 André Kertész,
Chez Mondrian,
Paris, 1926
$299,500
André Kertész,
Telephone Wires,
Paris, 1927
$19,550

André Kertész,
Mihaly Karolyi, 1927
$862.50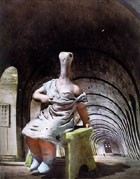 Dora Maar,
29, rue d'Astorg,
c. 1936
$107,000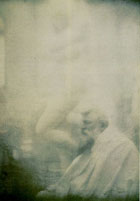 Edward Steichen,
Rodin-The Eye, 1907
$70,700
Man Ray,
Margaret, 1941
$36,500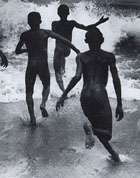 Martin Munkacsi,
Negerknaben...., c. 1930
$64,100
Edward S. Curtis
and Edward Harriman
From A Souvenir..
$21,600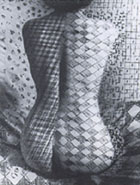 Brassai,
untitled (cliche-verre,
1934-35
$17,250

Tina Modotti,
Police Puppets,
1929
$8,050

spring photo 
auctions



by Judd Tully


The photography market showed signs of vibrant health at New York auctions during the third week of April. Christie's, Sotheby's and Swann Galleries rang up total sales of $6.1 million, with an average buy-in rate (the percentage of lots offered that failed to meet their minimum reserves) of 34.6 percent.
The highlight of the auctions, in both drama and dollars, was the amazing trove of vintage André Kertész photographs from the artist's estate, offered at Christie's on Apr. 19. Notably including the record-breaking Mondrian's Pipe and Glasses, Paris (1926) that fetched $376,500, the carte-postale-sized treasures accounted for a whopping $1.36 million of Christie's record $3.25 million result (against a total presale estimate of $3.8 million- $5.3 million).
Mondrian's Pipe and Glasses, Paris becomes the second highest-priced single photograph to sell at auction. It's topped only by Alfred Stieglitz's Georgia O'Keeffe: A Portrait-Hands and Thimble (1920) that sold for $398,500 to Ydessa Hendeles at Christie's in Oct. 1993.
The Mondrian still life eclipsed the 11-month-old auction record for a Kertesz, set last May at Sotheby's London when a vintage silver print of the same image (but unsigned and minus the estate provenance) realized $97,460. Though the buyer of the record Kertész was listed by Christie's as anonymous, several salesroom spotters pegged Atlanta dealer Jane Jackson as the winning bidder. Better yet, the salesroom buzz was that rocker/collector Elton John was the new owner. Jackson deflated the John rumor, noting "there's a lot of people in Atlanta with money" (for the record, the flashy pop star resides there).
Many bidders were apparently caught off-guard and didn't realize that the 36 Kertész lots were governed by a global reserve, meaning that the auctioneer could arbitrarily lower reserves during the sale (the minimum and secret price approved by the seller) on some Kertész lots if others greatly exceeded expectations (as was the brilliant case of Chez Mondrian, Paris (1926), that fetched $299,500 against a presale estimate of $150,000- $200,000), making it the fourth-highest photograph to sell at auction.
Indeed, some Kertész lots went for far less than their published low estimates, as evidenced by the super-bargain snatched up by SoHo dealer Howard Greenberg, who acquired Telephone Wires, Paris (1927) for $19,550 (est. $25,000- $35,000).
Contemporary photographer Nigel Scott hadn't even registered for a bidding paddle but caught on fast enough to win Kertész's printed later portrait, Mihaly Karolyi (1927) for a mere $862.50 (est. $2,000- $3,000). "I just like it, I'm a photographer," said the derby-outfitted Scott after the morning session.
The vintage Jean Slivinsky, Paris (est. $15,000- $20,000), failed to attract any actual bidders (though the auctioneer recognized plenty of imaginary bids "off the chandelier"), even though the subject was the dealer who gave Kertész his first Paris solo and introduced him to Berenice Abbott, another Slivinsky artist. In that way, the Kertész collection was a mix of stunning fireworks and disappointing duds.
The other Kertész standout (three, in fact, exceeded the rarified $200,000 mark) was Mondrian's Studio, Paris, also from 1926 and part of Kertész's debut showing at Au Sacre du Printemps gallery in Paris, organized by Slivinsky. It brought $200,500 (est. $150,000- $200,000).
In Christie's various owners' sale (bookending the Kertész trove), winners included Imogen Cunningham's famed Triangles(1928) that made a record $178,500 (est. $100,000- $125,000), selling to Thea Westreich Art Advisory services (it last sold at auction at Sotheby's London in 1983 for $15,400).
Dora Maar's stunning Surrealist collage, 29 rue d'Astorg (c. 1936) went to Toronto dealer Jane Corkin Gallery for $107,000 (est. $80,000- $100,000). It was Corkin who first researched and put together the Kertész estate pictures and sold them as a group to the unidentified Christie's consignor for an undisclosed price in the late 1980s. She still represents the Kertész estate.
Sotheby's Apr. 18 sale lacked the pyrotechnics of Christie's but actually outgunned its arch-competitor in the various owners' category, tallying $2.03 million and a slimmer 31 percent buy-in rate (total presale est. $2 million- $3 million). Even so, Edward Steichen's brooding portrait, Rodin-The Eye (1907), that sold to the Bonni Benrubi Gallery for $70,700 (est. $30,000- $50,000) and Sotheby's top-draw lot, didn't reach the six-figure mark (Christie's had six in that rarified range).
Competition for fresh-to-the-market, high-quality prints was evident during several duels, especially for Man Ray's solarzied print of Margaret (1941) that sold to Edwynn Houk of Houk Friedman for a hot $36,800 (est. $10,000- $15,000). Auction fever was also raging for Negerknaben in der brandung des Tahganyikase, Martin Munkacsi's famed image of African boys dashing into the surf. It sold to dealer Howard Greenberg for a record $64,100 (est. $20,000-$30,000), despite its poor condition.
Manhattan private dealer Jill Quasha snared Edward Weston's portrait, Bertha Wardell (c. 1923), for $23,000 (est. $20,000- $30,000). Quasha observed that today's collectors are vigilant about condition problems, as demonstrated in the double-spurning at Sotheby's of two otherwise superb Gustave LeGrey albumin prints, Seascape and Seascape, Normandy (c. 1856- 59).
Swann Galleries conducted its first-ever Saturday sale on Apr. 19, tallying $840,535 and a 33 percent buy-in rate (est. $998,350- $1.4 million). Among the top lots (only nine exceeded the $10,000 mark) was Edward S. Curtis and Edward Harriman's two-volume "A Souvenir of the Harriman Alaska Expedition," going for $21,650 (est. $15,000- $25,000). A stunning and rare cabinet card portrait of Wild Bill Hickok by George Rockwood brought an identical price to the Alaska albums (est. $1,500- $2,000). Brassai's untitled and arty cliche-verre composition of a nude model from circa 1934-35 made $17,250 (est. $9,000- $12,000) and Tina Modotti's wonderful Police Puppets, shot during a Mexico City performance of a Eugene O'Neill play, sold for $8,050 (est. $8,000- $10,000).
The photography action crosses the Atlantic on May 2 for Sotheby's London highly anticipated single-owner sale of some 250 avant-garde photographs from the collection of the late Helene Anderson, who acquired the group in Berlin in the 1920s and early `30s, just before the rise of Nazism.

JUDD TULLY covers the international art market for a variety of publications, including Art & Auction and The Washington Post.