Michael Sweerts,
Plague in an Ancient City, (detail) 1610.
Michael Sweerts,
Plague in an Ancient City, 1610.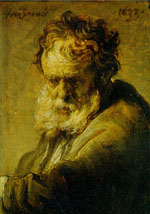 Rembrandt,
Bust-Length Portrait of an Old Man with a Beard,1633. $2.97 million.
Andrew Mellon, 1929.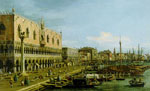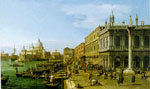 Canaletto,
Venice: A Pair of Paintings,
c. mid-1730s-early 1740s. $4.51 million the pair.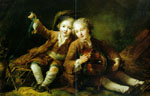 Francois-Hubert Drouais,
Chidren of the Duc 1756. $1.21 million.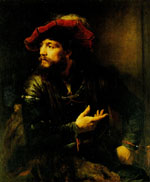 Willem Drost,
Officer in a Red Beret, 1654 $2.69 million.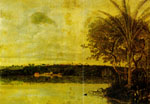 Franx Jansz Post,
Town and Homestead of Frederik $4.5 million.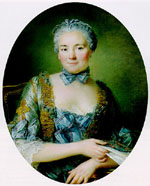 Francois Hubert Drouais,
Portrait of a Lady,c. 1750s,
Bought in.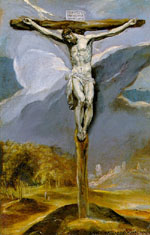 El Greco,
Christ on the Cross,1570-77,
$3.6 million.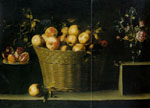 Zurbaran,
Apples in a Wicker Basket,
$2.86 million.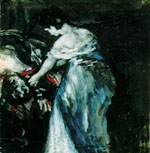 Goya,
Judith and Holofernes,
1824-5,
$937,500.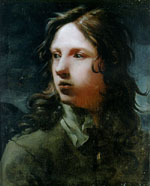 Michael Sweerts,
Young Manc. 1656, .
$310,000.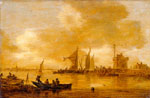 Jan van Goyen,
A River Estuary,1653,
$322,500.

to market, 
to market: 
booming 
old masters



by Judd Tully


Sotheby's Old Master paintings sale on Jan. 
30, 1997, totaled a spectacular $47.58 
million (est. $27.3 million-$37 million), 
setting a world record for that category in 
New York, even trouncing the $45.3 million 
mark set at the height of the art boom at 
Christie's in May 1989, when Pontormo's 
Duke Cosimo I de' Medici fetched a 
whoppping record of $35.2 million. 
There were no Pontormos this time around 
but Plague in an Ancient City, Michael 
Sweerts' grand 17th century composition, 
sold for a record $3.85 million (est. $3 
million-$4 million) to the Los Angeles 
County Museum. Long attributed to Nicolas 
Poussin, the work was from the collection 
of financier Saul P. Steinberg, who was 
seller of eight star lots in the auction. 
Sotheby's senior expert, Scott Schaefer, 
former curator of European paintings at 
LACMA, took the winning bid by telephone. 
The Boston Museum of Fine Arts was the 
underbidder.
The painting last sold at auction at 
Christie's London in July 1984 to dealer 
Richard Feigen for a then-hefty $1.2 
million. "You don't see grand gallery 
museum pictures like this on the market 
every day," said George Wachter, Sotheby's 
head of Old Masters. "It's a great home for 
it." All eight Dutch and Flemish pictures 
from the Steinberg horde sold, for a tally 
of $10.9 million (est. $7.2 million-$9.6 
million). 
Feigen, who had the Steinberg pictures on 
consignment prior to their move to 
Sotheby's, told ArtNet he had been offered 
$7.5 million for the Sweerts by London's 
National Gallery, but at the time Steinberg 
was holding out for $10 million.
Another jewel in the insurance magnate's 
collection was the smallest recorded 
Rembrandt, an oil on paper mounted on 
panel, titled Bust-Length Portrait of an 
Old Man with a Beard (En Brunaille) (1633). 
The gem-like work, that could well 
represent God, Moses or Old Testament 
saint, realized $2.97 million (est. $1.5 
million-$2 million). It once belonged to 
Andrew Mellon, founding patron of the 
National Gallery of Art in Washington, 
D.C., who reportedly took the tiny image 
with him everywhere he traveled in its 
special leather and velvet case, which was 
included in the bargain. Steinberg acquired 
the portrait in 1986 from Feigen. Though 
the authenticity of the signature has long 
been questioned, the work has received full 
blessing from the Rembrandt Research 
Project. 
Bidding in the packed sales room for many 
of the 239 works offered was intense. One 
trophy went to London dealer Richard Green, 
recently in the real estate news for 
acquiring the lease-hold on the prime and 
about-to-be vacated Wildenstein property on 
New Bond Street in London, who beat back 
wild private bidding to win Canaletto's Two 
Views of Venice from the 1740s for $4.51 
million (est. $1.5 million-$2 million). The 
duo had been on public display at the San 
Antonio Museum from 1986 until last year. 
"We have a number of clients who'd like to 
own such a pair of pictures and that's why 
we bought it," said Green. He pointed out 
that a similar pair of Canalettos fetched 
$11 million at Sotheby's New York in June 
1990 and thus were "well-bought." In any 
case, it tied for the top lot of the day 
(stay tuned) and was one of 24 works from 
the British Rail Pension Fund. "Amazingly, 
the dealers didn't manage to buy anything 
of the best stuff--(with the exception of 
the Canalettos)--it all went privately," 
marvelled Wachter, who could not recall a 
more buoyant sale.
The British Rail pictures made overall 
$9.56 million (est. $4.5 million-6.3 
million) and were auctioned in New York (as 
opposed to Sotheby's London) because they 
aparently appealed more to the sweet-
subject-matter taste of private buyers on 
these shores. They couldn't have arrived at 
a more opportune time, considering the huge 
year-end bonuses and giant fees fattening 
Wall Street pockets.
Among the high British Rail fliers (a mixed 
metaphor for that famed investment fund) 
was Francois-Hubert Drouais elegant 
portrait, The Children of the Duc de 
Bouillon Dres, 1756, which sold to a 
private European buyer for $1.21 million 
(est. $600,000-$800,000). The child 
aristocrats are costumed in Montagnard 
outfits, fitting for the street urchin 
entertainers who worked the streets of 
Paris in the 18th century.
With such a high premium on first rate 
works, bidding showed few bounds as 
evidenced by Willem Drost's 17th century 
seated Portrait of of an Officer in a Red 
Beret (1654), which brought a staggering, 
record $2.69 million (est. $150,000-
$200,000), going to an anonymous private 
buyer. It was one of several works 
consigned by a descendant of Baron Alphonse 
de Rothschild (1827-1905), from the once 
formidable banking empire. Provenance paid 
off handsomely.
An exceptional and exotic landscape view, 
aided by royal lineage, helped fuel Frans 
Jansz Post's early View of the Town and 
Homestead of Frederik in Paraiba, Brazil to 
zoom to $4.5 million (est. $600,000-
$800,000). Recently attributed to the 17th 
century artist, the painting once belonged 
to France's Louis XIV. It tied the top lot 
for the Canalettos.
In the relatively modest buy-in category 
(21 percent or 51 of the 188 works 
offered), Francois-Hubert Drouais' oval-
shaped Portrait of a Lady from the 1750s 
(est. $30,000-$50,000) that was 
deaccessioned by the Shelburne Museum 
failed to arouse any interest.
World-record prices continued at Christie's 
on Jan. 31 as a rare-to-the-market El Greco 
from his Roman period (1570-77), Christ on 
the Cross, sold anonymously to a private 
buyer for $3.6 million ($600,000-$800,000). 
It vanquished the $3 million price set back 
in Oct. 1990 by El Greco's El Expolio at 
Edmund Peel in Madrid (now Sotheby's Peel & 
Associados).
The trio of Spanish pictures performed 
brilliantly and attracted a drove of 
private collectors, as evidenced by a 
recently discovered Juan de Zurbaran still 
life, Apples in a Wicker Basket with 
Pomegranates, that sold for a record $2.86 
million (est. $700,000-$900,000) to a 
Spanish-speaking buyer in the salesroom. 
The Zurbaran was only the second picture by 
the artist to appear at auction since 1989, 
and helped drive Christie's tally to $21.9 
million, easily eclipsing the decidedly 
conservative $12.6 million-$17.9 million 
pre-sale estimate. 
Francisco Goya's powerful but miniature 
carbon black and watercolor on ivory, 
Judith and Holofernes (1824-5), sold for a 
huge $937,500 (est. $400,000-$600,000) to 
the New York/Paris dealer Bob Haboldt, who 
acquired the work for a prominent but 
otherwise anonymous American collector. 
"Because of the rarity of the material, 
these things fare very well," said Haboldt, 
who teamed up later in the sale with 
Maastricht/London dealer Noortman to win 
Michael Sweerts' portrait, A Young Man, 
Bust Length, in a Gray Jacket, for $310,500 
(est. $100,000-$150,000).
Richard Green was active again, snapping up 
a 1653 riverscape by Jan van Goyen for 
$332,500 (est. $150,000-$200,000). Last 
year, Green mounted a major van Goyen loan 
show to celebrate the 400th anniversary of 
the Dutch artist's birth.
 "There may be some life coming into the 
old masters' market," summed up dealer 
Richard Feigen, who walked out of the 
salesroom, empty-handed.
JUDD TULLY covers the international art 
market for a variety of publications, 
ranging from Art & Auction to 
The Washington Post .