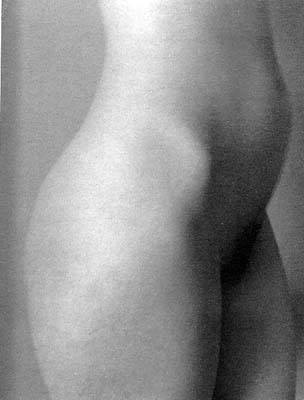 Paul Outerbridge, Jr.
Nude Torso
1924
$79,500 at
Christie's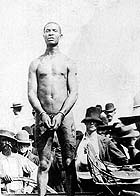 Anonymous
Lynching
1890's
$16,100 at
Swann's





Brassaï
Self-Portrait in an
Opium Den
ca. 1931
$1,610 at
Sotheby's




Charles Marville
Paris
1865
$16,100





Teobert Maler
One of 50 images from
Mexico and Guatemala
$20,700 for the group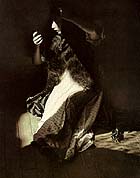 Manuel Alvarez Bravo
Portrait of the Eternal
1935
$40,250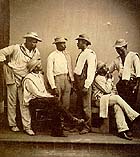 Anonymous
Group of Black Labourers
ca. 1856
$11,500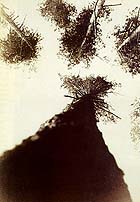 Alexander Rodchenko
Pine Trees in Pushkin Park
1927
$31,050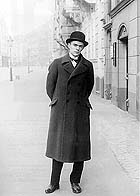 August Sander
Anton Räderscheidt, Koln
1927
$90,500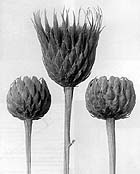 Karl Blossfeldt
Bare-stemmed Common Sawwort
ca. 1928
$90,500




André Kertész
Quatour
1926
$85,000





Paul Outerbridge, Jr.
Nude with Cat
ca. 1939
$36,800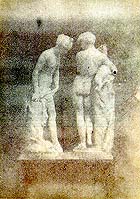 Hippolyte Bayard
Statuary Study
1839





Ralph Steiner
American Rural Baroque
1929
$40,250
Christie's New York continued its market-share ascendancy in the photography auction arena during the $6-million week of photography sales with a $2.94-million performance on Oct. 9, easily outdistancing Sotheby's $2.18-million tally on Oct. 8.

As usual, Swann Galleries finished a distant though feisty third, registering a $946,162 total, marginally better (by seven percent) than a year ago, and its highest total to date. A million-dollar sale is definitely in Swann's future.

Interestingly enough, none of the houses this round managed to sell a single lot for $100,000 or more, an unusual predicament considering the all-star lineup that included photos like Andre Kertesz's Mondrian's Pipe and Glasses (1926) at Christie's. This time, the photo-auction-favorite sold to dealer Edwynn Houk for a bargain $57,500, compared to its $75,000-$100,000 presale estimate. Ironically, it was Houk who last sold the image in 1982 to Chicago collector Michael H. Glicker; his consignment of 17 photographs in this sale brought a roaring $535,000, way over the $390,000 combined high estimate.

At Christie's last April, by contrast, another version of Kertesz' famed still life -- one that was once part of the artist's estate and that was printed on carte-postale paper and mounted on vellum -- fetched a record $376,500 (est. $150,000-$200,000), the second highest price for any single photograph at auction. Go figure.

The ranking of the three auction houses became clearer this week once the dollars-per-lot averages were figured. Christie's turned in an impressive and domineering $10,241 average for the 288 lots sold, compared to Sotheby's at $5,963 for 366 lots sold and Swann's at $2,451 for 386 lots sold. (All prices include the buyer's premium, which is 15 percent for the first $50,000 and 10 percent on the remainder).

Other more traditional market indicators, such as the unsold buy-in percentages reversed the pecking order a bit. Sotheby's ranked first at 25 percent of the lots offered remaining unsold, Swann at 31 percent and Christie's at a chubby 33 percent.

Swann's Oct. 7
Swann's Oct. 7 sale offered the usual theatrical mix of theme-related 19th-century material as well as contemporary works such as David Hockney's Twenty Photographic Pictures, published by Sonnabend Editions in 1976, which made $9,775 (est. $8,000-$12,000).

In shocking contrast to Hockney's bourgeois vision, a gruesome trio of cabinet-card-size shots from the 1890s of a lynching of an African-American man by a posing mob of white vigilantes brought $16,100 ( est. $3,000-$4,000).

Back on safer ground, Charles Marville's evocative albumen print of a cobblestoned Paris street with parked laundry cart dating from 1865 went for $16,100 (est. $15,000-$20,000).

Top lot honors at Swann's -- complete with all the auction fever symptoms -- went to a rare group of 50 images (on printing-out paper and albumen prints) from ca. 1897-1900 of previously unrecorded Mayan sites in Mexico and Guatemala by the Austrian photographer and adventurer, Teobert Maler. The cache fetched $20,700 (est. $4,000-$5,000). Throckmorton Gallery was one of the trio of underbidders.

In the non-vintage, printed-later category, Andre Kertesz's icon-making image of Chez Mondrian with the Dutch painter's single artificial tulip dominating the foreground, made $6,670 (est. $5,000-$6,000).

Sotheby's Oct. 8
Among the overachievers at Sotheby's on Oct. 8, a botanical album of 51 photograms by anonymous British photographers bloomed at $66,300 (est. $12,000-$18,000), selling to New York's Lowinsky Gallery. It also commandeered the top lot of the day.

Despite its foggy catalogue reproduction (enough to turn-off the casual browser), August Sander's Serviererin (The Waitress) (1928), a fine vintage print mounted on gray paper, sold for $34,500 (est. $10,000-$15,000) to Sander Gallery. San Francisco dealer Jeffrey Fraenkel was the underbidder.

Also by Sander, Advertising Photogram for a Glass Manufacturer, Cologne, but decidedly more experimental (indeed, it's considered to be his only photogram), realized $32,200 (est. $15,000-$25,000)

Portrait of the Eternal (1935), a rare signed vintage print by Mexican master Manuel Alvarez Bravo of a beautiful woman gazing at her reflection in a hand-held mirror, set a record at $40,250 (est. $30,000-$50,000). Bravo's Paper Game, an abstract composition from 1926-27, sold for $29,900 (est. $20,000-$25,000) to Throckmorton Fine Art.

Beauty was the blue-plate special of the day, as evidenced by Martin Munkacsi's maquette for his 1951 book, "Nudes," which sold to the New York based Palladian Collection for $27,600 (est. $20,000-$30,000).

For the smoking crowd, Self-Portrait in an Opium Den, an amusing printed-later Brassaï from a ca. 1931 negative, brought $1,610 (est. $2,000-$3,000).

A chance encounter earlier in the day with Museum of Modern Art photo curator Peter Galassi had us watching two lots that he called "fresh." An anonymous salt print, ca. 1856, of a posed group of six black laborers -- possibly men who worked as cleaners of railway engines -- sold for a bargain $11,500 (est. $12,000-$18,000). And Alexander Rodchenko's Pine Trees in Pushkin Park (1927), looking straight up the trunks at the sky, sold for $31,050 (est. $20,000-$30,000).

Christie's Oct. 9
The action and buoyancy of the market was most visible during the morning session at Christie's Oct. 9 sale. August Sander's The Painter Anton Räderscheidt, Koln from 1927 (and another Glicker lot), illustrated on the catalogue cover, came close to the six-figure mark, selling for a record $90,500 (est. $20,000-$30,000) to an otherwise unidentified New York collector.

An identical price was achieved for Karl Blossfeldt, the guru of the botanical study, with Bare-stemmed Common Sawwort, (est. $60,000-$80,000) a gelatin silver print from ca. 1928. It was also a record for the artist.

The same combination of price ($90,500) and record marks Laszlo Moholy-Nagy's unique Fotogramm from 1925, formerly in the possession of legendary dealer Julien Levy (estimate unpublished). All three of these top lots, the Sander, Blossfeldt and Moholy-Nagy, went to private buyers, another strong indicator of market confidence.

Back on the Kertész trail, Quatour, a 1926 tour-de-force, capturing a headless string quartet in action, realized $85,000 (est. $35,000-$45,000) and selling to Lee Marks for a private client.

Two works by the father of the pin-up, Paul Outerbridge, Jr., sold for contrasting prices. His restrained and pseudo-Pictorialist Nude Torso (1924) went for $79,500, above its estimate ($40,000-$60,000); while his later Carbro color print, Nude with Cat (ca. 1939), sold for $36,800, below its estimate ($40,000-$60,000).

Competition was heated for American Rural Baroque, Ralph Steiner's classic 1929 composition of a wicker rocker on a porch that sold for $40,250 (est. $7,000-$9,000) to collector Sandra Gonzales Falla.

Two spectacular 19th-century images made their own fireworks with William Henry Fox Talbot's calotype, Dovecote at Lacock Abbey from ca. 1839, selling for $36,800 (est. $10,000-$15,000) to dealer Hans Kraus, Jr. Wooster Gardens gallery head Brent Sikkema was the underbidder.

Bidding was equally fierce for another 1839 masterwork by a photographic pioneer in Statuary Study, Hippolyte Bayard's direct positive on paper that sold for a stunning $74,000 (est. $12,000-$15,000) to an anonymous telephone bidder. It last came up at auction at Sotheby's London in October 1984 where it sold for $9,250.


JUDD TULLY covers the international art market for a variety of publications, including Art & Auction and the Washington Post.