Leigh & Leslie Keno

All photos by author











The examination







The Kenos with the owner of the $300,000 table








The crowd







Roadshow host Chris Jussell, on camera







Fulper lamp, and owner







Herter Brothers Parlor Suite, under examination by Michael Flanagan (left) and owner








Malcolm Stearns, Jr., (left) with English silver tea service and owner








Kathleen Suzman with wooden ship








Linda Dunbar and the Darkhorse mechanical bank and owner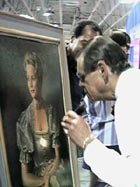 Frank Boos at work







Sotheby's Mary Jo Otsea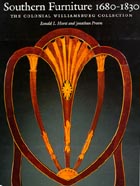 The catalogue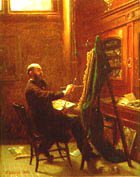 Emmanuel Lentze
Worthington Whittredge in his Tenth Street Studio, 1865
in "Tenth Street Studio Building."









































George Nelson Associates,
Atomic Clock, 1949
in "Design for Life"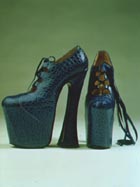 Vivienne Westwood's "Mock Crock" platforms, 1993-94,
in "A Grand Design"
It is noon on Saturday, Sept. 6, at Chubb's Antiques Roadshow at the Meadowlands Exposition Center in Secaucus, N.J. As PBS camera crews hover about, two elegantly clad, attractive blond men stand with a distinguished-looking woman studying an antique card-table. The dynamic duo of the decorative arts business -- American furniture dealer Leigh Keno and his identical twin brother Leslie Keno, head of Sotheby's American furniture and decorative arts department -- are in the spotlight again, bantering back and forth in perfect harmony.

"Is that what I think it is?" Leslie asks, going on to say that when the table was first brought in "my heart wouldn't stop beating." He taps on his chest, dramatically acting out his thoughts. The commotion is all due to a relatively harmless looking piece of furniture -- that turns out to be an extremely rare and valuable Federal mahogany card-table with delicate satinwood inlay made in 1825 by the famous Boston cabinetmaker Thomas Seymour (1771-1848). The table has a dark, rich patina -- not only has it never been retouched or restored, it also has its original label intact.

Even more surprising was the fact that the owner of this gem had purchased it for $25 at a yard sale. The Keno brothers appraised the table at $300,000 -- the biggest find in the history of the show to date!

One of PBS's most popular programs, the Roadshow is sponsored by the Chubb Group of Insurance Companies. Its Meadowlands incarnation was the last stop of a summer taping tour that visited Pittsburgh, Cincinnati, Atlanta, Phoenix, San Francisco, Nashville and Dallas. The show, Discovering America's Hidden Treasures, hosted by Chris Jussel and produced by WGBH in Boston, will be aired nationally next January. This is the show's second year in production and it promises to be a record year, with over 5,000 visitors at each city. Crowds in New Jersey started off light, perhaps due to competition with the airing of Princess Di' s funeral; as the afternoon progressed, however, the first 4,000 people arrived for appraisals before 3:00 and many had to be turned away.

Modeled after a hit BBC program in England, the Roadshow travels from venue to venue "in search of America's hidden treasures," inviting members of the public to come show their wares -- anything from furniture and china to war memorabilia and toys -- for free appraisals by leading auction house experts, dealers and appraisers. The broadcast, featuring the highlights of each tour, allows viewers to hear the stories behind the finds while learning the historical and artistic significance of a specific object in what has been described as a "unique combination of history, mystery and art appreciation."

Among the more important finds at the Meadowlands were an Arts & Crafts Fulper Pottery mushroom-shaped lead glass lamp with flambe glaze made in 1919-20 in Fleming, N.J. This piece is valuable not only for its rarity, but also for its size, quality of production, and descent in the same family, and was appraised by Paul Royka of Skinners for $50,000.

A complete Herter Brothers 1870s mahogany inlaid parlor suite (consisting of a settee, two arm chairs, and one side chair) and a Townsend Goddard (1750-1790) Newport, Rhode Island, mahogany desk of 1760 passed down for three generations were appraised conservatively by Baltimore dealer Michael Flanigan for $25,000 and $15,000, respectively.

A wide range of objects were represented in the fair, including a fine silver English tea and coffee service appraised by Malcolm Stearns of Hobart House at $6,800; a set of Benjamin Franklin Philadelphia Society Subscription books appraised by Selby Kiffer of Sotheby's for $12,000-$18,000; an 1890s Darktown mechanical bank appraised by dealer Leila Dunbar for $15,000-$20,000 due to its baseball-related subject matter, original paint and single-family descent: and a gouache seascape painted by Antonio Jacobsen and appraised by Nan Chisholm of Sotheby's for $15,000-$25,000.

Another notable find was a turn-of-the-century wooden ship, naively carved, probably by a sailor on his way back from Asia, due to its materials of teak and bamboo, appraised by Kathleen Suzman of Phillips for $5,000-$7,000. A nice investment for its owner who, at his spouse's insistence, had purchased the item at a garage sale for $475.

Valuable antiques frequently turn up at the Roadshow. Last year, a priceless Duncan Phyfe sewing table was appraised by Leigh Keno in Detroit. A rare Confederate sword and a U.S. Congress-issued rifle of 1814 was found by Civil War guru George Juno in Seattle and Chicago, respectively. In Denver, a 1750 Phillip Terrot pocket watch featuring George Washington on its cover (reportedly a present to the owner's family from the first president himself) was appraised by Gloria Lieberman of Skinners, while in Kansas Louis Luther of Skinners found a Tiffany vase. A 16th-century Milanese cabasset was recognized in Philadelphia by Greg Martin of Butterfield & Butterfield, while in Albuquerque a template-copy of a painting by a 19th-century Czechoslovakian artist was found by Alan Fausel of William Doyle. A needlepoint sampler made by a descendant of Paul Revere was appraised by Nancy Druckman of Sotheby's, and a gold diamond-embedded watch reportedly owned by Pancho Villa was appraised by Frederick Oster of Christie's.

Other prominent appraisers in attendance at the New Jersey show were Linda Dyer from Morning Star Gallery in New Mexico; early American and folk art dealer Wayne Pratt from Connecticut; fine art dealer Frank Boos from Indiana; silver dealer Peter Schaffer from New York; Mary Jo Otsea from Sotheby's (rugs and textiles); Berj Zavian from William Doyle (jewelry); arms and military dealer Russ Pritchard; books and manuscript specialist Chris Coover from Christie's; Eric Silver from Doyle (bronze and metalwork); Pennsylvania print dealer Don Cresswell; and Claudia Floren from Christie's (jewelry).

As a result of the Roadshow, dealers and appraisers in the decorative-arts world have been thrust into the spotlight, often outshining the very objects that have brought them out from behind the scenes in the first place. One might even hazard that, along with this new breed of antiques specialists, has been born the"antiques groupie." Roadshow consulting producer Dan Farrell, for one, testified that he witnessed the brothers Keno sitting in a café only to be approached for autographs by a giggling group of women.

Already we are seeing a whole new wave of interest in the field, with books such as Thatcher Freud's Objects of Desire, which follows the path of three objects from their original makers to their present owners; John Berendt's bestseller Midnight in the Garden of Good and Evil, a murder mystery involving a Savannah antiques collector; and, most recently, Fernanda Eberstadt's When the Sons of Heaven Meet the Daughters of the Earth, a story of a young New York artist becoming enmeshed in the lives of a rich and powerful family who run an arts foundation.

I have overheard viewers recount how they wait anxiously for each Roadshow production to come on -- some won't miss an episode. Can an antiques-world sitcom be far off?

Chubb's Roadshow, somewhat innocently and definitely unintentionally, has been responsible for breaking through barriers -- those between the dealers themselves and those between the field and the general public. Again and again the Roadshow participants remarked on the bonds that were formed and the camaraderie felt among dealers, who ordinarily would find themselves going head-to-head with one another for objects and customers.

For those with a treasure up in the attic, this is an event not to miss the next time around.

Other Goings-On
First on the list of exhibitions to see this fall is The Furniture of the American South, Masterworks from Colonial Williamsburg at the Equitable Gallery in New York, Sept. 11-31, 1997. The exhibition illustrates the abundance, sophistication and variety of furniture produced in the South from the 17th- through the early 19th-century. Accompanying the show is a sumptuously illustrated book, Southern Furniture 1680-1830, The Colonial Williamsburg Collection, written by Colonial Williamsburg curators Ronald Hurst and Jonathan Prown, and co-published by the museum and Harry N. Abrams. The first major study of the furniture of the Old South, the book richly supplements the exhibition and is a must read for anyone interested in American furniture. On Oct. 3, the Bard Graduate Center in New York is hosting a lecture by Hurst on the exhibition with a book-signing to follow.

If you couldn't make it to Southampton's Parrish Art Museum this past summer, your next stop should be the National Academy of Design for its installation of The Tenth Street Studio Building exhibition, Aug. 21-Nov. 16, 1997. The show focuses on the first building in New York (it went up in 1857) designed specifically for artists. With tenants like Albert Bierstadt, William Merritt Chase, Frederic Church and Winslow Homer, it became the epicenter of the developing national art scene in the 19th century. A book of the same name, written by NAD director Annette Blaugrund and published by University of Washington Press, provides fascinating details of the marketing techniques developed for the ever-expanding art audience of the post-Civil War era.

After the National Academy show, stroll down to the Gerald Peters Gallery for the exhibition Bierdstadt's West, which opened on the same day and runs through Oct. 24. Among the works on view are a selection that were actually painted on Tenth Street.

If antique shows are up your alley, Sanford Smith's 19th Annual Fall Antiques Show, the premier show for American folk art and country furnishings, opens at the Park Avenue Armory, Sept. 25-28, 1997. Sponsored by the Museum of American Folk Art since 1979, the fair will include 70 of the top dealers of American furniture, paintings and decorative arts. For more information call (212) 777-5218.

If you are a child at heart (or a parent) and have time to make the short trek up to Katonah, N.Y., the exhibition Toying... with Architecture: The Building of the Toy Arena at the Katonah Museum opening Sept. 28 is a show the entire family will enjoy.

This fall seems is the season for design exhibitions at least at three important decorative arts museums. The Cooper-Hewitt, otherwise known as the National Design Museum, Smithsonian Institution, opens Design for Life: A Centennial Celebration, Sept. 30, 1997-Jan 4, 1998, to celebrate its 100th year. "Design for Life" presents 200 highlights from the museum's collection of 250,000 objects. The catalogue, published by the museum and distributed by Rizzoli, illustrates some 500 pieces in the collection.

Not to be outdone, the Victoria & Albert Museum in London, founded in 1852 as the first museum of applied and decorative arts and now having possibly the most important collection of decorative arts, has organized an impressive exhibition of its holdings. Sponsored by Visa U.S.A. and Lockheed Martin, the exhibition A Grand Design: The Art of the Victoria & Albert, opens at the Baltimore Museum, Oct. 12, 1997-Jan. 12, 1998, and subsequently appears at museums in Boston, Ontario, Houston and San Francisco before finally returning home to the V & A. If you can't make it to any of these burgs, at least buy the catalogue. A Grand Design, co-published by the museum and Abrams, features more than 250 of the V&A's most interesting artifact. The Bard Graduate Center hosts a lecture on the show by Christopher Wilk on Oct. 20.

Finally, you should catch the Montreal Museum of Art's Designed for Delight: Alternative Aspects of 20th-Century Decorative Art. The exhibition, conceived by Martin Eidelberg, spans everything from Art Nouveau to the Postmodern, and is accompanied by a beautifully illustrated book destined to become a landmark of 20th-century design. The show has closed in Montreal but travels, first to the Canadian Museum of Civilization in Hull, Oct. 2, 1997-Feb. 15, 1998, with subsequent stops in Cincinnati, Richmond and Louisville before heading overseas for stops in Krakow, Rome and Paris.

For those who have a love for silver, on Oct 4, 1997, the Sterling and Francine Clark Art Institute in Williamstown, Mass., opens New Perspectives on English Silver: Reconsidering the Clark Collection. The show is accompanied by a complete catalogue of every piece of silver in the collection (which ranges from the early 16th- to the mid-20th-century), written by Clark curator Beth Carver Wees and published by the museum and distributed by Hudson Hills Press. Needless to say, the book is not only beautiful, but also an invaluable resource for silver scholars and collectors.

In the area of design, is the Museum of Modern Art to be left out? Certainly not, as MoMA presents Achille Castiglioni: Design!, Oct. 16, 1997-Jan. 6, 1998, the first show in an American museum of work by the artist who is best known for the surprising associations he introduces into his furniture and lighting designs, such as a table referring to a spiral staircase or a chaise resembling a windmill.

Collectors, museum curators, dealers and antique lovers will flock to New York for the International Fine Art and Antique Dealers Show at the Park Avenue Armory, Oct. 17- 23, 1997. Organized by Anna and Brian Haughton, the show has come to be recognized as one of the most important and comprehensive antique shows in America. For social and celebrity sightings, and an incredible selection of breathtaking furniture, don't miss this one! For additional information, contact (212) 642-8572.

At the Bard Graduate Center for the Study of Decorative Arts in New York, an exhibition entitled The Sevres Porcelain Manufactory, 1800-1847: Alexandre Brongniart and the Triumph of Art and Industry opens on Oct. 17 and continues through January. The show focuses on porcelain produced at the Sevres factory after the tumultuous years of the French Revolution, a period previously overlooked in favor of the early 19th-century wares. Alexandre Brongniart, the government-appointed director of the factory, is considered to have been responsible for its remarkable rebirth. A book of the same name, written by Bard Graduate Center associate director Derek Ostregard and co-published by the museum and Yale University Press, serves as the exhibition catalogue.

Other noteworthy shows:
Deceit, Deception, and Discovery, Sept. 27, 1997-Jan 31, 1998, at Winterthur, Wilmington, Del.
The Private Collection of Edgar Degas, Oct. 1, 1997-Jan. 11, 1998, at the Metropolitan Museum.
Direct from Broadway: 200 Years of New York City Theater, Oct. 6-Dec. 5, 1997, at the PaineWebber Art Gallery.
Monet and the Mediterranean: A Centennial Exhibition, Oct. 10, 1997-Jan. 4, 1998 at the Brooklyn Museum.
On the Nose: Eyeglasses in New York, Oct. 15, 1997-Jan. 11, 1998, at the New-York Historical Society.
The Nature of Diamonds, Nov. 1, 1997-Apr. 26, 1998, at the American Museum of National History.

If you plan to make the antique-show tour across the country, get out your calendar:
Third Annual Arts of the Pacific Show , Sept 18-21, 1997, at the Park Avenue Armory in New York.
Third Annual New York Tribal Antiques Show, Oct. 17-19, 1997, at the Gramercy Park Armory in New York.
31st Annual Antiquarian and Landmark Society Antique Show , Oct. 18-19, 1997, at the Connecticut State Armory.
Ellis Memorial Show, Oct. 23-26, in Boston, Mass.
San Francisco Antiques Show, Oct. 30-Nov 2, 1997.
25th Annual Peabody Essex Museum Antiques Show, Nov 28-30, 1997, in Salem, Mass.
East Side Show at the Park Avenue Armory, New York, Jan 16-25, 1998.
Outsider Art Fair at the Puck Building, New York, Jan 23-25, 1998.
Palm Beach International, Jan 29-Feb 8, 1998.
Nashville Show, Feb. 5-8, 1998.
ADAA 10th Annual Art Show, New York, Feb. 19-23, 1997.

I think this might be enough to keep you busy!



KATHERINE TOMLINSON is an editor of The Magazine Antiques in New York.