Kenneth Noland
Jazz
1997-98





Kenneth Noland
Sojourn
1997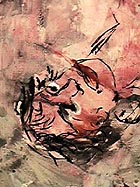 Georg Baselitz
O'Murphy Sister, June 24, 1994
(detail)





Ken Price
Blue Pearl
1998





Petah Coyne
Untitled (Top Hat & Put-put)
1998




Petah at her opening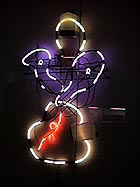 Keith Sonnier
Cat Doucet Series
(Quachita)
1996




Garry Gross
Untitled





Colin DeLand and Gary Gross




Photo by
Noritoshi Hirakawa




Noritoshi and Alix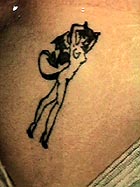 Photo by
Alix Lambert
(detail)




Xu Bing's pandas?





Mel Bochner
Measurement 48
1998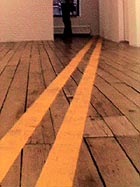 Mike Sale
Traffic
1998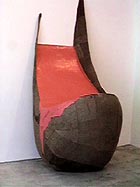 Howard Schwartzberg
Bubble Gum Slope
1998





Sol LeWitt
Three Cubes
1998
Hello, everybody. My, what a week! Naked 10-year-olds. Live pigs. Even new target paintings by guess who!

The hottest news on the gallery scene is that Sotheby's is closing down the venerable Andre Emmerich gallery in the Fuller Building (41 East 57th Street). Andre was riding high for a while, what with Noland, Caro, Olitski and guys like them. When Sotheby's bought the place a few years ago, I imagined hauling all this second-generation Color Field out of storage and reviving the market. Guess not! Now they're dumping the franchise, just like that. Apparently Sotheby's brain-trust couldn't make the much-feared (by dealers) auction house-gallery synergy click!

To close things out, Emmerich is showing new target paintings by . . . Kenneth Noland. They're beautiful, neat, done with modeling paste and gloss medium. The 21 modestly sized paintings -- he calls them "circles" -- are listed at $35,000-$45,000.

Meanwhile, Andre doesn't retire, but goes to work at Sotheby's headquarters on 72nd Street and York. He's still handling the Keith Haring and Hans Hofmann estates.

Across the street at PaceWildenstein is a show of 15 new paintings by Georg Baselitz, who you all remember from his 1995 Guggenheim Museum retrospective. Mr. Upside-down is painting sleeping boys, nudes with doves, things like that, all light and colorful and washy. They're so lovely, it's like Neo-Expressionism on holiday in Italy! Don't miss the portrait of Lenin, nude and pink, sitting in an armchair reading!

I was talking to the young lady at the desk, and by the way, why do they call them "receptionists"? She wouldn't tell me when the reception was! The prices range from $160,000 to $200,000, and on opening day, only four of them were reserved. Maybe the bear market will have an effect!

Upstairs at PaceWildensteinMcGill is a retrospective show of photos by Harry Callahan. There's all kinds of photos of all kinds of subjects. Pictures of clouds reminiscent of Stieglitz, pictures of wood-frame houses reminiscent of Weston, pictures of people on the sidewalk reminiscent of recent work by Philip Lorca-diCorcia. Funny, a small 1998 picture of fluffy white clouds floating in the blue sky is $5,000 but a similarly sized 1996 picture of a dun-red brick wall in Atlanta is only $2,500.

At Franklin Parrisch, I had a peek at one of the new biomorphic ceramic sculptures by Ken Price, who lives in Venice Beach. It's beautifully blobby, with a bright, scuffed two-tone paint job of blue and orange. We don't publish the price, someone said! (It's $30,000). His show opens Dec. 1.

By the way, did you ever wonder what happened to all that Mongolian pony hair that carpeted the floor in Ann Hamilton's installation at the Dia Center a few years ago? She gave it to Petah Coyne, who used it in her new works now on view at Galerie Lelong. The show is called "Fairy Tales" and features giant, elaborately braided hair constructions that embrace in their webbing stuffed foxes and birds and other taxidermies. They have parenthentical titles like Doggy Doo and Turkey Doodle. Let me ask you, where does such a nice-looking girl get such ideas? A work called Untitled (Top Hat & Put-Put), is $28,000. I think it has two stuffed birds in it. No wonder she's called "PETA."

At Marlborough, right by the elevators, is a signal of our changing era -- a neon work by Keith Sonnier, who has switched allegiance from the fading Leo Castelli gallery.

Down in SoHo, things are a little racier. At American Fine Arts, Colin DeLand was half-expecting the FBI to appear and drag him away for pandering child pornography. On view were those famous 1975 portraits of a tarted-up 10-year-old Brooke Shields by Garry Gross, who vampire-like hasn't aged a bit. People think they're kiddie porn, but they just look silly to me! Still, all the collectors seem to want one. There are 10 different photos in editions of 25 at $2,500 each, and one 4 x 6 ft. print in an edition of 10 for $8,500. You do the math.

Noritoshi Hirakawa, a nice young man who was born in Japan in 1960 but now lives in New York, takes pictures up girl's dresses. What won't they think of next? "Many men have a lot of desire to see the underwear beneath a woman's skirt," he writes in the press release for his show in the small gallery at Deitch Projects. Hirakawa calls the series "The Reason of Life" -- a play on Gustav Courbet's famous sex picture, The Origin of the World.

Okay, how much? A diptych of two horizontal cibacromell color prints, ca. 12 x 14 in. each, is $2,000 (edition of 10). One half shows a pretty girl standing on the street, a camera positioned on the ground between her feet, pointing up. The other shows a view up her skirt of her legs and white panties.

Over at Curt Marcus they sold one of the large Alix Lambert photos of tattoos, that she designs and does herself, for $5,000. It's 6 x 4 ft. and in an edition of three. The works address issues of commitment and collaborations, the gallery says. I say it's nice to see a person learn a trade! I think Alix is the Cindy Crawford of the art world.

They don't know what to charge over at Jack Tilton for the installation by Xu Bing of two black-and-white pigs in a panda pen, complete with bamboo. My, it smells even worse than Chelsea! Xu, who emigrated after the 1989 Tianamen Square crackdown, is famous for his 1988 paean to unintelligibility, a giant scroll of 4,000 made-up, unreadable Chinese characters called Tianshu (Birth of the Sky). Ought to be a perfume! Pigs in a panda cage -- what a perfect motif for a culture gap.

It's nice to see some of the old Conceptual artists getting all colorful and rematerialized. One of the standouts at Larry Gagosian's weekend benefit exhibition for ACOR, an online cancer info resource, was a Mel Bochner piece called Measurement 48 (Black/Red), 1998, a pair of canvases, one black and one red, with their 48-inch width painted on the surface like on a site plan or something. He used to make stuff like this right on the wall back when he was a pup, in the early '70s! The painting was still available for $15,000, when I looked, and there was an even bigger one on view down in the group show "Deep Thought" at Stefano Basilico.

As for Sol LeWitt, over at PaceWildenstein in SoHo he had two big new wall drawings. Number 880, an arabesque of green and orange bands, is called "loopy doopy" and costs $150,000. It took nine people to make -- and looks like neat graffiti! The black and white version, which is smaller, is priced at $75,000. Loopy doopy indeed!

There's conceptual art up in Chelsea, too. At XL, Xavier LaBoulbenne's gallery, is a piece by Mike Sale called Traffic. There's a double yellow line painted across the gallery floor and a soundtrack of traffic from a Berlin residential street (that you hardly notice it sounds so natural). It's supposed to be restful, Mike says. It costs $12,000, and is in an edition of three.

On the way over to Paula Cooper, I peeked in at Dan Silverstein's new gallery at 520 West 21st Street, Robert Gober's old studio. On view are Howard Schwartzberg's big blobby burlap-covered constructions with one monochromatically painted surface. "They're paintings," Dan says. Bubble Gum Slope, 1998, is 10 feet tall and priced at $5,000.

At Paula's was another brand spanking new Sol LeWitt, this one a sculpture called Three Cubes -- three black-painted fiberglass cubes, four feet to a side, stacked like a mini-pyramid, priced at $85,000. It's the first of its kind, someone at the gallery said. Think of the possibilities.

Here's a little quiz. That clever South American artist Tunga (Tunga!) made a giant, crimson colored installation at Luhring Augustine. Here's a list of the contents. Guess which doesn't belong?

Red netting
Red sponges
Giant glass beakers
Red cloth napkins
Big glass marbles
Red liquid
Red bottle brushes
Glass funnels
One geek with sideburns who closed the door in my face and wouldn't even let me take a quick look.

Finally, congratulations and good luck to newly-wed Richard Feigen.


ROSETTA STONE lives and works in New York.