Rob Storr in
Artforum



Rob Storr in
Artnews




David Ross and the "Wild Beasts"




Kenny Scharf at Shafrazi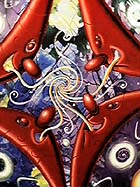 Kenny Scharf at Shafrazi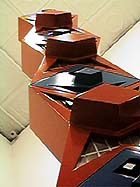 Kenny Scharf's "Tiki"




Chamberlain at PaceWildenstein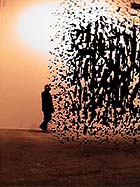 Cornelia Parker at Deitch Projects




Ellen Gallagher at Gagosian (detail)




Ellen Gallagher at Gagosian (detail)



Willie Cole's Nkisi



Carl Fudge at Feldman (detail)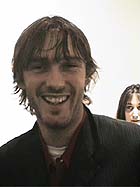 Carl Fudge



Bo Bartlett at P.P.O.W.
(detail)



Bo Bartlett
Dreamland
1997-98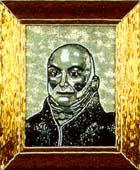 Liza Lou
John Quincy Adams
1996



Bruce Conner
Inkblot Drawing
1990
(detail)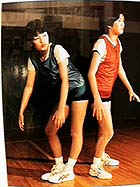 Sharon Lockhart at Petzel



Pierre-Paul Prud'hon
The Duchess de Montebello
ca. 1810-14



Nancy Allen
Untitled
That Rob Storr, isn't he a doll? So cute, with that blonde shock of hair hanging in his eyes. And so smart. Are there any other power curators left at the Museum of Modern Art? First he did late de Kooning, now the current smash hit Chuck Close show and coming up this summer is the Tony Smith retrospective. No wonder MoMA seems like such a great museum!

Lately Rob's gotten so much fawning press attention, you'd think he was being groomed for something. He's all over this month's Artforum, in a kind of "Rob Storr curates an exhibition" photo essay that is essentially an institutional update of an old ARTnews trademark feature. Back in the '50s, ARTnews would do these picture spreads focusing on an artist at work in the studio, like "Franz Kline makes a painting." Tina Barney took the photographs!

But the really cool picture is in this month's ARTnews. There Storr sits, in his tiny windowless office stacked high with piles of books and papers. I know you're supposed to be super-dedicated to work at MoMA, but this is ridiculous! Someone over there had better do something, before another museum does.

You know who else I like? David Ross, the outgoing director of the Whitney Museum, that's who. He was always so nice, standing at the entrance to the Biennial exhibitions in his Armani suit, saying hello to the artists coming in. Oh, sure, now that he's down, you all decide to pile on. Well, I hope you're proud of yourselves.

Ross did a good job up there at the Whitney, considering. For one thing, he was surrounded by yentas! I can just hear them all screeching at him in the halls -David! Plus, you know what was a great show? The 1993 Biennial, the one with Sue Williams' giant puddle of plastic vomit upstairs and in the basement the Latina artist Coco Fusco posing as a "native" in a zoo, in a cage wearing an animal-print bikini. You could take a Polaroid for a dollar and David was happy to pose with Coco! And the "Abject Art" show from the same year has been a regular reference point for theoretical writing about contemporary art -- and it was organized by the Whitney's students. The only good thing you can do with that stupid Breuer building is put radical art like that in it!

By the way, David will be back on public view at his museum tomorrow night, Apr. 4, in a discussion at 7 p.m. of the Bill Viola show, and on Apr. 22 to talk with Richard Gluckman, architect of the new fifth-floor galleries.

So, is anybody selling any art? Things are looking good for Kenny Scharf, the art world's own Mr. Kool, who sold most of the dozen paintings in his show at Tony Shafrazi at prices up to $60,000 each. The other day the place was thronged with little kids, intently drawing Kenny's new line of sculptures, the "Endless Tikis," a totem-pole-like thing that's part Brancusi, part Fred Flintstone. Also on view was a customized camper complete with dayglo detailing, black lights and a spinning disco ball. I guess '80s club culture lives, thanx to Kenny. Not bad work, if you can get it!

Just the other day the great Photo-Realist Richard Estes unveiled some new paintings in the side gallery at Marlborough. Here's a good one for you - the ultimate urban artist has gone pastoral, sort of. The new pictures depict lower Manhattan and the harbor from the Staten Island Ferry. They're beautiful, and selling fast, with prices topping $200,000.

Somebody wants the two works in John Chamberlain's "Fauve Landscape" show at PaceWildenstein in Soho. Not me! I don't like these two "architectural" pieces. They just sit there in the space, like giant clunkers. The big one, called The Privet, is over 12 feet tall and 60 feet long. It's "on reserve" to a major museum. They won't tell you the price, or the client! The other piece, called The Hedge, was available, last I looked. It's $650,000.

The Cornelia Parker thing down at Deitch Projects strikes me as mostly silly, I'm sorry to say. What do you expect from a bunch of pieces of charred wood hanging from the ceiling on threads? Called Mass (Colder Darker Matter) and supposedly taken from a church struck by lightning (shades of Stephen King!), the sculpture is proceeded by its reputation - it was a finalist for the 1998 Turner Prize in London. It's still available ... must be expensive.

My visit to Ellen Gallagher's show at Gagosian in SoHo was an unpleasant affair. Someone tried to ask the chubby guy at the front desk a question, and he slammed down the phone and shouted, "You should have read yesterday's New York Times!" Rude. Just for that, I'm giving the show a bad review. Ellen, you're such an attractive young woman, why are you making these horrid things? On view are half a dozen oversized large abstractions, unremarkable except for being dotted here and there with cartoony little elements suggestive of the minstrel show - fat lips and googly eyes, mainly, but also little blindfolded nappy-heads and pink-faced pirates.

A couple of the paintings are inflected by a curlicue, Mod Squad style "S" shape. While scanning the generally inconsequential catalogue essay by Greg Flyboy in the Buttermilk Tate -- god help anyone who actually looks to the genre of literary "art criticism" for actual information or insight -- I did notice a reference to the Tuskegee Experiment. The "S" must stand for syphillis!

I know Ellen's paintings are going to be popular, but I'm not sure I understand why. From a distance, they're pretty, but ... so? You move in close to these giant abstractions in search of clues to their meaning, and find ... comic racism. This theme is popular with our best young black artists. At least it's risen to the surface in the white-dominated art market. I think of works by Fred Wilson, Gary Simmons or Glenn Ligon.

I like even better the Willie Cole sculpture at Alexander and Bonin, where he's dressed up a Negro lawn-jockey statuette like a Kongo Nkisi power figure. Seems more ambivalent, somehow. In combination, both representations are equally fictional, and equally distant from the contemporary (black) author. Willie may be better known for works that confound irons - those things that you use to take wrinkles out of your clothes - with slave ships. The gallery can't keep his stuff in stock, at prices ranging from $5,000 to $20,000 and on up. The Museum of Modern Art is sneaking a survey of his work into its summer schedule under the auspices of the print department.

Am I getting too serious? We can always look to abstraction for some levity! At his opening at Ronald Feldman, the handsome young artist Carl Fudge was surrounded by women. His big abstract paintings look like a kind of allover calligraphy, the surface made up of chopped up line drawings recombined by computer and silkscreened in layers on the canvas. Once I found that the source was erotic Japanese etchings, I looked close for the sexy parts! One big one is called Run-Amok and costs is $12,000; a smaller one called Trace is $4,000.

P.P.O.W. can sell those pictures by Bo Bartlett. In the first week of the show, two largish paintings of a bride and groom, Dreamland and Wedding Processession, were marked sold at $32,000 each, as was a smaller, "unfinished" beauty called Dreamer, for $15,000. Other allegorical figure painters hate this stuff - too goody-goody - but you can't go wrong with brides, the subject is mythical and otherworldly. Meanwhile, in the back gallery, bead maniac Liza Lou has a fantastic 42-panel series of the presidents in red beads, each 11 x 17 in., available as a set for $150,000. The Museum of American Folk Art should buy it for its new building! The single work Flag sold for $22,000!

Beadleston Gallery in the Fuller Building is doing great with Wolf Kahn's paintings. "We sold 60 of them," they said.... Bruce Connor's exquisitely detailed ink-blot drawings at Curt Marcus are also moving fast at $6,000 to $18,000. His retrospective is coming up at the Walker Art Center. Did you know that his early super-8 movies inspired the acid-trip sequence in Dennis Hopper's Easy Rider? ....Hot ticket at MoMA's New Directors film series last month was Gashogaoka, Sharon Lockhart's carefully choreographed movie of a Japanese girls' basketball game. The accompanying suite of 12 color photos on view at Friedrich Petzel, stark and dramatic color snaps of exotic prepubescent girls, are all sold, at about $3,000 each.

Spotted: At the Anthony Caro opening at Marlborough, the lovely Sarah Greenberg, daughter of famed critic Clement Greenberg, holding her perfect baby, who was wailing like she was cutting a tooth. She has piercing blue eyes and is named Clementine .... At the Pierre-Paul Prud'hon show at the Metropolitan Museum, a portrait of the great, great, great, great grandmother of Met director Philippe de Montebello. You know what this means -- his title is only Napoleonic .....

Overheard: Kiki Smith enthusing about the Maria Martins show at Emmerich, confessing to plans to steal some of her ideas .... Chocolate gnawing Janine Antoni, telling how one of her students at Skowhegan pulled the entire contents of her mother's purse from her vagina...Julian Schnabel, saying that his next movie will be a serious one, about a star-crossed Cuban poet. He's eyeing Benicio Del Toro for the role... Does the art world have a new "Leo"? Someone said that Patrick Callery is advising Leonardo DiCaprio, who's begun collecting art. Leo's dad is an old underground comics guy from the '60s ....

Casual reading: New New York Times reporter Amei Wallach's news piece on the troubles of outgoing New Museum director Marcia Tucker, whatever else it did, allowed Roberta Smith to ride to the rescue the next day with a more positive review .... Martin Filler in the April 9, 1998, New York Review of Books, notes that the Museum of Modern Art exhibition catalogue fails to mention the visit of Finnish modern architect Alvar Aalto to Nazi Germany at the invite of Albert Speer. Out of consideration for Philip Johnson, a World War II-era fellow traveler? .... Does New York magazine critic Mark Stevens ever get it right? His crowning comment on the "Men in Suits" show of riveting portraits by Alice Neel and August Sander at Cheim & Read: "Both artists offer a useful antidote to our designer-besotted culture"....

Eli Broad has bought all the Charles Ray works in Charles Saatchi's collection, including the giant firetruck that stood outside the Whitney Museum during the 1993 Biennial .... Peter Blum's exhibition of a single painting by Helmut Federle brings back fond memories. In the '80s there was a tug-of-war over him between Mary Boone and Barbara Gladstone, who each had a German dealer on their team, Michael Werner and Rudolf Zwirner. Federle had a double-gallery show - it was his apotheosis .... Go even further back, to the punk era, with "Nancy Arlen Sculpture 1978-1983" at Mitchell Algus. Arlen played drums for the seminal "No Wave" band Mars and was included in Ronny Cohen's still-born Energism "movement." See you next month.

ROSETTA STONE lives and works in New York.