Marilyn and
the Kennedys
by Barbara Kruger








The elusive artist








Mary Boone (l.)
with Art in America
publisher Sandy Brant








A Kruger vinyl.








A Terry Winters
painting, in close up.








Jennifer Reeves
at Stux








Cheryl Donegan's
hand-print Pegasas







Eugenia Lui








Karen Carson
Right Effort
1997








Photo by
Andrea Fraser
(detail)








Aaron Rose
at Paul Kasmin








Alcatraz by
Yanagi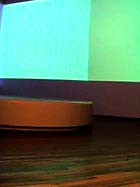 Tobias Rehberger
The Missing Colors
1997







"Me? Oh, I'm just a gadfly."
Charlie Finch
via the pen of
Anthony Haden-Guest.
Hello everyone! Are we selling any art yet? I guess the woman of the moment is Goldilocks Barbara Kruger, whose triumphant reign in New York began with an Art in America cover, pre-show hype in New York magazine and even a Queens Surface Co. bus -- covered with slogans courtesy the Public Art Fund. My favorite is "DON'T BE A JERK."

Then the exhibitions were simultaneously unveiled at Mary Boone uptown and Jeffrey Deitch's new space in the former Canal Lumber building, and everyone hated them. "If this strikes you as new," wrote the New York Times chief art critic, "then I've got some Johnny Carson monologues you might like." Ha ha ha.

Barbara's downtown installation was really incredible. In Jeffrey's big, boxy, darkened space was a changing array of angry slogans projected on the walls, plus three projection video chambers in the back with big talking heads yelling at you. The overall effect was quite toxic, and had gallery visitors either peevishly snapping at each other or clutching their companions in fear. If Richard Serra has perfected an Esthetic of Dread, as Hilton Kramer once put it, then Barbara is the queen of what can only be called an Esthetic of Hate.

At Mary's she has some giant sculptures that depict, as everyone must know by now, Marilyn Monroe being held aloft by JFK and Robert Kennedy (you can see her panty-less crotch!). Also there's J. Edgar Hoover and Roy Cohn kissing in a passionate embrace, and Jesus passed out with a bottle in his hand. The sculptures are all pure white (they look like they're made of Colgate toothpaste!) and are priced between $125,000 and $175,000 each.

Finally, someone has put a cheerful spin on the typical tabloid subject! Everybody looks so happy, Marilyn and the Kennedys, Hoover and Cohn. Even Jesus is relaxed!

In the small gallery are four of Kruger's trademark posters, known as "vinyls." Across a close-up of Marilyn Monroe's face, for instance, are the words NOT STUPID ENOUGH. Similarly, Eleanor Roosevelt is not ugly enough and Malcolm X is not angry enough. That Barbara, always encouraging us to strive for a personal best! They're $60,000 each.

Meanwhile, over at Matthew Marks' in Chelsea are 10 big abstract paintings by Terry Winters that look kind of like 3-D spiderwebs of colored strokes. They're so muscular. The checklist says they're made with oil and alkyd resin. Sounds gummy. "They look fast but I think they're slow," said our friend Barry Le Va at the opening. They're all sold, the gallery said, at prices ranging from $75,000 to $100,000 each. That's an estimated net for the artist of about $450,000 from one exhibition. Terry must be living right.

Paintings, paintings, paintings. I've got an appointment in 15 minutes so I can only give you a quick round-up. I hear that one of those paintings by Carlo Maria Mariani at Associated American Artists, which are priced in the $25,000-$75,000 range, is being bought by Bulgari, the jewelry company, to give to the Guggenheim Museum. Stefan Stux has some jewel-like Minimalist white paintings by Jennifer Reeves in the $3,000-$3,500 range. Over at Jack Shainman are some very shiny paintings by Linda Stark, small pictures of things like a flower, butterfly or spiderweb with the paint itself built up into a kind of confectionery low relief. Halfway through the show, when I was there, about six of the 10 works had sold for prices ranging from $2,500 to $6,000.

Basilico Fine Arts has some great new paintings by Cheryl Donegan, who has been known to strip down to her underwear to make a videotape. I approve of Eros! These tall thin paintings mix motifs from Newport adds with a red-and-yellow racing stripes and imprints of Cheryl's knees, hands, feet and bottom. They're a bargain at $6,000. Say hi to our friend Eugenia Lui, who just started working for Stefano a few weeks ago.

Bill Maynes had these really striking pictures by Karen Carson, brightly colored things with mirrors and giant arrows with their composition based on Renaissance works by Guido Reni! They're $16,000 and I think some are still available. You can also get a print for $1,000 of the kind of work that appeared on the cover of Art in America a few years ago. By the way, remember those tiny $1,000 portraits by Jim Torok that I told you about last month at Maynes? Well, the price has doubled since 26 of them sold!

There's always something good in SoHo! At Colin Deland are tourist-type photographs of white people in East Africa taken by Andrea Fraser in 1989-91. Somebody dared her to show how her specialty, "institutional critique," could function in the real world. As it turns out, the pictures are totally Edenic, an arcadian vision done in a contemporary, multicultural way, not Duane Hansens in the jungle but real people, white and black together. I say buy them. They're $1,500 for any group of three.

At Peter Blum on Wooster Street was an installation of three works by Yukinori Yanagi, the guy who is famous for making art out of ant farms. Here there was a great one, called Alcatraz, a multi-part American flag with worker ants excavating the colored sand, grain by grain, until the end of the show (when the ants are taken out and set free, I guess). The piece is yours for $30,000.

Paul Kasmin showed some ca. 8 x 8 in. unique prints from 1994-95 by Aaron Rose, the veteran photog who first got press earlier this year after he showed in the Whitney Biennial. He has 25,000 prints filed away in his loft building over on West Broadway. These pictures, which are about $5,500, come from two series: polarized close-ups of leaves from his "Hudson Valley" series, and circular Milky Way prints, done through a homemade apparatus and showing a brownish pimpled blot of stars. Four of them were bought by the Whitney Museum.

Fredrich Petzel had some installation works by Tobias Rehberger, the numero uno young sculptor in Germany, so I'm told. In the back room is The Missing Colors, 1997, a round couch with five-video projections against the wall that don't actually show anything, just a gradually changing spectrum of color. It has something to do with dreaming. It's $25,000. He was only born in 1966 but he's not dreaming!

Tanya Bonakdar is selling the hell out of the weird wall-hung sculptures by Siobhan Hapaska, a Belfast-born artist who lives in London and is having her first U.S. exhibition. These streamlined, mechano-biomorphic fiberglas shapes come in silver or white and have a single, blinking LED. They're $16,000.

Well, that's enough for now. Gotta run! Oh, wait, here's a few more things....

Overheard on a bus to Bard College to see the survey of work by Tunga: the nuts-and-bolts version of the genesis of the Sotheby's-Deitch alliance, as related by Jeffrey himself to SoHo gallerist Lawrence Luhring (who represents the Brazilian multimedia artist, now a hot property). After being outbid at a Sotheby's sale, Deitch realized that the auction house needed a someone who could spot the underbidders and then phone the potential client the next day with an offer of similar wares. Such a smart man! Imagine, all these years the auction houses have had two buyers willing to pay zillions and yet were only selling to one!

Before Christie's Nov. 10 sale of the $200-million Victor and Sally Ganz Collection, auction-house nabobs fretted that the art had become nicotine-impaired, since the Mrs. was a heavy smoker to the end of her days. But au contraire. Conservators pronounced the freshly cleaned paintings better than could be expected. Unlike human lungs, nicotine seems to have some kind of preservative effect on art. Next up: a Victor and Sally Ganz smoking section at MoMA?

Art dealers are so cheap. Ran into one on the subway coming down from Christie's. "They've stopped giving away pens!" she wailed, waving around her last of the brown-and-gold treasures that formerly were freely available at the auction-house registration desk.

Remember Gary Indiana in his radical Village Voice days, comparing Richard Serra's Tilted Arc to a homeless beggar looming up at you on the sidewalk? Having a social conscience must pay off. We hear that Hollywood is buying his latest book, a fictionalized report on the Menendez trial, and that he's just nailed down $250,000 for a bio of gay serial killer Andrew Cunanan.

Guggenheim Museum director Thomas Krens can add another feather to his cap -- the addition to the English lexicon of the verb "to bilbao," meaning something like "to make an architectural landmark." The first citation is in New York, Oct. 13, 1997, in an item titled "Bilbao-ing in the Boroughs." The mag cites six major New York capital projects that could be of Guggen-Gehry stature, including Rafael Vinoly's recently opened $23-million Bronx Housing Court and Peter Eisenman's $100-million St. George Ferry Terminal in Staten Island (opening in 2001).

Speaking of the Guggenheim Bilbao, a bird told us that Brice and Helen Marden weren't invited to the grand opening celebration, even though Brice has several works there. Just goes to show that artists are on the bottom of the totem pole, so to speak.

One last footnote: for those of you who missed the Nov. 12 issue of the New York Observer, that was ArtNet's own Royal Flush correspondent, Charlie Finch, immortalized in Anthony Haden-Guest's weekly cartoon.

ROSETTA STONE lives and works in New York.