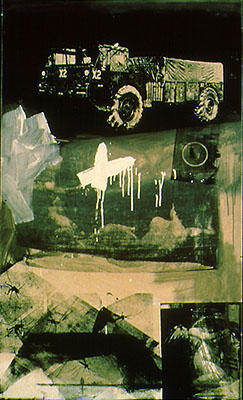 Robert Rauschenberg
Crocus
1962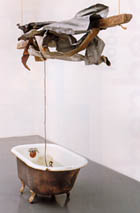 Robert Rauschenberg
Sor Aqua (Venetian)
1973










A Rauschenberg fresco.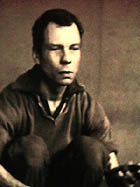 Merce Cunningham
c. 1952 by
Rauschenberg (detail)










Sean Scully's
Yellow Place (1997)










The new Houk,
with Manns.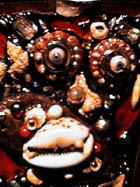 Ossorio's
Shingle Figure
(detail)
c. 1962






Broodthaer's
Troistas de carbon
1966-67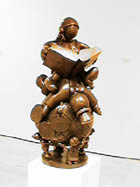 Tom Otterness,
Educating the Rich
1997




Botero and
Otterness




Otterness at
Marlborough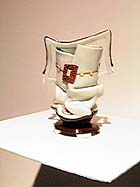 Kathy Butterly
Jiggle
1997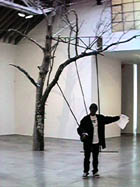 Leonard's tree
(with Paul H-O)










Tree splints











Kilimnik's
installation, with
fog machine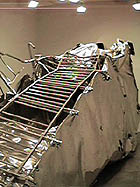 Kippenberger
at Metro











Roni Horn's
Untitled (Flannery)
at Marks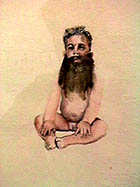 Lee Gordon
Untitled (detail)
1996-97
at Richard Anderson











Richard Jackson
at Zwirner
Hello, everyone! Has your art season started yet? Mine got off on the right foot (not), way back on Sept. 3, as I headed out determined to get a jump on things. One opening on my list was postponed ("Invited" at Joseph Helman) and the other I skipped because downtown seemed too far away (Michelle Fierro at Jack Tilton). And voila! It's October already! September went by so fast, it was like a candle in the wind!

But things picked up after my little misstep. Rauschenberg rules, with his supershow at the Guggenheim, both uptown and downtown. After all these years his stuff is yummy, as pretty as hard candy, especially the newer works on the SoHo Gugg's second floor. I don't care what other people say! "Tobacco, Junk Food and Alcohol," somebody called it, referring to exhibition sponsors Philip Morris and Kraft and that great lubricant of creativity, booze. Not everyone thinks Dodie Kazanjian did Bob a favor in the September Vogue by reporting his stay at the Betty Ford Clinic. But if truth doesn't out in the art world, where else? Supposedly Bob used to down a fifth or two a day. Wow! That's free-wheelin'! Now his daily regimen is strictly limited to two sakes and two glasses of wine. Hmmm.

When it comes to altered states, though, at least Bob is on a happy trip! All those mass-media images -- which basically work to make people afraid -- in his art are drained of their anxiety and transformed with endless abandon into fabulous decorations of color and form. Is that what Guy Debord, another great tippler, meant by "Society of the Spectacle"?

Rauschenberg himself showed up at the press conference downtown looking a little shaky -- he had a "bug," they said. But he was sweet and lovable, professing to be "in awe and a little terrified at the scale" of the thing, and then led a throng of press and photographers through the show. First time I've seen that in an art museum! The latest issue of Grand Street has a handwritten text in which Bob attributes his success to "good luck and hard work." Who can gainsay that?

Up on 57th Street, stripes are supreme, with Sean Scully at both Mary Boone and Galerie Lelong. In Mary's imposing main gallery are four big stripe paintings, plays on the flag motif in autumnal oranges and blacks. So lovely -- I want one! They're $140,000 and $170,000, and the two expensive ones have red dots! In the back are some checkerboard patterned etchings for $14,000 apiece. Over at Lelong are the artist's radiant color photographs of rustic shop fronts and barn sidings -- but you always knew his stripes had an architectural basis.

Right down the hall from Boone is the crisp new photo gallery of Edwynne Houk (former partner in Houk-Friedman), opening with Sally Mann's big (c. 30 x 38 in. and 38 x 48 in.) evocative photos of Georgia and Virginia landscapes. No more naked kids! More blurry pix! They're part Neo-Expressionistic, part Pictorialist prints of moss, vine-covered trees, dilapidated gates, foliage, hillsides. The prices go from $6,500 to $12,000 in editions of 10, custom frames included. Georgia #5, a shot of a grand old tree trunk covered with ivy, is already sold out.

Over at PaceWildenstein is a show of Rauschenberg's fresco paintings, called "Arcadian Retreats," a retracing of the journey of Alexander the Great, according to the catalogue essay by Berenice Rose. Bob's trademark color-photo-collages look particularly ravishing on fresco, all flecked and scratched. Every single one of the 13 pictures is sold. Prices go from $100,000 to $400,000 -- the biggest is ca. 75 x 111 in.

Upstairs are about 30 new digital prints of Bob's old photos from the `50s and `60s. It's fascinating, actually, how different these are from his collages -- done in a masterful version of that kind of black-and-white arty photo esthetic. I'd get a picture of a young Merce Cunningham, 14 in. square, for $2,500. They're editions of 10, brand new printings -- with a limit of 50 prints on the negative all told. Hmmm.

And if you're shopping you've got to get one of the "Shingle Figures" assemblages from 1962-63 by the late Alfonso Ossorio at Michael Rosenfeld. These fantastic "congregations" of glass, plastic and wood odds 'n' ends, all knit together with flows of bright paint, feature Ossorio's hallmark glass eyes staring out at you. They look curiously restrained for the `90s, compared to back then, when they seemed overdone. They are cabinet pictures, ranging in size from ca. 17 x 8 in to 32 x 24 in. and in price from $10,000 to $36,000. According to the price list, only one has sold -- that can't be right! Maybe so, the art historians still think he's too goofy!

At Marian Goodman, Joseph Bartscherer has some beautiful black-and-white photos of the desert in the back gallery. They're floor-to-ceiling, really big -- a Goodman specialty. In the front is work by Marcel Broodthaers, notably a sealed-off room installation with about 15 works from the `60s and `70s. It recreates the last Broodthaers show at his daughter Marie Puck's gallery in Paris. Among its contents is a 30-in. tondo covered with mussel shells, an empty wood box labeled "journaux," a lavender-painted chair with egg shells on the seat and three piles of charcoal with a Belgian flag stuck in the middle one. It's priced at $3 million -- I guess a museum will have to buy it! Another Broodthaers work, a looped 28-second movie, Defense de Fumer (1969-70), shows the artist with smoke leaking out of his mouth, but it's not for sale -- too bad! Most of the Broodthaers movies are in a show that opened this summer at the Fondation Tapies in Barcelona and is now touring Europe.

My old friend Tom Otterness opened his first-ever show at Marlborough with a fantastic array of figures, all cast in bronze, many in editions of three. I marveled at the commitment for Marlborough chief Pierre Levai, to produce so much work. "It's a no brainer," replied former Brooklyn Museum director Robert Buck, now with the gallery, happily there at the front desk greeting visitors. No brainer, indeed! Bob was no doubt referring to the popularity of Tom's work, now commissioned by the town fathers of New York, Portland, Minneapolis, Cleveland, Sacramento and Bellingham, among other all-American burgs.

Tom's figures are full of fun and love. My favorite is Educating the Rich, five-foot-tall statue that has a woman reading a book while perched on top of a prone businessman splayed out on a globe. It's $90,000. I'll take it! The prices go up to $180,000 each for the biggest figures, the king and queen from his chess set. The bargains are the drawings, in marker on vellum or paper, for only $1,800. And in the back is the wittiest installation, on the gallery's outdoor courtyard, where two little Otterness figures, Couple Holding Hands, stand at the doorway looking up in awe at a congregation of four huge Botero sculptures. Botero's Reclining Woman, 1993, can be yours for $1.1 million, by the way.

Another prize on 57th is Kathy Butterly's new work at Franklin Parrasch, painted ceramic cups that are like little trophies from a bacchanal. After the opening I was able to take a peek at some postcards the artist had in her studio. Liberace in his King Neptune costume, Brancusi's Blonde Negress II, Miss Hot Dog from the "Pinups of the `40s and `50s" series, van Gogh's Oleanders -- this explains everything! And at about $2,200 each, they're jumping off the shelf!


§
Needless to say, Chelsea has become the new SoHo. On Saturday, Sept. 13, there were lots of openings and the streets were thronged with people. Was it the Chelsea Art Walk, sponsored by Tag Heurer? I'm not sure, but my husband has one of those watches!

I'd be hard pressed to pick my favorite. Maybe Zoe Leonard at Paula Cooper. She has several of her typically romantic and introspective black-and-white pix of things like underwear on a line, or a bathroom with two toilets, side by side, a little too close. My favorite are the photos of bird's eggs barely visible in grass nests. They're ca. 12 x 18 in. After I hit the Lotto I'm buying my husband a smaller one, ca. 8 x 6 in., of graffiti reading "I love pussy." We could put it in the bathroom. The editions are step-priced and start at $1,000, but most are already up to $1,500 or $2,000. I hope there's still some left when my ship comes in!

Before I go on I have to say something about Zoe's giant tree that is so enchanting in Paula's beautiful big space. I guess it is an ordinary tree that was sawed into pieces and then reassembled with guy wires and bolts and metal plates in a fantastic metaphor of cyborg regeneration "A skiing accident?" someone wondered. Last I looked it was still available, for $15,000. David Ross, are you listening?

One of the fall's success stories are Karen Kilimnik's small paintings and drawings at 303, all about beauty and girls and love and the modern world, sort of like Oliver Stone with sugar and spice. I liked best the drawings, that show glamorous celebrities like Princess Caroline and Bridget Bardot, along with autistic captions of fashion-mag prose a la Basquiat. They look like they're drawn with mascara, and they're sexy. Most of the 18 paintings ($5,500-$7,000) and 16 drawings ($2,200-$3,200) are sold.

I absolutely loved Martin Kippenberger's "Metro-Net" installation at Metro Pictures. In the front gallery are some goofy plaid paintings of socks and feet (I think that's what they are) that are quite fetching. But the showpiece is in the back, a kind of giant aluminum stairway for his imaginary worldwide subway system, called Transportable Subway Entrance (Crushed), that the recently deceased artist had ordered crushed to fit in the Metro Pictures space. Nobody at the gallery seemed to know what it cost! Are they trying to make us think that there's no market for this fancy bit of junk? I want it!

At Matthew Marks on 24th Street are a few pieces by Roni Horn. It's very esthetic. In the back is a group of seven big prints of the ocean, in various degrees of abstraction, that are delectable. There's a striking pair of photos of a white stuffed owl called Dead Owl in an edition of 20 that's very nice. It's $20,000. And in the front there's a pair of rectangular chunks of cobalt-blue glass, called Untitled (Flannery), that are supposed to weigh one ton each and are supposed to be sold. They're very blue. Someone told me they go for $250,000.

Next door at Barbara Gladstone is Rosemarie Trockel, who everyone seems to like. She has a bunch of video monitors hanging from the ceiling with a variety of tapes -- showing an egg spinning on a turntable, a moth at work on a sweater, a collage of plaid knits. These tapes are $7,500 each in editions of varying sizes. At that price, I hope you get the monitor, too!

Jim Torok's portraits on wood panel at Bill Maynes (Sept. 4-Oct. 4) are the steal of the month! Only $1,000 each, these tiny things are like little gems! You can have your own commissioned -- it's the ideal gift.

And be sure to go find Richard Anderson at his new space, hidden on 17th Street off 10th Avenue. It's a fourth-floor walkup, but collectors can ride with the freight! He opened with watercolors by Lee Gordon, most showing a baby's body with Lee's grownup head attached, for works that were, as Grace Glueck aptly put it in the New York Times, "grotesque, poignant and funny." That says it all! But she forgot to say that the big ones -- ca. 30 x 22 in. -- are $1,500 each, and the smaller ones are a real bargain at $950.

§
As for our winning downtown art district, SoHo, that will have to wait till next time. I've got an appointment and I'm already 15 minutes late! But before I go, be sure to visit the Jake and Dinos Chapman show at Gagosian. I like their sculptures. They're wearing Nikes! They're selling -- some are, anyway -- like hot cakes for between $20,000 and $34,000. Six months ago you could have bought one from Victoria Miro at Art 1997 Chicago for about $12,000! My favorite -- the grouping of four heads and arms in the shape of a swastika!

And don't miss Gillian Wearing at Jay Gorney. Her video projection is the kinkiest, with weird adults talking in dubbed children's voices. It's an edition of three for $25,000. You can buy a vintage Corvette for that! And go to see the Richard Jackson installation of a large home-made abstract-painting machine at Michael Zwirner, who seems to show nothing but good art! A charming man from the West Coast, Jackson is rehabilitating painting by making it into sculpture, a wrong move for sure! He looks like he should be standing next to shed with something just repaired. I like him.

§
Good luck to the New York Times, now with a lovely Technicolor look. The former Gray Lady is also trying out a new art writer, Ken Johnson, an old Art in America hand who actually lives upstate in Troy, N.Y. Ken! Hope they don't make you move into town!

Meanwhile, doing short reviews for the first expanded Friday "Art Guide" -- an admitted great "picks" listing -- seems to have put Roberta Smith in a fouler mood than usual. Sam Durant at Curt Marcus is "riddled with derivative ideas" and "extremely dated," Steve Doughton at Marianne Boesky is "only mildly eye-catching," and as for Lisa Bowman at John Gibson, "a return to the drawing board seems called for." Ouch! Bad enough one time, but do they have to reprint it every week? You should go buy the Durant sculpture, despite what Roberta says. It's chrome!

§
Anyone looking to work 50 hours a week for 30 hours pay (sort of Socialism in reverse), apply to Artforum, where reviews editor Sheila Glazer has flown the coop. Now ensconced as senior editor at Travel & Leisure, at about double the salary, the multilingual Baudelaire translator now applies her mordant wit to Women's Magazine-type features -- nothing that new, since she did the fashion stuff at Artforum, too!

§
Overheard recently at the 44th birthday party for Postmodernist brainiac Brian Wallis (editor of Blasted Allegories and Postmodernism, among many other tomes), a lively discussion between Barbara Kruger, Maurice Berger and Barbara Bloom about -- the "live" season-premiere episode of the NBC nighttime hospital soap, ER. Well! Keeping up with TV is a dirty job, but somebody has to do it.

§
Spotted at Kiki Smith's Sept. 26 opening at PaceWildenstein in SoHo: chocolate-gnawing art feminist Janine Antoni, who used to have the best hair in SoHo -- now with a buzz cut. Somebody said she looked like a mental patient! Not me. I thought of Demi in G.I. Jane.

§
Also spotted, at the press preview of the Rauschenberg retro at the SoHo Guggenheim: gumpy neocon critic Hilton Kramer leaning over Bob's hilarious vat of bubbling mud, just in the right position for an anonymous shove! Some people still have faith, no matter how misplaced.

§
Castelli Graphics, at 578 Broadway, has been shuttered, with director Jodi Scherer moving over to Pace Prints. Castelli's print-publishing program had been in stasis for a long time, the gallery given over to extravagant monographic shows, recently of Jasper Johns and Joseph Kosuth, among others. The inventory is at the regular gallery. Such an abrupt end for a great institution. Sad.

§
Collectibles: The Fourth Day Destruction of Birds by Kiki Smith, an accordion-style artist's book with etchings of birds, presumably dead, issued in conjunction with her "Reconstructing the Moon" show at PaceWildenstein in SoHo. It sells for $10. At Paula Cooper, Zoe Leonard's 1998 Bearded Lady Calendar picturing New York's own bearded lady, Jennifer Miller, for $32.47. Jane Wilson's catalogue for her show at Fischbach, Oct. 17-Nov. 15, 1997, with an essay by Luc Sante, $15. And the mock-Bible catalogue for Dinos and Jake Chapman at Gagosian, with the notorious interview with Robert Rosenblum, $40.

ROSETTA STONE lives and works in New York.