Mariko Mori
Love Hotel
1994






Cindy Sherman
Untitled #264
1992





Vanessa Beecroft
Untitled
1997






Vanessa Beecroft
Untitled
1997





Sam Taylor Wood
Fire Revolutionary
Seconds X
(detail)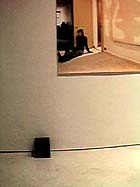 Detail,
with speaker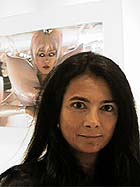 Mary Boone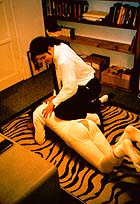 Cameron Jamie
Apartment Wrestling
1997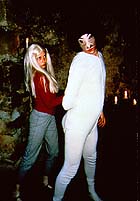 Cameron Jamie
Isobel
1997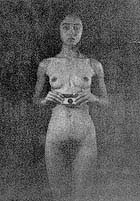 Adrian Piper
Food for the Spirit
1971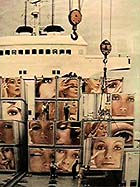 Martha Rosler
Untitled (Cargo Cult)
1967-72







Marcia Hafif
Red/Blue
1995






Helen Sadler






John Drury
Small Fountain
1997







Guy Overfelt
untitled documentation
1995







New York
mag with
Leo & wife
Hey, everybody, I have an idea! Let's go shopping! Spending money makes me feel good like nothing else does. And it can be profitable.

Just look at what happened to the wacky artist and collector Simon Cerigo. In 1996 he bought a Mariko Mori photo from Jeffrey Deitch for $3,000. It showed the cute-as-a-button artist, who is the daughter of one of Japan's richest men, dressed up like a Hello Kitty character. In November 1997 Simon sold the work at Sotheby's for $17,000. Less expenses, that's about a 500 percent annual return. Have I got your attention?

Everybody's playing dress-up. Nothing suits photography better -- Andy Warhol knew that! There's a great "nude" of one of his superstars collaged together from Polaroids at SoHo Triad, this new photo gallery on Grand Street in SoHo. It's from the Playboy archives, and is priced at $30,000. I don't know if other Warhol photos are really available -- I remember that the Warhol estate valued all the photos it had at zero because they weren't actually sold as art work and supposedly only had archival value -- but the ArtNet auction database has about 70 of them listed. People will sell anything! And buy it!

Warhol's successor in the glamour biz is Cindy Sherman, the artist who took dress-up and made it into a postmodernist metaphysic of the constructed subject. Now collectors and dealers construct a lively trade in them -- it seems like poetic justice, somehow -- in 1997 alone over 20 of her photographs were put up for auction. The most expensive, a lurid beaver shot with prosthesis and a leather s&m mask, went for $55,200. They're even selling her student work, for instance a collage of photo cutouts from 1976, in a pre-glamour college butch outfit, for $35,500.

But I would say that the best bet to follow on the heels of Mori is that Swiss artist Vanessa Beecroft, who puts on performances in which groups of charming young women wearing wigs stand around in panty hose. I think it says something about the structure of desire -- there's definitely a fetish thing going on there! Beecroft has some color photos on view at Deitch Projects that are unprofessional looking in a perfect avant-garde way. Some look like video captures, others seem to be from performances in Lyon and Geneva. They're $5,000 each.

Up at Mary Boone is a group show of photographs organized by Neville Wakefield, the British critic who writes for Elle Decor. "If Neville's involved," poet and art-critic Linda Yablonsky says, "it's got to be cool." The show has some really glossy color transparencies by Mori of herself wearing silver contact lenses. There's also a big 57 x 69 in. color photo by Yale art grad Anna Gaskell of twin through-the-looking-glass Alice in Wonderlands. Her debut last month at Casey Kaplan sold out, thanks to attendance from the Guggenheim Young Collectors Club. Or so I hear. This picture's big and only $3,500. I'd snap it up if I were you! It's also got some kind of pantyhose fetish going on!

Wakefield's show also has a 25-foot-long 360-degree panoramic print by Sam Taylor Wood, the wife of British superdealer Jay Jopling, that seems to show a fancy '60s apartment during a photo shoot and that has a naked girl in a fur coat in it. Yes, that's 25 feet long. Called Five Revolutionary Seconds X, it comes with speakers and a soundtrack of girls laughing. All photos should have speakers! It's priced at $25,000, the same price as a restored 1967 Corvette. Sam Taylor Wood also has a work in the Museum of Modern Art's "New Video from Great Britain."

Another hot property is Cameron Jamie, who has a show of kinky apartment-wrestling photographs and video projections at Spencer Brownstone in SoHo. You know apartment wrestling? It's a kind of s&m fetish that involves wrestling rather than sex! Lots of women body-builders actually make money doing it. Jamie has added his own peculiar innovations, notably by wearing a custom-made Mexican pro-wrestling mask (done as a self-portrait) and wrestling in long johns with a Michael Jackson look-alike. Wacky! But Jamie doesn't really have the presentation down -- most of the best images are just presented as little snapshots in a grid on an 8x10 -- which sells for a bargain-basement $600. Spencer, tell him to make them large, 40 x 60 in. at least! They sell the video for $100 -- another bargain!

I ran into the Time Out critic Jerry Saltz at the opening. "There's no nudes here," he joked. "Let's go."

Conceptual art can be sexy too. Back in 1971, Adrian Piper did a body-art piece she called Food for the Spirit, for which she fasted and then took a self-portrait , Conceptual-art style, standing in front of a mirror in various stages of undress in a mostly darkened room. I like the nakeder ones. Thomas Erben has finally actually published an edition of the piece. They're priced at $1,800 for each photo and $21,000 for the whole set of 14. One of the two complete sets is on hold. A museum is interested, he said.

There's a great photo by Martha Rosler in a group show at Jay Gorney that illustrates perfectly the way that the good-ol' U.S.A. beauty spectacle is conquering the world. The picture, called Untitled (Cargo Cult) from her "Beauty Knows No Pain" series, is of a bunch of those huge metal containers at a loading dock but she's collaged onto them the faces of models from fashion magazines. It's from an edition of 10, and is priced at $5,500, plus $250 for the frame. Political art ain't cheap. Rumor is that Jay's moving to Chelsea.

Art ain't all girly shots, I guess. Monochrome painter Marcia Hafif had a great installation at Mary Barone called Red/Blue, 1995, that includes a square red painting and a television monitor with cathode-blue screen. It's $10,000. Get it now; after March Barone moves her operation to London. Do you go to Team on 26th Street, Jose Freire's new operation? Right now they've got up some jewel-like paintings by Helen Sadler of girls "in ecstasy" based on photos of young women in the crowds at Elvis concerts. They remind me of Bernini's Saint Theresa! They're $750, a bargain. The great young sculptor John Drury had a fantastic Santa fountain, with twin streams of water arching out of Saint Nick's eyes, for sale at Printed Matter for $500. It will be a smart deal for whomever gets John's art career off the ground!

Somebody really should go by Cheim & Read and get the 1977 wall piece by John Chamberlain for $230,000. It's made of old strips of automobile scraps and has a nice period feel.

Did you see the big painting by Portuguese Juliao Sarmento at Sean Kelly? The huge, 22-foot-long triptych called Suffering, Despair and Ascent was at Portugal's pavilion at the 47th Venice Biennale last year. It shows three headless female figures in Sarmento's trademark plain drawing style, each with a truncated finger and each with a slit drawn on the body. Art in America critic Richard Vine says Sarmento has a sadomasochistic view of women! It sold for $100,000. Smaller paintings are $10,000. Sarmento is way hot; there's been four catalogues published of the guy's work since last June.

At Bronwyn Keenan, who has moved her gallery to the bottom of Crosby Street, a very recherché neighborhood, there is what neo-Conceptual artist Guy Overfelt calls "photographic evidence" from a three-year "endurance piece" during which he lived at the security-conscious South Beach Marina apartment complex in San Francisco. He found it crazed and ominous, he told me. He also cut his hair and got a job at Merrill Lynch. Now that's an artistic practice. For sale is a multi-colored timeline done right on the wall, showing the mundane events at work and at home, priced oddly at $4,599.98 -- though you can buy the same thing on a diskette for $99.98. He has impressive 15-inch-square photos of the apartment-house health club, hallways and the like for $909.99. They're in editions of 10.

Ooh, so much to tell but I can't stand it any more! Instead, here, take two months worth of accumulated gossip and bad jokes:

Who bought the Bill Traylor at Sotheby's for $178,500 last fall? The underbidder was Oprah Winfrey but the work was bought by aliens from Mars, and next week's X Files is going to be all about it.

Marian Goodman discovered that Anselm Kiefer would be having his next show at Larry Gagosian in Soho when she opened the January Artforum and saw the ad. Kiefer has been showing with her for 18 years. That's a bit much!

Look for the Whitney Museum in John Waters' next film, called Pecker after its protagonist, a Nan Goldin-ish photographer who has an exhibition there. Unlike Nan, Pecker turns his back on the art world following his success.

Overheard at lunch at Mezzo Giorno in SoHo: Megadealer Larry Gagosian telling someone he sold a Cy Twombly work for Steve Martin and made him a $1-million profit.

Chase Manhattan art honcho Manuel Gonzalez was joking about spending five hours posing with a dead phone in his hand -- an audition for the role of The Man from Chase in the bank's print advertising campaign.

Latest on the Jeffrey Deitch front -- his overlords at Sotheby's are pressuring him to shut down his SoHo outposts and concentrate his energies on Emmerich uptown.

Everyone's commenting on the "Leo in Winter" article in last week's New York magazine, which has a great photo of the 90-year-old dean of Pop art and Barbara, his 32-year-old bride. I couldn't get through it -- they're so "blah-blah-blah" in the print world! They say she won't let anyone see him or talk to him on the phone -- maybe she's got him forging late de Koonings! Ha-ha-ha. Just a joke.

ROSETTA STONE lives and works in New York.