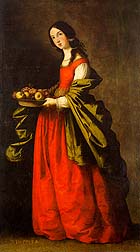 Francisco de Zurbarán
Saint Dorothea
ca. 1650
$2,092,500 at Christie's







Anthony Van Dyck
Venus and Adonis
ca. 1618-21
$992,500 at Christie's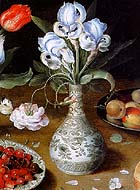 Osias Beert
Lilies and Roses in a Wanli Kraak porselein Vase...
(detail)
ca. 1610-20
$926,500 at Christie's







Judith Leyster
A young Lady holding a Lute...
ca. 1631
$607,500 at Christie's







Aert de Gelder
Esther at her Toilet
(detail)
ca. 1684
$772,500 at Christie's







El Greco
A Boy lighting a Candle
ca. 1570-75
pass at $5,000,000 at Christie's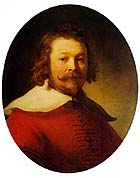 Rembrandt
Portrait of a Bearded Man in a Red Coat
1633
$9,077,500 at Sotheby's







Rubens
The Head of John the Baptist presented to Salome
ca. 1608
(detail)
$5,502,500 at Sotheby's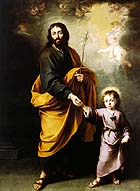 Murillo
Saint Joseph Taking the Hand of the Christ Child ...
ca. 1618-21
$2,752,500 at Sotheby's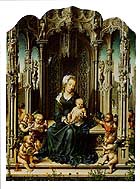 Jan Gossaert
The Madonna and Child Enthroned...
ca. 1510
$1,652,500 at Sotheby's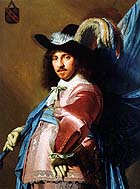 Johannes Cornelisz Verspronck
Portrait of Andries Stilte...
1640
$1,652,500 at Sotheby's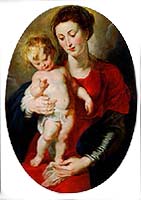 Rubens
The Madonna Holding a Rosary...
ca. 1614-16
$1,652,500 at Sotheby's
Christie's Old Master Paintings, Jan. 29, 1998
"The Old Masters market continues to be exceptionally strong, with Dutch and Flemish l7th-century pictures again in the forefront. We also achieved excellent prices for Spanish paintings," said Anthony Crichton-Stuart of Christie's Old Master paintings department after its Jan. 29 sale. The sale totaled $21.7 million on 245 lots offered, of which 167 sold, or 68 percent. All prices quoted here include the auction house commission of 15 percent on the first $50,000 and 10 percent on the remainder.

Top lot in the sale was a breathtakingly beautiful Santa Dorothea by Francisco de Zurbarán (l598-l664), showing the virgin saint in a vivid red dress with full length wrap, holding a tray of apples and casting an inquisitive eye at the viewer. Saint Dorothea was condemned to death in ca. 303 by the Romans for refusing to recant her beliefs, and on the way to her execution was mocked by the scribe Theophilus, who asked her to send him apples from Jesus's garden. After her death a child appeared to the scribe with a basket of the fruit and as a result he converted to Christianity. The painting was one of the sale's more strongly contested lots, and sold for $2,092,500, more than double its high estimate.

Works by the Dutch can still give meaning to the notion of a "merry company." Light streams in through huge windows in a palatial mansion, where elegantly dressed men and women enjoy a fine banquet, while others sing and still others play board games. This Dutch interior by Dirck Hals and Dirck van Delen titled A Merry Company in Palatial House, pictured on the cover of the auction catalogue, brought $l,047,500 after fierce bidding. Its high estimate had been $800,000.

A lusty painting by Anthony van Dyck (1599-l641) titled Venus and Adonis (l620) shows the lovers in a wood surrounded by playful mastiffs. Venus seems to bid Adonis to stay, while he moves to depart through the countryside. The lot was sold at $992,500, slightly below its presale estimate of $l,000,000-$1,500,000.

Dutch still life paintings were at the heart of this sale. Among these offerings was an Osias Beert (ca. l580-l624) of lilies and roses in a highly attractive porcelain vase. Fruits, flowers and various drinks cover an ample-sized canvas that invites sight, scent and touch. It sold to a European dealer for $926,500, exceeding the presale estimate of $600,000-$800,000.

An unusually luxuriant painting of Esther at Her Toilet by the Dutch painter Aert de Gelder (l645-l727) was also deemed exceptional by hopeful bidders at the sale. The theme of Esther was very popular in the Netherlands at that time and de Gelder was thought to have produced canvases featuring Esther a full l7 times, including three on this specific topic. The work sold for $772,500, an auction record for the artist, exceeding the estimate of $400,000-$600,000.

A Veronese that had once been in the Walter Chrysler collection, Christ and the Widow of Nain, was one of the high points of the auction. The highly finished canvas, with its carefully calibrated colors and the serene Christ, brought vigorous bidding. It sold for $717,500 (est. $300,000-$500,000).

Over the past decades, Spanish still-lifes have received wide recognition in the U.S. for their excellent coloring and festive appearance. The name of Juan van der Hamen y Leon (l596-l631) stands out in particular. The patronage of the Spanish royal house brought him many commissions from all over Spain and Europe. The distinguishing characteristic of this sale's offering Grapes and Pomegranates in a Basket is a stone ledge, the only one present in any of his paintings. The sale set an auction record for der Hamen at $662,500 (est. $400,000-$600,000).

A huge panorama of Constantinople by the French artist Antoine de Favray (l706-l79l), measuring over eight feet wide and crammed with details of the city, brought intense bidding. The sunlit Bosphorus traversed by colorful boats and a landscape of minarets, mosques and villas excited the imagination of auction viewers and bidders, sending the price of this painting to $607,500, an auction record for the artist (despite a presale estimate of $600,000-$800,000).

One of the most brilliant artists of l7th-century Holland was a woman, Judith Leyster (l609-l660). Her huge output of portraits, genre paintings and still-lifes can be found in major museums. Her handling of light and shadow brings back memories of de La Tour. The painting A Young Lady Holding a Lute with a Music Score on her Lap, in a Candlelit Interior (ca. l63l), was one of the delights of the auction. It established a new auction record for the artist at $607,500, well above its presale estimate of $100,000-$150,000.

The Old Masters market is apparently well and heading higher, even if the star item of this sale, El Greco's Boy Lighting a Candle failed to reach its $5,000,000-plus reserve.

Sotheby's Old Master paintings, Jan. 30,1998
A chic and enthusiastic standing-room-only crowd, speaking all the tongues of Europe, helped spark towering sales results exceeding $53 million at Sotheby's two-part day sale of Old Master paintings on Jan. 30, 1998. Of 303 lots offered, only 83 remained unsold -- a success rate of almost 73 percent by lot. By price, the sale scored almost 90 percent sold.

The top two items in the sale went to the same bidder, a Milwaukee dealer and collector who spent more than $l4.5 million to garner a Rembrandt and a Rubens, accounting for close to 27 percent of the sale total.

Rembrandt's Portrait of a Bearded Man in a Red Coat, signed and dated l633, had only recently been discovered, its whereabouts unknown since l930. Evaluated by the Stichting Foundation, the Rembrandt research organization whose word on authenticity is gospel, the painting had been estimated at around $4 million. But after a spirited salesroom duel, the work was sold for $9,077,500, the second highest price ever paid for a Rembrandt at auction.

Peter Paul Rubens' Head of John the Baptist Presented to Salome, painted ca. l608, very early in the artist's career, fetched $5,502,500, above its presale estimate and the second highest price ever paid at auction for a Rubens. The brilliantly colored work, striking in its strong Caravagioesque construction, is painted on four oak panels. It shows the prone and chained body of John, with blood spurting from his neck, while Salome's maid grasps the tongue of the lifeless head, perhaps (according to art historian Julius Held) in reference to the saint's verbal reproach of Herod's incest.

The large (measuring over seven feet tall) Saint Joseph taking the Hand of the Christ Child by Bartolome Esteban Murillo (l6l8-l682), offered by a French bank, sold for $2,752,500, making it runner-up for the Murillo auction record. A tender example of Murillo's work, it shows the mature Saint Joseph holding the small hand of the Christ child, both intently gazing ahead while a heavenly choir surrounds them.

The fourth highest priced lot in the sale was Still Life of an Iris, Variegated Tulips... by Abraham Mignon (l640-l679), a German-born follower of De Heem. One of the sale's many fine still lifes, the painting was bought by a dealer for $2,092,500. The work has an interesting history: it was a wedding gift from Joseph Bonaparte, a brother of Napoleon, to Elizabeth Patterson on her marriage to their younger brother Jerome in l803. The silky, iridescent quality of the painting was in part responsible for the high price, almost ten times the presale high estimate of $200,000.

A striking Northern Renaissance Madonna and Child composition by Jan Gossaert, called Mabuse (ca. l478-l532), entitled The Madonna and Child Enthroned Accompanied by Six Music-Making Angels, sold for $1,652,500, slightly above its low estimate of $1,500,000. The highly ornate oil-on-wood panel shows strong Italian influences as well as a debt to Durer.

A glitteringly alive Verspronck (l606-l662) Portrait of Andries Stilte (1640), picturing a Dutch Gentleman in a civic militia uniform of shining silk and prominent lace, wearing a jaunty befeathered hat, brought a glittering $l,652,500, more than doubling its low estimate of $700,000.

A second Rubens, The Madonna Holding a Rosary with the Standing Christ Child Blessing, a brilliantly colored oil-on-panel datable to about 1614-16, recalls a painting by Bellini and was originally held by a Belgian convent. It sold for $l,652,500, more than double its presale high estimate of $800,000.

A View of the Piazza Del Popolo, Rome by the Dutch painter Gaspar van Wittel, called Vanvitelli (circ. l652-l736) brought spirited bidding, reaching more than twice the high estimate of $700,000. Done in l792, the painting depicts the northern approaches to the Piazza, near where Dutch painters in Rome chose to live at that time. The sky is faintly clouded, but the spires of the matching churches Santa Maria di Monte and Santa Maria dei Miracoli add a festive, solemn touch.

Venice and in particular a magnificient view of the Isola della Guidecca with the Church of the Redentore by Francesco Guardi (l712-1793) garnered $l,322,500 almost double its high estimate of $700,000. A work of Guardi's middle years, this painting features a very special setting in Venice and was probably painted on commission.

Jacob van Ruisdael's Winter Landscape with a Frozen Canal, Farmhouses and Windmill Beyond rounds out the top ten of this great sale. At $l,322,500, it was way above its high estimate $900,000. Bleak in its wintry setting, yet highly vigorous in its colors and execution, it features the omnipresent windmill, a large yellow building and a few solitary figures groping their way through an early January landscape.

This sale will long be remembered for setting new auction records for a dozen artists: Netscher, A.Mignon, Cornelis de Man, Simon de Vlieger, Jacob and Solomon van Ruisdael, Mabuse, Verspronck, Berchem Volaire, van Wittel, H.T. Brugghen.

FRED STERN writes on art and antiques.