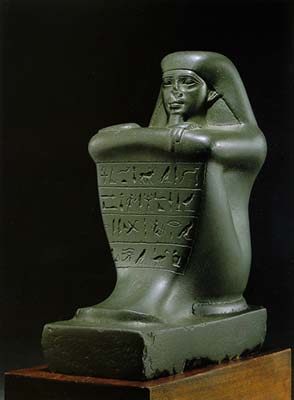 General Pa-Kyr
664-610 B.C.
$684,500





Ushabti of Ay
ca. 1350-1330 B.C.
$189,000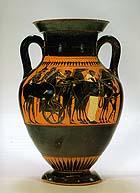 Priam Amphora
520-510 B.C.
$145,000





Roman mosaic
of Oceanus,
ca. 2nd-3rd century A.D.
$85,000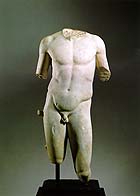 Marble torso
of a youth,
ca. 1st century A.D.
$85,000





Fish flask
1540-1292 B.C.
$68,500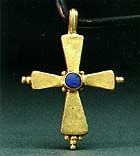 Byzantine gold
cross
ca. 5th-6th century A.D.
$85,000






Bronze Corinthian helmet,
ca. early 6th century B.C.
$79,500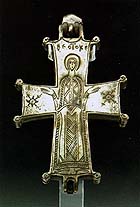 Byzantine
silver reliquary
cross
ca. 9th-10th century A.D.
$70,700






Aphrodite,
Roman,
ca. 1st cent. A.D.
$51,750







Merovingian brooch
ca. late 6th century A.D.
$43,700
Sotheby's Antiquities and Islamic Art,
Dec. 17
Sotheby's mounted a very strong antiquities auction in New York on Dec. 17, sparked by objects from the Barratt-Brown Collection. All in all, 366 of the 467 lots sold, about 85 percent, for a total of $3,638,010. According to Sotheby's antiquities expert Dick Keresey, the sale "demonstrated the continued strength in the market, greatly aided by the fact that many of the objects had not been seen on the market for many years. (All prices given here include the auction-house commission, 15 percent on the first $50,000 and 10 percent on the remainder.)

Of particular note was a green basalt statue of General Pa-Kyr, dating from Egypt's 26th Dynasty (lot 52). It fetched $684,500, more than double its high estimate of $250,000. The brilliantly executed figure is seated on a flat round pillow on a high rectangular base, and has hieroglyphics on its front and back. The general looks straight at the observer with an air of strength and command.

The second highest price in the sale came for a brilliantly colored polychrome faience Ushabti of Ay, "Father of the God," dating to the late 18th Dynasty, about 1350 B.C. (lot 37). The ushabti (a figurine of the mummy, also placed in the tomb) sold for $189,000, more than four times its high estimate of $60,000. This highly stylized work was also from the Barratt-Brown Collection.

A ca. 520-510 B.C. Attic Black-figure Panel Amphora from the estate of Joseph E. Levine, with an echinus foot and cylindrical handles, brought $145,000 (est. $40,000-$60,000). The Priam Painter is highly esteemed for his imaginative compositions; this work has a scene of Herakles wrestling with the Nemean lion on one side and departure scene with a youth and three horses on the other.

A surprise among the Egyptian property was an Indurated Yellow Limestone head of a man from the 18th Dynasty, Period of Tuthmosis III (lot 45), which brought $90,500. Wearing a striated wig, the finely sculpted face has full lips and long almond-shaped eyes, and looks straight ahead. The jewel-like head is only two inches high.

A series of five mosaic panels proved a strong magnet for bidders. This group was led by a Roman mosaic fragment from the 2nd or 3rd century A.D. depicting the sea god Oceanus (lot 169), heavily bearded and with crustaceans emerging from the crown of his head and fish swimming around his neck This object was bid up to $85,000 (est. $40,000-$60,000).

Equally strong was a group of marble torsos and heads from the Roman Empire. A torso of a youth from about the 1st century A.D. (lot 117) that appeared to be inspired by the 5th-century B.C. Greek sculptor Polykleitos, brought $85,000 (est. $70,000-$90,000).

The Barratt-Brown Collection brought yet another surprise. A pale blue faience fish flask of the 18th Dynasty, 1540-1292 B.C., with a bemused facial expression, a circular mouth formed into a spout and eyes, gills, fins and scales painted black (lot 60), caused fierce bidding in the room and on the telephone. It finally sold at $68,500, more than quadruple its high estimate of $15,000.

Also notable was a stunning granite fragment of the Goddess Skhmet, Thebes, of the 18th Dynasty Amenhotep III, from around 1390 B.C. (lot 47), which brought $20,700 (est. $8,000-$12,000). Though the goddess' lion head is missing here, her ruff simulating the petals of an open lotus flower, six-stranded collar and striated tripartite wig are all present.

A wood figure of a man dating from the 10-11th Dynasty 2080-1938 B.C. (lot 42) offered by the Fort Wayne Museum in Indiana for the benefit of future acquisitions realized $26,450, doubling its low estimate of $12,000. The work is only 18 inches tall, but still very impressive.

Other prices that far exceeded the presale estimates included a crescent-shaped ivory magic wand from the 12th-13th Dynasty (lot 56) at $8,050 ($3,000-$5,000); a hematite weight from the 18th Dynasty in the shape of a hippopotamus (lot 65) for $14,900 (est. $3,500-$4,500); and a bronze figure of an otter from 716-730 B.C. (lot 72) that brought $12,650 (est. $6,000-$9,000).

Christie's Antiquities Sale, Dec. 18
Christie's Antiquities auction on Dec. 18 achieved the highest total since the department was opened more than five years ago, according to Christie's antiquities head G. Max Bernheimer. Of 347 lots offered, 230 sold for a total of $1,811,661, roughly 62 percent by dollar.

The surprising star of the sale appeared to be a simple Byzantine gold cross, ca. 5th-6th century A.D. (lot 210), with a circular collar at the center set with lapis lazuli. Bidding for this 4.5 cm. jewel was extremely fierce, especially on the phones. It was knocked down at $85,000, well above its high estimate of $20,000.

A fierce contest also was waged for a bronze Corinthian helmet from the early 6th century B.C. (lot 122). The hammered sheet bronze piece, with its elegantly shaped noseguard and eye cut-outs and flaring neckguard, caused bidders to run the helmet up to $79,500 (est. $40,000-$60,000).

Another Byzantine cross in silver of a somewhat later date, ca. 9th-10th century A.D. (lot 304), reached $70,700, soaring past its high estimate of $15,000. The cross is engraved with the image of the Virgin Orans and inscribed in Greek with the words "Progenitor of God."

A black granite portrait of a pharaoh from a sphinx (lot 75), dating from the 30th Dynasty, 380-200 B.C., depicted wearing a striped nemis-headdress with uraeus and a horizontal pigtail, proved a strong favorite with bidders who brought it to $63,000 (est. $35,000-$45,000).

Among the Attic Black-figure neck amphoras, an object attributed to the circle of the Antimene Painter (lot 101) from an Australian collector proved irresistible to a European bidder at $52,900 (est. $50,000-$70,000). Other kraters fared somewhat better, including an Apulian Red-figure Amphora, also offered by an Australian collector, which brought $13,800.

A beautiful marble torso of Aphrodite (lot 162), which, according to its provenance, was listed in the catalogue acquired at the Bryn Mawr bookshop in Georgetown, sold for $51,750, well above its high estimate of $35,000. The headless figure preserves tendrils of hair on both shoulders.

A Roman Carnelian intaglio ringstone from the 1st century A.D. (lot 205), engraved with a Bacchic procession including a faun and a naiad embracing with other Greek mythological figures in the background, was set in a gold ring in the late 19th century. Bidders brought this jewel to $35,800 (est. $10,000-$15,000).

A late Roman-Byzantine marble mosaic roundel depicting three foxes around a basket of eggs sold for a surprising $32,200. An Iberian figure of a hare, a highly stylized rendering with exaggerated fore- and hindlegs, reached $9,200.

A Roman marble figure of a boy from the first century B.C./A.D. reached a high of $10,950. The pleasing head inclined to the right, with wavy locks and full hair that created a magical impression.

A Byzantine cross from the 7th century A.D., showing the Virgin and the infant Jesus, sold at $27,600.

A Merovingian gilt bronze bow brooch proved to be another star of the sale. Found in a German cemetery between 1850 and 1857, the piece appeared at Sotheby's in London in 1965. Cast with a rectangular box-like head plate and perforated for various attachments, it features a terminal with an animal mask. Stunning in appearance and only four inches long, it was quickly bid up to $43,700, almost four times its presale high estimate of $12,000.

Finally, a group of three Byzantine silver belt buckles from the 7th century A.D. fetched $12,650. They were originally figured at $2,500-$3,300.

The key item in the sale, a black granite royal portrait of Nectanebo II from the 30th dynasty, 360-343 B.C., did not reach its minimum of $600,000 and was withdrawn at $500,000, as was a basalt portrait bust of a queen from the Ptolemaic Period, 305-200 B.C., which failed minimum by $5,000.

FRED STERN is an auction reporter.