El Greco and Workshop
Saint Francis Standing in Meditation
$574,500





Francesco Panini
Capriccio Views of Rome:
The Temple of Concord...
(1 of 2 panels)
$112,500





Thomas Willeboirts Bosschaert
and Jan Davidsz de Heem
A Bacchanale
$101,500





Robert Carver
An Arcadian Landscape...
1764
$101,500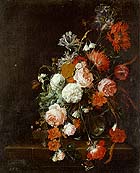 David Cornelisz de Heem
Roses, Poppies, Ears of Corn ...
$90,500




Venetian School
Portrait of a Sultana ...
17th century
$85,000





François Boucher
The Dream of Saint Joseph
$57,500





Joos de Momper
Travelers in a Rocky Landscape
with a Church Beyond
$156,500




Jan van Kessel, the Elder
Still Life of Grapes and Plums...
$79,500





Roman school
Still Life of Fruit in a Landscape
with a Putto
ca. 1700
$51,750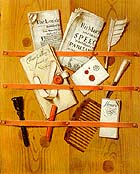 Edward Collier
Trompe L'Oeil Still Life
of a Letter Rack...
$46,000




Francesco de Rosa
Noli me Tangere
$40,250
Christie's Old Masters Sale, Oct. 15, 1998
An exuberant Anthony Crichton-Stuart, head of Christie's Old Master paintings department, hailed 1998 as the year for Old Masters at Christie's. "Our sales" he stated, "have established record prices for nine artists at auction and have realized a total of $43,000,000. And we are not done yet. Next Friday we will add to this record with our 'Arts of France Auction.' It also looks great for our Spanish pictures with the phenomenal figure we achieved for our El Greco today. It is merely a precursor for our Spanish Gallery sales in January l999." Crichton-Stuart was referring to a new specialty auction scheduled for next year that will feature several centuries of Spanish art.

Christie's Oct. 15 sale was attended by a highly selective international crowd, a fine mix of trade representatives and collectors from the U.S., London and the continent.

A sale total of $2,115,680 was achieved (all figures include the house commission of 15 percent on the first $50,000 and 10 per cent on the remainder). Of the 101 lots offered, 59 sold, or about 58 percent.

The star was the highly dramatic Saint Francis Standing in Meditation by El Greco (1541-1614). The painting's provenance includes a church and a hermitage in Toledo, as well as an important private collection in Madrid. In the image, a skull, a crucifix and a piece of blue sky vie for the emasculated saint's attention but only the skull catches his eye. The painting sold for $574,000 (est. $400,000-$600,000) to an anonymous bidder.

Two Panini capricios of Rome, sold as a pair, achieved the next highest price at $112,500, slightly below the presale estimate of $120,000-$180,000. Panini's views were extremely in vogue among tourists of the period and examples of his work can be found in many galleries and museums.

The third highest price was for a Bachanale by two Dutch painters, Thomas W. Bosschaert (1614-1654), who did the figures, and J. Davidsz de Heem (1604-1684), who contributed the flora. Such collaborations were not unusual in 17th-century Dutch painting. Often the paintings benefit through such arrangements, bringing the best of two worlds into one grand visual experience. De Heem is considered by many to be the best still life painter the Netherlands ever had. The painting went to a London dealer for $101,500, five times the low estimate.

Robert Carver (d. 1791) was a distinguished Irish landscape painter as well as a scene painter for David Garrick at Drury Lane and Covent Garden. His Arcadian Landscape with Travelers and Herdsman on a Path reached seven times its low estimate of $15,000 when it sold for $101,500.

A luxuriant still life by David Cornelisz de Heem (1663-1718), Roses, Poppies, Ears of Corn and other Flowers in a Glass Vase, was acquired by a London dealer for $90,500 slightly above the low estimate of $80,000.

A charming Sultana in Turkish attire with a Capriccio of Istanbul visible through a window brought $85,000 from an anonymous buyer, four times its low estimate. Heavily jeweled, on six-inch-high platform shoes (!), the young woman looks out at the viewer. The painting is assigned to the Venetian School of the 17th century and is said to derive from a lost work by Titian.

Something of a disappointment was the price achieved for François Boucher's Dream of Saint Joseph (ca. 1721-4). Discovered only recently, the painting is one of the artist's earliest works and portrays an elaborate interior with four figures, with a wonderful feel for texture and volume. It went to an unnamed American gallery for $57,500, below its presale estimate of $60,000-$80,000.

A European collector picked up the still life Crayfish and Prawns on a Pewter Plate by Jan Van Der Hecke (1620-1684) for $51,750, almost double the low estimate. The bold lighting of fruit, bread and seafood contrasts with the softer rendition of glasses, cups and silverware.

Sotheby's Old Master Sale, Oct. 14, 1998
Modest figures were reached at Sotheby's Old Master Paintings sale, which put 209 lots on the block. About 66 percent, or 138 lots, found buyers, for a total of $1,804,082. Several star pieces far exceeded their estimates.

The top lot, a landscape by Joos de Momper (1564-1635), Travelers in a Rocky Landscape with Church, reached $156,500, five times its low estimate of $30,000. It appears to be a Dutch landscape, although de Momper, who spent considerable time in Italy, usually favored rocky mountain scenes with highly contrasting colors. He forms a bridge between the realistic painters and the Mannerists who would soon dominate the landscape genre.

The work of Jan van Kessel the Elder (1626-1679), a still life painter of high renown, has a tradition of fetching high prices. His Still Life of Grapes and Plums in a Bowl brought $79,500, four times the low estimate, and the second highest bid of the day.

A most interesting item in the sale was Still Life of Fruit in a Landscape with a Putto, loosely ascribed to the Roman school, ca. 1700. It is an outstanding example of a still life style widespread in Rome derived from Caravaggio and his followers. The Roman fruits are more opulent than their Dutch counterparts in Netherlandish paintings and the placement of the child's figure is definitely a Roman idea. At $51,750 the picture soared above its presale estimate of $7,000-$9,000.

Edward Collier (1640-after 1706) was a trompe l'oeil painter of high reputation. His work in this sale dates from 1695 and is exquisitely painted, showing everyday objects in interesting juxtapositions. Nearly doubling its low estimate, it came in at $46,000.

Francesco Furini's (1600-1646) painting of St. Ursula portrays a young semi-nude Italian woman in a dejected mood. It brought $40,250, way above its low estimate of $25,000.

The Portrait of King Charles with Ruffled Collar, a Pearl Drop Earring and a Feathered Beret by a follower of François Clouet (1522-1572) reached the fifth highest price. The original of this portrait -- in the form of a drawing -- is in the Bibliotheque Nationale in Paris. It is a Mannerist court portrait popular internationally in the later 16th century. The painting realized an amazing $40,250, almost seven times the low estimate of $6,000.

Noli me Tangere by Francesco de Rosa, called Pacecco de Rosa (ca. 1607-1656), depicts Christ with a Mary Magdalen figure pleading for recognition. Christ walks on, under threatening skies, in this large oil on canvas. It sold for $40,250, well above a high estimate of $30,000.

Two final thoughts on both sales:

It was interesting to watch the adept bidders bypass minor offerings no matter how low their estimates, then perk up as soon as a more interesting work made its appearance.

For the higher priced items, the telephone bidding became extremely active, climaxed by the sale of the El Greco at Christie's.


FRED STERN writes on art and antiques.