Buddha and bodhisattva, Wei dynasty
$497,500 at Christie's Sept. 16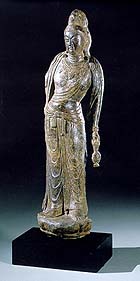 Bodhisattva, Tang dynasty
$464,500 at Christie's Sept. 16
Huanghuali four-poster bed, 17th century
$442,500 at Christie's Sept. 16

Porcelain jar, Choson period
$244,500 at Christie's Sept. 15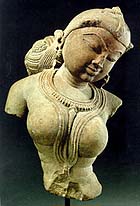 Devi
Northern India, 11th century
$123,500 at Christie's Sept. 17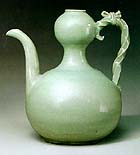 Celadon ewer
Koryo dynasty, 12th century
$90,500 at Sotheby's Sept. 13

Bronze astrological figures
Zhou dynasty
$244,500 at Christie's Sept. 16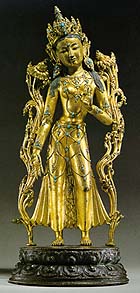 Tibetan gilt-bronze figure of Tara
15th century
$134,500 at Christie's Sept. 16
If you're thinking that Hurricane Floyd devastated the Asia Week auctions last month, and that Christie's and Sotheby's floated their tears in red ink, well, you are wrong.

Even at the height of the rains, anxious collectors stood in the auction halls raising their pencils or nodding their bespectacled heads bidding, bidding . . . to the tune of $22.5 million.

Not a sell-out, but respectable levels -- between 61 and 89 percent sold in dollar terms. The most interesting trend? The strong participation of U.S. collectors, who took the stellar items in most sales. This is a reverse of previous Asian art auctions, in which the greater proportion of buyers were from Asian countries. "Rare pieces doubled and tripled their estimates, with the top lots purchased by American collectors," said Athena Zonora, head of the Chinese art department at Christie's.

Christie's highlights
Christie's sale of "Chinese Sculptures from a Private Collection" on Sept. 16 brought out an enormous U.S. participation, with six of the top items going to American collectors.

A grey stone stele of a Buddha and a Bodhisattva (Buddha aspirant) dating to the Eastern Wei dynasty (534-550 AD) was the top item in the sale. The angular faces and the rounded bodies of the two figures are separated by a gigantic dragon, which in Chinese mythology is symbolic of the life-giving rain that is so important to the largely agricultural society. The work went for $497,500, more than twice its low estimate.

Another Bodhisattva, this one dating to the Tang dynasty (ca. 700 AD), was snatched up by an American collector for $464,500, some $84,000 over the low estimate.

In the Chinese furniture segment of the sale, top honors went to a 17th-century four-poster bed that exceeded its estimate by $122,000, again selling to a U.S. collector at $442,500.

Christie's Japanese and Korean art sale on Sept. 15 totaled $4,278,000. A rare Korean jar of blue and white porcelain, dating to the 18th century Choson period and decorated with a painting of a fleet of fishing boats, a hilltop pavilion and the outline of distant mountains, garnered $244,500. Only 14 Choson pieces were in this sale, a sure indication of their scarcity.

Yoshinori Munemura, head of Christie's Japanese and Korean department, commented, "For the second year the prices for Korean offerings showed increasing confidence."

Christie's Indian and Southeast Asian art sales on Sept. 17 got a similarly upbeat diagnosis from Hugo Weihe, head of Indian art at Christie's. "The market for exceptional pieces is fantastic, with enthusiastic participation from private collectors, especially Americans, and the strong emergence of young buyers."

One of the highest prices was achieved by an 11th-century Tibetan bronze of Padmapani, the most popular of the Bodhisattvas who is often called "The Lord Who Is Observing." The figure has large silver eyes and a handsome, sensitive face. It reached $189,500, which was still below the estimate.

My personal favorite was an 11th-century red sandstone figure from northern India of Devi, a Brahmin goddess. It brought almost four times its pre-sale estimate, reaching $123,500. Heavily decorated and sinuously carved, the figure has large almond-shaped eyes, a demure nose and a luxurious head of hair, perfectly coifed and braided.

Asia Week at Sotheby's
A separate Korean art sale at Sotheby's on Sept. 13 totaled $1,052,000. Sotheby's specialist Jigoung Koo remarked, "I am pleased with the strong results: 82 percent sold. It demonstrated that the market is back with new buyers . . . American collectors. A change from previous sales."

A double-gourd-form celadon ewer of the Koryo (12th century) dynasty brought $90,500, more than four times its low estimate. The demand for Koryo dynastic porcelain is high and the supply of suitable examples very limited.

Japanese buyers were back in force for the Sept. 14 sale of Japanese art. "Eighteenth and 19th-century prints did particularly well," said Sachiko Hori, specialist in charge. The sale realized $2,008,000.

As expected, the top lot in the Sept. 15 Chinese art sale was a set of Famille Verte month cups, dating to the Kangxi dynasty (late 17th century). These porcelain cups, which come in sets of 12, are traditionally decorated with the flowers of their corresponding months. The rarity and delicate translucency of this set sparked energetic bidding and brought $607,500, exceeding the low estimate by better than $57,000.

Over 27 other lots of dynastic porcelains were offered, all doing better than their estimates. "The strongest area of the market is Imperial porcelains, especially of the Qing dynasty (1644-1911 AD)," said James Godfrey, Sotheby's senior vice president.

A rare pair of bronze astrological figures from the late Zhou dynasty (200 BC) sold for $244,500, over double their low estimate. The bronzes stand just over six inches high and have distinctly simian features.

Sotheby's Indian and Southeast Asian art sale on Sept. 16 realized more than $2.5 million. "Top-quality Himalayan pieces fresh to the market and in exquisite condition attracted the highest prices," said Carlton Rochell Jr., head of Sotheby's Asia division.

For example, a fine Tibetan gilt-bronze figure of Tara, dating to the 15th century, brought $134,500, more than $50,000 above estimate. Tara is the mother goddess in Buddhism. Pearls and precious gems dot this exquisite figure, which was purchased by an American collector.


FRED STERN is Artnet Magazine's Asian art columnist.