Ernst Ludwig Kirchner,
Acrobatic Dancers Cartwheeling, 1913


Frank Stella,
Atvatabar, 1996


Frank Stella,
Calnogor, 1996


Stella at work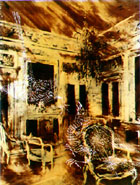 James Drake,
Salon of Eternal Souls,
1996

Judy Pfaff,
Eye to Eye, 1996
Judy Pfaff,
Heart Felt, 1996
Edouard Manet,
Les Courses, 1865-72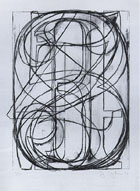 Jasper Johns,
0 Through 9, 1960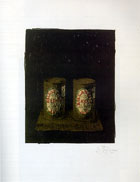 Jasper Johns,
Ale Cans, 1964
Jasper Johns,
Flags I, 1973

Roy Lichtenstein,
Thinking Nude, 1994,
all's fair at 
the print fair 
by Deborah Ripley-Solway

As participants in the recent Print Fair, 
Nov. 8-10, 1996, celebrated the launch of 
the new journal On Paper (formerly known as 
the Print Collector's Newsletter) in the 
baronial Tiffany Room at the Park Avenue 
Armory, feelings for many were bittersweet. 
A year ago at this time, the same crowd 
gathered to mourn the untimely loss of 
Marty Gordon, a brilliant art dealer and 
innovator. Marty's indispensable 
contributions to print world included 
publishing Gordon's Print Price Annual, the 
print-world bible of auction results, co-
founding the International Fine Print 
Dealers' Association, and helping to 
establish the IFPDA Fair, now in its 6th 
year. 
This fair is the only time you will see old 
master, modern and contemporary dealers, 89 
from around the world, competing for 
business under the same roof--a veritable 
Who's Who of the print world. Conspicuously 
absent, although listed in the fair 
program, was Susan Sheehan, known for 
offering blue-chip contemporary prints. 
(Also curiously absent was contemporary art 
in her apartment, featured this month in 
the November issue of Architectural 
Digest!). Sheehan may have missed the fair, 
but probably enjoyed the last laugh--
contemporary dealers, once again outsold 
and outnumbered, found themselves wondering 
if the fair is a suitable venue for them.
Some dealers tried a mass market approach, 
presenting their more, um, accessible 
wares. Pace Prints, which exhibited works 
from Canaletto to Kenny Scharf, felt 
fortunate to sell Morandi, Picasso and some 
old masters. Alan Cristea, former director 
of Waddington Graphics in London, had 
brought some of his new editions by 
contemporary artists, like Five Continents, 
a tondo by Francesco Clemente, but found 
the audience more interested in the Matisse 
prints he had.
Those galleries that specialized in modern 
material were enjoying their best fair 
ever. London dealer Robin Garton, who 
paused briefly at Christie's print auction 
to spend a record $123,500 for an early 
impression of Edvard Munch's woodcut, Two 
Women at the Shore, 1898, was busy making 
it all back. One notable sale was Ernst 
Kirchner's Acrobatic Dancers Cartwheeling, 
1913, an Expressionist woodcut of Berlin 
nightlife. 
Another Brit, Christopher Drake, found an 
(unnamed) museum to acquire his rare Paul 
Gauguin woodcut Manao Tupapau, printed 
personally by the artist in Paris in 1893 
before he returned to Tahiti for the last 
time. Venerable old master dealer C.G. 
Boerner exhibited a rich and inky Rembrandt 
Three Crosses etching, offered at $250,000, 
apparently a bargain for this impression. 
IFPDA president and vintage American print 
dealer Sylvan Cole was pleased to place 
John Sloan's etching Memory, which showed 
Sloan and his wife Dolly, with a Maryland 
collector, one of many new visitors to the 
Print Fair.
Back in the contemporary trenches, the 
improving economy has put publishers in the 
mood to fire up the presses, but new 
offerings at the fair were still slim, and 
choices were conservative. Pace Prints was 
showing a luminous blue version of last 
year's Mary Heilmann aquatint that was such 
a crowd-pleaser. Gemini Press from Los 
Angeles featured gorgeous new Richard Serra 
editions that were pretty much in the same 
format he's been using since 1980--
monumental, thickly printed lithographs 
that resemble shadows of his sculpture. 
Master printer Ken Tyler, who began his 
stellar career at Gemini and is now the 
owner of Tyler Graphics, once again 
demonstrated his technical prowess with a 
new series of 12 colorful mixed-medium 
tondos by Frank Stella entitled Imaginary 
Places II. A visit to Tyler's shop in 
Katonah is akin to visiting the testing 
facilities at NASA. To accommodate the 
increasingly complicated images, the 
printing process has become quite 
elaborate. Tyler is really making sculpture 
from paper.
Famed Vinalhaven Press, long known for its 
association with Robert Indiana, who lives 
next door on Vinalhaven Island in Maine, 
once again showed the innovative Alison Saar 
woodcuts completed two summers ago. 
Historic Tamarind Press, considered the 
birthplace of contemporary lithography, 
stretched its academic program to include a new 
work by Walton Ford. Dealer and publisher Brooke 
Alexander, long known for his many editions 
with Robert Artschwager, co-published a 
pleasant suite of pastel-colored lithos by 
Minimalist Imi Knoebel. 
There were numerous Jasper Johns prints 
throughout the fair, along with works by 
the subject of New York's other current 
retro, Ellsworth Kelly. Sol LeWitt, basking 
in his new-found popularity following the 
MOMA print retrospective, has been busy--it 
was hard to find a press he hadn't worked 
with.	
Truly original prints could be located with 
a diligent search. Landfall Press, the 25-
year-old lithography press from Chicago 
founded by former Tamarind master printer 
Jack Lemon, developed a special technique 
for El Paso artist James Drake, allowing 
him to create images directly onto the 
plates. The result was two stunning 
lithographs of ghostly interiors filled 
with stenciled tarantulas, scorpions and 
spiders. The titles, Salon of Eternal Souls 
and Salon of a Thousand Souls, were 
inspired by Dante's Inferno, which the 
artist had read during his stay in Chicago.
The most exciting prints at the fair were 
by Judy Pfaff, who had worked for the first 
time with the University of Wisconsin-
affiliated Tandem Press in Madison, Wisc. 
Pfaff was making a fund-raiser print there 
when she became entranced, eventually 
producing 11 prints combining lithography 
and etching, the largest measuring just 
over 14 x 114 in., each with its own hand-
stenciled and silver-leafed frame, 
inspired, Pfaff said, by the Book of Kells. 
Printed on a specially made Crown Kozu rice 
paper, the lithographic images were taken 
from Hindu ledger books while sources for 
the etching plates included a Tibetan book 
of medicine and healing. Pfaff's state of 
mind during the project is recorded in the 
prints themselves. The early ones are 
colorful and crowded while the final prints 
are large expanses of paper with minimal 
images, as if the artist had finally 
"emptied out." Pfaff is delighted with the 
results and collectors are too, since the 
prints are selling rapidly.
Although results at the fair were generally 
considered to be uneven, dealers were happy 
with the turnout. Many museum curators and 
out-of-town collectors came in especially 
for the fair and, fortunately, people were 
starting to buy. It looks like the print 
market has rounded the corner.
SPECIAL AUCTION REPORT
Contemporary and modern sales at the fair 
mirrored auction results, where modern 
prints were overall still the winners. At 
Christie's modern and old master print sale 
on Nov. 6, Henri Matisse's Jazz Portfolio, 
1947, fetched a record $500,000, selling to 
a Japanese buyer. A monoprint by Degas, 
Mary Cassat at the Louvre, 1880, sold for 
$343,500 to Chicago print dealer Alice 
Adams and Manet's lithograph, Les Courses, 
1865-67, from the John Warrington 
Collection, made $235,000. 
The next day, contemporary dealers held 
their breath to see how the David Whitney 
collection of Jasper Johns prints would 
fare at Christie's contemporary print sale 
on Nov. 7. Although slightly on the low 
side, every lot sold. An important 
lithograph, 0-9, 1960, which made $44,000 
in 1992, was bid up to $64,100. Bargains 
could be had, relatively speaking. The 
cover lot, the color lithograph Ale Cans, 
1964, made $129,000, well below the 
$308,000 the work sold for in 1989. 
One collector managed to buy two copies of 
Johns' printDecoys at Christie's on 
Nov. 7 for the price that one Decoy 
brought in 1990--$99,000. The new.0 prices 
were Decoy, 1971, for $55,200 and 
Decoy II, 1973, for $46,000. Over at 
Sotheby's on Nov. 9, another impression of 
Decoy didn't sell, and specialist Nina del 
Rio explained that "It's unusual to have so 
many Decoys up at auction at the same 
time. There are a limited number of Decoy 
collectors."
Nobody could explain what happened to the 
next lot at Sotheby's after the unsold 
Decoy. Jasper Johns Flags I, a color 
silkscreen from 1973 estimated at $80,000-
$100,000, made $233,500. Dealers were 
stunned while two collectors, one on the 
phone and one in the room (who no one 
recognized), conducted a battle royal for a 
print that could ordinarily be had for 
around $100,000. This same collector went 
on to greater heights of folly, purchasing 
Lichtenstein's Thinking Nude, estimated at 
$6,000-$8,000, for $24,000! Released by 
Tyler in 1994, and although officially sold 
out, it could have been found for half that 
price. One print publisher cringed, commenting 
that the price "was just plain stupid." The 
bizarre results led to considerable talk among 
observers. Who was on the other end of that 
telephone, people wanted to know, a naive 
buyer or someone who had an interest in seeing 
the prices soar? An undisputed sales result 
was the Warhol Flower portfolio that made 
a world record $112,500. 90% of all lots sold. 
Private dealer Glenn Dranoff remarked that 
contemporary sales results reflect a 
continuing trend of improvement that started 
16 months ago, and noted that new collectors 
are not only browsing, but buying, which will 
drive prices up.
MATTHEW MARKS IN CHELSEA
If bone-chilling wind and rain did not 
deter hardy art viewers who went in early 
December to the grand opening of Matthew 
Marks's newest gallery on 24th Street in 
Chelsea, then the construction-site 
ambiance may have. Absent any signage 
indicating that a drawing show was on view 
upstairs, in-the-know visitors picked their 
way through building debris to find a 
spectacular show in the unfinished 
galleries on the second floor. The 
exhibition included works by Matisse, 
Degas, Picasso and scores of others. People 
crowded in to see the works while workmen 
trudged in and out carrying planks of wood. 
One museum curator cringed as a worker, 
sweeping the floor under a Matisse, filled 
the gallery with a cloud of dust. The 
unframed Serra drawing was a dust magnet. 
What could Matthew have been thinking? Most 
art improves with a little battering, but 
the insurance premiums must be horrendous!
DEBORAH RIPLEY-SOLWAY is a private dealer 
of prints and multiples and lives in 
Brooklyn.