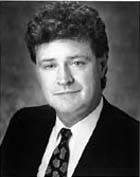 Graham Beal,
Director of
of LA County Museum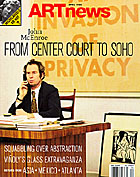 John McEnroe on
the cover of ARTnews
April 1996

visual reality
by Lee Rosenbaum



4/10/96


SOUVENIRS OF CEZANNE 


"It's heaven when you/ Find CÚzanne on 
the menu." The merchandise mavens at 
London's Tate Gallery may have been 
singing this variant on the old lyrics
while slapping together the world's 
first "CÚzannewich," a Provencal-style 
melange of mozzarella, avocado, pine 
nuts, basil and Mediterranean bread 
with sun-dried tomatoes, dished out in 
connection with the blockbuster 
CÚzanne retrospective that originated 
at Paris's Grand Palais. The show 
(not the sandwich) moves to the 
Philadelphia Museum of Art on May 30.
Not to be outdone, Philadelphia has 
come up with its own commercial concept
(still tentative at this writing): 
Are you ready for the "Bathers" shower 
curtain? When Degas' "Toilette"
appears on toilet paper, we'll know
that museum merchandisers have touched 
bottom.
FAQ's 

What strange synergy has caused the 
boards of three major New York museums 
(Museum of Modern Art, Guggenheim, 
Whitney) to be headed by executives 
(Ronald Lauder, Ronald Perelman and 
Leonard Lauder, respectively) of 
cosmetics conglomerates, Estee Lauder
and Revlon, both of which have 
recently been taken public on the New
York Stock Exchange?
Who is Graham W.J. Beal and how long 
will he last at the director-devouring
Los Angeles County Museum of Art?
Will anyone ever update the 
Metropolitan Museum's stale "news" 
page on the Web?
Did the tennis-loving editor/publisher 
of ARTnews, Milton Esterow, agree to
interview John McEnroe and put him on 
the magazine's April cover in exchange
for drop-shot lessons?
If Disney acquires Sotheby's (via Sid
Bass's stock grab), will the world's 
newest, scariest ride be 
"Auctionland"? (Jeffrey Hogrefe
reported in the April 1 New York
Observer that Bass, a large 
stockholder in Disney as well as a 
personal friend of Sotheby's chairman, 
A. Alfred Taubman, recently acquired 5 
percent of Sotheby's and has proposed
that Disney's Michael Eisner be named 
to Sotheby's board.)
Speaking of rollercoasters, do some
dealers secretly wish that Ryoei 
Saito, the recently deceased owner of
the world's two most expensive 
paintings at auction, had precluded 
the possible return to the market of
his inflated van Gogh (Portrait of Dr. 
Gachet, $82.5 million) and Renoir (Au 
Moulin de la Galette, $78.1 million) 
by fulfilling his previously stated 
desire to be buried with his booty?
(Correct answers to be published in 
next Friday's New York Times, in Carol
Vogel's "Inside Art" column. Winners 
eligible for trips to Disney World or
Art Chicago 1996.)
NEWS FLASH:

Fresh off the plane from Paris, where
the Louvre's sculpture curator, Jean-
Rene Gaborit, expressed strong doubts 
about Kathleen Weil-Garris Brandt's 
recent Michelangelo attribution, 
Philippe de Montebello, director of 
the Metropolitan Museum, now says 
that the joint Louvre-Met Michelangelo 
exhibition, if any, will occur three to 
four years from now and will be a 
"dispassionate display...not the 
consecration of an attribution." In a 
March 22 article about Brandt's 
recent address to an audience of art 
historians at the Louvre, Agence 
France-Presse reported Gaborit's 
opinion that "the sculpture might be a 
work of a late Florentine mannerist." 
Two other French scholars, Francoise 
de la Moureyre and Gabriella Raci-
Courtois, also gave thumbs-down to the 
Michelangelo attribution, according to 
the article. De Montebello and his 
counterpart at the Louvre, Pierre
Rosenberg, were to continue their 
transatlantic exhibition talks in New 
York this month (see original story in 
Visual Reality, 3/22/96).

LEE ROSENBAUM has written on the art world 
for 24 years and is author of The Complete 
Guide to Collecting Art (Knopf). She is 
contributing editor of  ARTnews magazine and 
writes frequently for the Wall Street 
Journal "Leisure & Arts" page and Art in 
America magazine. Her articles have also 
appeared in the New York Times, London 
Daily Telegraph, Barron's, Money, and New 
York, among others.