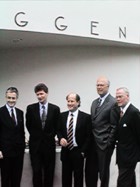 Left to right:
Rolf-Dieter
Leister, Chairman,
Deutsche Telekom
Supervisory
Board, Bonn;
Ron Sommer,
Ronald Perelman,
Thomas Krens,
and Herbert Wirz,
President, Deutsche
Telekom Inc.,
New York

Left to right:
Ronald Perelman,
Guggenheim
Board Chairman
with Ron Sommer of
Deutsche Telekom,
and Thomas Krens,
Director of
the Guggenheim
signing agreement
The Solomon R.
Guggenheim Museum
Soho Branch in
'hourglass mode'

Marie-Jo Lafontaine
Tears of Steel, 1988
video and sound
installation,
coming next June
at the Guggenheim
SoHo in "Mediascape."
Collection ZKM.

Jeffrey Shaw
The Legible City,
1991
video installation,
in "Mediascape."
Collection ZKM.

Nam June Paik
Passage, 1986
video sculpture,
in "Mediascape."
Collection ZKM
Bill Viola
The City of Man, 1989
video installation, in
"Mediascape."
Collection ZKM.

guggenheim soho
to go high-tech
by Lee Rosenbaum
The museum world's premier peripatetic 
dealmaker is at it again: Belying the buzz 
that the faltering Guggenheim SoHo is on 
the endangered list, director Tom Krens and 
his old pal from their teaching days, 
Heinrich Klotz, now president of the Center
for Art and Media Technology, Karlsruhe, 
Germany, have hatched an audacious plan to 
transform the SoHo museum into a showcase 
for cutting-edge multimedia art. They've 
found a media Medici in Deutsche Telekom, 
the German telecommunications company. The 
idea is to create an important venue for a 
developing art form while boosting the 
Guggenheim SoHo's anemic attendance and 
drawing a needed infusion of corporate 
cash.
At the Mar. 28 press conference and 
contract signing, Krens and Ron Sommer, 
chairman of Deutsche Telekom's management 
board, refused to divulge the financial 
details of the five-year deal. But Gerd 
Schwandner, general manager for the Center 
for Art and Media Technology, was more 
voluble in a private interview prior to the 
public announcement. He said Deutsche 
Telekom would contribute about $2.5 million 
in annual program support. The Center for 
Art and Media Technology's collection of 
more than 1,000 works will be a prime 
source of material for the Guggenheim 
shows. (The Karlsruhe institution--
informally known as ZKM, or Zentrum fur 
Kunst und Medientechnologie--has big plans 
of its own, expecting to move into larger 
quarters in a converted weapons factory in 
October 1997.) According to Krens, the 
Guggenheim also plans to expand its own 
multimedia art collection.
Curiously absent and unheralded at the 
press conference was a second major 
corporate sponsor for the Guggenheim's 
multimedia exploits. ENEL, the Italian 
electric power company, will get its name 
on an electronic reading room and a virtual 
reality gallery in exchange for an 
undisclosed financial contribution and 
technical assistance. ENEL will create the 
electronic library where visitors can view 
CD-ROMs and other emerging technologies, 
and it will also help the Guggenheim create 
CD-ROMs related to its exhibitions (as it 
did in producing the Guggenheim's only 
existing catalogue on disk, for its 1994 
"Italian Metamorphosis" show).
Deutsche Telekom will get its name on four 
galleries on the SoHo Guggenheim's main 
floor in exchange for its largess. The 
renovated SoHo space (which will include 
10,000 square feet of new public area, in 
addition to the existing 50,000) will 
feature a "video wall electronic canvas," 
on which artists will be invited to create 
new works, with possible telecommunication 
connections to a proposed video wall in 
Germany. Closed in February, the nearly 
four-year-old Guggenheim SoHo reopens June 
14 with a show titled "Mediascape" [to 
Sept. 1], consisting of video installations 
(Nam June Paik, Bill Viola), interactive 
works, and multimedia art (Marie-Jo 
Lafontaine, Bruce Nauman, Woody and Steina 
Vasulka).
The museum's previous foray into 
multimedia, a 1993 virtual reality show, 
was what got Krens thinking about the 
allure of electrons. Never mind that he 
initially found the show off-putting. What 
counted was that the public loved it, 
filling the museum for its week-long run. 
This was no small consideration for a 
branch museum that had counted on 
attracting 250,000 visitors annually when 
it opened, but has averaged only 132,000.
It remains to be seen whether a constant 
digital diet will have such drawing power 
over the long haul. The costs of 
computerized curatorship are daunting: 
about $1 million for the first show alone, 
with constant needs to upgrade hardware and 
software. And whatever happened to the 
SoHo museum's original raison d'etre: to 
showcase modern, rather than contemporary, 
works from the Guggenheim's permanent 
collection, providing context for, rather 
than competition with, the trendy SoHo 
scene?
(Art-world observers with memories that 
extend past a few months may wonder as well 
what happened to the Jeff Koons show that 
the New York Times reported would reopen 
the SoHo Gugg--a plan that wasn't mentioned 
at the Mar. 28 press conference. A 
Guggenheim press officer said that it has 
been "moved--as of right now it's not on 
the schedule.")



LEE ROSENBAUM writes frequently for the 
Wall Street Journal "Leisure & Arts" page 
and Art in America magazine. She is the 
author of  The Complete Guide to Collecting 
Art (Knopf).