Pablo Picasso
The Blind Man's Meal
1903
Hopkins as Picasso
Photo: Seth Rubin
Courtesy: Warner Bros.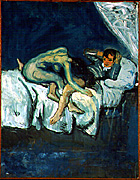 Pablo Picasso
Self-Portrait Making Love
1903

Francisco Goya,
La Maya Desnudo
The maybe-Michelangelo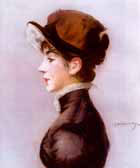 Manet
Portrait of
Mademoiselle Suzette
Lemaire in Profile.







visual reality

by Lee Rosenbaum
12/20/96

SINGIN' THE PICASSO BLUES
Enough with Picasso already! It sometimes seems that the Picasso glut---an unstoppable gush of museum exhibitions, books, Anthony Hopkins histrionics and now, just released, "the first and only CD-ROM on the legendary master"---has as much to do with the self-importance of competing scholarly egos as with the stature of the artist himself. William Rubin, the Museum of Modern Art's director emeritus of painting and sculpture, says we should be grateful: "In 20 to 30 years, you will not be able to see these kinds of shows," warned Rubin, who sired four Picasso exhibitions in the last 25 years. "These exhibitions are getting more expensive and collectors are increasingly loath to lend," he commented during a recent New York panel discussion at the Metropolitan Museum sponsored by the Art Dealers Association of America.

On the theory that too much Picasso is never enough, the National Gallery in Washington, D.C., weighs in Mar. 30-July 27, 1997, with "Picasso: The Early Years, 1892-1906," highlighting "his famous Blue and Rose periods," according to press release hype. Rubin dismisses most of this, maintaining that "everything that made Picasso great happened at least after 1904." Bemused by Andrew Lloyd Webber's $29.1-million auction purchase last year of Angel Fernandez de Soto (a "Grade B" picture, in Rubin's view), he decried the "peculiar inversion in the market" that makes the popular Blues twice as expensive as the finest Cubists. (The London Independent last month reported that the so-so Picasso gives Lloyd Webber not only esthetic pleasure but also tax benefits: De Soto was purchased for his art foundation, which last January lent it for six months to London's National Gallery.)

Rubin's put-down may have impelled co-panelist John Richardson to defend Picasso five days later against those who "regard the early works, above all the Blue Period, as not quite respectable." Speaking at a National Gallery press luncheon in New York, the Picasso biographer touted the upcoming Washington show (for which he served as advisor) as "the most illustrious group of early works ever assembled." (The show travels to the Boston Museum of Fine Arts, Sept. 10, 1997-Jan. 4, 1998.)

Richardson's hefty tomes notwithstanding, Claude Picasso touts Grolier Interactive's new Picasso CD-ROM as the definitive "benchmark reference to my father's life and work." Claude was editorial advisor for "Picasso, the Man, his Works, the Legend," which belongs to the thriving genre of cyber-characters in search of an author. Exasperating to navigate, it frequently takes the Dick-and-Jane approach to art: "Notice the sharp contrast between the orange scarf, the white shirt and the dark blue background." Some 70 museums and galleries came up with images but no intelligent guiding sensibility.

TOO HOT FOR THE MET?
In the grand tradition of dueling Picasso shows, William Lieberman, chairman of the Metropolitan Museum's department of 20th-century art, is quietly assembling his own early Picasso display, drawn exclusively from the Met's collection and tentatively scheduled for 1998. It may mark the public debut of a raunchy piece of Blue Period erotica, acquired by the Met in 1984 as part of the Scofield Thayer bequest but kept firmly under wraps. Variously described as Portrait of the Artist Making Love, 1903 (in the first volume of Richardson's A Life of Picasso), and Le Douleur, 1900-1901 (in the Met's records), the painting reveals "the cherubic artist lying back being fellated by a girl," as described by Richardson in his book.

Although it is dismissed by Richardson as a "feeble daub," art historian Robert Rosenblum calls it "fascinating" for the artist's self-depiction "in the pose of Goya's Maja." In a recent talk at the Met, on the subject of obscenity and censorship, Rosenblum showed a slide of the painting and challenged the museum's decision not to exhibit the work. A Met curator (not Lieberman), requesting anonymity, said it stays in storage because the 20th-century galleries are populated "by so many schoolchildren." With such curatorial vigilance, who needs Jesse?

KATHY BRANDT STANDS BY HER BOY
Kathleen Weil-Garris Brandt's eagerly awaited Burlington magazine article defending her controversial attribution of the "Michelangelo of Fifth Avenue" excuses the marble boy's many weaknesses, but makes almost no case for strengths that might suggest the master's genius [see "Visual Reality," 3/22/96 and 4/10/96]. She passingly praises its "extraordinary ambition and attempts at technical virtuosity," but devotes the bulk of her article to proving that the Manhattan statue's "uncertainties and infelicities" can also be found in other works known or thought to be fledgling Michelangelos.

Her most positive comments embrace the boy's curly hair, one of the work's "most Michelangelesque features." But she has considerably muted her claims of excellence for a work that has struck so many others as lame. Having rhapsodized about the boy's "ambiguous rapturous expression" in early interviews, she now calls him "blank in expression."

Completely missing is any of the documentary evidence from Brandt's archival research that she said would bolster her attribution. Perhaps this will eventually surface in her proposed book. She still tentatively advances the theory that the sculpture may be the long-lost Cupid mentioned by the artist's 16th-century biographers, but hastens to add that the attribution "should not...stand or fall on its plausibility as a candidate for the Galli Cupid."

"Her arguments are plausible but not particularly gripping or compelling," commented noted Michelangelo scholar and Yale University professor Creighton Gilbert, who had not yet viewed the statue himself but had read the Burlington piece. "The comparisons [with other Michelangelos] are reasonable but not absolutely sensational."

Judgment now rests in the hands of the curators and conservators of the Metropolitan Museum, to which the sculpture was recently transported from the Cultural Services headquarters of the French Embassy for study but not, according to Met spokesman Harold Holzer, for restoration. As for the Met's previously announced plans to mount an exhibition pegged to the "discovery," Holzer now says, "Nothing is scheduled."Meanwhile, the New York Times, which in a Jan. 23 front-page story put its imprimatur on Brandt's "discovery," has yet to inform its readers about the serious doubts subsequently raised by top Michelangelo experts, including Leo Steinberg, James Beck and Michael Hirst. At least one statement in John Russell's account requires no retraction: "Claims of this sort, if not well founded, are a form of professional suicide in the art world."

DONOR DOSSIERS
Along with free museum admission, your Metropolitan membership may target you for an investigation of your financial background. In the brave new world of nonprofit fundraising, no generous donor escapes computer database searches. According to Terri Constant, the Met's head of "prospect research," about ten percent of the museum's 100,000 members are checked through services like Nexis and Investnet for details about business dealings and insider stockholdings. The purpose: to identify big-bucks donation prospects.

Sensitive to possible charges of cyber-snooping, Constant asserted that she does not electronically rummage for credit information or real estate filings. The information she does gather is relayed to fundraising volunteers "so they are more comfortable when they make the approach," she said. Identification of hot prospects is particularly urgent because the Met's $300-million capital campaign has stalled at the two-thirds mark, according to Nina Diefenbach, chief development officer.

FAQs
Now that the Wall Street Journal has asserted that the Shelburne selloff at Sotheby's will exert "pressure on museums to sell their collections because the current market puts such a premium on museum holdings," will financially pressed museum directors feel more heat from their Journal-trusting trustees? And with the Journal citing inadequate corporate funding of exhibitions as another reason why museums sell, will program support join the dangerously expanding list of acceptable reasons for treating the permanent collection as a disposable asset?

How high will the insurance be for the megabucks masterpieces recently purchased at auction by Steve Wynn, to be hung in his new Las Vegas casino within tempting reach of the financially desperate? Wynn's wins included a $2.92-million Manet and a $3.41-million Picasso. Given the gambler definition of "taking a bath," was he lucky in losing to a $7.26-million Christie's bidder on Degas' After the Bath?

Now that the Campbell Soup Company has revealed that it may use Warhol's pop soups in its ads, will some artist be inspired to take appropriation art to new heights, reproducing the ads reproducing the paintings reproducing the soup? Will those knock-offs turn up in a museum exhibition sponsored by Campbell?

Was the buoyant bidding at Christie's recent Impressionist, modern and contemporary sales due to auctioneer Christopher Burge's burgeoning celebrity from his star turn in The First Wives Club?

Correct answers to be published in Alexandra Peers' next Wall Street Journal art market report. Winners get a trip to Artfair Seattle, Feb. 21-23, 1997, with an optional excursion to the Gateses' new pleasure dome.


LEE ROSENBAUM writes frequently for the Wall Street Journal "Leisure & Arts" page and Art in America magazine. She is the author of The Complete Guide to Collecting Art (Knopf).