Paul Klee
Fire and Death
1940







Paul Klee
In the Houses of Saint Germain
1914







Paul Klee
Woman in a Tree
1903







Paul Klee
End of a Last Act
of a Drama
1920






Paul Klee
Arab Song
1932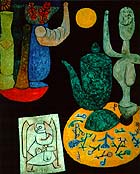 Paul Klee
Untitled (Still Life)
1940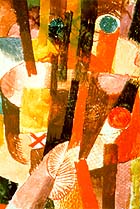 Paul Klee
Anatomy of Aphrodite
1915






Hiroshi Sugimoto
Pope John Paul II







Hiroshi Sugimoto
Jean Harlow







Hiroshi Sugimoto
Manatee






The Prado during remodeling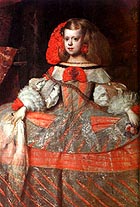 Diego Velázquez de Silva
Portrait of the Infanta
Margarita of Hapsburg
(detail)







Hieronymus Bosch
The Garden of Delights
ca. 1504
(detail)







Francisco de Goya
The Clothed Maja
ca. 1800-1805







Francisco de Goya
The Naked Maja
ca. 1800-1805







Reina Sofía






Federico García Lorca
age 6
Granada
1904






Federico García Lorca
Pear and Dice
1930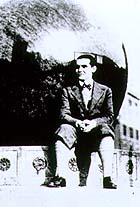 Lorca in New York
Columbia University Library
1929







Don Fink
Untitled
Klee on Spanish Soil for the First Time
"Discovery confers the noblest delight," wrote Mark Twain while traveling in Europe. Madrid's major museums continue to prove the yanqui right by hosting major exhibitions of well-known 20th-century artists who are still being "discovered" by the Spanish public. Through Oct. 12, the Thyssen-Bornemisza Museum is showing Spain's first Paul Klee retrospective. (The show began its Spain tour at the IVAM Julio González Modern Art Center in Valencia.) The show is referred to as an anthology, an appropriate term for this well-researched and poetic arrangement, curated by Emanuel Guigon and Tomás Llorens, chief curators of the IVAM (Instituto Valenciano de Arte Moderno) and the Thyssen respectively.

Born near Bern, Switzerland, Klee lived most of his life in Germany, but Africa was the country that converted the gentleman-musician into a dedicated visual artist. Africa's uncompromising light and swimming colors convinced Klee that his true path lay in creating lyricisms of color, not sound. Just before painter August Macke's death in 1914, Klee and Macke journeyed together to Tunis and other parts of North Africa.

Notes to the Klee exhibition declare the trip "a compulsory point of reference" in understanding the careers of both artists. The trip culminated in Kairouan, an ancient Arab town where Klee wrote in his diary, "I feel deeply and softly acquainted with my surroundings. I feel it, and I feel certain without effort. Color has dominated me. I don't need to look for it outside. It holds me forever, I know it well. And this is the meaning of the happy moment: color and I are one. I am a painter."

Two of the works Klee painted during his African conversion experience hang side by side in the exhibition, small watercolors about 5 x 6 in. each, Abstraction of Motifs from Hammamet and one untitled piece (Untitled (Still Life), 1940). Viewing these jewel-like works in their chronological context offers strong proof that prior to his African trip, Klee knew color, but now has found color, embracing its alchemical subtlety as firmly as its richness and variety. As critic Valeriano Bozal wrote, the 1914 works begin to reflect "the density and transparency of the air, the sensation of light, and replace representation with evocation" -- the direction Klee's art was to take for the rest of his life.

The variety of works in the show is excellent. Many have traveled from the Bern Kunstmuseum's Paul Klee Foundation, while others have arrived from MoMA, the New York Guggenheim, the Myagi Museum of Modern Art in Japan and from private collections. The exhibition begins with a 1903 etching, Woman in a Tree, which shows a Dürer-like touch in the muscular nude woman whose twisted body conforms to the shape of a gnarled and barren tree -- an expressionist Eve in a stripped Garden of Eden. Done thirty years later, Klee's watercolor Desert of Stones (1933) portrays the same barrenness, but with a striking three-dimensional abstract-realism not usually found in his work.

The visual variety parallels an emotional one: humor, horror, mysticism, delight, and, finally a luminescent transcendence.

Klee's uncanny ability to visually express and notate this wide range of inner realities spoke profoundly to a small group of abstract painters in Spain in the 1950s and 1960s. Klee influenced Picasso, Tàpies, and Miró, as well as Antonio Saura, an artist who played a major role in keeping abstract art alive in Spain during the Franco years, and who, before his death this year, contributed to the Klee retrospective catalogue. Saura found in Klee's work a wild and meaningful world, one in which "humor, enigma, concentration, sensuality, violence, tragedy, subtlety and intimacy" coexisted.

A woman standing nearby at the show commented as she looked at Desert of Stones, "I bet it took him at least a week to do that painting." What this show makes clear is that Klee didn't do paintings, and in this lies his greatest influence on 20th-century art.

Still harboring the musician inside him, with color and line Klee created sheet-music for the eye and soul. These paintings "make" art in much the same way that music "makes" language. Klee wrote that his mission was "not to reproduce the visible, but to make visible." This anthology of 116 pieces, accompanied by an artful and comprehensive catalogue, serves to declare that mission accomplished.

Sugimoto: The Sound of Silence
PHotoEspaña 98 ended in style on July 18, having achieved record viewing numbers for its cluster of photography exhibitions along the Castellana. Although not an official entry in PHotoEspaña, the wonderfully bizarre Hiroshi Sugimoto photo exhibition at Fundación de la Caixa Madrid, just a stone's throw from the Castellana on Calle Serrano, created a dramatic complement to the PHotoEspaña shows.

Sugimoto wrote, "It is time that photography surprise us anew with its possibilities." For his surprise, Sugimoto chooses still lifes, extreme still lifes. His black-and-white photos of the Queen of England, Neanderthal men, Manatees underwater, lions on the African plains, Jean Harlow and the Pope are taken from dioramas in natural history and wax museums. The effect is stillness-squared, frames full of uncompromising, sharp silence about to break and make a sound you've never heard before. Believing that what we see is nearly always manipulated before we see it, Sugimoto aims to counter the manipulation, capturing the captured yet again. This could make for bad art. Instead, thanks to impeccable skill and strong personal presence from behind the lens, these photos have a larger-than-life quality. They arrest, they hold the viewer still, as the subjects themselves become hauntingly more motionless. The Madrid exhibition ended in July, but if you have a chance to see it in another venue, subject yourself to Sugimoto. It's worth it.

New Alternative Spaces Expand Madrid Art Scene
Architecture professor Salvador Díaz recently opened an 800-square-meter gallery in front of the Reina Sofía Museum. The space is large enough to handle monumentally sized works, or to show up to five artists at one time. Offering a "privileged space" for cutting-edge contemporary work, Díaz concentrates on opening doors for young artists (aged 20-35). Gallery Salvador Díaz is at Sánchez Bustillo, 7.

Ten years ago, art historian Ramón García Alcaraz, opened an alternative space in Valencia called My Name's Lolita Art. His success there led him to take a chance on Madrid and open another lolitismo gallery on Calle Salitre, 2. "During the last few years," said Alcaraz, "people have been coming to our gallery in Valencia from Madrid. I opted for having a site here that could also serve to attract artists from other regions." Alcaraz is also considering setting up shop in New York.

Mauricio Dors, director of Doble Espacio, maintains a "rhythm of 36 shows annually." The double-gallery displays photography on one side and contemporary plastic arts on the other. A team of nine advisors -- artists, photographers, and designers -- help Dors jury each show. Dors "never asks for a book," but says what he wants most is to encounter an artist's new ideas. Doble Espacio is at Calle San Pedrón, 9.

Andrés Lietor, a real estate executive with an art avocation, donated an old garage in Madrid's ritzy Salamanca neighborhood to Lourdes Ortiz, who then converted the space into Conjunto Vacío (Empty Whole). The new space has received economic support from big businesses, including Thompson, SEV, and Sualza. The gallery's first show included installations, video, photography and sculpture by seven artists. Ortiz says that with Conjunto Vacío she has realized her goal to "find beauty in an industrial cast-off." The space is located at General Díaz Porlier, 35, Garage Penasa.

The Prado: Velázquez Loses One; Garden of Delights More Delightful; Remodeling and Expansion Continue; Majas Console
The Prado has been undergoing substantial remodeling all through 1998. My guess is that visitors will be able to walk in the front door sometime in 1999. The Velázquez statue in front of that door is being cleaned, and the master's paintings all hang ex-situ while the grand circular Velázquez rooms are refurbished.

It will be interesting to see if the Prado gives Velázquez's son-in-law his due, once these paintings are back in place -- and changes the name on the plaque beside the Infanta Margarita of Hapsburg. A recent study based on 15 years of research by Prado Chief Curator Matías Díaz Padrón virtually proves that Velázquez did not paint the Prado's poster girl, the Infanta, but that Juan Bautista Martínez del Mazo, his disciple and son-in-law did.

Until now, the Infanta was considered Velázquez´s last work. It was believed that his son-in-law only assisted with the painting, but an examination of dates and painting technique have made Díaz Padrón conclude otherwise. Velázquez was on his death bed at the time the painting was completed and could not have physically done the work. Also, according to Diáz Padrón, the Infanta's brushwork is too loose and brushy to be that of Velázquez. Most controversial, this conclusion is in direct opposition to centuries of Spanish belief that the impressionistic technique was Velázquez's innovation, made just before he died in 1660.

The exhibition "Felipe II, Renaissance Prince," will open at the Prado on October 13. One of the king's favorite paintings in the exhibition will also be reborn, so to speak. The triptych Garden of Delights by Hieronymous Bosch is in the third and final stage of cleaning and restoration by sisters Mayte and Rocío Dávila under the direction of Pilar Silva, Prado curator for Flemish painting. The Prado Felipe II exhibition begins just as the monumental Felipe II show at the Escorial comes to a close.

In addition to the extensive remodeling the Prado's Casón del Buen Retiro section, plans were recently approved for the museum to incorporate the nearby cloister of Los Jerónimos, a project that will cost the government approximately $7 million. The cloister will be converted into exhibition and warehouse space for the museum.

Russians in St. Petersburg are standing in long lines not only to buy bare necessities, but to see Goya's two Majas, now under heavy guard at the Hermitage. Director Mijail Piotrovski says that having these two Spanish masterpieces available to the Russian people offers a kind of consolation during difficult times. "Art helps people live," claims Piotrovski, though he has not commented on which of the two Majas offers the greater consolation, the one with clothes or the one without.

1999: Spacing Out at the Reina Sofía
The Reina Sofía is also expanding, adding approximately 3700 square-meters to its exhibition areas. Even more square meterage will be added to the museum's other service areas, including its library, auditorium and restaurant, which together will gain a composite 8000 square-meters. Construction is scheduled to begin in March 1999.

The new exhibition space is largely meant to house more photographs, design works and drawings. The museum's Picasso section will also be enlarged, and more art from Ibero-America will be shown. The expansion should be complete in time for the Eduardo Chillida retrospective planned for the year 2000.

Lorca: Uneasy Lies the Exhibition
1998 is the centenary of Federico García Lorca's birth. Lorca events and exhibitions have been as numerous this year as the mushrooms in the Guardarama mountains. The largest Lorca show of them all ended recently at the Reina Sofía. Comprehensive and interesting, it included films by Lorca, as well as films inspired by or about Lorca by other filmakers.

That which was missing from the "comprehensive" exhibition caused a great stir among the leftist contingency in Madrid, namely, the story of how Lorca died. It's common knowledge that Lorca was shot (from behind) and killed by Guardia Civil soldiers during the Spanish civil War. His assassins and their superiors justified Lorca's death as retribution for his two "crimes" -- being homosexual (a fact not mentioned in the exhibition materials) and actively supporting Spain's inchoate socialist party in the fight against Franco. Ironically, the exhibition does show Lorca's death certificate.

Although Lorca did numerous drawings, one would be hard-pressed to classify this poet-dramatist as a visual artist. It's a bit surprising that he's the subject of a major exhibition in Spain's national contemporary art museum, the Reina Sofia. Lorca's art, poetry, drama and politics did have an influence on visual artists earlier in this century, in Spain as well as the US and South America. The extensive catalogue for the Reina Sofía's Lorca show should constitute one of the best resources available for anyone who wants to do research on the artistic, if not the personal, life of the "professional Andalusian" for years to come.

Christie's Strengthens Spanish Connections
In 1972, Christie's opened its first Spanish office in Madrid. It held its first Spanish auction in the Palace Hotel in 1973. Business was so slow for so long, that Christie's did not open a second office in Spain until 1996, in Barcelona. Now, just two years later, Christopher Balfour, formerly president of Christie's Europa, has been named president of Christie's Ibérica S.L., and two well-connected, high-profile Spaniards have been named as advisors, Carlos March and Leopoldo Rodes. Carlos March is a member of the March family, owners of March Bank and directors of the March Foundation, which funds and sponsors art exhibitions. Rodes, president of Media Planning, has been very involved with the Fundació Museu D'Art Contemporani. The new advisory team also includes Pedro Guirao, currently at Christie's in London. Casilda Fernández Villaverde continues as director of Christie's Madrid office. The firm reports a total of 3,000 clients in Spain, roughly 2,000 in Madrid and 1,000 in Barcelona, but Fernández Villaverde expects that number to grow, noting that "the market here has evolved a great deal."

Don Fink Returns to Madrid
American "action" painter Don Fink (b. Duluth, Minnesota, 1923) has a show at Galería Rayuela through September 25. The artist divides his time between Barcelona, Paris, and New York. This is his second exhibition in Madrid in four years. The works on view date from 1952 to 1970. Their "active" surfaces meld the arts of tattooing, calligraphy and three-dimensional terrain mapping, resulting in a meditative and rewarding experience for the viewer. The show was organized by Sebastià Janè of Barcelona and Carmen Muro of Madrid. Galería Rayuela is at Calle Claudio Coello 19.

The State of Two Picasso Estates
Someone related to Dora Maar will benefit from the auction of her estate, to be conducted in Paris, October 27-29, but no one is saying who that someone might be. After Maar's death on July 16, 1997, art merchants teamed with expert genealogists to locate relatives of Theodora Markovic, the painter-photographer who lived with Picasso from 1936-1943. The search party found two relatives of the childless, unmarried Maar, one in the former Yugoslavia and one in France. Their names have not been divulged. Piassa and Mathias will handle the sale, which will take place at the Maison de la Chimie.

Ten Picasso oils will go on sale, including: The Crying Woman, a study for Guernica. valued at $3.5 million; Dora Maar with a Crown of Flowers, $315,000; Profile of Dora Maar, $2.1 million; Dora Maar with Green Fingernails, $5.25 million; and Dora Maar in Blue Blouse, $350,000. Numerous drawings, illustrated books, small sculptures, photographs and Maar-Picasso correspondence also figure in the sale. Total value of the objects is estimated at $25 million.

Paloma Picasso, Picasso's daughter with Françoise Gilot, has only one bidder for half of her Picasso goods, her soon-to-be ex-husband Argentinian playwright Rafael López-Cambil. Picasso's fortune, including her inheritance of 10 percent of her father's estate and her own business income, is valued at $18 million. She may soon achieve the distinction of paying one of the highest divorce settlements ever paid in the UK, not to mention one of the highest ever paid by wife to husband. Mark Stephens, an attorney with Stephens Innocent, told the Times, "The final settlement will be in the millions of pounds, and one must take into account all the assets, including the works of her father. The legal costs alone will be in the millions."

Meanwhile, back at the jewelry and perfume design shop, husband and wife continue working together, while the 49-year-old Paloma is living with French physician Eric Thévenet in a home in London's Chelsea neighborhood.

New Director Named to Tàpies Foundation
Nuria Enguita has been named new exhibition director for the Tàpies Foundation in Barcelona. Enguita arrives from the Instituto Valenciano de Arte Moderno (IVAM), where she spent eight years as curator, specializing in artists of the 1970s.


YSABELA DE LA ROSA is a writer and artist living in Madrid.