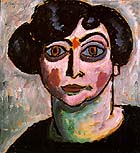 Alexej von Jawlensky
Woman with Black Hair
1913
$1.4 million
at Sotheby's



















Pierre-August Renoir
Baigneuse Nue Assise
ca. 1885-87
$463,500 at
Sotheby's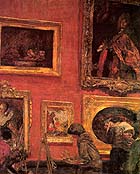 Edouard Vuillard
Au Louvre ...
1921
$969,500 at
Sotheby's






















Giorgio Morandi
Still Life with
Bread and Fruit
1919
$1.3 million at
Sotheby's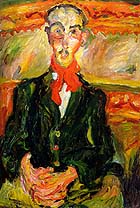 Chaïm Soutine
L'homme au foulard
rouge
ca. 1921
$2.5 million
at Christie's





















Claude Monet
Marine (Etude de Mer)
1881
$817,239
at Christie's









Damien Hirst
Anazolene Sodium
1993
$71,400
at Christie's







Lucien Freud
Portrait of a Man
1954
$600,000
at Christie's







Jean-Michel Basquiat
Red Savoy
1983
$584,000
at Sotheby's
Last week the London auction scene was action-packed, with top sales at Christie's and Sotheby's all held one after the other. Thus Sotheby's London held its Impressionist sale Monday night, Dec. 8, followed by part one of its German and Austrian 20th-century art sale. The next day Sotheby's held three sales, one after the other, of German and Austrian art, Impressionist and modern part II and Giorgio Morandi paintings. Tuesday night, Dec. 9, Christie's sold its Impressionist and modern art. On Wednesday, Dec. 10, Christie's sold Impressionist and modern part II in the day and Sotheby's sold contemporary art in the evening. On Thursday, Dec. 11, Sotheby's sold contemporary art in the day while Christie's held the evening sale. The week drew to a close on Friday, Dec. 12, with Sotheby's part II contemporary art sale. Got that?

It must be intoxicating. Here are the highlights, as viewed long distance from a desk in New York. Prices given here include the auction house commission, which is 15 percent on the first £30,000 and 10 percent on the rest. The figures here were converted to dollars at the rate of £1 =$1.65.

Impressionist and Modern art, part I, including German and Austrian 20th-century art at Sotheby's, Dec. 8 -- Sotheby's kicked off auction week with its evening sale of Impressionist, modern and German Expressionist art. As it turns out, the somewhat less familiar German and Austrian material added interest to an otherwise lackluster group of works. Top lot was Gustav Klimt's Fruit Trees by Lake Attersee (1901), one of the artist's decorative woodsy landscape pictures that collectors find so appealing. It which sold for $5.5 million, right in the middle of its estimate of $4.8 million-$6.4 million), a record for this type of picture (it last sold at Sotheby's London in Nov. 1989 for $4.7 million -- arguably a bad investment, in monetary terms, of course).

Others in the top ten were a $4.6-million Matisse Still Life (1925) that looks dull and cluttered in the catalogue; a $2.4-million Picasso; a $1.2-million Ernst; and a two-sided Schiele drawing that went for $915,050. Edouard Vuillard's interesting scene of an art student copying a work in the Louvre, Au Louvre: La salle Lacaze (1921), went for $969,500, below its low estimate of $1.6 million -- a presumed disappointment but nevertheless an impressive price for what is a typically awkward and dark painting.

The combined evening sale total was $23.4 million for 24 lots sold of 40 offered, a sale rate of 60 percent by lot. Great numbers for little more than an hour's work, but from long-distance, it didn't seem all that interesting. On the other hand, the second lot was a sexy little 14 x 11 inch red chalk drawing by Renoir of the back of a nude. It went for $463,500, a price level that ten years ago would have bought a nice painting!

German and Austrian 20th-century art at Sotheby's, Dec. 8 & 9 -- For what it's worth, we're rooting for Sotheby's efforts to establish a distinct auction market for this segment. A modest 44 percent of the lots sold, or 68 of 153 works, for a total of $14.8 million. Sotheby's specialist Helena Newman said she was pleased at the $1.4 million paid for Jawlensky's wide-eyed 1913 portrait of his future wife, Helene Neznakomora, and the $732,540 paid for Heinrich Campendonk's Blaue Reiter Composition with Horses (ca. 1914). Both are the second highest prices paid at auction for works by the artists.

Morandi at Sotheby's, Dec. 9 -- All 27 paintings by Giorgio Morandi (1890-1964) from Venezualan collectors José Luis and Betriz Plaza sold, for a total of about $11.1 million, more than double the presale estimate of $4.8 million-$6.1 million. The Plazas began buying Morandi's work in 1949 during a two-year honeymoon in Italy, when they met the artist. Their collection eventually ranged from the Pittura metafisica period of 1918-20 to the late, near-abstract still lifes of 1963-64.

Top lot was the early Still Life with Bread and Fruit (1919), a solid and side-lit composition of bread, cloth, fruit-bowl and a rectangular solid, that went for $1.3 million, a sum only slightly less than the artist's auction record, set in 1990 at Christie's New York. The catalogue cover lot, a 1939 still life that is an early example of the artist's signature freize-like composition of monochromatic bottles and pitchers, brought the second-highest price, selling for over $1 million.

Impressionist and Modern Part I at Christie's, Dec. 9 -- Sale total was $36.6 million, with 37 of 59 lots finding buyers (that's 63 percent sold by lot). Christie's Impressionist expert Jussi Pylkkänen noted that the house's autumn total for modern pictures (this sale and one in October of German and Austrian art) was "the highest seasonal total in London for many years and gives an indication of the current strength of the market."

Nine works sold for more than $1 million, including Soutine's L'homme au foulard rouge (ca. 1921), an auction record for the artist at $2.5 million (presale est. $660,000-$990,000). Top lot was Monet's "pre-Impressionist" Boudin-like scene of the boardwalk at Trouville, Sur les planches de Trouville (1870) that sold for $6.9 million, over its high estimate of $8.25 million. The sale also included an ugly Dora Maar by Picasso for $4.3 million; a Fauve Braque seaport for $2.6 million; an early Cézanne bathers with the figure of Sancho Panza (!) for $1.8 million; a colorful, 24 x 18 inch watercolor of the garden at the Saint-Rémy hospital by van Gogh for $1 million; and a very interesting, practically minimalist Monet of the sea, done in 1881 and called Marine (Etude de Mer) for $817,239.

Christie's contemporary art, Dec. 11 -- "Not only have we strengthened our position as market leaders in this field," said expert Brett Gorvy about Christie's year-ending contemporary sale, "but we have comfortably increased our margin to the point where we have achieved our best annual total at Christie's in London to date." The total of the sale was $7.3 million for 40 of 55 lots offered, for a sale percentage by lot of 73 percent.

Auction-record prices were achieved for Damien Hirst, when his four-foot-square polka-dot painting Anazolene Sodium (1993) -- the final lot in the sale -- went for $71,400 (est. $40,000-$60,000). Despite Hirst's notoriety for sculptures of preserved animals, flies on meat, and even giant ash-trays, it is his dot paintings that are trading at auction, with four or five changing hands in the past few years. An auction record was also set for an artist less familiar to New Yorkers, Zao Wou-Ki, whose Ab-Ex 21.9.64 went for $256,000 (est. $67,00-$100,000).

The top lot in the sale was a Gerhard Richter Abstraktes Bild from 1986 that sold for $475,525 (est. $260,000-$330,000). Number two was another abstraction, Asger Jorn's Nothing Happens (1962), which contrary to its title went for $448,234 (est. $290,000-$330,000).

Is figuration dead? Not for the buyer who paid $600,000 for Lucian Freud's conservative 1954 Portrait of a Man, or the bidder who went to $312,000 for Warhol's 1986 Lenin. In fact, counting the $294,000 Baselitz, the $266,000 Basquiat, the $330,000 Dubuffet, the $366,00 Yves Klein and the $439,000 Polke, seven of the top ten were arguably entries on the "figurative" side of the ledger!

Sotheby's contemporary art, Dec. 10 -- Mark down a new auction record for Jean-Michel Basquiat, whose atypically cheerful Red Savoy (1983) sold for $584,000 (est. $288,000-$352,000). Sotheby's evening sale totaled $7.6 million for 32 of 45 lots sold, a rate of 71 percent. Top lot was Lucio Fontana's silver Concetto Spaziale: Laguna di Venezia (1961), for $820,000 (est. $720,000-$880,000). Another Fontana, Concetto Spaziale Attese (1964), done in bright green acrylic, was in the top ten, going for $311,000, above its high estimate of $240,000.

Notable, too, is the dramatically different selection of artists offered in London than we're used to in New York. Among the lots was a 1959 Alberto Burri abstraction of wood, acrylic and vinyl for $566,000; a 1963 Jean Fautrier minimalist composition of impastoed strokes for $238,000; a 1954 abstraction by Maurice Esteve for $120,000; a 1959 abstraction by Serge Poliakoff for $97,000; a 1955 bronze figure -- one of an edition of 11 -- by Germaine Richier for $257,000; and a beautiful calligraphic Jean-Paul Riopelle from 1967 for a bargain $59,000.

WALTER ROBINSON is editor of ArtNet Magazine.