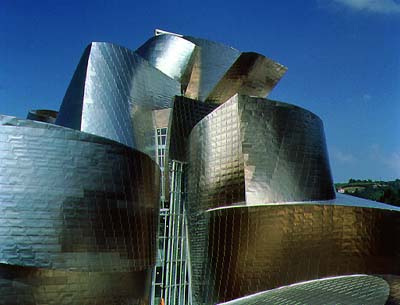 Guggenheim Museum Bilbao
Photo David Heald






Jeff Koons
Puppy
1997
Three men have attempted to bomb the new Guggenheim Museum Bilbao disguised as gardeners working on Jeff Koons' giant Puppy sculpture. The plot was foiled by two Spanish policemen, one of whom was shot and killed in the attack. The men had flower pots that police discovered contained 12 grenades set to explode by remote control.

The incident began on Monday morning after two Spanish police officers spotted a suspicious van parked on a side street near the museum. A license check showed its plates were false. As the police approached, the three men fired four shots at the officers and fled. One was arrested shortly afterwards, and the two others got away after stealing a car at gunpoint from a woman and her child. Police later captured the two at a farmhouse, where they found a cache of arms and explosives.

The $160-million Guggenheim Bilbao is officially set to be inaugurated on Saturday by King Juan Carlos and Queen Sofia; preview openings were to begin tomorrow. Spanish officials say the opening will go on as planned. Installation of the Koons sculpture, which originally was exhibited at Documenta 9 in 1992, is underwritten by Hugo Boss.

Spanish police claim that the men are members of the Basque separatist group ETA, which has been waging a 29-year campaign for an independent Basque state.


Walter Robinson is editor of Artnet Magazine.