Bruno Jakob
Race to the Image
1997


























































































Bruno Jakob
Brain Air
1997
































Lynda Benglis
Novy Bor Project
1997














Ed Ruscha
Archi-Props
1993-97







Suzanne Caporel
Coloration: Rufinism
1997


































































German book publisher Walter J. Johnson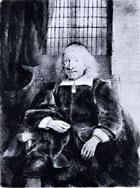 Rembrandt's
Thomas Haaringh
c. 1655






Rembrandt
The Shell
1650






Rembrandt
Landscape with Milkman
c. 1650





International Print Center New York logo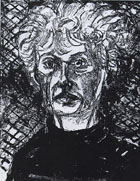 Jim Dine
The Black and White Nancy Woodcut (first version)
1983



































































The harvesting of artworks occurs mainly in the spring and in the fall. Art dealers bring their wares to market to be exchanged, reserved, consigned, sold and even resold. In the fall print buyers head for the International Fine Print Dealers' Association Fair. In the spring they stop off at the Gramercy Hotel fair in New York before leaving for the crown jewel of art fairs in the U.S., the Chicago art fair.

The `97 Gramercy International
Due to overwhelming crowds (a violation of the hotel's fire code?), the most recent Gramercy International, now in its fourth year, was not so much attended as endured. The hotel's check-in time prohibited setting up before noon on the day of the opening, so harried dealers had less than five hours to throw artworks up on cucumber green wallpaper while stashing the hotel's shabby furniture into bathrooms and closets. With such a chaotic process, the art can seem to be an after-thought.

The dealers who most successfully took control of their rooms "sent in the marines" -- in this case, artists -- to inject a little energy and spontaneity into the mix. It was like watching a how-to video on "what artists do" -- good ones can summon creativity into the most arid landscapes.

Zurich dealer Bob Van Orsouw strong-armed his room into a sculpture installation with the help of sculptor Fabrice Gygi and his inflatable "Airbag" multiples. In editions of three ranging in size from 1m x 60 cm to 2m x 60 cm, the giant rubber logs were energetically piled up over everything in the room while balancing upturned armchairs on the ceiling. These portable sculptures take the "Richard Serra Lite Award," and are modestly priced at around $3,000.

While Gygi was overturning furniture, down the hall at Jessica Fredericks in room 318 British performance artist Joey Kotting was doing some very odd things in bed. Although not specifically making a print, his "reproduction of an image" was quite inventive. While the gallery staff was setting up, Kotting leaned against a canvas covered with photo-emulsion propped up against the bed's backboard. For a half hour a video camera recorded Kotting's performance as he posed and perspired under hot lights. Later visitors saw a ghost image of the artist on the canvas, while a video of his activity ran continuously.

The sound of water coming from A/D's room was not a leaking shower, but a four-foot-high set of bronze teeth doing duty as part of a water fountain designed in 1996 by Kiki Smith. Set on a bed of moss with tree branches, the piece seemed like an ancient ruin in a primeval forest, and is one of Smith's strongest works to date. Her newest multiple, a cast lead crystal multiple of a tailbone entitled Tail was also on display .

Body parts were similarly the subject of a multiple co-published by Cheryl Haines gallery in San Francisco and Alan Rath, an MIT grad turned video artist. Rath's computer "screensaver" features four of his most popular images -- eyes that move back and forth; a nose; a mouth; and a tongue licking a pair of lips. The speed of the digitized images can be adjusted and also the colors: black and white; yellow and green. The signed and numbered CD-ROM in an edition of 750 comes in a metallic bag used to ship electronic parts, accompanied by a catalogue of Rath's recent works. Haines says the multiple "conceptually completes the link," since Rath designs all his works on computer. This 21st-century object sells for a bargain-level $100.

Another California publisher, Muse X, used digitized imagery for its Iris prints (high resolution printed images from a computer), which were recently seen at Jay Gorney in the photos of James Welling. The idea of manipulating an image intrigued John Baldessari, who gave Muse X a movie still from a musical, depicting a singing elephant hunter in an enormous cooking pot surrounded by a chorus of cannibals. Given Baldessari's propensity to withhold information, the images themselves were "cannibalized" by computer in nine stages, thus the title of the work: The Pot with 9 Removals.

All information is removed from the works of Swiss artist Bruno Jakob, who made a special multiple for the fair. Visitors were given a tiny packet of cards sealed in a plastic bag with the title, Race to the Image: Still Collecting. A red rectangle in varying sizes was printed on each card, over which the artist's brain waves were apparently projected. As the paintings were "invisible," the artist helpfully included the title and medium of work, such as Brain Air (invisible painting/brain) for those unfortunates still racing to see something.

Still racing to see everything at Gramercy can be exhausting, and as the hallways get more crowded, the attrition rate rises. Luckily, there are a number of galleries who also exhibited at Chicago, so one could catch up later on in the spacious environs of Navy Pier.

Art `97 Chicago
Since its renovation, Navy Pier has grown up, and so has the art fair. The roof doesn't leak and the wind doesn't whistle through the rafters anymore. But Chicago made a Faustian bargain. It traded its former inconvenience, which had a certain rustic charm -- and admittedly, the site on Lake Michigan is a beautiful setting -- for a spot at the far end of what amounts to a huge indoor shopping mall complex, with an ambiance reminiscent of what one finds at larger airports. Needless to say, this world of MacDonald's outlets and tee-shirt vendors is happily unaware of Bruce Nauman or Louise Bourgeois. If these ice-cream eating, white-shoed and leisure-suited folks only knew that at the end of the pier they could find photographs of transvestites by Nan Goldin, or a Paul McCarthy drawing of a rabbit with a nozzle-shaped penis!

The smattering of prints throughout the fair was often overwhelmed by large exhibitions of paintings and sculptures. In particular, the tiny, exquisite multiples by Parkett (the tony art magazine published in Switzerland), seemed like souvenirs in this context. Likewise, publisher Fred Dorfman found it difficult to effectively display both multiples and original paintings in his booth -- even though he made a good impression with his most recent project, a beautiful grouping of hand-blown glass sculptures made in the Czech Republic by Lynda Benglis. Also notable was a wonderfully strange multiple of three male torsos in a box by Laurie Simmons entitled Clothes make the Man.

Vancouver publisher Patrick Painter showed only multiple editions, which may have contributed to his success. His new Ed Ruscha edition, entitled Archi-props, which took the artist four years to complete, recorded the very kinds of activity taking place at the other end of Navy Pier. The eight lithographs are urban snapshots that, in true Ruscha fashion, celebrate the banality of strip mall culture. Painter also debuted a series of eight hand-painted photographs by John Baldessari that depicted National City, the artist's hometown -- a subject that was the focus of his last show at Sonnabend.

Other new editions worth mentioning: a stunning Kara Walker silhouette linocut entitled Keys to the Coop published by Landfall Press; a fine, minimalist set of hand-colored etchings by Suzanne Caporel published by Tandem Press; new Tom Otterness etchings by Marlborough; and a remarkable John Buck rug (!) of his first woodcut, made in China from hand-knotted silk and published by Bud Shark. (Gossip heard 'round the fair: Graphicstudio at the University of South Florida, Tampa, will replace Shark in the print consortium, Quartet.)

Print Fest
Rather than compete with bigger galleries at Navy Pier, a group of print publishers and dealers returned to the Drake Hotel and took adjoining suites to show their editions in a relaxed, elegant atmosphere where continental breakfast was served along with the art. Among the newcomers to "Print Fest" was Universal Limited Art Editions, which rarely sells works outside of the shop in West Islip. The famous press, now in its fourth decade, finds it can no longer sustain its operation on its cachet alone, and must join other publishers in selling art the old fashioned way -- by hustling prints and meeting the public. Luckily, Larissa Goldston -- Bill Goldston's daughter, and Tatyana Grossman's goddaughter -- has the energy and willingness to lead the press into uncharted waters.

While former director of Crown Point Press, New York Karen McCready, was showing yet another edition by Sol LeWitt (he just published prints with both Pace and Crownpoint) she explained that the artist is a genuine populist who likes to make many prints so that they continue to be affordable for collectors. However the most affordable multiple at the fair was being offered by McCready's husband, screenprinter Jean-Yves Noblet, who's new business is called "Get Your Stuff Together." He has silkscreened a portfolio case with the inscription "I Want" scrawled continuously by Rona Pondick. Noblet first used the inscription to silkscreen costumes and scenery for Pondick's dance performance and sculpture installation at the Brooklyn Museum. After repeated requests, he created the case in a variety of colors, to satisfy every "I Want."

Those who hunger for still more fairs are off to Europe, where the Basel art fair opened for a three-week run on June 11. One debut there is New York dealer Peter Blum's new project -- a collaboration between Alex Katz and poet Robert Creeley (a contemporary of Allen Ginsburg). His poem "Edges," will be accompanied by 13 landscape etchings by Katz. On hand to discuss the project in depth: poet and writer Arthur Solway, who is Blum's director in New York.

The Birth and Death of a Rembrandt Collection: The Walter J. Johnson Sale
Not surprisingly, most people who collect old master prints are old. This is problematic for auction houses. For like the incoming tide, the prints eventually find their way back to auction as their owners die off. There appears to be fewer serious collectors (most notably elderly European businessmen) willing to pay substantial amounts to acquire works for their own collections.

This was certainly not the case with Walter J. Johnson, a German book publisher. Known to be an obsessive, cantankerous collector, he chased after Dr. Albert Blum's collection in 1988 and Dr. Otto Schafer's in 1993 when they came up at auction, and continued to make major acquisitions until only three years before he died. According to the essay accompanying the sale catalogue, the "energy and power of (Johnson's) presence were instantly felt as he entered the auction room." His tendency to bid furiously for a print at no matter what cost was also felt, as dealers would drive prices up and Johnson would sometimes end up paying grotesque amounts for mediocre works. At the 1990 Weitzner sale at Sotheby's, Johnson paid a whopping $72,500 for Rembrandt's Sheet of Studies... This same print fetched $14,000 yesterday at the Johnson sale, much closer to its actual value in 1990.

So it was a real crapshoot for Christie's in its May 13 Walter J. Johnson sale to offer a great quantity of prints by a collector who often overpaid for pedestrian impressions. Even so, rumor had it that Sotheby's was furious that it had not landed the sale. Saddled with the Rembrandts of bankrupt collector Joseph Ritman, which the auction house has been struggling to sell privately for $20 million, it was said that the house discouraged collectors from bidding in the Johnson sale with the promise that the Ritman prints would soon be offered singly.

The estimates on much of the Johnson material seemed high, reflecting, in part, the collector's indiscriminate purchases. Would the market prop up the prices?

The answer was a cautious yes. The Presentation in the Temple in a Dark Manner, estimated at $100,000-$150,000 sold for a hammer price of $90,000 (not including auction house commission, 15 percent on the first $50,000 and 10 percent on the remainder). Thomas Haaringh (est. $120,000) brought $130,000. However, the important Three Crosses print, which Johnson paid $125,000 for (hence the $150,000-$200,000 estimate), sold for $85,000. Knowledgeable collectors said the price was right in line with the poor quality of this particular impression, which was unsold in the Schafer sale, and purchased afterwards by Johnson. This masterpiece of drypoint has been known to fetch $990,000 when the quality of the impression justified the price.

Bidding was quite lively, and paddles were flying from many different sources, indicating healthy interest. The old guard was there in force -- former head of Christie's print department Nicholas Stogdon, now a private dealer in old master prints, talked disparagingly throughout the sale; dealer Ted Donson purchased an extremely rare print entitled The Shell for $100,000, well above the low estimate of $80,000; renowned European dealers Helmut and Petra Rumbler bought many of the most expensive prints, including Clump of Trees for $90,000, and a private collector bought the Medea for $95,000, 50 percent above the price Johnson paid in the Schafer sale.

Bidding for lots under $10,000 was also active, showing that young collectors were cutting their teeth at the lower end. However more expensive prints, Johnson's mistakes, such as Landscape with a Milkman estimated at $50,000-$70,000, which he bought for $67,500, sold for $26,000. In short, as collector Eric Kaufman noted about the auction, "Johnson was often guilty of 'irrational exuberance' in his pursuit of Rembrandts. His prints of good quality did quite well at the sale, bringing high but rational prices. The poor quality prints sold at much lower prices reflecting their actual value, prices much closer to what Johnson should have paid at the time he bought them." To further prevent any mishaps, Christie's strategy of low reserves offset the high estimates, resulting in a successful sale.

International Print Center New York
Over the past two years, there has been a shake-up in both Christie's and Sotheby's print departments. Neither Bob Monk, former head of contemporary prints (and then paintings) at Sotheby's, nor Elizabeth Hahn, former head of the print department at Christie's, are still in the auction business, but both are lending support to establish the International Print Center New York (IPCNY), which had a benefit auction on Sat., May 17 at Sotheby's. (Boardmember Hahn attended the reception at the auction house but the recently unemployed Monk did not.)

The brainchild of collector and writer Anne Coffin, who has been trying for two years to elicit support, IPCNY will be modeled after the Drawing Center, a not-for-profit space in SoHo devoted exclusively to the exhibition of drawings. Coffin said she was writing a series of articles on the downtown art scene when she first became aware of the wide range of print making activities not generally known about by the art-going public. She felt there should be a "nonprofit exhibition space, resource and learning center devoted solely to artists' prints." This space would, among other things, provide a venue for traveling shows of prints from all periods, and host an international print invitational every five years.

IPCNY's prospectus announces its goal is to "cross all boundaries to bring together curatorial, publishing, collecting and commercial elements." New editions will be selected by a committee and exhibited with a label that would include documentation and a "point of sale" for interested buyers who would be referred by IPCNY staff to the source of the print: artist, publisher or gallery. Questions have arisen, however, as to whether having dealers on the non-governing advisory committee constitutes a conflict of interest if IPCNY plans to act as agent for print buying. Coffin says that she hopes IPCNY can "stimulate interest in collecting prints, especially for young collectors."

There are currently no local print curators on the advisory committee. Neither the Metropolitan Museum's 20th-century curator William Lieberman nor Guggenheim Museum head Thomas Krens are active as print curators in their respective institutions, and former Brooklyn Museum print curator Barry Walker has moved to the Museum of Fine Arts in Houston. One reason may be that curators are concerned about IPCNY's competition for precious member donations that could deplete their ever-shrinking acquisition funds.

An associate (donor) of the Museum of Modern Art print department who recently joined IPCNY's board of trustees is Arnold Smoller. Since he sold off the bulk of his print collection at Christie's in 1993 (Jim Dine's The Black and White Nancy Woodcut was one of his unsold lots in Saturday's benefit sale) he convinced other galleries and publishers to donate work. The auction raised over $36,000, which was beyond expectations.

This recent flurry of fund-raising is to enable IPCNY to become, according to the prospectus, "a central source of dissemination of information about prints...fill(ing) a crucial gap in the international art world." However, since the New York Public Library's print room has one of the most extensive and accessible collections of print reference materials in the country, one wonders how crucial this gap really is.

In fact what IPCNY intends to do is act as a virtual clearing house, which is more in keeping with its goal of cross-pollination. IPCNY's Web site, ready next month, will provide links to every other known print Web site worldwide. There will be an on-going calendar of print-related events at museums, supplied by On Paper, and eventually a list of print exhibits in galleries.

However there is really no virtual replacement for the seven local museums that have treated New Yorkers this year to a spectacular array of exhibitions, including an amazing Rembrandt etching show at the Morgan Library: Jasper Johns's working proofs seen for the first time in the United States at the Museum of Modern Art; and an extensive survey of Richard Tuttle's prints and books at the New York Public Library. There are also at least 19 print galleries open to the public, and scores that are by-appointment only. The auction houses host eight important print sales a year, and International Fine Print Dealers Association hosts a well-attended fair in the fall.

Despite this wealth of opportunities, IPCNY claims that a lack of real estate devoted to prints is a critical oversight. But perhaps even more critical is a general lack of knowledge about the print world's wide spectrum of activities. Therefore if IPCNY can increase accessibility through its innovative role as clearing house, then it will be an indispensable resource for the print community and can help lead lovers of paper into the 21st century.

DEBORAH RIPLEY-SOLWAY is a private dealer of prints and multiples and lives in Brooklyn.