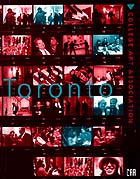 The CAA conference program.




Welcome to the CAA.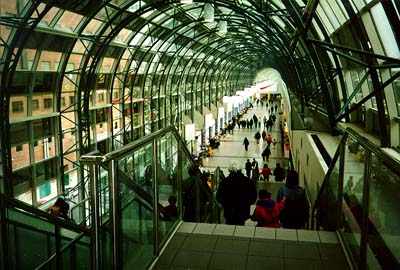 The convention center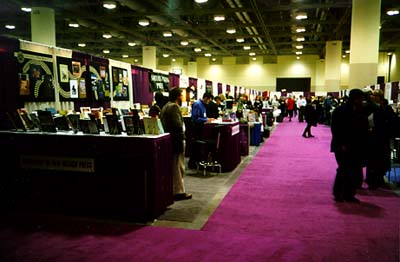 The book fair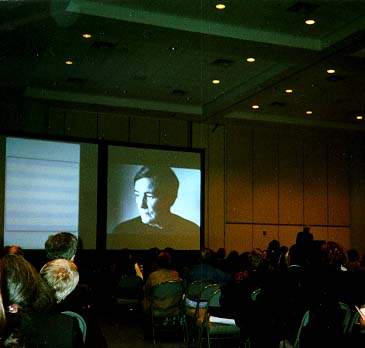 Agnes Martin honored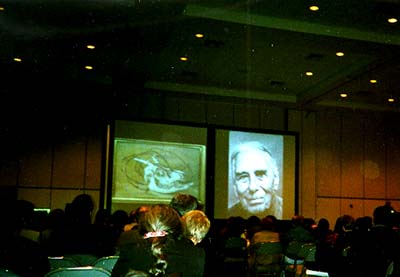 Paul Cadmus on the dais
The College Art Association descended upon Toronto for its 86th annual conference, Feb. 25-Mar. 1, 1998. The CAA meeting drew hundreds of art historians and artists to scores of panels, an art-book fair and a big job-placement center. It was my first time, both in Toronto and at a CAA conference, but I'm looking for a teaching job -- and was summoned to the CAA for interviews.

So I flew into Pearson Airport and headed for the Metro Toronto Convention Centre, two huge, multilevel buildings connected by a maze of corridors and walkways. On my many treks through the center I glimpsed the Golf and Travel Show (complete with a driving range), a meeting of the Ontario Dental Association, and Missionfest, a three-day celebration of "God's work in the world."

But most exciting are the CAA panels, which began Wednesday evening and ran through Saturday afternoon. With over 100 symposiums, and as many as 16 offered at the same time, it is difficult to choose! As you can well imagine, trying to keep up with so many ideas, spread out through scores of papers that seem to drag on interminably, can be both exhilarating and frustrating! The overall theme of the art history panels was "The History of Art in a Post-Colonial Environment," while the artists dedicated their studio art segment to "The Global Metropolis." A book of lecture abstracts was available for $25. The book has no title index, is not organized chronologically or alphabetically, and so is difficult to use -- you have to look up the art historians by name.

Having a vested interest in contemporary art, I managed to pare down my Wednesday night choices to four. "Anarchism and Visual Culture" considered the relevance of anarchist ideas to post-World War II art. "The City as Producer" dealt with urban themes. "Off Color" posited "a multivalent view of color" from a number of perspectives. And "Temporary Public Art: Criticality and Homeopathy" addressed problems of public art practice. This last was my choice, since I recognized many of the guest speakers, notably the architects Diller and Scofido, art dealer Jeffrey Deitch and the always-entertaining Vito Acconci. Go for the "star" panelists, my editor had advised me.

Well, the architects were not present, and Acconci didn't make it -- he was opening a show at Barbara Gladstone in New York the following Saturday evening. Acconci's presence would no doubt have enlivened the discussion, which was fairly conservative. The panelists tossed around an alarmingly extensive array of buzzwords and did a fair amount of self-promotion. A bright spot of the session was the substitute-inclusion of Lauren Ewing, a New York-based artist who, in presenting her work and responding to questions, added thoughtful comments to an otherwise lackluster discussion.

Panelists who fail to appear was a problem that plagued many of the sessions I attended. I was particularly enthused about "From Aesthetics to Politics, New York ca. 1975," a panel that was to include Martha Rosler. She didn't make it. Those who did gave presentations on political art practices from the late '60s and early 70s, and engaged in a follow-up discussion that evolved into a too-tame dialogue concerning "high art" versus community-based art practice. With seven presentations shoe-horned into a two-and-a-half hour period, little time was actually permitted for debate. This turned out to be another problem with most of the sessions.

On the final morning of the conference, I shifted from room to room, catching bits and pieces of several talks. I heard part of "The Critic as Curator, the Curator as Critic," which featured L.A. Times critic David Pagel, AFA curator Klaus Ottmann and Karen Wilkin, who writes for the New Criterion. It seems that critics have a hard time coming into an institution and being curators.

I shortly left for "Beyond Vision: Art, Aesthetics, and the 'Other' Senses," a truly interesting discussion of the separation of the senses in Western art practice. The crowd was conspicuously female, presumably because of a feminist focus on "body memory," "haptic resonances" and the like. Claudia Mesch, for instance, gave a paper about art that smells, such as Beuys' fat corners and Laurie Palmer's installations. David Howes from Concordia U. in Montreal talked about shamanism and healing rituals in primitive societies, and discussed shamanism as an organic integration of a performance esthetic into communal life.

Finally, I caught some of "Modernist Architecture and the Discourse on Ornament," an illuminating discussion of the racist implications of the rejection of ornament by Le Corbusier and Adolf Loos. Patricia Morton from U.Cal. Riverside presented a paper on Loos' Ornament and Crime, a treatise on esthetic purism that equates ornament with barbarism. Loos actually thought that modern art was culture that had evolved (the influence of Darwin's ideas can be seen here), leading to the elimination of uncivilized residual traits, i.e. the savage "still alive within us."

All in all, this wandering from session to session was lots of fun. For the last session, however, I stuck it out at "Trauma and Representation," which focused in part on Surrealism and photography during the World War II period. One of the best papers I heard was "Curing Trauma through the Invention of Memory: Femininity and the Death Drive in the Work of Charlotte Solomon, 1940-42" by Griselda Pollock, a celebrity cultural historian who teaches at the University of Leeds. Pollock discussed the work of Salomon, a Berlin artist who produced 769 gouaches and accompanying texts in a series entitled "Leben oder Theater?" ("Life or Theater?") between 1940 and 1942. Solomon died in Auschwitz in 1943. The work has been recently published in book form.

Pollock's talk was both informative and provocative. Solomon's gouaches chronicle her life, including her anorexia and the birth of her child, during the Nazi period -- and have been widely interpreted as autobiographical text and as Holocaust testimony. Through a Freudian grid, Pollock offered an interpretation of the material as a "text of mourning" that is pointedly feminine. The discussion that followed was spiced by the presence (in the audience) of the publisher of "Leben oder Theater?" He objected to Pollock's labeling of Solomon as a hysteric. The "hysterics" of the exchange was a lot livelier than most of the other question periods I sat through.

Each year the conference ends with a convocation and awards ceremony. This year Linda Nochlin of NYU's Institute of Fine Arts received a special award from the CAA Committee on Women in the Arts. Other award winners included the Los Angeles critic and artist Jeremy Gilbert-Rolfe for art criticism and the abstract painter and Hunter College teacher Robert Swain for art teaching. Paul Cadmus and Agnes Martin were cited for lifetime achievement; Arakawa and Madeline Gins for distinguished body of work; and Wen C. Fong and Barbara Novak for teaching art history. The reception following the ceremony was at Art Gallery of Toronto, where you had to buy your own drinks (hors d'oeuvres were free). On view at the museum was "The Warhol Look Glamour Style Fashion," which required a separate admission payment (!).

Some final remarks: I guess the conference delivered pretty much what I expected. There were plenty of academics and would-be academics -- including myself. This group extended from recent Master of Fine Arts grads to seasoned veterans. Conspicuously absent was the "clubwear" and Prada bags that have become de rigeur for art world happenings. People were actually wearing colors. Over all, the conference lacked the patina of glamour found at Drawing Center (New York) panels or museum symposiums. Perhaps it is a different story when the CAA convenes in Manhattan (which it does every three years).

I have failed to say much about the interview process. Interviews are prearranged or scheduled on site by institutions that are open to portfolio review. Most are conducted in private rooms in several hotels within walking distance from the Convention Center. Some interviews were conducted at tables set up trade-show style in a big hall at the Royal York Hotel. About 80 institutions choose to see candidates in this manner. Listings of new job openings were distributed two or three times each day. Job hunters (called "candidates") poured over these photocopied sheets in a ballroom adjacent to the interviewers' hall. There is something odd about being interviewed in somebody's bedroom, especially when they're lying across the bed.

Approaching one such room at the Royal York, I came upon two bulletproof-vested Toronto police officers dining at a round table in the hall. I assumed there was some important person who required round-the-clock armed protection on this floor of the hotel. However when I asked the officers about their mission, they replied that they were guarding the scene of a crime. Later I learned that a professional football player, a running back from the New England Patriots, had been arrested and charged with sexually assaulting a hotel guest. The conference, and Toronto, were not without excitement.

STEPHAN PASCHER is an artist and writer who divides his time between Los Angeles and New York.