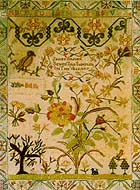 Janet Arneil
Embroidery
1807
Witney Antiques






Georgian dressing table
1770
W. R. Harvey & Co.
(Antiques) Ltd





Dining Room
Bayou Bend Collection
& Gardens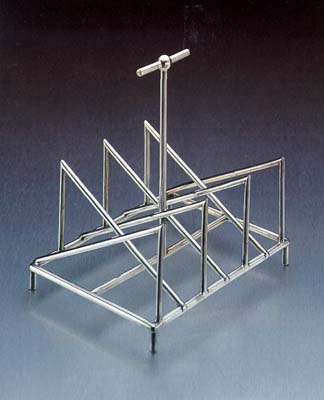 Toast Rack
ca. 1880
James Dixon & Sons,
Sheffield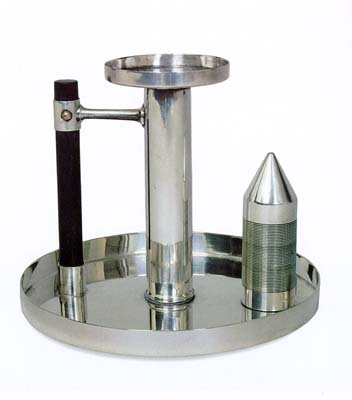 Chamberstick
ca. 1882
Hukin & Heath,
Birmingham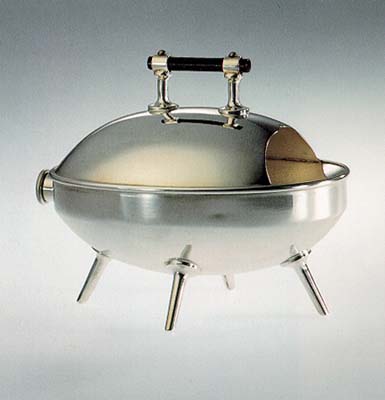 Spoon Warmer
ca. 1881
Hukin & Heath,
Birmingham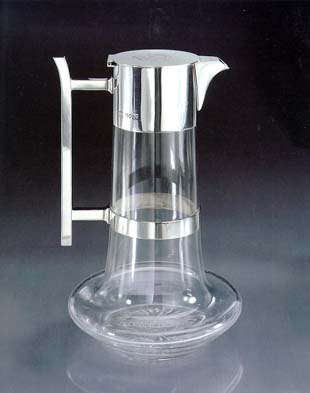 Claret Jug
1880
Heath & Middleton,
Birmingham





"Komai" Pitcher
1880
Elkington & Co.,
Birmingham





Louis XV Japanese Lacquer Commode
by BVRB, 1745
at Christie's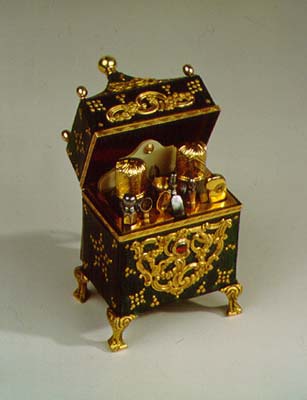 Shagreen gold
mounted nécessaire
ca. 1760
at John Jaffa Antiques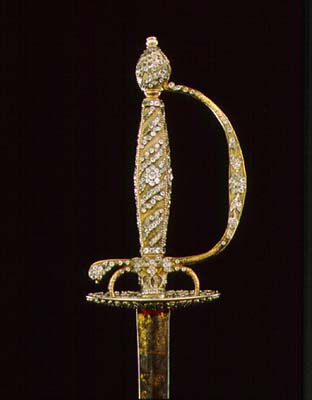 French Small-Sword
ca. 1780
at Peter Finer
Arms & Armour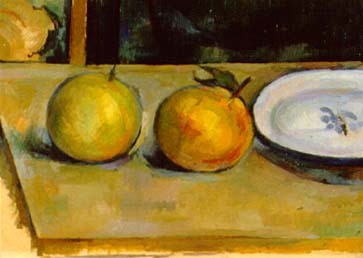 Paul Cézanne
Deux Pommes sur une table
ca. 1895-1900
Cotswold Exhibitions
British antique lovers have long toured the Cotswolds, a quaint, hilly district just an hour and a half west of London. This month, from Oct. 17 to Oct. 31, the 25 members of the Cotswold Antique Dealers' Association have joined together to promote their exhibitions as a group. This is the first time ever that the English association has coordinated such an event, as the dealers usually exhibit autonomously.

"How Fragrant the Rose" at Witney Antiques features approximately 50 English 17th-and 18th-century embroidery pieces, many made by children. Each charming work reveals a tidbit of history, as names, dates and inscriptions are sewn between the floral patterns. "The Grand Tourist" at Christopher Clarke presents a collection of objects obtained by 17th-and 18th-century Europeans touring through Italy in search of education and refinement. "Mrs. Plante's Dressing Table" at W.R. Harvey and Co. is an exhibition of English furniture from 1680-1830. Each of these Georgian pieces is signed, labeled, stamped or otherwise attributable, then placed in its correct domestic context in a period room setting.

Included as well are exhibitions of paintings, sculpture, maps, pottery and antique sporting paraphernalia. For more information call the CADA in the U.K at (44) 1608 661268.

Bayou Bend -- Back in Business
Bayou Bend, one of the most distinguished house museums in the country escaped the flood waters of tropical storm Francis last month. Its Visitors' Center was not so fortunate; the bathrooms were flooded, forcing the museum to close on Sept.12. The complex reopened on Oct. 6, while refurbishing in the Visitors' Center continues.

The pale pink former residence of the late Miss Ima Hogg, only daughter of Texas's first native-born governor, James Stephen Hogg, sits on a rise above the cottage that was transformed into the Visitors' Center. Bayou Bend's 28 rooms trace the evolution of American decorative arts from the 1600s to 1870. The house and its collection, which includes silver by Paul Revere, paintings by John Singleton Copley and furniture ranging from a Hadley chest to a suite by John Henry Belter, were untouched by the flood waters, even though the Buffalo Bayou twists around three sides of the site's 14 acres of wood and gardens.

-- N. F. Karlins

Christopher Dresser at Historical Design
Before the Bauhaus made industrial design chic in the 1920s there was British designer Christopher Dresser (1834-1904). The so-called "father of modern design" is the subject of "Truth, Beauty, Power," currently on view at Historical Design, located at 306 East 61 Street in Manhattan.

Dresser's metalwork looks curiously contemporary with its smooth surfaces and industrial finish. But almost all of the 100-some designs in the show predate 1900, and upon closer investigation, it's clear that they were conceived with the Victorian household in mind. Dripping with 19th-century decorum, every item has its proper place and function, from the toast racks and a sweet-meat basket to chambersticks and snuffers. The exhibition even includes a rare spoon warmer from 1881. (Even the grandest Victorian homes were famously chilly.)

"Truth, Beauty, Power," was Dresser's personal motto, indicative of his utilitarian fetish. Form was not entirely dependent on function, however. His pure geometric shapes -- circles, cylinders, spheres, arcs, etc. --meshed with a decorative Japonisme, after he traveled to Japan in 1876.

Ivory and ebony handles, floral imprints and traditionally Japanese vessel shapes became essential to much of his work. The "Komai" pitcher, for example, is impressed with a metalwork pattern produced by the Komai family of Kyoto during the Meiji period (1868-1912). An avid importer of Japanese goods, Dresser became largely responsible for the popularization things Japanese in Britain in the late 1800s.

Dresser designed for about 50 English producers of the applied arts, from wallpaper and furniture to metal and glass. The majority of pieces in the show were made by such renowned houses as James Dixon & Sons, Elkington & Co., Hukin & Heath, and Heath & Middleton.

The collection on view, which is all for sale, was assembled by Historical Design, Inc., partners Dennis Gallon and Daniel Morris over the past 15 years. Gallon noted somewhat remorsefully that many of the pieces had already been purchased by museums and dealers. Perhaps he'll see some of them again when the Metropolitan Museum and the V&A team up in 2004 for a Dresser retrospective. "Truth, Beauty, Power" opened on Oct. 15, and runs through Dec. 18, 1998.

French & Company at Christie's
Christie's has announced that on Nov. 24, 1998 it will sell the European furniture collection of the American dealers French & Company. (Students of contemporary art will remember French & Co. from the Clement Greenberg era -- he advised them from 1959-1960, ensnaring himself in accusations of market manipulation). The collection of 60 French and English pieces, estimated between $30 million and $40 million, will be the most valuable single-owner collection of European furniture ever to come to auction.

Christie's sale includes a 1745 Louis XV Japanese laquer commode (estimated at $4,000,000-$6,000,000) produced by the famous maker BVRB, and recently discovered to have come from the palace at Versailles. [See Adrian Darmon's Letter from Paris].

The furniture sale comes as Martin Zimet, who has run French & Co. since 1968, turns the business over to his son Henry Zimet. The younger Zimet has decided to concentrate only on paintings, Old Masters in particular.

Antiques Fair for Beverly Hills
The antique trade loves Los Angeles! On Oct. 29, 1998, the Beverly Hills International Art & Antique Fair makes its debut. The five day fair features 65 art and antique dealers from the U.S. and Europe, and includes everything from fine arms and armor to Cézanne's Deux Pommes sur une table (ca.1896-1900).

Echoing the transience of Los Angeles itself, the fair will be held in a temporary venue. David Lester of International Fine Arts Expositions, who is running the fair in conjunction with department store conglomerate Robinson-May, has constructed the International Pavillion, a 35,000 square-foot tented facility next to the Beverly Hilton Hotel. Interior designer Mario Buatta is chairing a committee for collectors and connoisseurs for the fair, and will kick off a lecture series on Oct. 30 with "If You Can't Hide It, Decorate It."


MEREDITH MENDELSOHN is assistant editor of ArtNet Magazine.