Man Ray
Noire et Blanche, Paris
(Positive and Negative)
1926
$607,500 at Christie's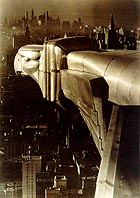 Margaret Bourke-White
Gargoyle outside of Bourke-White's
Chrysler Building Studio
1930
$96,000 at Christie's





Lazlo Moholy-Nagy
Fotogramm
1925-26
bought in at Christie's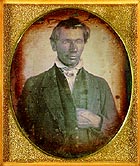 Unknown artist
ca. 1840
bought in at Christie's




Maxime du Champ
Egypte, nubie,
Palestine et Syrie
1849-51
$167,500 at Christie's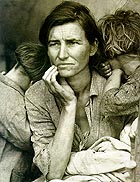 Dorothea Lange
Human Erosion in California
1936
$244,500 at Sotheby's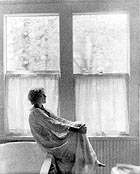 Clarence H. White
The Bathroom, Morning
1906
$36,000 at Swann Galleries
On the surface, the fall photography sales at Christie's, Sotheby's, Phillips and Swann Galleries in New York during the first week of October didn't reflect the current economic trauma in the financial markets -- the salesrooms were packed, the crowds were upbeat and records were set. Bidding was competitive, though buyers were highly selective, avoiding the riskier lots and staying within the estimates, for the most part. As a result, only Sotheby's sold above 70 percent of the lots offered.

The week began on Monday, Oct. 5, 1998, with Christie's first ever single-owner sale of photographs, "The Image as Object: Photographs from the Collection of Barry Friedman." Friedman, a well-known connoisseur and dealer, is said to be selling at the height of the market. His current passion is for art glass.

At any rate, his collection of 20th-century photographs carried a high estimate of $3 million, and brought in $1,935,800. A modest 94 of 152 lots sold, including the star of the sale, Man Ray's Noire et Blanche, Paris (Positive and Negative) (1926), a rare diptych of two gelatin silver prints. It went to an anonymous phone bidder for $607,500 (presale est. $600,000-$800,000) -- setting a new record for a single photograph at auction.

A vintage print of Margaret Bourke-White's famous Gargoyle outside of Bourke-White's Chrysler Building Studio (1930) sold for $96,000 (est. $60,000-$80,000) to a New York dealer, an auction record for the artist. Berenice Abbott's Jean Cocteau (1927) sold for $46,000 (est. $25,000-$30,000), also an artist's record.

Dealers at the sale seemed to think the prices were right on the money, as nods of acquiescence and whispers of "bargain!" could be heard after each major lot. One important work didn't sell, however. A Laszlo Moholy-Nagy Fotogramm (1925-1926) was bought in at $70,000 (est. $90,000-$120,000).

Christie's sale the following day was heavier on 19th-century photographs. Among them was an 1840s Daguerreian portrait of a man conjectured to be Abraham Lincoln. The image was never actually proven to be the 16th president, and in spite of (or because of!) Christie's confident estimate of $200,000-$300,000, the controversial photo did not sell.

A beautiful set of Maxime du Camp photos, Egypte, nubie, Palestine et Syrie (1849, 1850 and 1851) did sell, however, for $167,500 (est. $150,000-$200,000). A record price was set for Paul Strand -- his 1928 platinum print, Speckled Toadstool, Georgetown, Maine, sold for $90,500 (est. $60,000-$90,000). The combined total of Christie's two sales is $5,292,250. About 63 percent sold, by volume, and 75 percent by price.

Sotheby's photography auction on Oct. 7 totaled $3,563,225 for 493 lots offered (378 sold). Percentage-wise, Sotheby's did mildly better than Christie's, selling 77 percent by volume, and 84 percent by price.

The top lot at Sotheby's was a vintage print of Dorothea Lange's trademark photograph, Human Erosion in Califorinia (1936), which sold for $244,500 (est. $100,000-$150,000) to the Getty Museum, setting a record for the artist at auction. Diane Arbus' Identical Twins, Roselle, N.J. (ca. 1970) sold for $101,500 (est. $70,000-$100,000), another artist auction record. Records were also set for photos by Charles Scheeler ($233,500) and Brett Weston ($41,400). (The Weston was bought by Edwynn Houk, by the way, Barry Friedman's former partner.)

Phillips' Oct. 4 sale of Joshua P. Smith's collection of color photographs sold about 56 percent by volume. Sales totaled $212,450, exclusive on premium, on 117 lots. The top lot was a 1930 Sherril Schell silver gelatin print of Pearl Street in Manhattan. The sale included 34 photos by Sherril Schell of New York City dating from the 1930s, as well as photos by William Eggleston, Jan Saudek and William Christenberry.

The Oct. 5 photography sale at Swann Galleries did about 60 percent by volume, for a total of $989,460. Swann's 20th-century photos did slightly better than the 19th-century selections. The top lot was Clarence H. White's The Bathroom, Morning (1906), which sold for $36,800 (est. $30,000-$40,000). Swann photo expert Daile Kaplan called the sale a success, despite the fairly high buy-in rate, and said that the photo auction market is alive and well.


MEREDITH MENDELSOHN is assistant editor of ArtNet Magazine.