Sarah Anne Garges
Pennsylvania appliqué
pictorial quilt
1853
at the Museum
of American Folk Art





Eight-Point Starburst
Quilt with Nine Patch
and Field of Lemoyne Stars
ca. 1875-80
at Laura Fisher





Two piece Dutch
cupboard from
Berks County
at Thurston Nichols





Early 19th century
Swedish cupboard
from
John Sideli/Melissa Greene






Chris Moe
"Tribute to America"
1918-31
at Allan Katz
Americana






James Bard
Glen Cove
1855
at Smith Gallery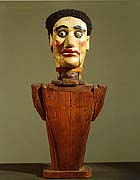 Ventriloquist's dummy
ca. 1880-90
at Ricco/Maresca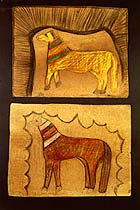 Beatrice Cantrell
Pair of horse drawings
ca. 1900
at American Primitive
The Fall Antiques Show celebrated its 20th anniversary at New York's Park Avenue Armory, Nov. 19-22, 1998. This always-lively show is undoubtedly the best place to see blue-chip 19th-century folk art and antiques, yet it contains some edgier 20th-century material and a smattering of everything else. The late Dr. Robert Bishop, then director of the Museum of American Folk Art, asked impresario Sanford L. Smith to produce this first "all-American" antiques show in 1979. The rest is history. And this year the booths looked better than ever.

The opening party on Wednesday evening was, as usual, a benefit for the Museum and featured an exhibit of "Folk Art Treasures" from the last 20 years that were first displayed at the show. Two of the works ended up in the museum's permanent collection, a carved and painted Indian with Rose (c.1880) and a vivid Pennsylvania appliqué pictorial quilt from 1853 by Sarah Ann Garges.

Lots of items were snapped up during the buzz of opening night. Peter and Jeffrey Tillou sold a smashing full-length portrait of a little girl in a red dress by Sturtevant J. Hamblin from 1840. The charming lass with her hair in ringlets wore more and finer accessories than found in most portraits of the Prior-Hamblin School, including a three-strand pearl necklace. The plain dark background made her red dress really pop. At M. Finkel and Daughter, an important sampler by Hannah Hancock from Burlington County, NJ, dated 1840 disappeared fast, as did a Hearts and Birds hooked rug from ca. 1920.

Textiles, especially quilts, and furniture, the more unique and robust the better, sold well throughout the show, and most of the 71 dealers were forced to fill in their spaces with fresh material quickly. Quilts were especially hot, according to Laura Fisher, one of New York's most famous quilt mavens. She showed several intricate works, such as a Eight-Point Starburst with Nine Patch and Field of Lemoyne Stars ($3,500) from Pennsylvania from around 1875, that were related in their technical virtuosity to the folk art marquetry currently on view at the Museum of American Folk Art. Shelly Zegart Quilts had a lovely album quilt with the usual flowers but also domestic items like a teapot, cookie jar and baskets. Good-looking African-American and Amish quilts were offered by these and other dealers.

One of the best-preserved dower chests from Pennsylvania turned up at Greg K. Kramer & Co. This three-panel chest ($90,000), ca. 1832 from Dauphin County, had stamped and painted decoration in mint condition. Another exceptional painted piece was the red-and-yellow-grained two-piece Dutch cupboard from Berks County at Thurston Nichols. From around 1840, this more than seven-foot high and exuberantly painted cupboard ($225,000) is one of three works by the same maker, as yet unidentified.

Just to prove not all wonderful painted furniture was American, an attractive Swedish cabinet with original paint ($15,000) from the early 19th century was to be found at John Sideli Art and Antiques.

Unpainted furniture was also strong. There was a lot of interest in the 10-piece marquetry suite by Chris Moe of Portland, Oregon, made between 1918 and 1931 that Allan Katz Americana was showing. This "Tribute to America" ($115,000) used more than 100,000 bits of rosewood, mahogany, birch and sycamore to illustrate American themes and included plaques, a large table, a magazine rack, a floor lamp with an intricately carved Statue of Liberty.

Clifford Wallach, author of one book on "tramp art" and presently at work on another, was one of twelve newcomers to the show this year. His over-six-foot high Pennsylvania Dutch armoire with inscription and double doors encrusted with colored stones and resin was an outstanding example of chip-carving. Scratch-built and dating from the 1880s, it was priced at $18,000. A more restrained but equally impressive "tramp art" fireplace mantle and mirror from this century by F. Miller of Morristown, N.J., was only $12,000.

There were several works on view by America's best-known ship painter James Bard. The most desirable, perhaps, was his 1855 oil of the Glen Cove at the Smith Gallery for $175,000. It had wonderful imposto work, a number of delightful figures, champagne spray at the bow and was in excellent condition. For lesser purses, a fine 1863 watercolor of the Matteawan at Gemini Antiques was available.

Other notable 19th-century pieces were two "smalls." One was a great double-sided scrimshaw tooth ($16,000) at Nina Hellman Antiques commemorating the War of 1812 with a blockade scene off France and an entire fleet with each ship labeled. Another was a charming yet quirky late 18th-century pen-and-ink ($2,850) of a large and small bird only about six by six inches at Raccoon Creek Antiques.

An even funkier piece was a painted wood ventriloquist's dummy from around 1880-1890 at Ricco/Maresca that was on reserve.

The 20th century provided great and equally unusual pieces like an articulated painted wood skeleton from Vermont around 1900 ($14,500), sold by Susan and Sy Rapaport. An almost life-size, polychromed wood figure of a girl in a blue-green pleated skirt, possibly once a store mannequin, made an impression at Kelter Malcé. Found in Texas and from around 1930, she was fairly priced at $15,000.

A classic Ralph Fasanella oil of Coney Island (1956) with lots of people and vignettes, all five by eight feet of it, was offered at $175,000 at Timothy and Pamela Hill, while American Primitive introduced the drawings of Beatrice Cantrell. Cantrell's six drawings of horses with religious mottoes, along with a handful of others, were discovered recently in a sharecropper's house in Georgia. The six were being offered as a set for $22,000.

A stop at A Bird In Hand, which spotlighted a good selection of stoneware crocks and decoys, proved a bargain was to be unearthed occasionally. An early Elmer Crowell decoy of a brant with brass-tack eyes from around 1915-20 might go for $4,200, but a diminutive New Jersey shore bird by an unknown maker at the turn of the century with a knobby, sculptural root head was a mere $350.


N. F. KARLINS is a New York writer and art historian.