Melvin Way
Untitled
1997
at Margaret Bodell ltd.





Johann Garber
Stadt Tulln
1993
at Galerie Heike Curtze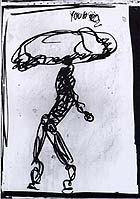 Purvis Young
Figure
1983
at Joy Moos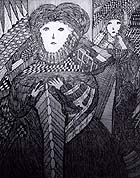 Madge Gill
Untitled
1951
at Jennifer Pinto Safian
The 6th annual Outsider Art Fair previewed at Soho's Puck Building on Thursday evening Jan. 22, followed by a dinner to benefit the Museum of American Folk Art.

The 35 exhibitors from all over the U.S., plus France, England, Austria and Haiti, were largely the same as previous years, but this year the scene seems less bubbly than the champagne on offer at the bar. Visitors made their way methodically through a lot of material, often difficult to see because of over-stuffed booths.

Classics like the Bill Traylor drawings at Luise Ross and the mural-size Henry Darger watercolors at Chicago's Carl Hammer looked better than ever. Among the few new finds were the magical formulas diagrammed and "explained" in ink on small scraps of paper by Melvin Way, a discovery of Margaret Bodell, Ltd., of New York. One of this talented schizophrenic's works adorned the cover of the fair program.

Impressive new exhibitors at the shows included Jennifer Pinto Safian of New York and Galerie Heike Curtze of Vienna, both dealing in European outsiders. The booth of London's Henry Boxer, always presenting a number of British outsiders, was notable this season for its pencil drawings by the obsessive Polish artist Edmund Monsiel (1897-1962), who had a retrospective at the Collection de l'Art Brut in Switzerland last year. Whether his mustachioed contour figures are represented sparely, alone or in groups or in eye-crossing overall patterns of interwoven, minuscule elements, their fluid line, wandering figural boundaries and gender bending are always sophisticated in form and intriguing in content.

One trend seemed to be a growing appreciation of prison art. Bonnie Grossman of The Ames Gallery from Berkeley had a good selection of obsessively detailed drawings, slithery in their design and attractively colored, by inmate Tyrome Jordan.

Phyllis Kind dedicated a section of her booth to "In Memoriam: Roger Brown." Brown, who died last year, was one of the first Chicago-based artists to recognize the importance of folk and outsider art and established a fine eclectic art collection with generous amounts of folk and outsider material. He left his substantial holdings to the School of the Art Institute of Chicago, from which he graduated.

Among the offerings at Ricco/Maresca was a display of several life-size carved, painted, clothed and accessorized figures from the "Possum Trot" environment, created in the middle of the California desert by Calvin and Ruby Black during the early 1950s through the '70s. Once Calvin threw his voice to make the "girls" come alive for the couple's few visitors, but the "girls" are talking on their own these days -- to savvy collectors.

N.F. KARLINS is a New York writer and art historian.