Antoine Watteau
La Nymphe de Fontaine
ca. 1715





Lebrun Alexander and
Appelles Cabinet
ca. 1785
bought in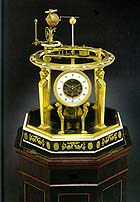 Morgan Orrery Clock
ca. 1805





Coventry Commode
ca. 1763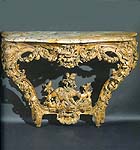 One of a pair of
Louis XV giltwood consoles
ca. 1755
$156,500






Louis XV giltwood console
ca. 1755
(detail)






Philip Jakob de
Loutherbourg
A Winter Morning with
Skating in Hyde Park
1776
$508,500





Pair of Early Louis XV
Ormolu Door Knockers
ca. 1730
$63,000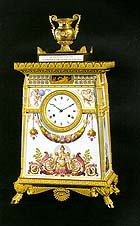 Louis XVIII Ormolu-mounted
Sevres Porcelain
Mantel Clock
1820
bought in
Taking a cue from the musical Gypsy, Christie's has been playing "You gotta have a gimmick" for the past few years with national-school sales in London and New York. "Flat art" (paintings, drawings and prints exclusively) was featured at the the auctions of German and Austrian art in London, and will be the focus of the forthcoming "Spanish Gallery" sale in New York in January 1999.

Christie's "Arts of France" sale in New York on Oct. 23, however, was unique in its mix of paintings with decorative arts such as furniture and porcelains. The sale presented primarily 18th-century material, and offered both a handy dumping ground for dealers anxious to unload old stock and "one-stop-shopping" for those itching to recreate a Wrightsman Room on Central Park West.

Accompanied by a blitz of marketing and promotional enticements including a lecture series and French dinner party (at several hundred dollars a plate), the debut "Arts of France" sale last year was surprisingly successful, totaling $16.5 million. This year's follow-up (the pre-auction dinner was dropped) received a more guarded response -- though 109 of 176 lots sold, the sale totaled "only" $9,438,600. Prices here include the buyer's commission of 15 percent on the first $50,000 and 10 percent on the remainder.

In both decorative arts and paintings, buyers were unusually picky.

The best price came for the seductive La Nymphe de Fontaine (ca. 1715) by Antoine Watteau. The decorative work from an unknown source -- the picture first turns up at a Hôtel Drouot sale in 1855, and no drawings survive for it -- sold for $908,000, over a presale high estimate of $800,000.

Nearly all of Christie's top furniture lots were bought in, including the "Lebrun" Alexander and Apelles Cabinet by Etienne Levasseur offered by the Massachusetts Historical Society (where it had resided since 1872). The brass ornamented black book cupboard, originally commissioned ca. 1785 by the Jean-Baptiste-Pierre Lebrun (husband to Elizabeth-Louise Vigée Lebrun), was estimated at $400,000-$600,000; it was bought in at a bid of $240,000.

Also bought in were the Morgan Orrery Clock (est. $250,000-$350,000) and the neoclassical "Coventry" Commode from Croome Court by Roger Vandercruse, called Lacroix (est $700,000-$1,000,000).

A determined European dealer paid strong prices for three extraordinary carved Louis XV giltwood consoles. One pair depicts a boar and stag hunt, respectively, and sold for $629,500 (est. $300,000-$500,000). A larger, single example with an exuberantly executed ruffled cabochon (est. $70,000-$100,000), making $145,500.

A charming pair of Louis XV Ormolu-mounted Chinese black and gilt lacquer and Kingwood stands (ca. 1735) -- just the thing on which to display your blac-du-chine figures -- caused rare excitement, zooming past the presale estimate of $12,000-$18,000 to sell to a phone bidder for $156,500. The underbidder was Paris dealer Bernard Steinitz. Steinitz prevailed on several lots, notably a handsome through won pair of bronze ormolu door knockers in the form of Medusa Heads for which he paid $63,000 (est. $15,000-$20,000).

Generally, porcelains sold reasonably. Khalil Risk of the Chinese Porcelain Company paid a combined total of $94,300 for two large lots of a Sevres "Feuille-de-Choux" service (each lot estimated at $30,000-$40,000).Comprising a total of 143 pieces, it averages out to $659.44 for each piece.

The most spectacular piece of porcelain offered was Nancy Richardson's spectacular Louis XVIII ormoulu-mounted Sevres mantel clock a la grecque. Of the highest quality and workmanship, it was sold by Sotheby's for $57,500 in 1989. This time around, it was felled by a greedy $110,000-$150,000 estimate and was bought in at a final "bid" of $65,000.

Nancy had better luck with her paintings: her Skating in Hyde Park (est.$250,000-$350,000) by Phillip James de Loutherbourg sold for $508,500, a record price for the artist.


PAUL JEROMACK is New York critic and journalist.