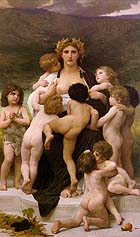 William Aldolphe Bougereau
Alma Parens
1883
$2,642,500 at Sotheby's






John William Waterhouse
The Awakening of Adonis
1899
$2,340,000 at Sotheby's





Sir James Jebusa Shannon
Lorna and Dorothy Bell...
ca. 1900
$431,500 at Sotheby's






Frederik Hendrik Kaemmerer
Beach at Scheveningen,
Holland
1874
(detail)
$992,500 at Sotheby's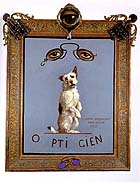 Jean-Léon Gérôme
O PTI CIEN
1902
$233,500 at Sotheby's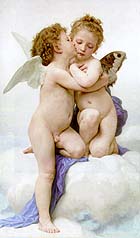 William Aldolphe Bouguereau
L'Amour et Psyché, enfants
1889
$1,762,500 at Christie's






Charles Burton Barber
Time to Wake Up
1883
$365,000 at Christie's
The market for 19th-century "Salon" pictures remains as strong as ever, but unlike other markets where the audience outstrips the supply, there are, as the October sales proved, too many pictures for the market to digest all at once. So, while the majority of the big-ticket items sold, many more mediocre to good pictures were just ignored.

Sotheby's led the week with a three-session, two-day sale of 514 lots, (272 sold; 242 were bought in) totaling over $20.4 million. Both Sotheby's and Christie's featured several works by the well-loved pompier, William Adolphe Bouguereau, but only the better ones sold.

Sly Stallone's monumental 1883 Bouguereau, Alma Parens, (est. $2.4 - $2.6 million) was the featured lot at Sotheby's on Nov. 10, 1998. Conceived by the artist as an allegory of Mother France nurturing her children, it's an unfortunately jumbled composition showing a succession of plump toddler bottoms. It certainly made an impact, however, selling to a new American collector for a record price of $2,642,500 (est. $2.2 million - $2.6 million). The previous record for the artist was set by The Heart's Awakening, sold by Christie's in 1997 for $1.4 million.

Another big "machine" was The Awakening of Adonis (1899) by Royal Academician John William Waterhouse, a lumpy, literal interpretation of a typical pre-Raphaelite theme devoid of the poetry that Burne-Jones would have given it. Underbid by Connecticut collector Jerry Davis, it sold to a "European collector" on the phone for a record $2,340,000 (est. $800,000 - $1,200,000). Cats composer Andrew Lloyd Webber, who collects Victorian paintings, was seen ogling it with great interest earlier in the week.

Davis was undeterred in pursuit of several other lots, notably a double-portrait of Lorna and Dorothy Bell (ca. 1900) by the American expatriate Sir James Jebusa Shannon, which sold for a record $431,500 (est. $250,000 - $350,000).

Davis also purchased the wonderful, sparkling Beach of Scheveningen, Holland (1874) by Frederik Hendrik Kaemmerer depicting a gaggle of thoroughly crinolined ladies taking the sun at this popular Northern resort -- one hopes for their sake it was a chilly day. Making its third appearance at Sotheby's New York, it had been deacessioned by the Corcoran Gallery in 1988 for $1.2 million, sold again for $827,500 in 1994, and finally brought in $992,500 (est. $800,000 - $1,200,000).

A personal favorite was the unique O PTI CIEN (1902) rebus picture from 1902 by Jean-Léon Gérôme, a bizarre foretaste of Duchamp and Margritte that was extolled by Salvador Dalí in the 1960s. Unfortunately, Sotheby's catalogue made no mention of its provenance. Though it would have made a most imaginative and sensible purchase for the Museum of Modern Art, it was bought by an American private collector for $233,500 (est. $80,000 - $120,000).

Christie's "Age of Elegance" sale on Nov. 11 was a more modest affair. Their brace of Bouguereaus featured L'Amour et Psyche, enfants (1890), which was last sold by Christie's London in 1983 for £37,800. A sugary confection of two kissing babies, it has become one of the most-reproduced pictures in recent years, appearing on posters, greeting cards and even checkbooks. There was nothing sweet about Jerry Davis' bare-knuckled, aggressive bidding, however, as he pushed the two collectors who had just bought Stallone's Alma Parens the day before to fork out $1,762,500 (est. $1million - $1.5 million) for this one.

Only slightly less sweet was Charles Burton Barber's Time to Wake Up (1883) -- an image of a frisky Jack Russell puppy bouncing atop his sleepy-eyed mistress, ready for his morning walk. A record price for the artist was set at Christie's in 1997 by the sale of Suspense to an American private collector for $400,000. Apparently that same buyer couldn't get enough, and against strong competition from Davis again, bought Time to Wake Up for $365,000 (est. $200,000 - $300,000).


PAUL JEROMACK is a New York critic and journalist.