Frederico d'Orazio
at LASCA
Photo Ernst Moritz




























Jeff Wall
Picture for Women
1979












Jeff Wall
A Sudden Gust of Wind (after Hokusai)
1993





















Katharina Sieverding
Stauffenberg-Block
1969




















Daniel Laskarin
Polar Drift
1996




















Isabell Heimerdinger
Interior
1996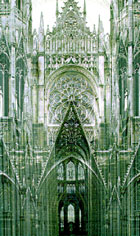 Roland Fischer
o.T.
1996




















Sirio Tommasoli
Stanze del Rio
1995










Ange Leccia
Summer '67
at Stephen Cohen






This summer's highlight is definitely the 3rd Los Angeles International Biennial Art Invitational (sponsored by Absolut Vodka), a sprawling city-wide event that officially opened on July 10. During July and August, over 60 Los Angeles galleries are playing host to a bewildering array of foreign artists and galleries from Europe, the Pacific Rim, Canada, Mexico and Latin America. Even the Museum of Contemporary Art and the L.A. County Museum are participating, after a fashion -- via a pair of traveling shows, MOCA's stunning retrospective of Canadian artist Jeff Wall's large-scale photo light-boxes and LACMA's survey of groundbreaking photomontages by German Dadaist Hannah Höch.

The International was kicked off at LACMA with a lively reception for the Hoch exhibition. Among those present were Marc Selwyn, director of Pace Wildenstein (L.A.), accompanied by actor/comedian Jim Carrey, who, its said, is actively collecting. Also sighted were New York dealer Sandra Gering, Norton Family Foundation curator Susan Cahan, Rosamund Felsen, Wayne Baerwaldt of Canada's Plug In Gallery, and Dutch artists Twan Janssen and Rob Birza, who has a solo show next year at the Stedelijk Museum.

All in all, the imports are predominantly works in conventional media (as opposed to large-scale installations, for instance). Highlights include a lusciously ribald retrospective of Tom of Finland at Mark Moore Gallery, ranging from the start of his career in the mid-1940's up until his death in 1991. This artist's provocative, homoerotic work has recently been added to the collections of both LACMA and the San Francisco Museum of Modern Art -- the first major American museums to have acquired it.

In one of its four galleries, LASCA has an imposing installation by Federico d'Orazio of the Netherlands. This massive piece features a huge inflated pink polyvinyl cow's udder with six mammoth teats, completely filling the room and bulging out to squash beneath it a small mechanized bossy, complete with black and white spots and a monitor displaying ambient visions of gurgling milk. Viewers can peek into the interior cavity of the ballooning bovine breast by looking through clear vinyl portholes on the side, where one sees a network of plastic tubes pumping a milky substance. This benign icon is a witty characterization of the industrial-agricultural role Holland enjoys as the dairy capital of Europe.

LASCA director Carl Berg has been perhaps the most ambitious of all the participating L.A. dealers -- earlier this year he visited the Netherlands and has organized, for the International, a series of shows throughout Los Angeles including several Dutch artists, in addition to shows from Amsterdam's cutting edge Torch Gallery and W139, an alternative space. These shows can be seen at a selection of the city's alternative spaces including Bliss, POST and Angels Gate Cultural Center, as well as Cirrus Gallery.

L.A. Louver Gallery presents a series of large-scale altered photographs by German artist Katherina Sieverding, (who is representing Germany in this year's Venice Biennale). Her diptych images, entitled "Stauffenberg Blocks" (a reference to Hitlers' would-be assassin, General Stauffenberg) are a stark group of stoic, close-cropped faces emerging from intense red fields. Each piece consists of one dark and one light panel. Like much of her work, these are self portraits -- but the monumental scale and repetition of this visage's cold steely gaze takes on the appearance of a more political iconography evokes Germany's darker collective consciousness. The mirroring effect between the shadowy and bright effigies are intended as an expression of reconciling this past with a more optimistic present.

Two group shows are among the strongest exhibitions organized for the International. At Richard Heller Gallery, Wayne Baerwaldt has curated an energetic show of primarily Canadian artists. Daniel Laskarin, who is from Vancouver, incorporates objects emblematic of rugged Canadian culture and recontextualizes them, such as a polar bear skin rug which has a robotic element causing it to rotate in its space, and an installation of an entire wall filled with trophy deer antlers, each identical, and interlocked in a dizzying pattern, as well a real taxidermied deer head, which silently quivers through mechanized means.

The kinetic work of Bill Smith also combines elements of the natural and the mechanical in a room-sized installation of flickering and whirring contraptions, incorporating bugs, electrical current, wires, whittled wood, flowers, lights, amplified sounds and other disparate components to create a pulsating, holistic environment. The whimsical drawings of Marcel Dzamas wryly depict images of a quirky cast of characters and other images evocative of the remote Northern Canadian landscape and culture.

Patricia Faure Gallery offers an engaging survey of photographic works including artists from different countries, entitled "Portraits of Interiors." This exhibition was originally curated by Helene de Franchis and was held previously at the Studio La Citta in Verona, Italy. Here, the work of contemporary L.A. luminists Uta Barth and Judy Fiskin is elegantly juxtaposed with large scale images by Sirio Tommasoli, Roland Fischer, Allessandra Tesi and others. The collective images on view present varying, poeticized modes of perception, regarding constructed spaces in a variety of architectural contexts.

In a solo show at Newspace, German artist Isabell Heimerdinger (who comutes between Los Angeles and Germany) exhibited a selection of computer-manipulated film stills, part of a larger project exploring the ideas of misplaced narrative and altered contexts in filmmaking and the movie industry. Here she presented large scale Cibachrome images derived from David Lynch's Blue Velvet and Wild at Heart and Stanley Kubrick's The Shining. These films were chosen for their predominately voyeuristic quality and their highly simulated stage sets. The artist has emptied these narrative moments, removing any evidence of characters and plot. In doing so, she thrusts the viewer into an engagement with a familiar scene, forced to play a role both alienating and unsettling in its artifice.

French artist Ange Leccia exhibited a site-specific work entitled Project for L.A., shown at the Stephen Cohen Gallery. This gallery installation consists of a videotape entitled Summer '67, shown together with a suite of Cibachrome video stills lining the walls of the space. The stills were golden light imbued images of flowers, and the video projected the face of a beautific young child speaking softly in singsong. This piece embodies the seemingly more bucolic aspects of Los Angeles. Leccia will have a retrospective of his work this fall at the Musée de la Ville de Paris.

The climax of the week was undoubtedly the opening of the Jeff Wall retrospective (which is up till Oct. 5). The impressive crowd included notables such as art collector Eli Broad, artists Mike Kelley, Catherine Opie and Doug Aitkin, the trans-Atlantic dealer couple Tanya Bonakdar and Marc Joancou (who will be opening a gallery together in New York's Chelsea in the coming months.) The show's 34 works were selected by Kerry Brougher (who has since a left MOCA to head up the Museum of Modern Art, Oxford. Wall's vivid images, everyone agreed, blur the boundaries between cinema, still photography, advertising and propaganda and address a range of social and artistic issues.

Also on view at MOCA (Since May), running concurrently with the Wall show, is "Mark Morrisroe, My Life: Polaroids 1977-1989." This extraordinary selection of over 200 images produced over a dozen years, up to the moment of his death by AIDS in 1989, was organized by New York based curator, Klaus Ottmann. Part of the "Boston School" of the 1970s along with Jack Pierson (his former companion) and Nan Goldin, Morrisoe had been presented with a lifetime supply of film by Polaroid. Morrisroe put this to good use, documenting his day-to-day existence in obsessive and poignant detail. These diaristic photos portray, with raw beauty, the artist's life, which tellingly reflects the exhilarating and tragic times of his generation.

In the news, the Los Angeles Times announced earlier this week that the year-old lawsuit between Bergamot Station Arts Complex partners Tom Patchett of Track 16 gallery and Wayne Blank of Shoshana Wayne Gallery has finally been settled. Patchett's suit had charged Blank with mismanagement of the complex, home to many L.A. galleries (and soon to be the new site of the Santa Monica Museum of Art). Patchett has been declared the victor, and the partnership will be dissolved as a result. According to one source, an independent management firm will now administer the complex. Whether Shoshana Wayne Gallery will stay on at the complex is not yet clear.

Summer finds the boys of "Baby Bergamot" (dealers Dan Bernier, Marc Foxx and ACME's Randy Sommer & Bob Gunderman) moving. With the imminent ending of their leases in the coming month or so, this trio of galleries (among L.A.'s most interesting and innovative spaces) will be relocating en masse to new digs. The exact location has not yet been announced but it looks like it's Eastward ho!, to a renovated building within walking distance of LACMA. Rumor has it that they may even be joined by some new neighbors ... which should promise some enlivening surprises on the scene.


JANE HART is a director of Muse X Editions in L.A.