Part of the Thing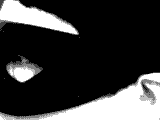 A clip from Martina's Playhouse
by Peggy Ahwesh












From Nude on the Moon
by Doris Wishman













From the Live Cam












Images from happier days











More images from happier days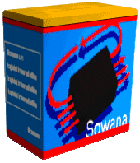 Sowana
Tired of dragging yourself to openings? Have a seat and go to the Thing! http://www.thing.net

This month the Thing was relaunched into cyberspace, and it's clearly one of the most creative artist-run Web sites around. Originally founded in 1990 as a bulletin board by New York multimedia artist Wolfgang Staehle, the Thing has been redesigned and now includes an incredible assortment of online art, music, video, film, books and conversation.

Functioning as a "virtual community server," the Thing's goal is to join visitors online through their interactions with the site and then expand this virtual interaction and community to the real world by organizing and producing real-world performances and discussions.

Sign on as a new member, it's free! (As a guest, some features are disabled.) Then, as a visitor, visit any one of the sections of the Thing:

In the Radio section, listen to music being spun by a DJ located miles, blocks or countries away-in real-time. The Thing features new music (like Talkin Mac Blues by GH and Sinclair) and visitors can choose from a huge assortment of jungle, ambient, lounge, techno, house or trance music to have playing as a soundtrack while they continue to browse through the Thing to, say, the...

Magazine section, which features current reviews of film, art, books, culture, Web sites and music. Check out the interview with filmmaker Patty Ahwesh, for instance, or watch clips from the proto-feminist, soft-porn filmmaker Wishman, or read artist David West's take on the current (Sept. 13-Oct. 15, 1997) Rosemarie Trockel show at Barbara Gladstone in New York.

Then take a look at the TV section, which includes hundreds of minutes of film and video. After only a minute or so of downloading time (and some of the usual plug-ins), films can be viewed in their entirety in real-time on the two-and-a-half-inch screen on your monitor. Finished checking your e-mail? Click on The Society of the Spectacle to view the full-length Guy Debord movie. Or if French Situationism isn't your thing, take a look at what's going on at the intersection of 27th Street and 11th Avenue on the Thing's Live Cam.

Feel an urge to connect with the other visitors online? Then click on one of the names listed in the box in the upper left corner of your screen. By clicking on a name, you can page that (current) visitor and let him or her (or it) know that you want to have a chat, or you can just check their stats (e-mail address) without them even knowing. (Just like in the old-school BBS days.) Or, you can all go to the Thing's Fog Chat, where rainbow-colored comments float in a black space (one color to a customer, please).

The Thing also has an art section which shows art projects created specifically for the Web, using the latest Internet software. Featured artists include: Susan Goldman, Rainer Ganahl, Cercle Ramo Nash, Franz Stauffenberg and Christopher Roth. The result is many stunning projects that are both visually stimulating and conceptually intriguing. Stauffenberg and Roth have created a project called happier days, in which the visitor is provided with a random combination of Technicolor images and then asked to write a story inspired by them. You can then read the stories that other visitors have come up with when confronted with the same images, revealing their innermost psychoses and fetishes. (Take a look at D. Scott Gregory's fingernail moon, which I found quite interesting).

The Thing even has its very own "Turing Machine" -- one that speaks French. Visitors can converse with this very intelligent program, named Sowana, but only in the language of romance. Sowana is a project of Paul Devautour (aka Cercle Ramo Nash).

And if that's not enough, check out the Messaging section, which contains writings posted by visitors on everything from last month's Burning Man festival and the recent Zapatista march on Mexico City to Camille Paglia on Princess Diana and a theoretical discussion group called Immersive Ideals/Critical Distances.

The Thing also provides archives of past projects, kiosks where art editions, music, magazines and newsletters can be purchased, and links to all of the very cool sites it hosts -- sites for galleries like Postmasters, magazines like Zing and Fat, and a whole lot of artists' sites.

The design of the site is contemporary and simple, and is actually making possible a virtual artistic community. Perhaps most importantly of all, it's great to see the much-heralded artistic potential of the Internet actually being realized with wit, sophistication and radicality.


MEGHAN GERETY is an artist who lives and works in New York City. She writes about digital art for Tribeca 75, a magazine published in Paris.