Pablo Picasso
Les femmes d'Alger
(Version "M")
(detail)
1955
$11 million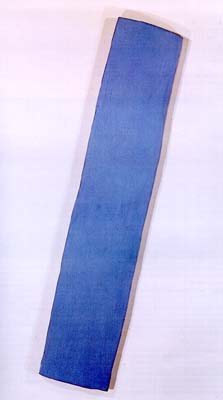 Richard Tuttle
Blue Pole
1965
$266,500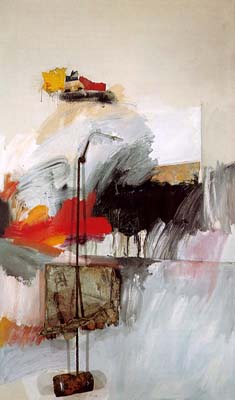 Robert Rauschenberg
Rigger
1961
bought in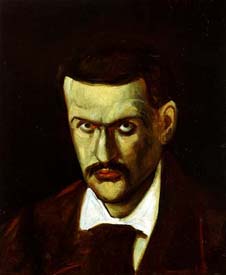 Paul Cézanne
Portrait de Paul Cézanne
c. 1862
Est: $600,000-$800,000




Paul Cézanne
La Toilette Funeraire or
L'autopsie
1869
Est: $700,000-$900,000




Paul Cézanne
Une Moderne Olympia or
Le Pacha
c. 1870
Est: $6,000,000-$8,000,000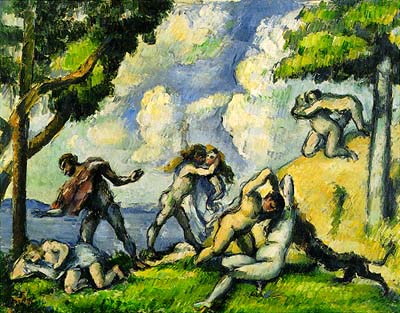 Paul Cézanne
La Lutte D'Amour
c. 1879
Est: $4,000,000-$6,000,000
The calculated singularity of the Ganz Collection was of course its solicitous linkage of the master Picasso with Johns and Rauschenberg and the hippie-era conceptual work of Bochner, Tuttle (so recently reaffirmed on the cover of Artforum) and the dead Eva Hesse.

Royal Flush called Picasso's Dream on the nose, give or take a million (predicting it would break $50 million in Royal Flush 10/27 -- it went for $48.4 million). These pictorial financial instruments are only affordable to those with thousands of millions, i.e., cyberchiefs like Bill Gates and Paul Allen.

It's odds-on that one of the Seattle wizards will step forward publicly as a buyer in the next few days. Gates even placed his father in the auction room.

The biggest victim in Ganz-mania is connoisseurship. The celebrated "Women of Algiers" series, for example, was Picasso at his '50s-era worst. More bad figures than a Max Beckmann, filled with kitschy, formulaic Picassisms.

The sale also demonstrated a fascinating ambivalence about Robert Rauschenberg. Here is an artist who was dismissed as a drunken hack as recently as 1991 and, with his three-ring Gugg big top, appears to have made it back all the way.

Consensus-driven auction dodo-heads are oh so smug, when they separate a combine like Red Interior (1954-55), which did sell for a hefty $6.4 million, from a seminal '60s piece like Rigger, bought in at $2 million bid.

We think that Bob's Goya-esque pictorial treatment of the JFK era will be his greatest legacy. There is a definite buying opportunity here in all media.

As for the Ganzes, let's turn to Aristophanes: "The saddest fame is posthumous fame."

At the same time that the Ganz sale was taking place on Park Avenue, Sotheby's was mounting a teach-in at its York Avenue digs, drawing quite a crowd, surprisingly. As Robert Rosenblum droned on about the Sharp Collection, to be sold on Weds., Nov. 12, inquiring minds were inspecting the extremely undervalued Cézannes once in the Pellerin Collection but now in mysteriously unknown hands.

Auguste Pellerin (1852-1929) was a margarine maker who became Norwegian consul in Paris and who, beginning in the late 1890s, assembled a Cézanne collection that may have numbered as many as 150 works.

Pellerin was one of the first monomaniacal collectors, stockpiling first Corot and then Manet before finally settling on Cézanne.

Now, 10 little-seen Cézannes "formerly in the Auguste Pellerin Collection" turn up as part of Sotheby's second-evening Impressionist and Modern sale, Nov. 13, the day after the Sharp Collection.

Where do they come from? Presumably Pellerin's heirs have been wary, over the years, of the French state's covetous eye on their patrimony. The catalogue makes mention of a 1982 gift of 14 pictures to the Louvre. Perhaps some quid pro quo exists that enabled the export of these works from France.

In light of last year's "Cézanne" retrospective at the Philadelphia Museum, a new appreciation of the work of the young Cézanne should send these pictures through the roof.

For example, the stunning Autopsy (1869), which combines the pictorial excellence of 1900-era Matisse with a paint technique as contemporary as David Reed! It's estimated at only $700,000-$900,000. Should be closer to $5 million.

The early Cézanne self-portrait, dated ca. 1862-64, is estimated at only $400,000-$500,000. The practically Rococo La Prominade (ca. 1866) carries a presale valuation of $500,000-$700,000.

Other works with higher estimates still seem like bargains. Cézanne's own Olympia, Une Moderne Olympia (ca. 1870), done about seven years after Manet's famous picture, is estimated at $6 million to $8 million. Another version of the same picture, in which the naked courtesan appears to curl up in a fetal position under the gaze of the clothed artist in the foreground, is in the Musée d' Orsay. Also offered here is Cézanne's first version of his astonishing Battle of Love (ca. 1879-80) (the second is in the National Gallery in Washington, D.C.), in which four naked men assault four women in an otherwise pastoral scene. This canvas is estimated to sell for between $4 million and $6 million.

Even more curious is the total lack of publicity concerning these extraordinary pictures. Is it because there's a total absence of provenance in the catalogue since Pellerin's death in 1925? The catalogue even portrays the margarine manufacturer as a kind of mainstream innocent who just happened to collect these pictures for no reason. Certainly no Victor Ganz!!!

In any case, we'd be very surprised if the whole group didn't go for way over estimate. And we wonder just what circumstances brings them to auction now.


CHARLIE FINCH is the New York editor of Coagula Art Journal and has coauthored the forthcoming Most Art Sucks from Smart Art Press.